Back in April we wanted to go backpacking here, Butano State Park, and do a nice 5.5 miles through some redwoods. Well with the state budget impasse, and some crazy wet weathe,r the park was not open to camping yet. So we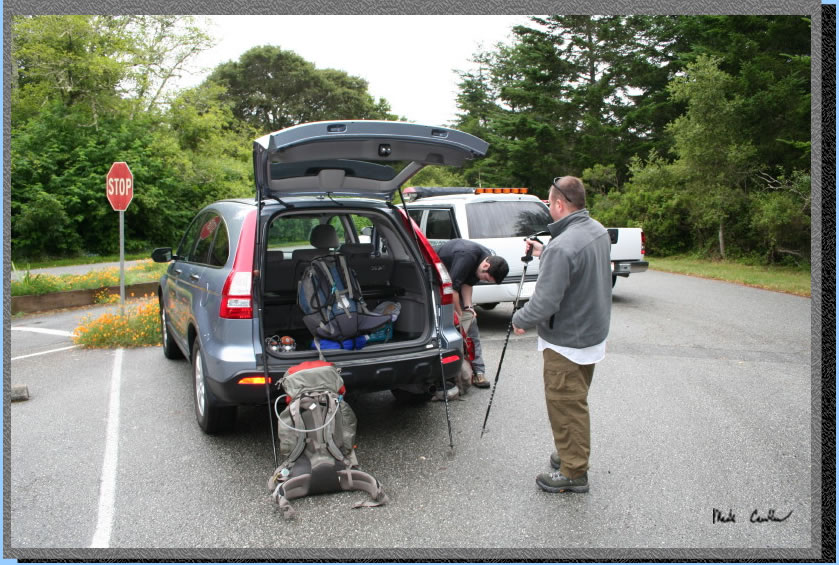 decided to exercise our backup plan of Stewarts Camp in the Ohlone Wilderness via Lake Del Valle. Well that was full on the Friday night, so we needed so we exercised option c and reserved the last spot in the Ohlone Wilderness that Friday night, Boyd Camp. While Boyd camp was nice we really wanted to get out and see what Butano had to offer so we tried again in June (oh, and still no budget, but at least they were open). Butano Trail Camp does not allow reservations. There are 8 "environmental sites" with a pit toilet and NO water. You can either pack your own in or do like us and filter on the way in. You pass some streams about a mile from camp. Not sure if they remain available all year, so I would check with ranger ahead of time. Do not count on a ranger being at the gate. We arrived on a Saturday mid morning and we had to self register using the iron ranger. The 8 sites are first come first serve (and $10) so you could conceivably arrive and not have a site. It is about 5.5 miles from trailhead to the camping area via the Jackson Flat Trail, see map and profile below. To get to the trailhead leave highway 1 and head west on Pescadero Road, pass Pescadero and then head south on Cloverdale Road to Butano State Park. We parked at the gate/Visitor Center (see the stop sign in the picture). We did happen to see a ranger before we left, but he just asked us if we had any questions (without getting out of his vehicle). I think we asked him about water and he told us that he hadn't been up there is a while, so didn't know for sure if water was still flowing (it was and in more than one spot). It was a damp morning with the fog in pretty thick.
We (Dave, Leo and I) left the trailhead at the Visitor Center and headed into the forest. The trail is probably around 90 percent covered if you stay on the trails and avoid the fire roads. We used the Jackson Flats Trail To Canyon Trail to the Trail Camp. The cover was nice but it made for some low light for the picture taking. I apologize in advance for being lazy and not setting up a tripod on some of these shots to capture them correctly.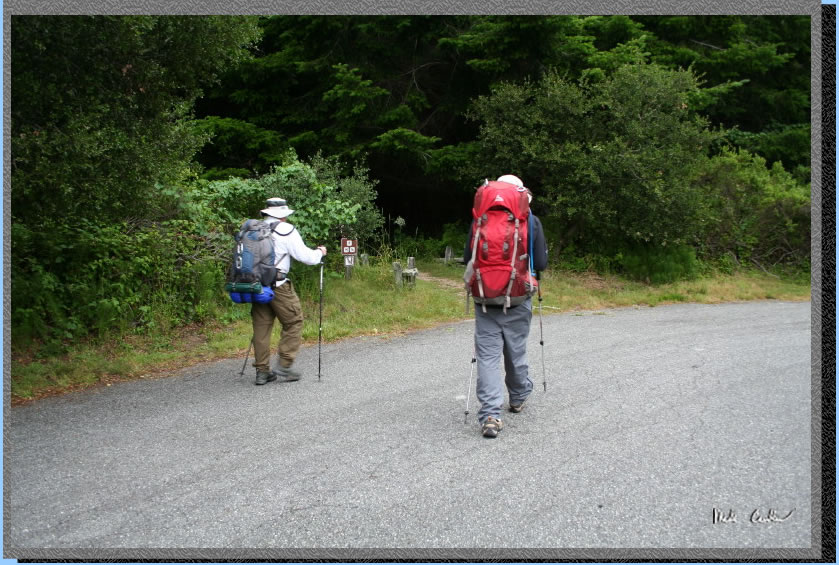 Everything on this trail is green. The trail is well used and that is probably the only reason it is not overgrown. The plants would definitely take over this place should the humans stay away for a while..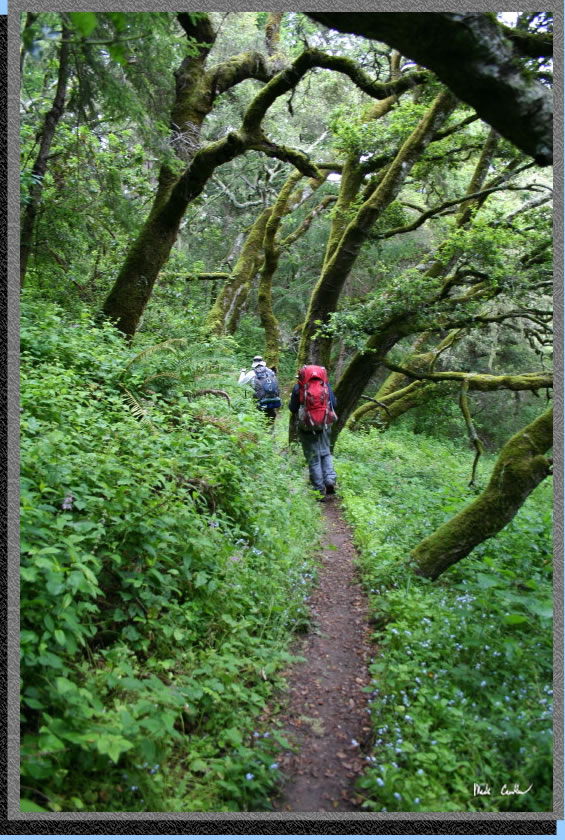 With all of the moisture the California Newts were out in force. Their camouflage is too good at times and they don't move fast which makes them even harder to spot. .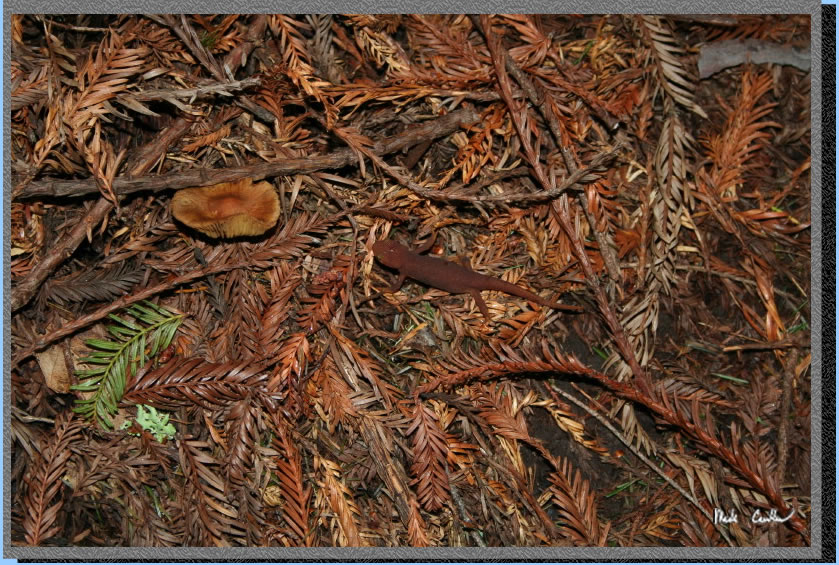 Here is Dave choosing to go over the fallen tree... not sure why he looks surprised in this picture....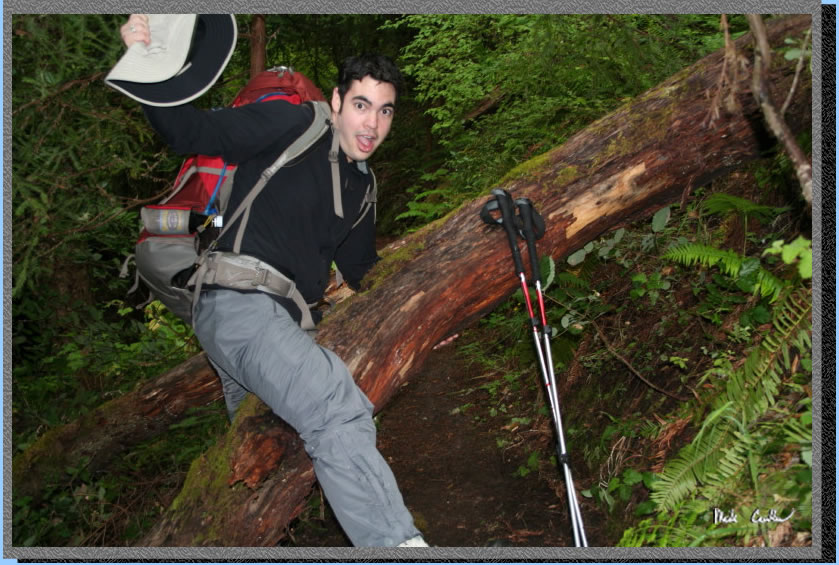 The other animal that was loving the damp conditions was the Banana Slug. These guys were all over the place, and much easier to spot.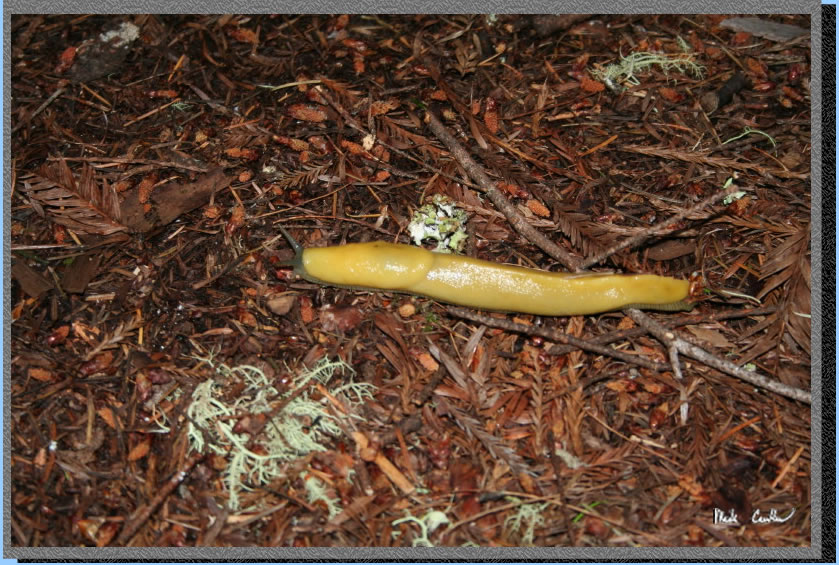 Here I am checking out the inside of this burned out tree. You could tell that a decent fire must have raged through this area some time ago. The fact that some of these trees can withstand a forest fire still amazes me. Around this area we made a right at 4 way junction we should have went straight. We had to back track a little so that added to our mileage a little. Make sure to continue on the Jackson Flats Trail and not go down the Mill Ox Trail to the road/Butano Creek...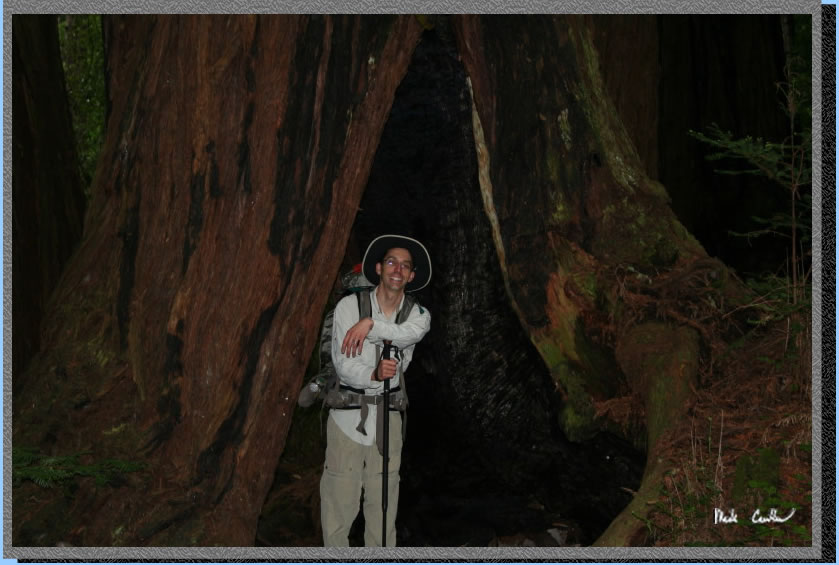 Here is another shot of the trail conditions. Much of the trail is heavily covered so don't let this shot of the sky fool you. I simply took the opportunity of the available light to snap one of the trail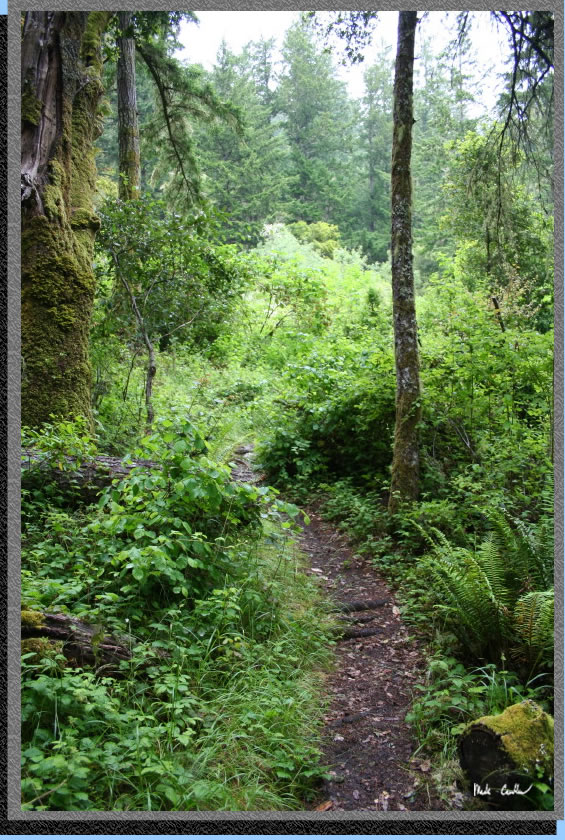 Another especially damp section of the trail that was plank and wire covered. I hadn't seen this technique before. It really was easy to walk on with the extra grip the wire that was tacked on provided.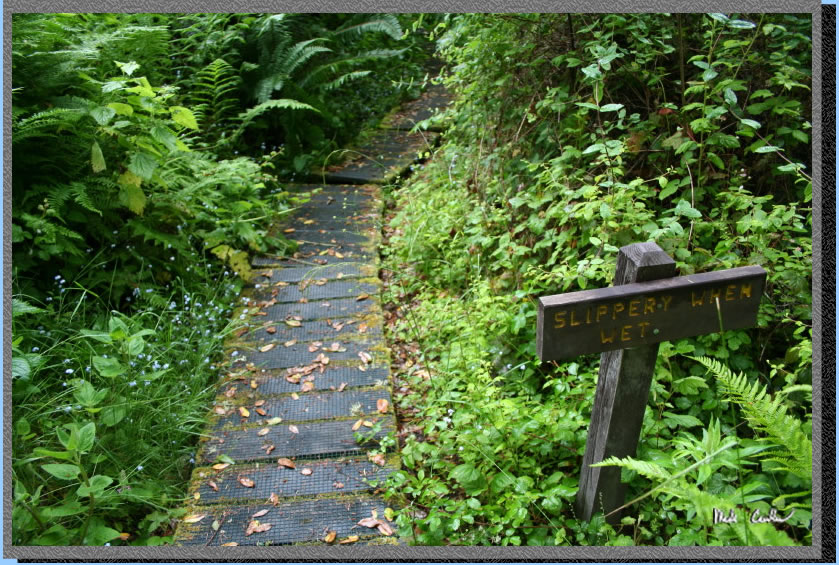 After climbing a bit you get to come out into a chaparral section that feels a little strange after the miles with the heavy tree canopy. The ground is actually sandy and you feel the difference in the air (and the fact that there are no trees to drip on you). And, no Dave, it was not raining...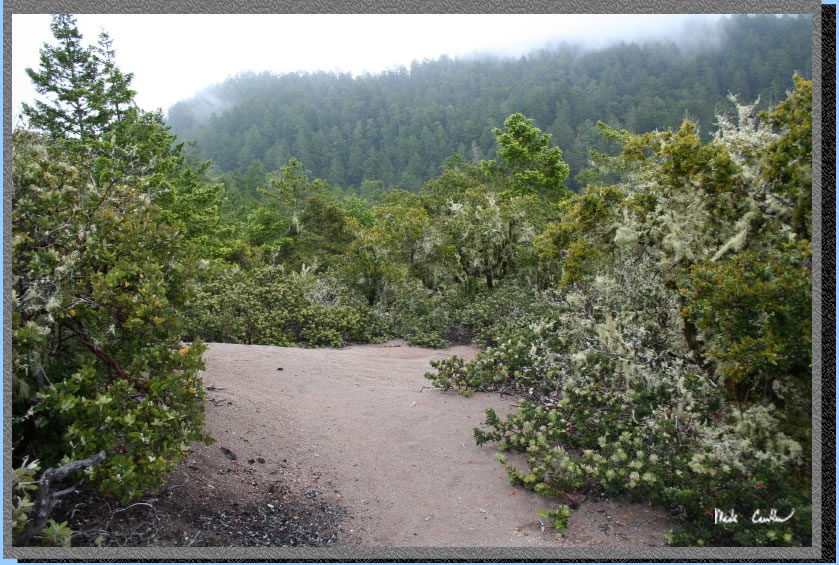 Even through the drier sections everything was green. This area would be great if you are trying to escape the heat during the summer.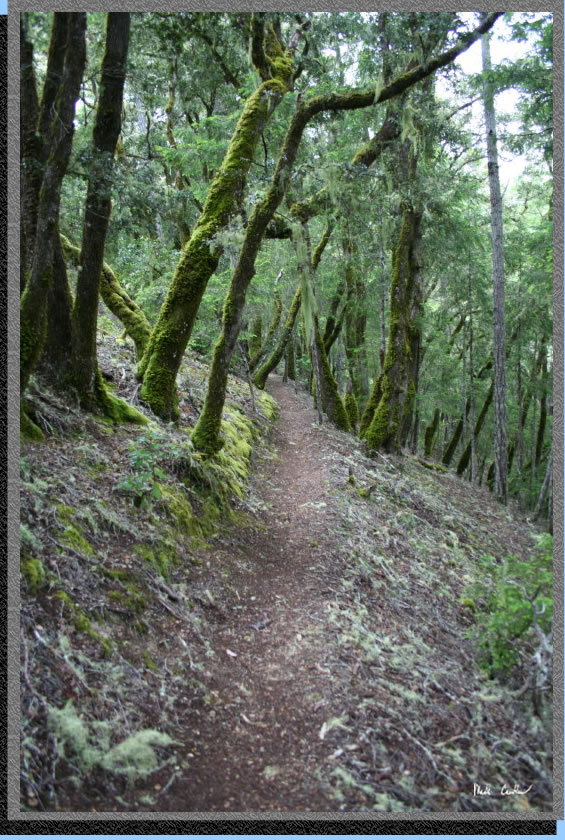 So we pumped water at what we thought was the last stream before camp. There are a few more stream crossings than I thought during the last "100 yards" to camp... OK so maybe it was more that 100 yards. I thought it was better to pump water on the way in, but in hindsight you could probably just hike in to camp and then hike back out to pump water if you desired. It was nice to just be able to chill at camp though, so I think carrying the water the extra distance on the way in was worth it.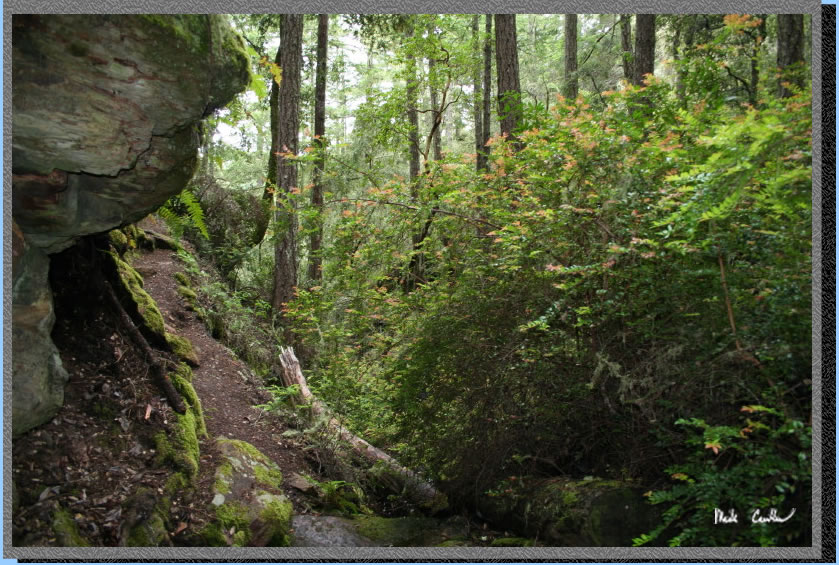 So we hung a left here and headed to camp. We kind of kept a faster pace than normal since there was a large family that was also headed in to the camp for the night. We wanted to make sure we could pick a site on one end, so as to not have to camp right next to (or possibly in between this group's sites).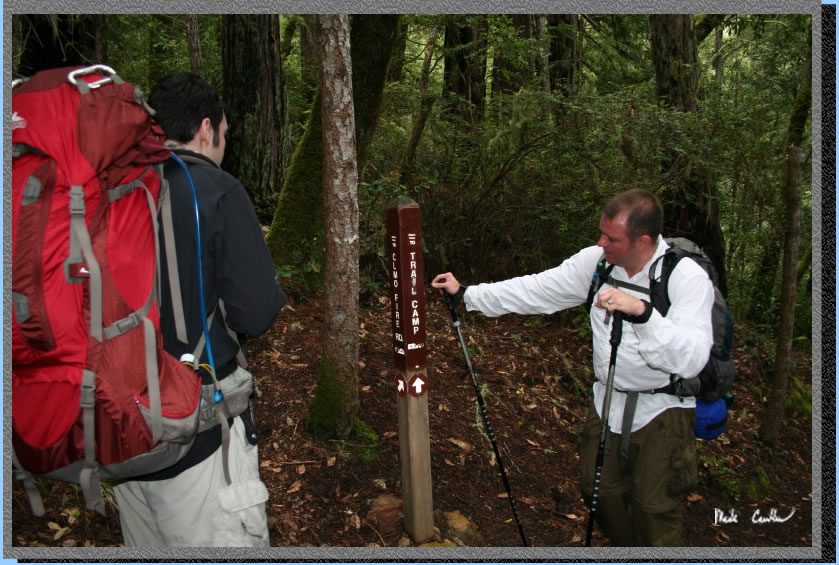 Here is another Banana Slug on the way in. Not sure what the shell is. Any thoughts?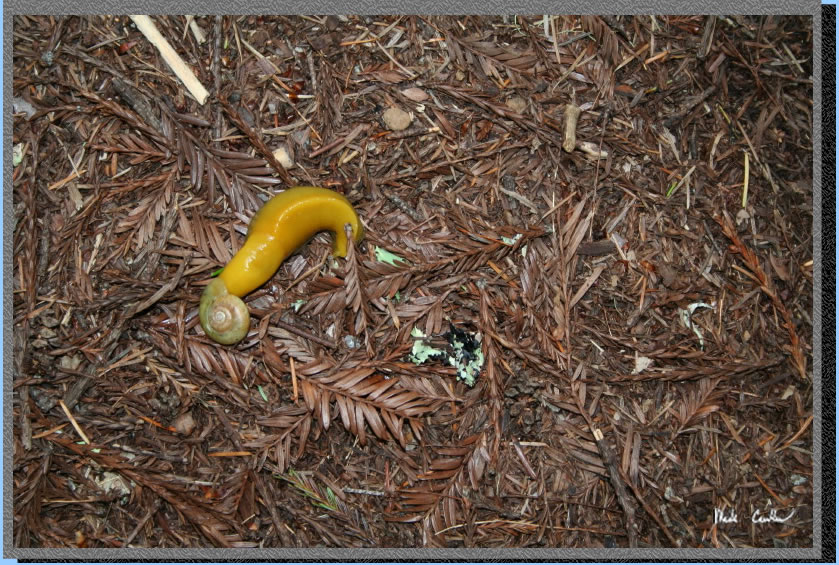 So as "Smokey" the Banana Slug tells us here, there are no fires allowed at the Trail Camp at any time. The Trail Camp sites are very nicely spaced and marked well. You almost have a private trail to each one of them. There are trash cans and a pit toilet at camp. We picked site #1 but only looked at sites at the far end. We figured the family we passed would camp at the near end (We guess correctly). We also had some Scouts camp here that night. Even with a fairly large number of people camping it felt like we had it too ourselves. Great site layout. All sites have some good cover from what I saw. It was very damp that night under the redwoods. It almost sounded like rain, Dave.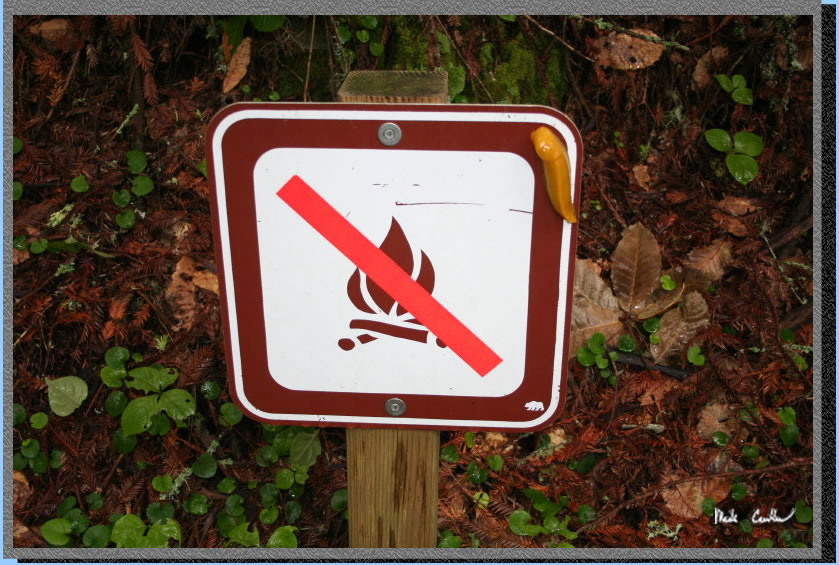 The next morning we packed up our soggy shelters and headed back via the abandoned air strip and the Butano Fire Road. For fire roads this was pretty nice. It was still plenty open compared to the single track trails we sued on the way in but there were some sections that would offer some shade. We liked the open feel since we were dripped on the previous day and night. The abandoned air field was neat. I would like to look up the history of it sometime. It seems like a weird spot for an air strip.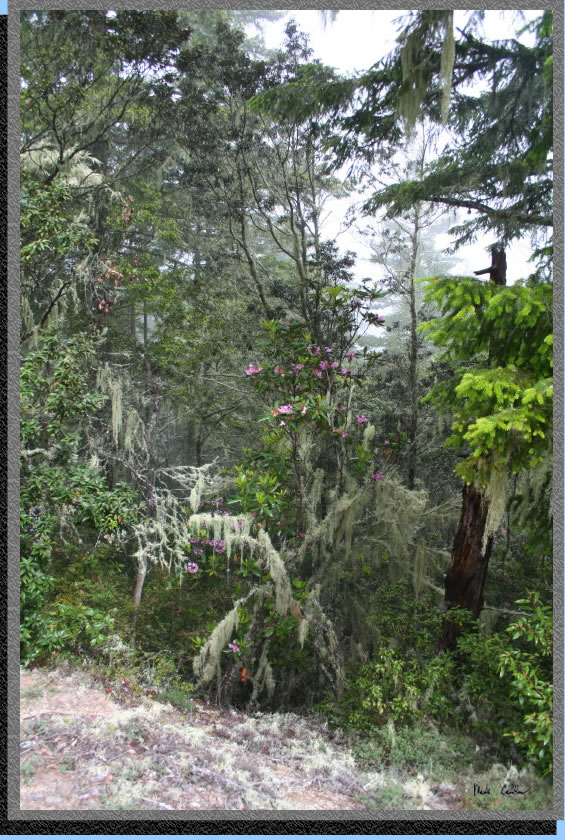 Here is an open section of the fire road..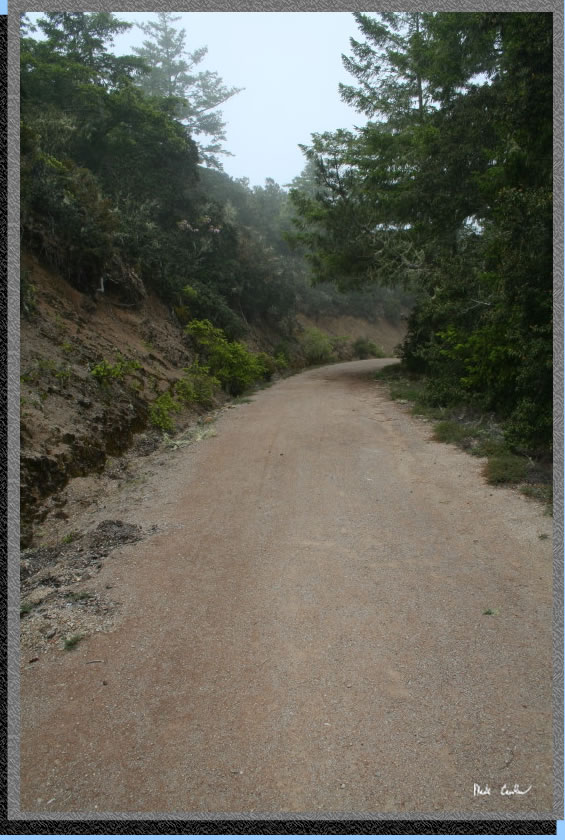 So the fire road on the way out is marked decent but seems to not jive with the map very well to me. You have a couple opportunities to leave the fire road and head back on single track. I think the signs warning us of the park boundary threw us a little since they don't mark every time you are out of the park. If you stay on the wide fire road you will be fine though. We decided to head back through the Mill Ox Trail and then the Jackson Flats Trail on the way back. Junctions are marked well. This is the first trail junction we could have taken to get onto Jackson Flats Trail. We pressed on the Butano FIre Road.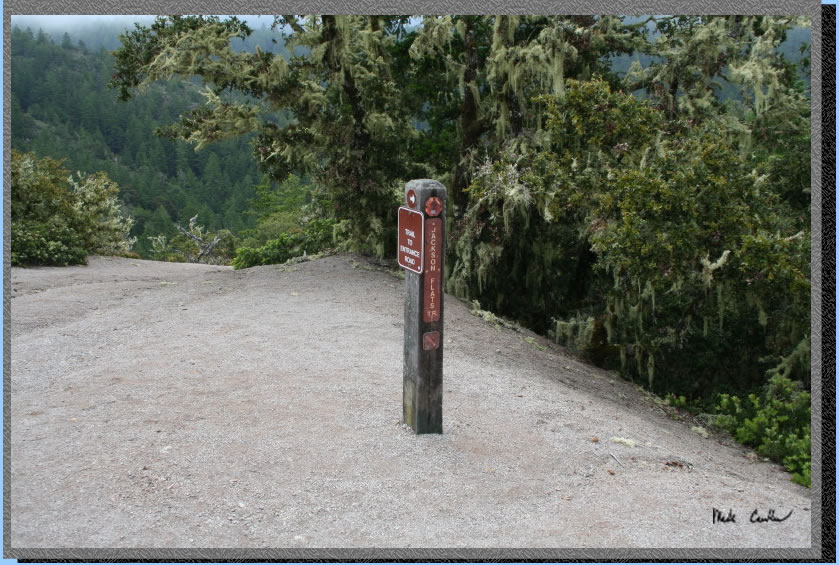 Here is where the Mill Ox Trail junction is. A little overgrown but you would have a hard time missing it despite the picture you see here.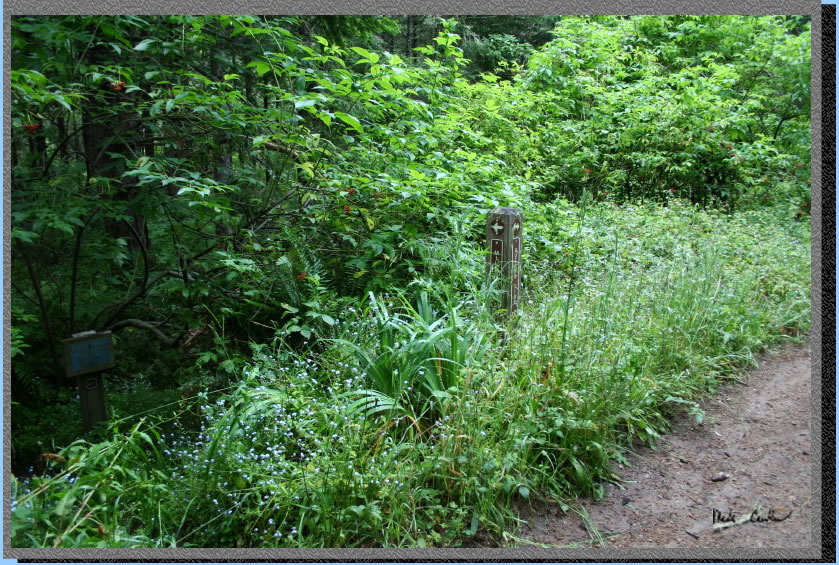 We made our way through the narrow trail (You can tell this one does not get used as much as the Jackson Flats Trail).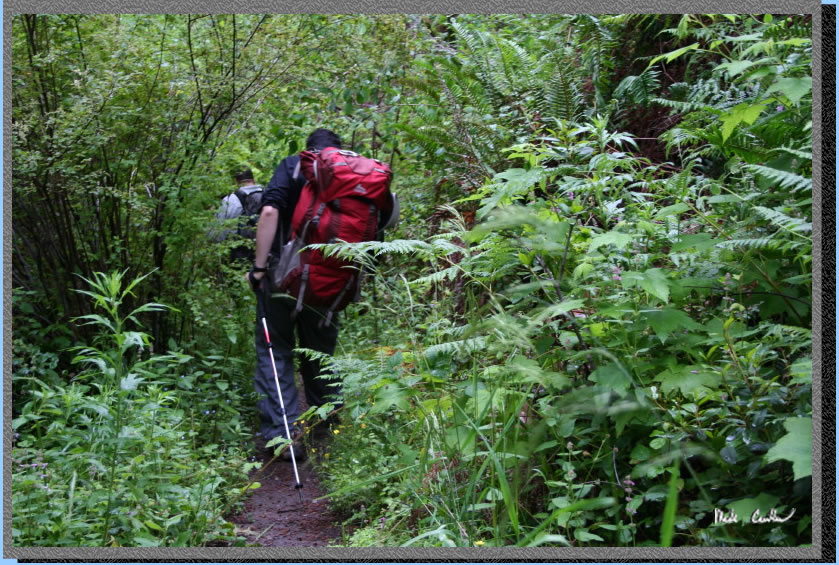 We were back in the Redwoods now. Ferns and big trees as far as you could see (which isn't that far with how thick everything is0).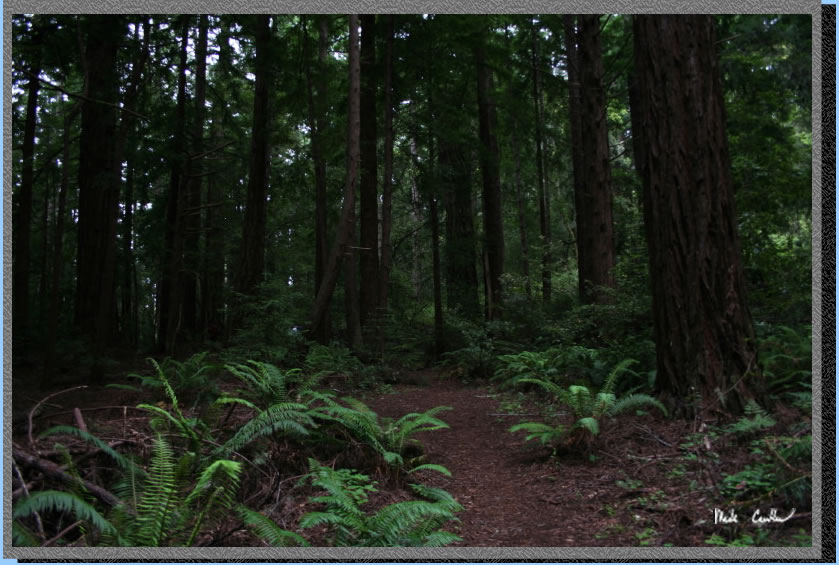 Overall this is a great trip. Except for no water at camp this place is near perfect. I think if water was available at camp you would have a hard time getting a spot. This is on my list for a return trip. We did see one tick, and I am sure there is some Poison Oak out there, but if you are careful neither one will "get" you.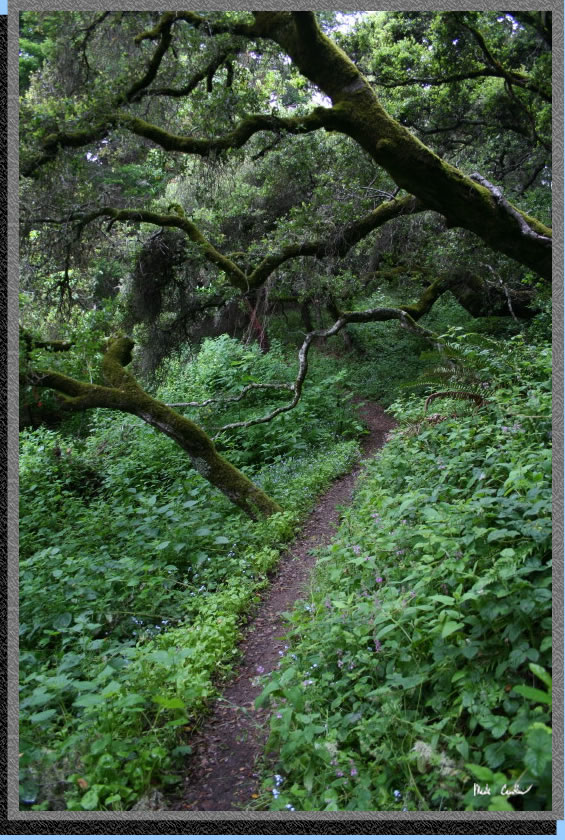 The red line shows hike in to camp, (with our wrong turn) and hike back out. Scroll down for elevation profile. We hiked in on the Jackson Flat Trail and out on the Butano Fire Road (counter clockwise loop).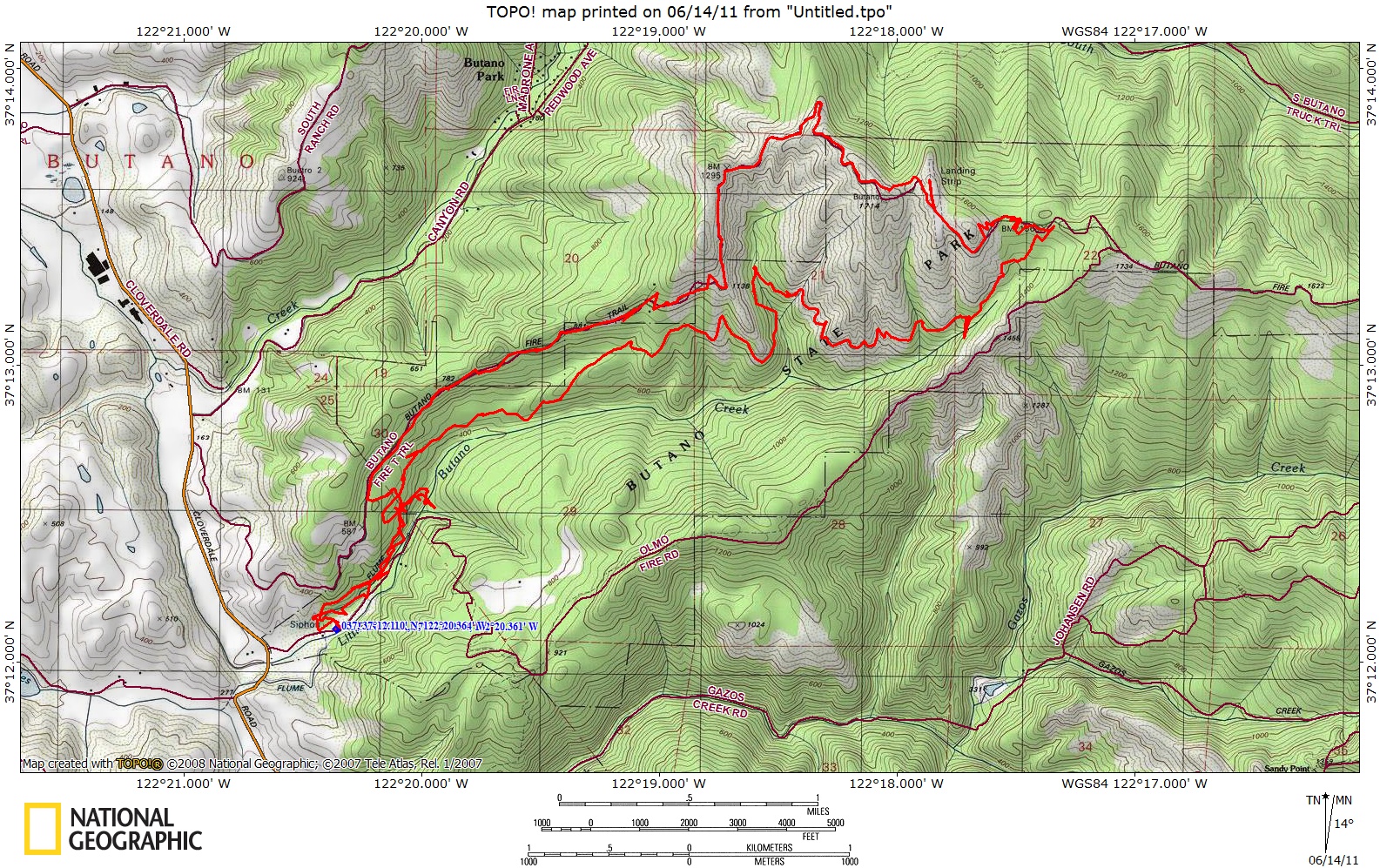 (back to top)