My friends Leo, David, and I decided to do a backpacking trip that was close to home since most of the Sierra was still snow/slush covered. We decided to head out to the Sunol Regional Wilderness and the Eagle Springs backpacking camp. We knew this was going to be a hot weekend (mid 90's were forecast but one in the group predicted 110...) so we picked campsite #4 as that was the only shaded site. There are 4 sites here that are just behind Mission Peak. The sites each have their own picnic table and a spot for a tent. The group of 4 sites are surrounded by a fence to keep the grazing cattle out and they will come in if you leave it open so keep it closed. There is a nice port-o-let style bathroom and water provided (It is recommended that you treat the water before drinking). Call ahead for reservations as Sunol backpacking is popular. Prices were $5 a person per night and an $8 reservation fee over the phone. Reservations can be made by calling 888-327-2757 but for questions about conditions or recommendations call the local ranger at 925-862-2244.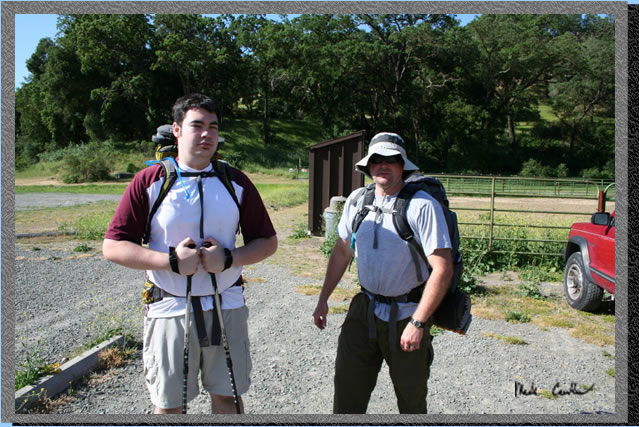 Here are Leo and David as we were ready to start our trip. See map and profile below of our trip. Park at the equestrian area as it is closest to the trailhead. The gate to the trail is in the center of the picture where the trees start. The brown object is an outhouse. Notice the guy on the right in the correct attire for the heat that was forecast (wearing a hat!).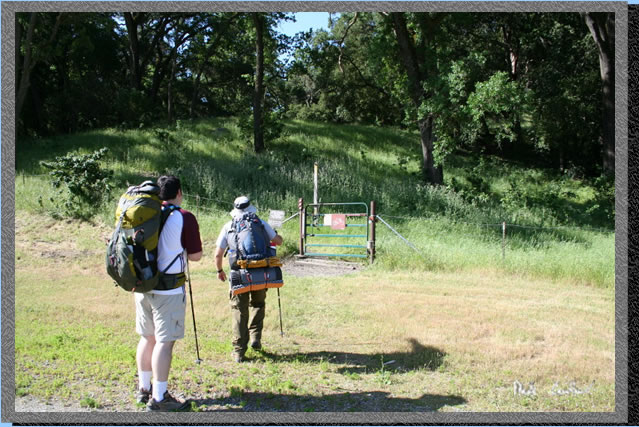 Here is the gate I mentioned above. There are horses using this gate as well so that is why there is a long post attached to the top of the swinging gate. Whenever you encounter a gate make sure to return it to the same position you found it unless otherwise posted. In this area all gates are keeping cattle from wandering into areas or roadways they should not be in/on.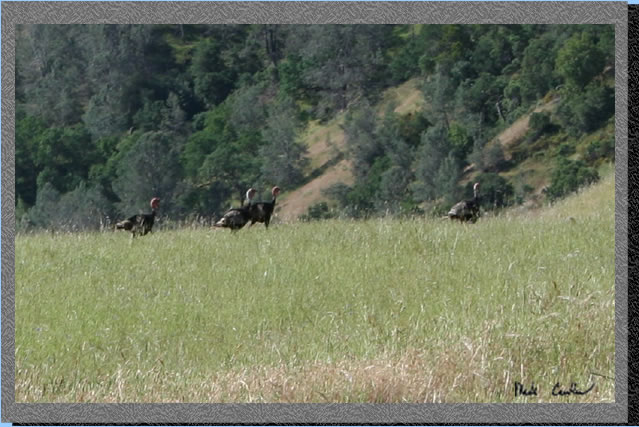 I captured some of the wildlife in this picture. They didn't hang around long enough for me to grab another shot closer so this is cropped. Turkeys and deer are plentiful out here. Not sure which one the mountain lions prefer but the lions are also out here so keep your eyes open and you might get lucky and see one. I have seen 2 out here (both midweek).
Leo and David pointing out important terrain features to each other. Notice how comfortable they both are in the field. Trail markings are good along the entire Ohlone Wilderness Trail but having basic route finding skills is a must on any trip. Every group member should know what to do if they get lost (no, pressing the button on your PLB is most likely not the right answer). In this area everyone using the Ohlone Wilderness Tails required a permit (good for one year) at a cost of $5. It doubles as a great map, so there is no excuse for everyone not to have a map. Take a look at it both at the car and on the trail so you know where you are headed and have some idea as to the terrain features you will encounter along the way. Preventing yourself from getting lost is much easier than trying to get un-lost. Don't count on any electronic device to be your only navigation option.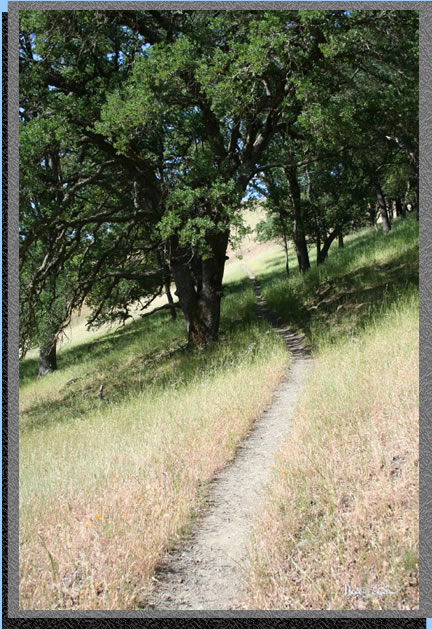 The trail really varies on this trail from narrow single tracks to wide fire roads.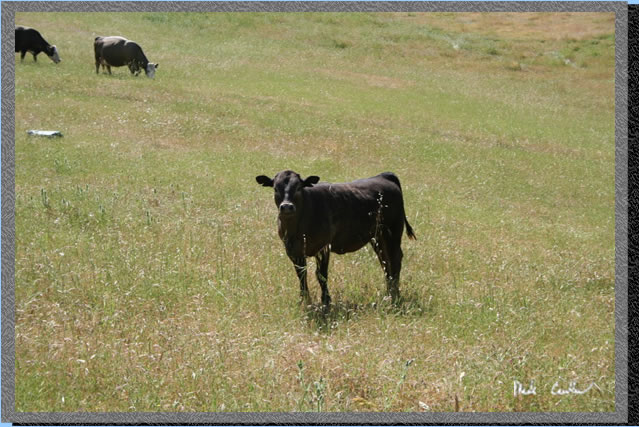 We all know not to approach the calves right? Mother cows can become aggressive if they think you mean to do harm to their baby, so don't get too close. This calf was quite inquisitive of us and I think it might have approached us with some coaxing. Not what you want to do even though it was pretty cute, and would have made for a great photo op.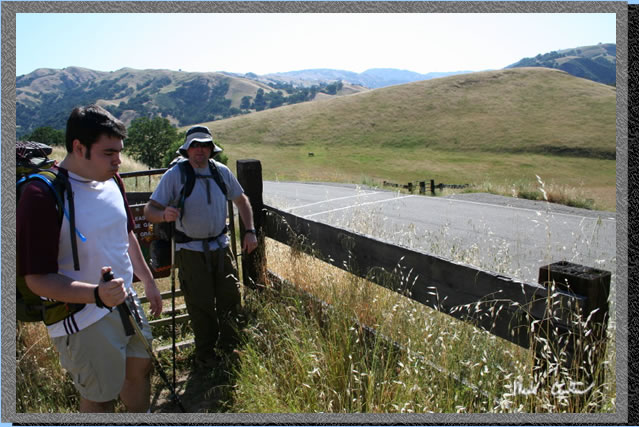 Here we are crossing Calaveras Road. Again close the gates. I have seen more bikes than cars on this road but do be careful while crossing as I am sure that drivers will not be expecting to see backpackers in the roadway.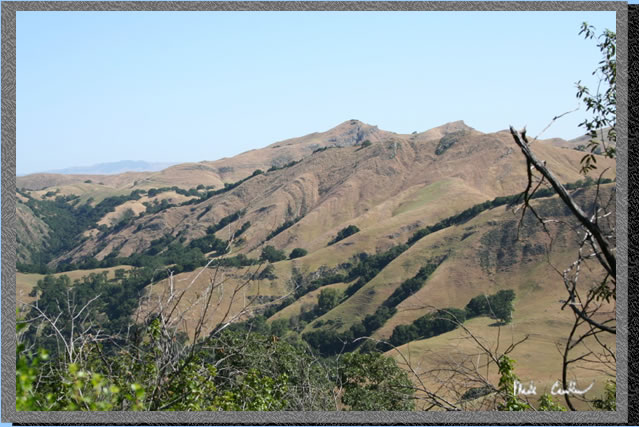 Here is the view to the north while on the trail. It was a little hazy due to the warm weather. One of these trips I will make it up to Mission Peak on a crystal clear day.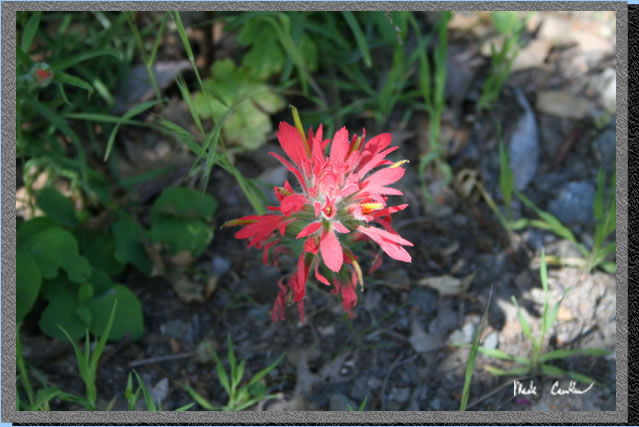 There are many reasons to stop along the trail. On this trip it might just be to catch your breath on the uphill sections. But sometimes I stop just to get a close-up of some of the flowers. OK so I get to catch my breath as well.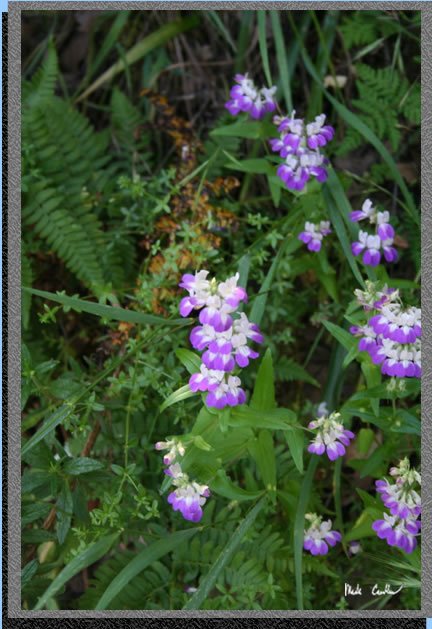 This is one of those pictures that many people would not believe is from Sunol. I think that is one of the reasons I love Sunol. You really can find some extraordinary beauty and for those of us lucky enough to live in the East Bay it is right in our backyards.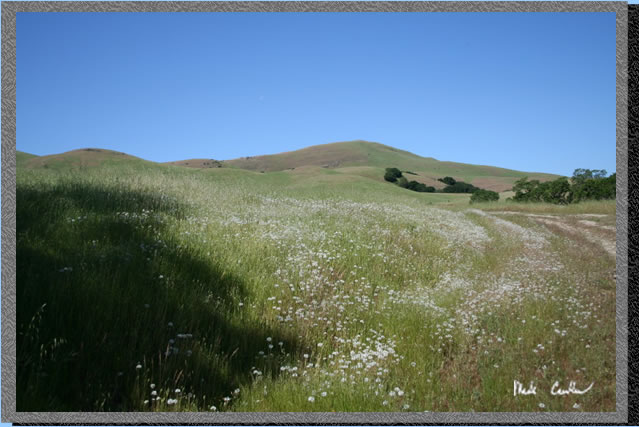 We missed the peak of the wildflowers but coming in just a couple of weeks late still allowed for a few shots of those still blooming. Once you reach this section of the trail you are on the home stretch. As you can see if is exposed for the rest of the way (save for one short section at the trees on the upper right where you head down to a creek and then back up)..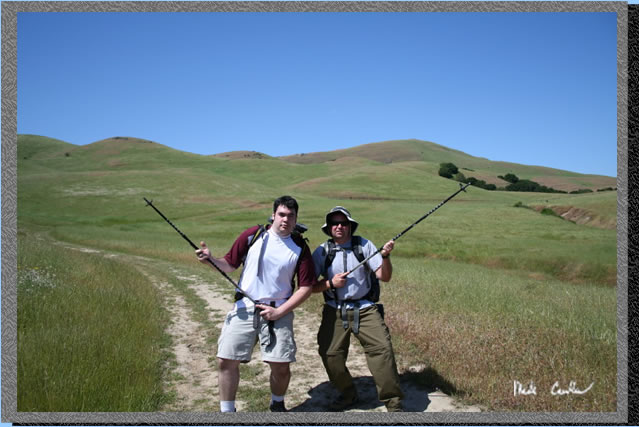 We still had plenty of energy as this picture shows. By this point I believe I had been cursed out a few times for the choice of this trail (due to the heat) and I was asked about 100 times about the tree at camp. I told them it was a big tree but I think they doubted me and my lone tree plan. I was also hoping that the tree was still there since i has been 5 years since my last trip to this camp...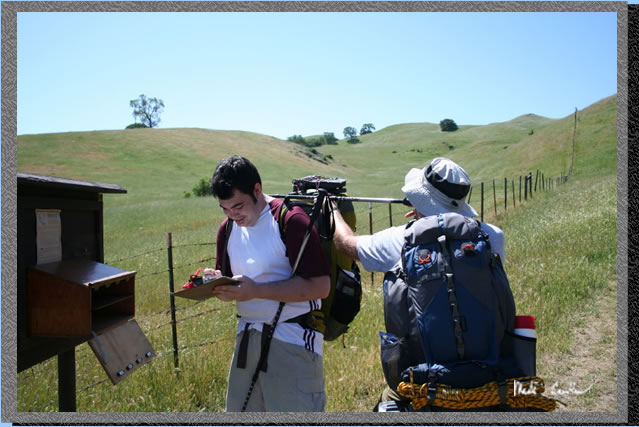 Here we are signing in at the trail register. Not sure what Leo had in his "scope' but whatever it may have been, it was plenty safe.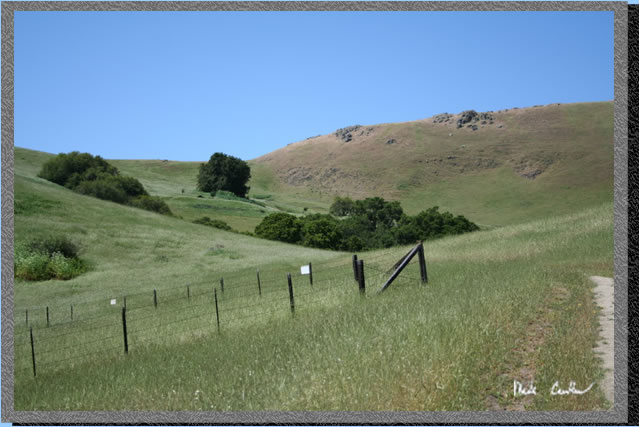 "The Tree" is visible now. It is the big Bay Leaf tree middle left. See I said it was big.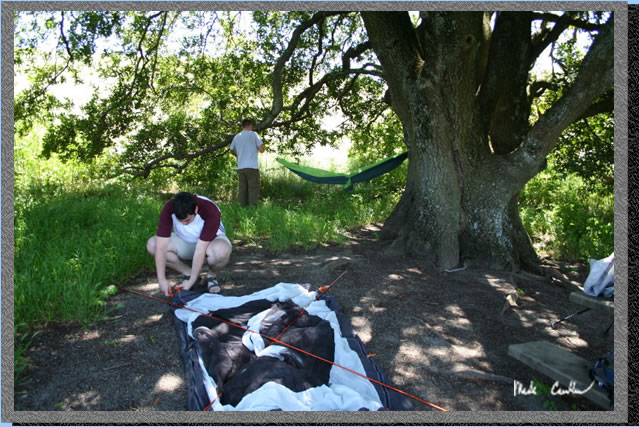 Everyone is now happy under the tree setting up camp. We also found out that some giant pincher bugs can fly (at first we thought they were dive bombing us from the tree, somehow it seemed better when we found out they simply were flying around). We also found out that the ticks enjoyed the shade of the tree as well and that they seemed to like David the best. (I think it has something to do with him hanging out with dogs all day and night.) Leo decided to use his hammock on this trip while David used the REI Half Dome HC and I used the camp provided picnic table.
There are 3 other sites at Eagle Springs and this is one of them. Once we made contact with the resident of this camp we invited up to our oasis of shade so we didn't have to watch him cook in the sun anymore. He did take refuge under the picnic table but it did reach the 90's so i can't imagine it was exactly comfortable under there.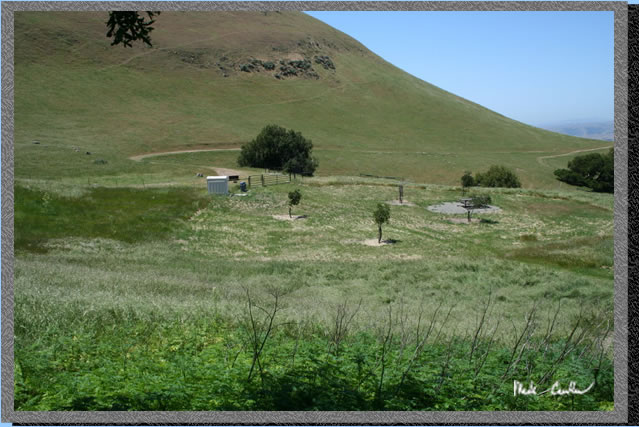 Another shot of camp with campsite one in the middle right with the bathroom on the left and the water source just outside the fence. The water source ended up being a great source of amusement for us when day hikers came by to use it. It was a little odd shaped and appears to be a pump. Although it looks like a pump it is not as the water is under pressure you only have to raise the handle far enough for water to flow. Many hikers would start pumping the water (raising the handle high enough to release some and then lowering it and shutting it off). As our camp was far away from the water we decided to only yell down to those that did not appear to be getting water. We watched a few people figure it out but most "pumped" their water.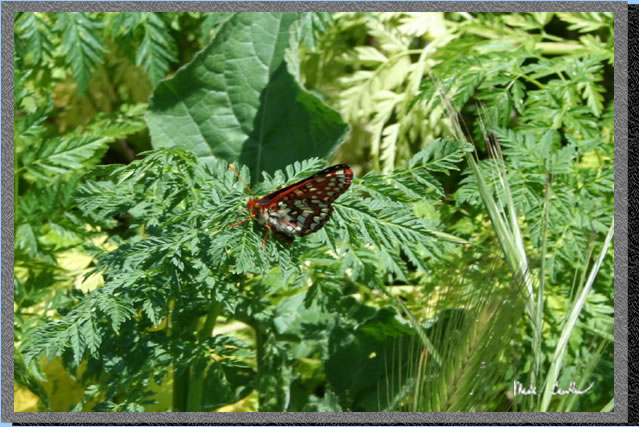 Another wildlife shot around camp.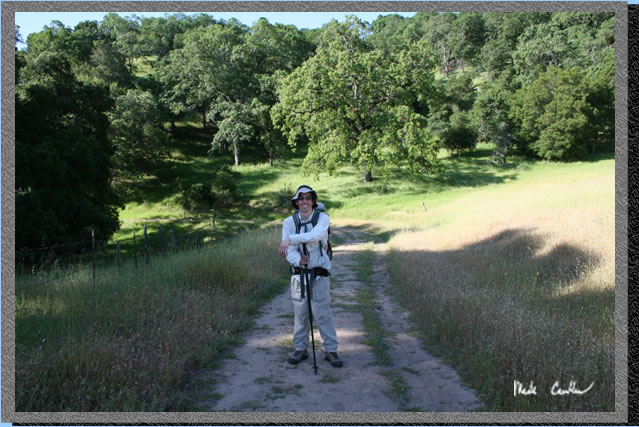 We had a great night and headed out early the next day. Here I am on the trail.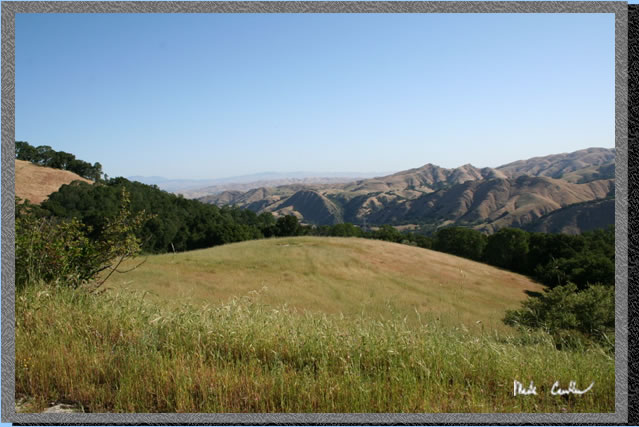 This is a great area to get away from it all without having to drive very far. Having traveled to most of the backpacking camps in Sunol I can say that if you are willing to travel during the week you can have most of the park to yourself. Scroll down for profile and map of trip.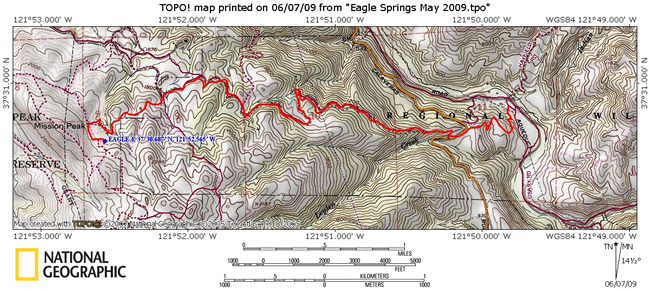 The red line is the path we took. According to GPS it was just over 4.5 miles from car to camp. Park at the equestrian area as that is where the trail entrance is. The elevation profile shows the trip from camp to the car. See the general downward direction. Going to camp is the reverse and much more aerobic direction..