Tyler and I decided to do a trip to an old favorite of mine. It has been 10 years since I have traveled this trail, and it turns out even in a drought year the area is great. The trail to Penner Lake is a little over 3 miles with only a couple short uphill sections, map/profile below. Trail finding is relatively easy (there are a few sections where you cross rocky sections where you need to pay attention). Plenty of lakes to choose from, and many options to make this trip longer, or even a loop. Your adventure starts with the drive to the trailhead. If you are traveling north on 80 take the highway 20 exit and travel west. After traveling for about 4 miles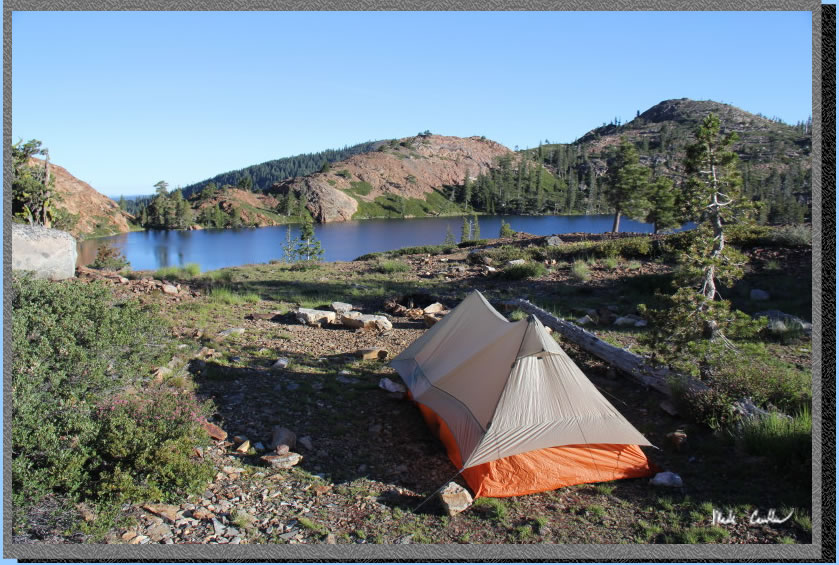 take a right turn on Bowman road. Drive on until you see a sign for Carr Lake at about 8.5 miles and take a right. Be prepared to travel slow over the rough to very rough dirt/rock one-lane roadway to the Carr Lake trailhead (about 2.5 miles). I would choose a vehicle with decent ground clearance (no 4-wheel drive needed if roadway is dry). I saw one volvo sedan in parking lot, and I did make it to this lake in a Ford Escort once (I was younger, and much more brave back then). There is a campground with 10+ sites at Carr Lake, so be prepared for a crowd on the weekends. The roadway is very narrow in spots, so be prepared for other vehicles traveling the opposite direction. Tyler and I were lucky enough to do a Thursday-Friday trip, no crowds. There were quite a few people headed in when we were headed out that Friday afternoon though. Once you make it to the trailhead you can quickly head past Carr Lake and onto the trail to one of the many lakes in the area. This section of Tahoe National Forest allows for camping near any of the nearby lakes. You do not need a permit to camp, but need to get a California Campfire Permit to use a stove or have a fire. Check with the ranger for current fire restrictions, (530) 265-4531. There isn't much decent fuel around Penner Lake, so even if you are camping when there are no fire restictions you may still not be having a fire. Here is a picture of my tent, Big Agnes Scout UL2, at Penner Lake. The soil is very rocky out here so ultralight tents should be setup with care (I use a heavier ground sheet under these types of conditions). Rocks and sharp plants do not mix well with ultralight groundsheets/tents.
The trailhead is on the left as you head to the parking area. There is an iron ranger if you are choosing to camp at Carr Lake. There are no facilities/water at trailhead. There is a pit toilet on the far side of Carr Lake. There are many lakes in the area, so if you bring a water filter (or some other purification method) you will be set. Here is a shot of the start of the trail. The trail (more of a fire road at first) is called Round Lake Trail.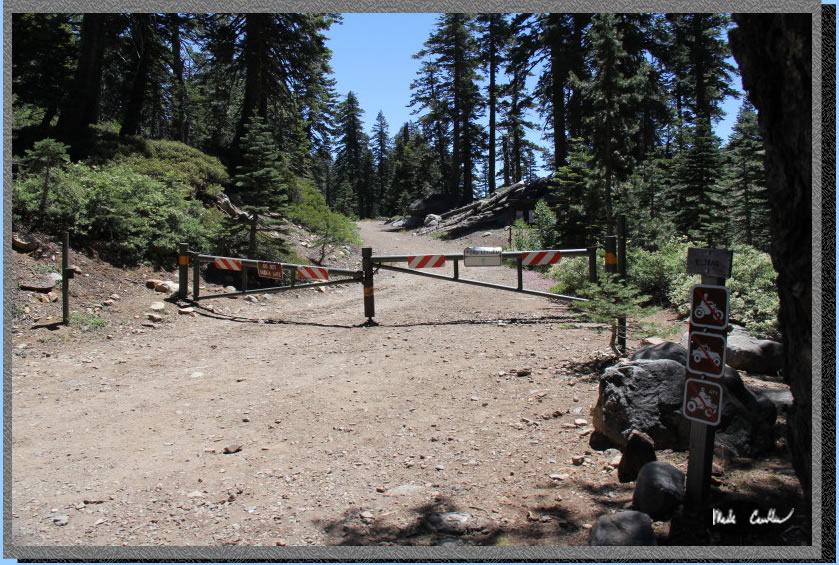 You quickly come to Carr Lake, like immediately. Here is Tyler checking out the lake. There are some decent looking sites. When we went in on Thursday I did not see anyone camped here. When we headed out Friday there were a couple sites occupied. There are no reservations for these sites, you just have to be lucky. Each site appeared to have a picnic table and firepit.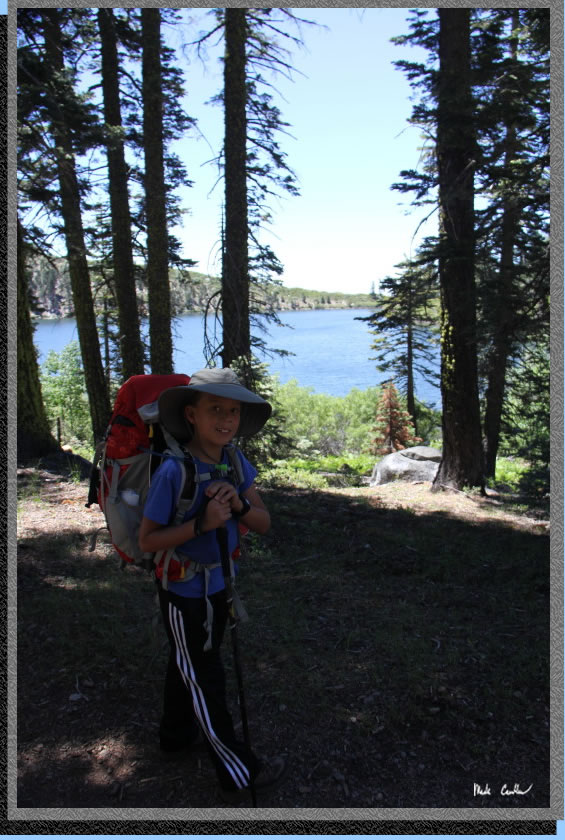 You hike alongside Carr Lake and over the outlet from Feeley Lake (that fills Carr Lake). There is a big rock and earth dam that controls the water level of Feeley Lake. I have not seen this lake this low on past trips. The other lakes in the area were full, I also chatted with a group that was deeper in the forest and they said all the lakes they encountered were at capacity. This lake is managed by PG&E, so maybe they are already letting water out of it for some reason? This is the shot of Feeley Lake. The weather was just about perfect (low 70's, with a breeze).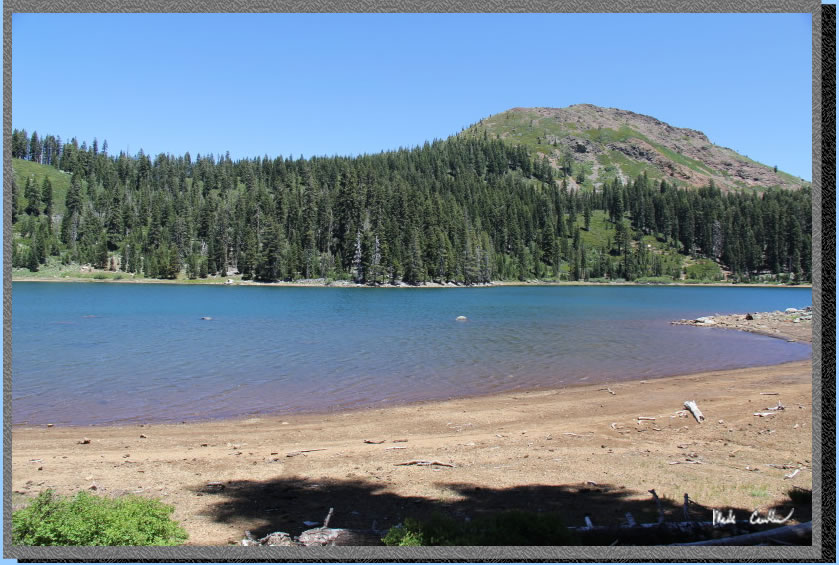 You hike alongside Feeley Lake for a while and then up a gentle slope to an un-named lake, well not always un-named. Here are some cool looking stumps along the trail.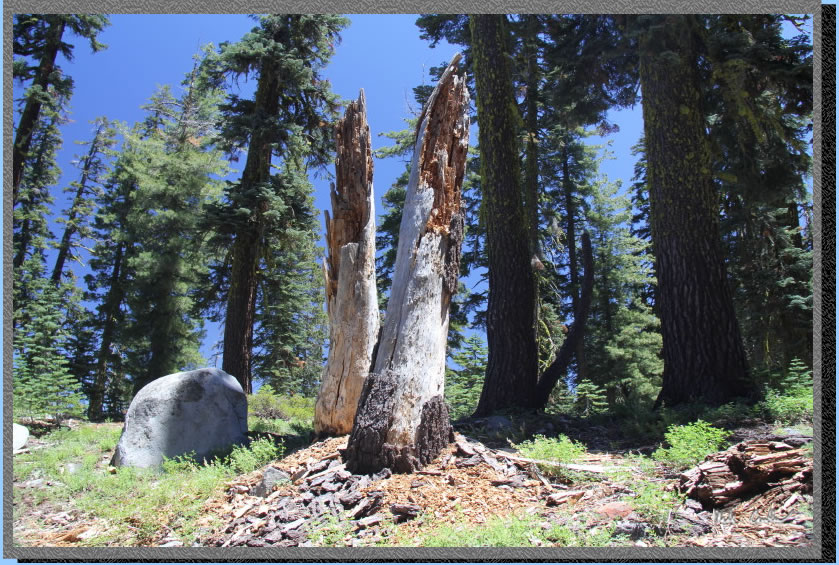 If you look past Tyler you can see the trail conditions through this section. There are lots of variation in trail conditions on this trip. Most of the trail has some cover.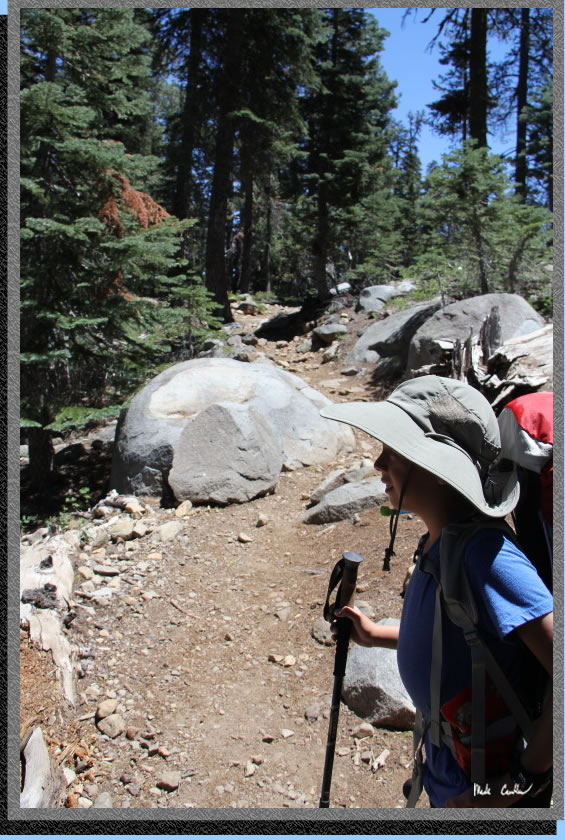 Here is the un-named lake on the south side of the trail before the trail junction with Crooked Lakes Trail. I have seen this lake called a couple of different names. Yes, people have taken the time to make signs to name this "lake".


Personally, l would want to pick a better looking lake to name, but who am I to judge. This sign has to be 15 feet up the tree.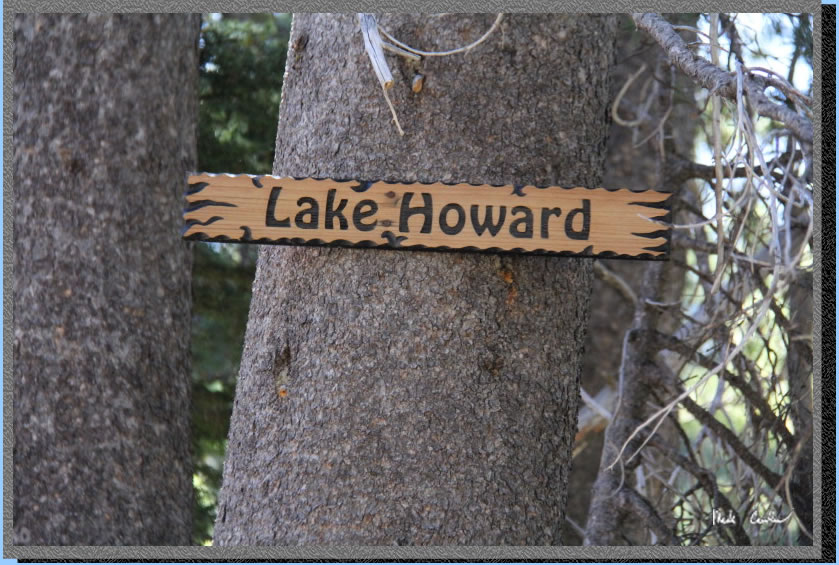 Before you know it you will be here, the junction with Crooked Lakes Trail. There is a lake on the north side of the trail (left in picture) that also does not have a name on my map. I chatted with a couple that was headed back on the Round Lake Trail that had done a loop past Penner Lake using Grouse Ridge Trail. If you look at the map on the bottom of the page you can continue past Penner on Crooked Lakes Trail up off the map to connect to Grouse Ridge Trails and head south again. Looks like a great way to see more lakes.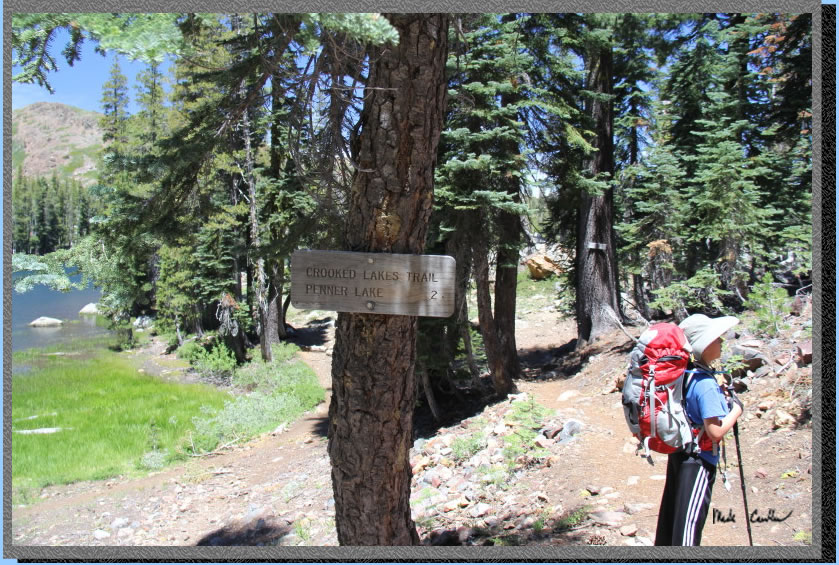 Here is the un-named lake at the junction.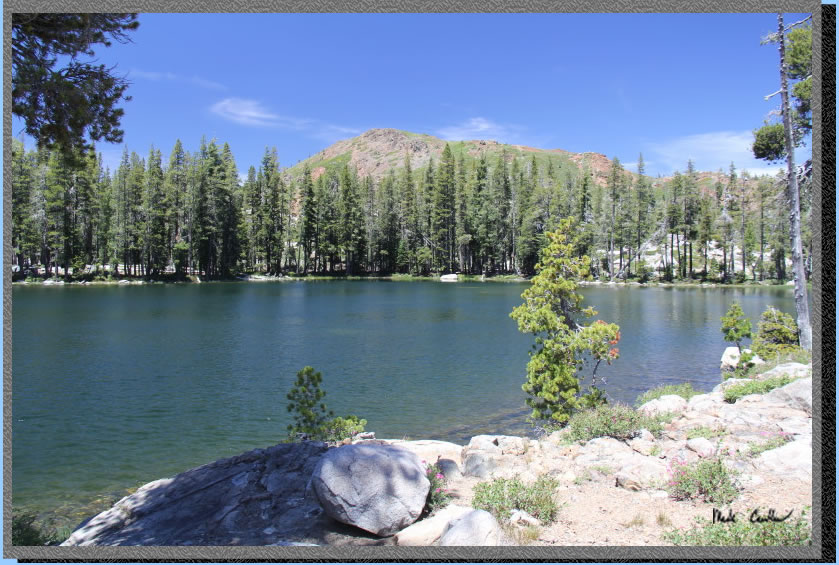 There was not a ton of wildflowers, but enough to take a few pictures of. Trail conditions felt more like July than June.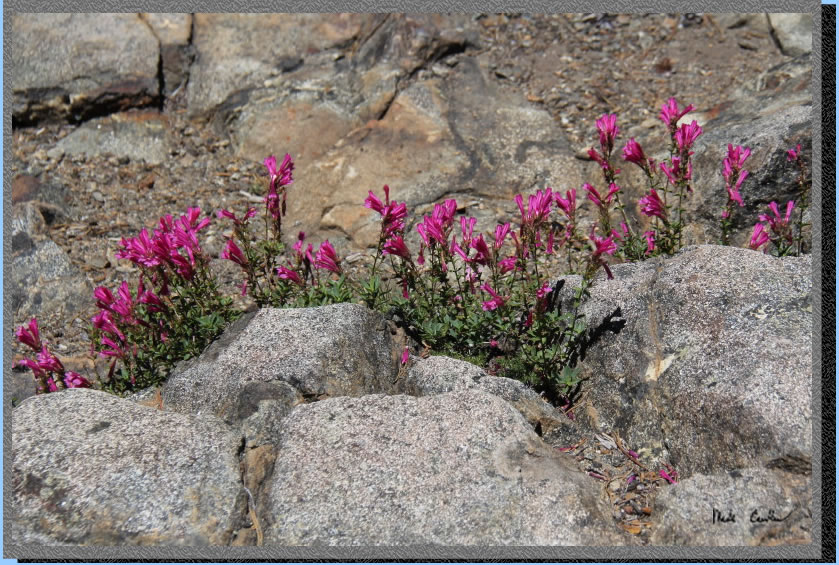 Before you see the Crooked Lakes you hike past Island Lake. There were some fish jumping in this lake and also some campers around it. On the way out there was a raft and a couple kids having fun dropping another kid off on some of the submerged rocks near the shore. This lake offers some good swimming possibilities. Here is Tyler taking it all in.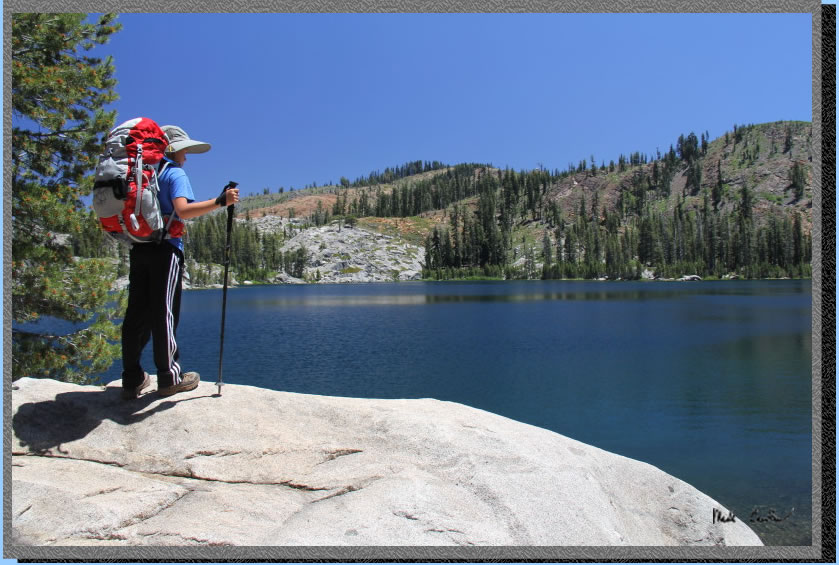 I talked Tyler into putting his hand in the giant rock monster's mouth past Island Lake (yes, there are islands in Island Lake).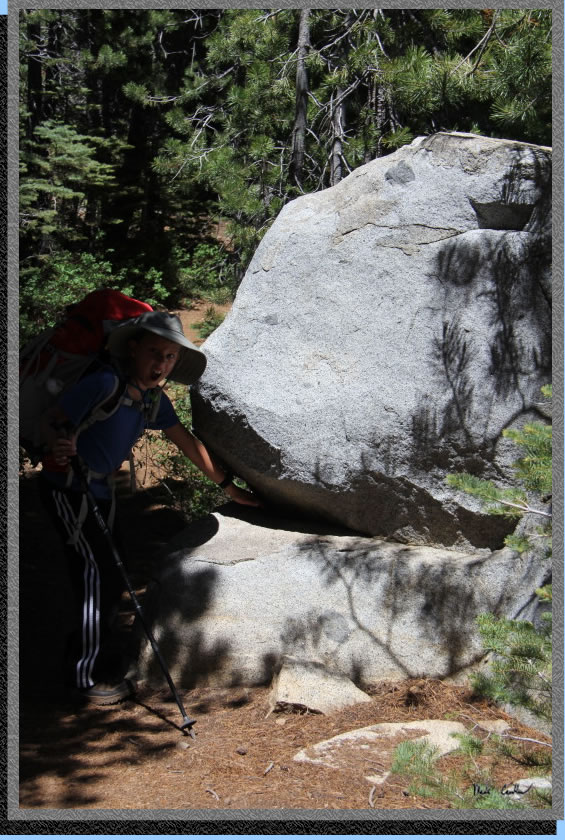 Another shot of Island Lake, and an island. The trail remains level through this section with decent tree cover.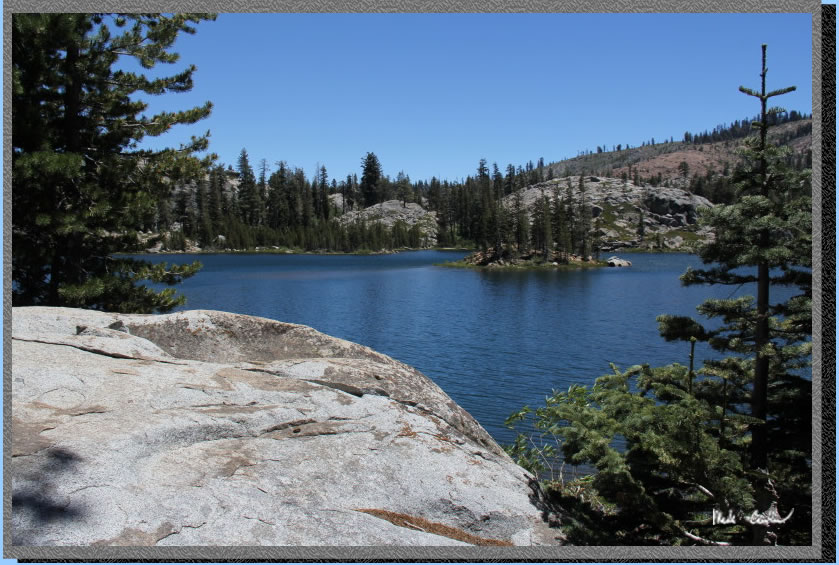 Here is a shot of trail conditions through this section.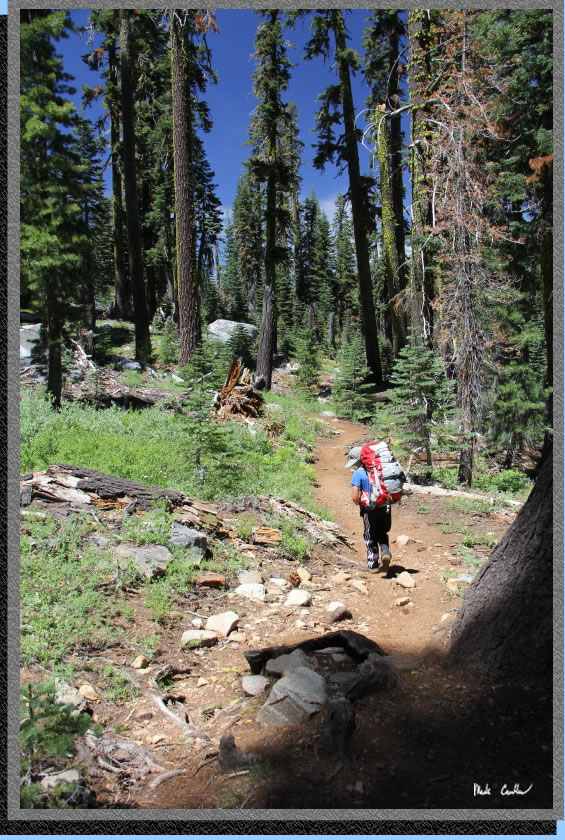 There are two neat fern sections of trail. This shot does not even come close to capturing how cool this section of trail was (some things you need to see in person).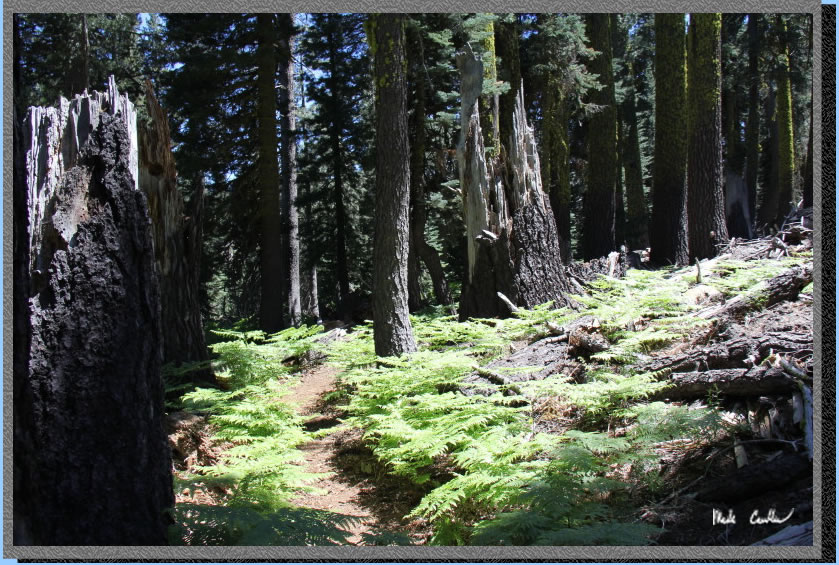 Tyler stopped me after fernville to see the butterfly party on the trail up ahead. There were a dozen or so before my camera scared them off.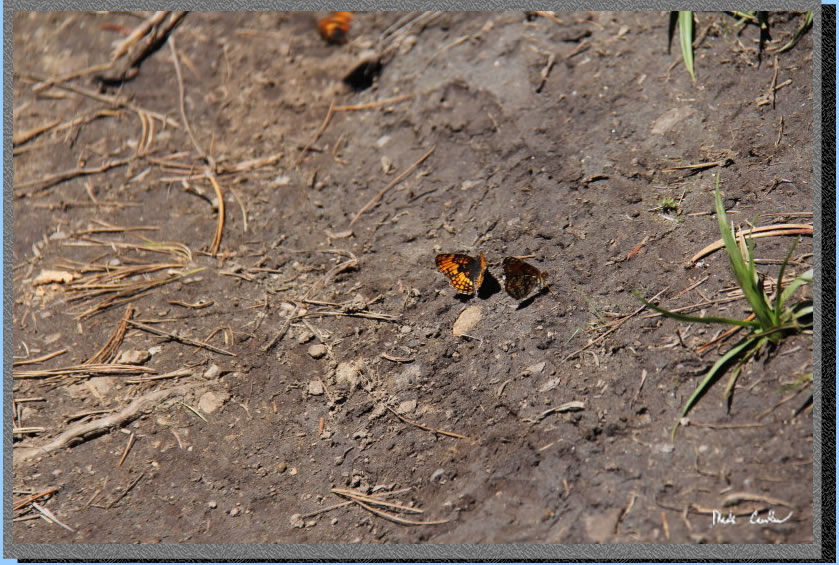 Here is the big scary tree monster on the way in. This thing looked even creepier in person. I talked nice to it as we past, just in case it was listening...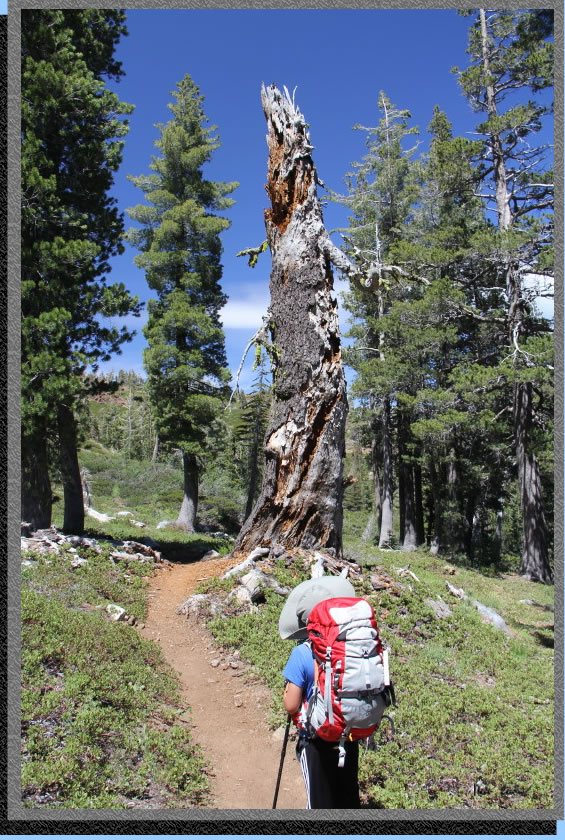 Some more wildflowers growing right out of the rocks.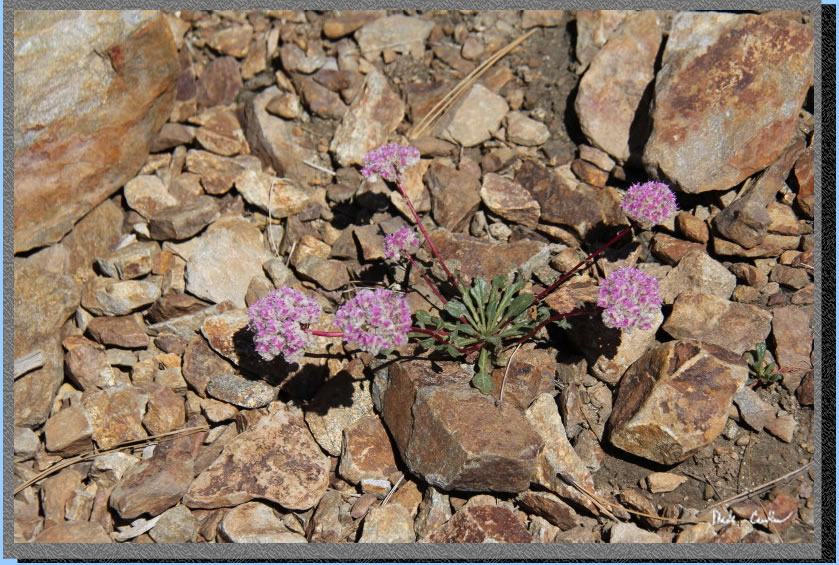 So after you pass by Island Lake and the Crooked Lakes close to the trail you strart climbing. Here is Tyler starting the ascent. The trail goes up and to the right in this shot.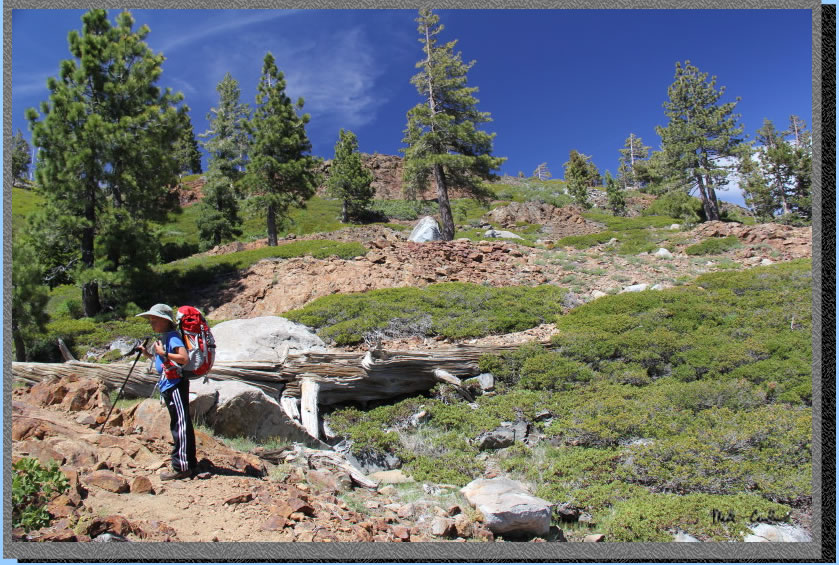 You are quickly treated to some gorgeous views of the Crooked Lakes, and the nearby features of Haystack Mountain and Sand Ridge.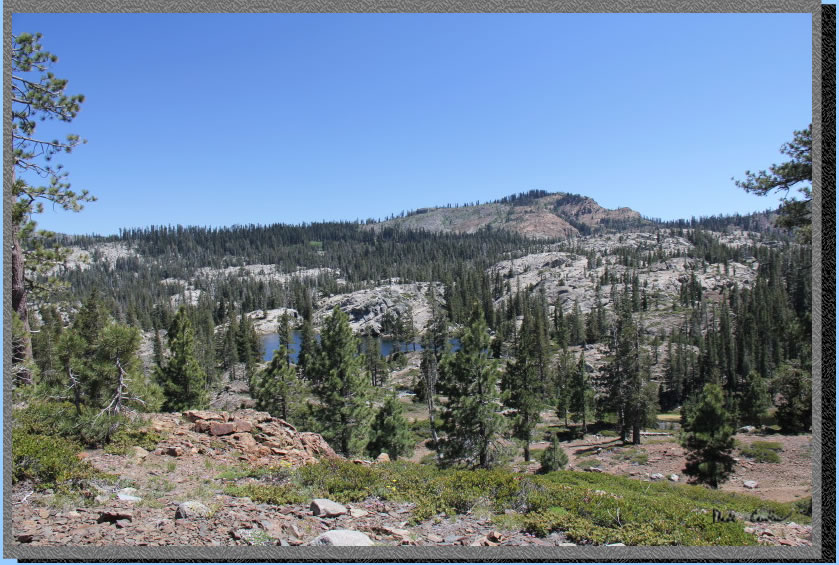 The uphill section is rocky and exposed, just the way everyone likes their uphill sections. Lucky for us the wind was really blowing to keep us from getting too warm.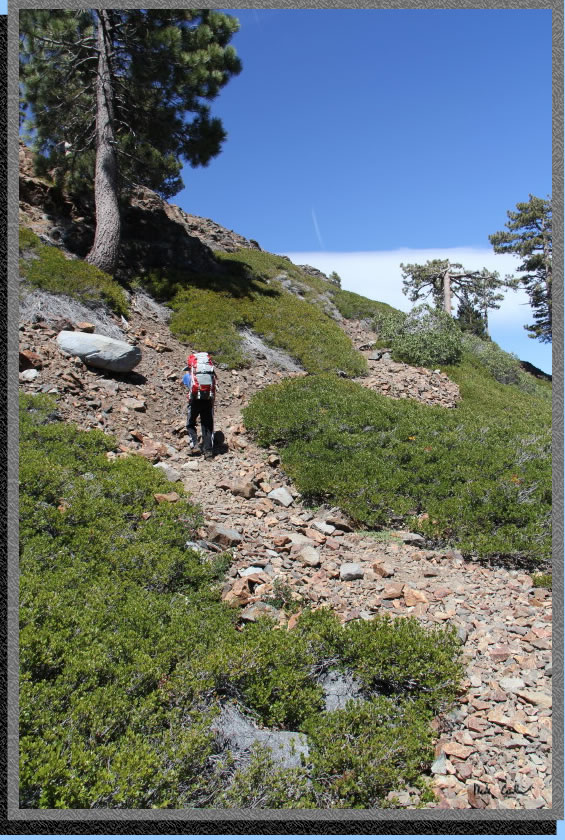 After the up, you hike slightly down to Penner Lake. There are decent sites on the the east shore. I chose a site above the lake on the south shore, as there was already a large group on the east shore. The area around the lake is rocky and the wind was blowing all afternoon.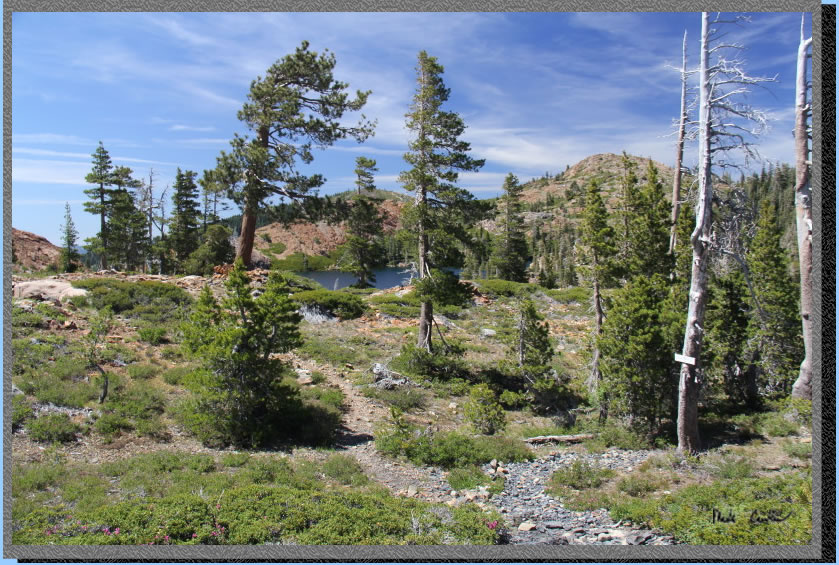 Tyler played in the water for a while, and I just watched the waves for a bit. There were fish jumping in this lake.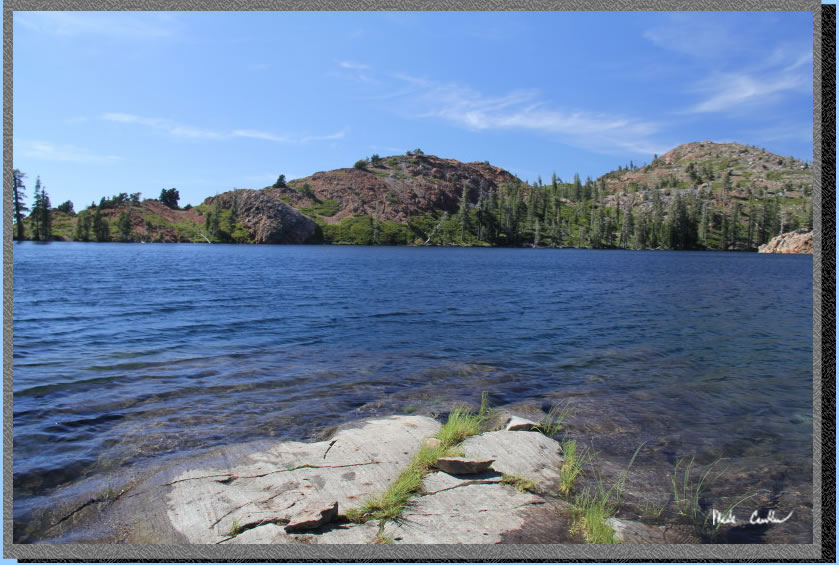 The rocks around this lake are great for climbing, and looked neat too.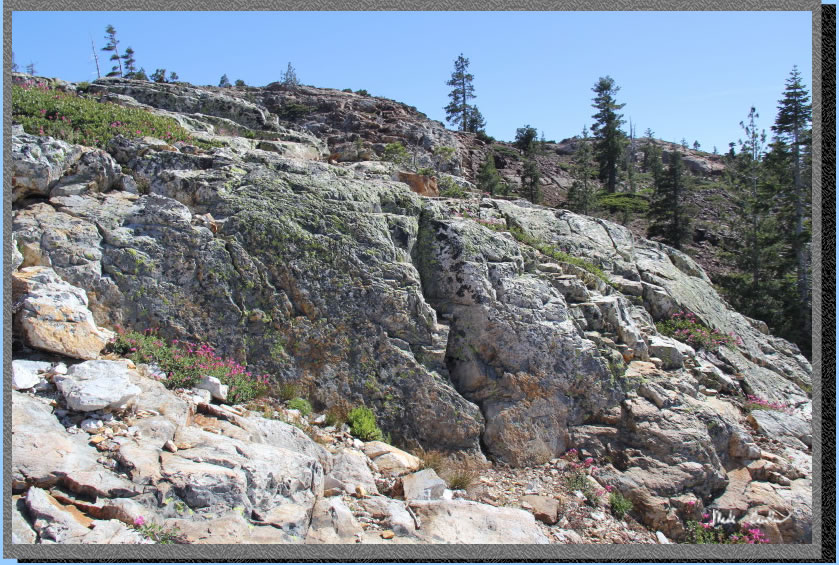 We hiked above the lake that evening after dinner, and spent some time skipping some rocks in a decent sized pond on the way back. You can see the wind died down that evening. We had a nice evening of stargazing and then nice sleeping. I heard a couple frogs but no other wildlife that night (not even the group on the other side of the lake). Tyler is an early riser, so we had woken up and had breakfast by 7:30. We hit the trail by 8:30 and took our time on the way out. This is a great easy mileage trip with some great longer trip options as well. I will finish with a couple pictures taken on the way back to the car.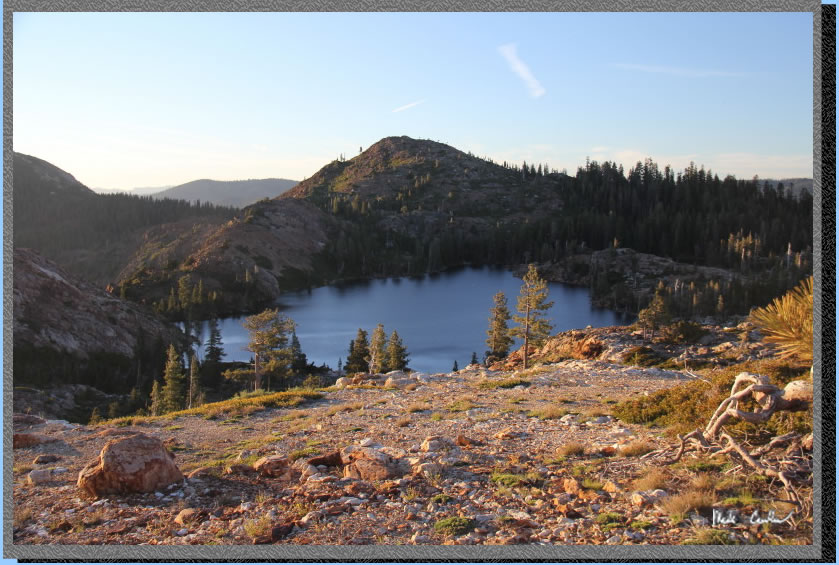 A better shot of Fernville on the way out.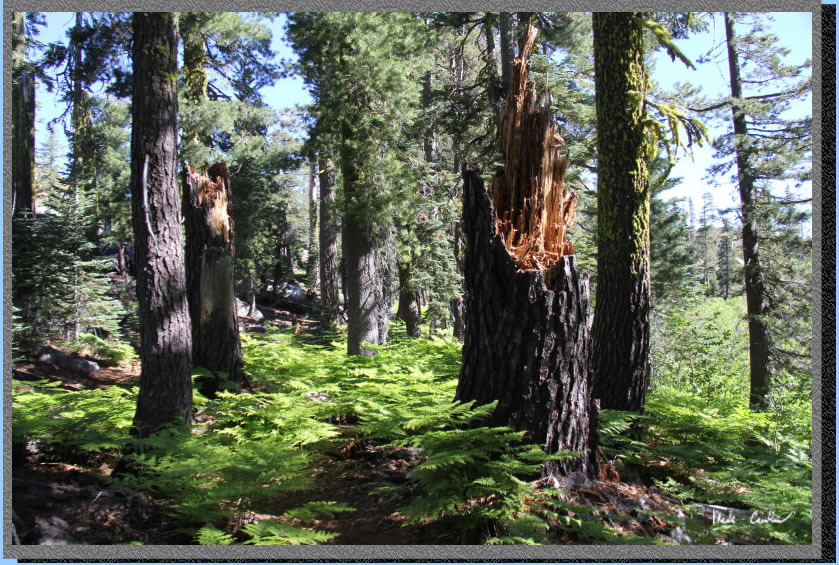 Feeley Lake's clear water.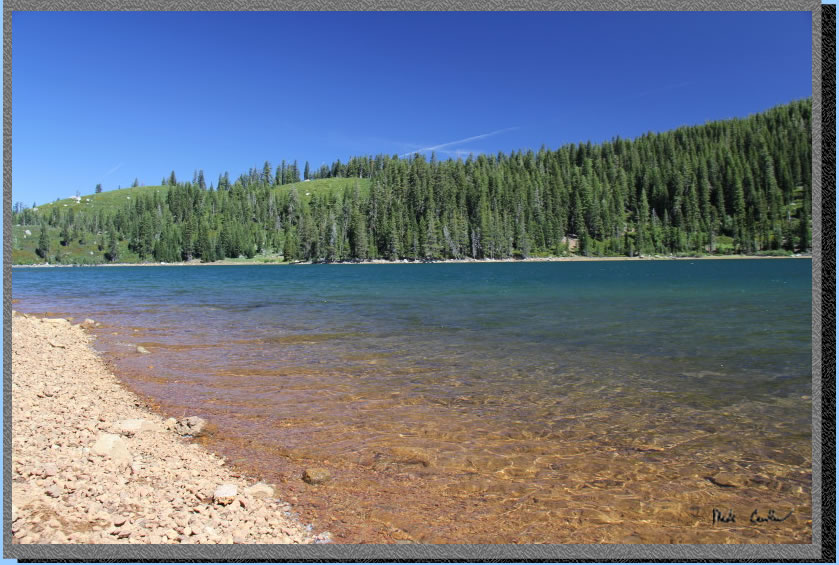 Bright red line shows the trail to Penner Lake from the Carr Lake Trailhead in Tahoe National Forest. Click on map or profile for larger version.
.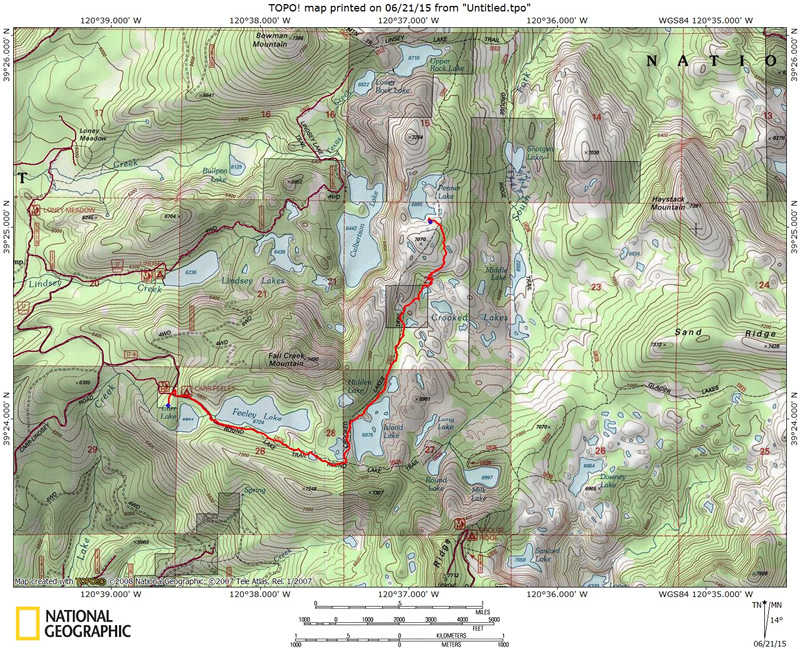 (back to top)