Permit - A permit is required for overnight stay from the ranger station at Memorial County Park. No reservations are taken ahead of time for this trail , camp. Cost is $10 for your site. Pay at the kiosk as you enter the Park. Memorial Park has bathrooms, water, pay phones (no cell coverage) and a seasonal camp store. Ranger is only there about every 30 minute during the week.
Mileage - Shaw Flat Trail Camp is less than 2.5 miles via the Hoffman Creek Trailhead. Little elevation change and almost all shaded
Camps/Water - There are 8 sites at Shaw Flat Trail Camp. Each site has a food locker and fire pit. There are two pit toilets at camp. Water is not provided, but you can filter in the nearby creek (always check with ranger ahead of time for current water/trail conditions).
Hazards - Mountain Lions, Poison Oak, creek crossing, and plenty of mosquitoes. Nearest Ranger # 650-879-0238.
To get to Memorial County Park from East Bay head towards Woodside using either highway 84 or highway 92. Head to Skyline Boulevard (Highway 35) and take La Honda Road to left onto Pescadero Road and then a right onto Pescadero Creek Road then a left into Memorial County Park. We waited a while for the ranger after chatting with the nice lady that runs the seasonal store to the east as you come into the campground. After waiting 45 minutes for the ranger we decided to just pay the iron ranger and be on our way. I has already talked with the ranger a couple days prior and found out all the info I needed about the camp/trail. I was warned by the ranger that mosquitoes were bad this year, and there was enough water in the creek to filter. We used Hoffman Creek Trailhead to make this a nice ~2.5 mile hike in (see map below). There are longer options if you use the trailhead to the north. According to a nice backpacker we ran into the trail is nice and downhill from Sam McDonald County Park.
Hoffman Creek Trailhead is very close to Memorial County Park. From Memorial County Park you make a right onto Pescadero Road and then the next right onto Wurr Road, trailhead is on the left. There are no bathrooms at the trailhead, but you could go back to Memorial County Park if someone forgot to use the bathroom. Here is Sarah geared up and ready to hit the trail. Trail starts by heading over the bridge on gravel road.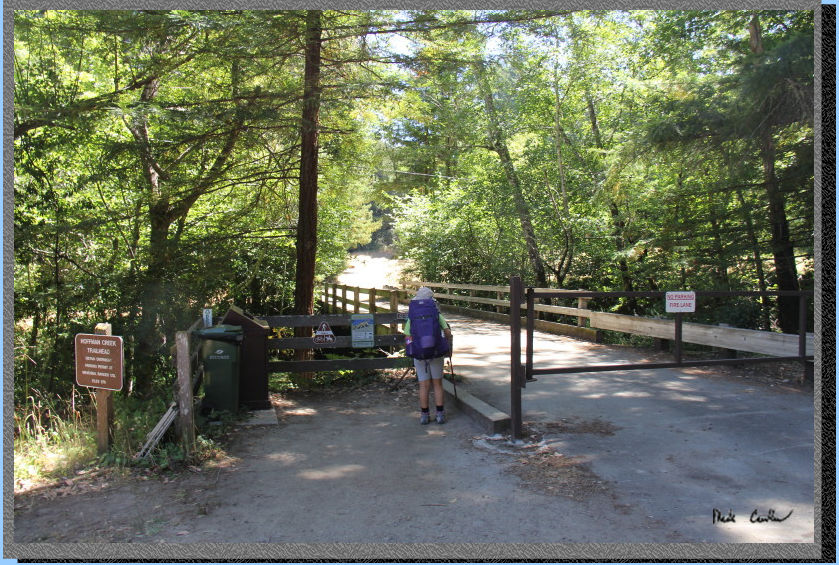 The trail markings are great on this trail. All junctions are marked with these new style markers that are numbered and match your map (you should have a map). We decided to use the Old Haul Road to Towne Fire Road to Shaw Flat Trail. The trail starts off on a newer section of gravel road as you head near the Redwood Glen Christian Camp. It sounded like those kids were having fun when we were traveling through. There are several private trails that cross, or intersect, with the Old Haul Road; all are well marked as private though.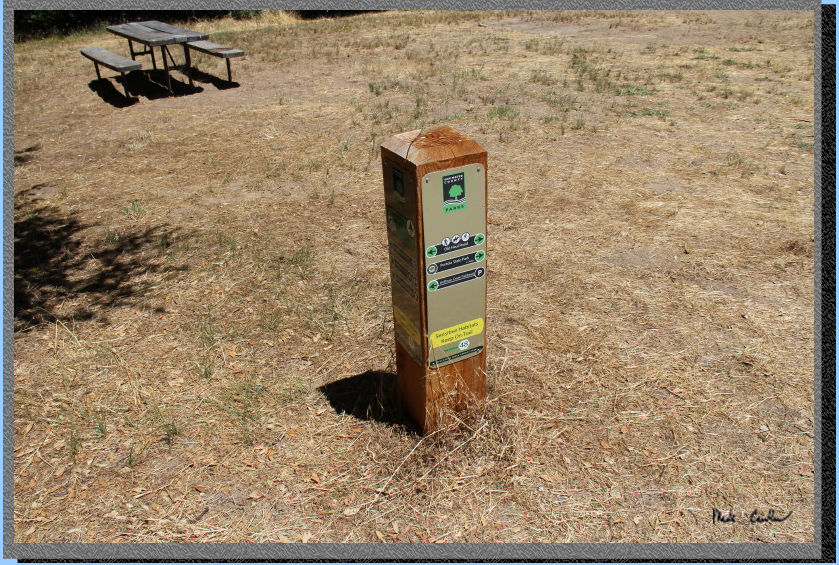 The trail is very gentle and you are surrounded by second growth redwood trees. The shade was nice but the rangers were correct that the mosquitoes were out in force. We put on a layer of DEET and made sure to not linger in the shade too long.

Here is the gate you pass by after traveling up a little (again very gently though, see profile below).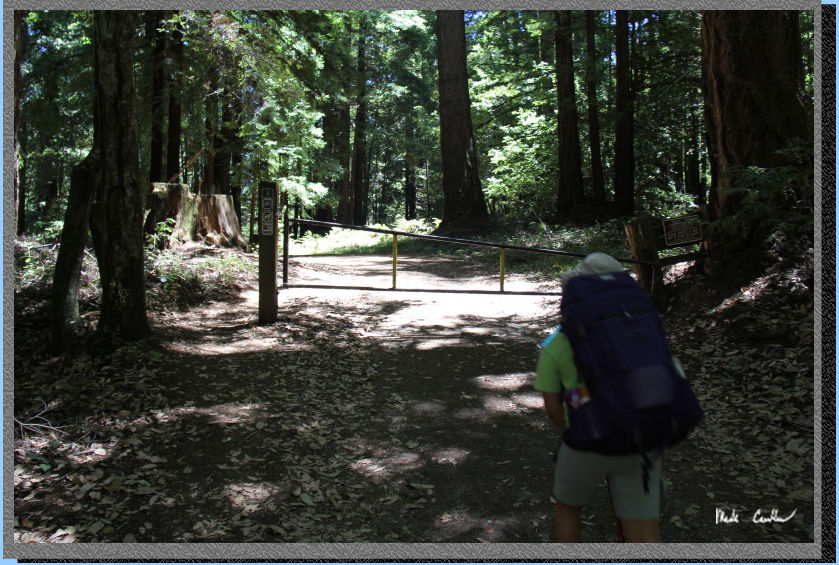 Stay right at the junction with the Pomponio Trail (unless you want to go that way to Shaw Flat). Here is another shot of the great shade. You can see the notches cutout on the redwood stump, when it was cut down. There are many stumps throughout this hike, if you are looking for them.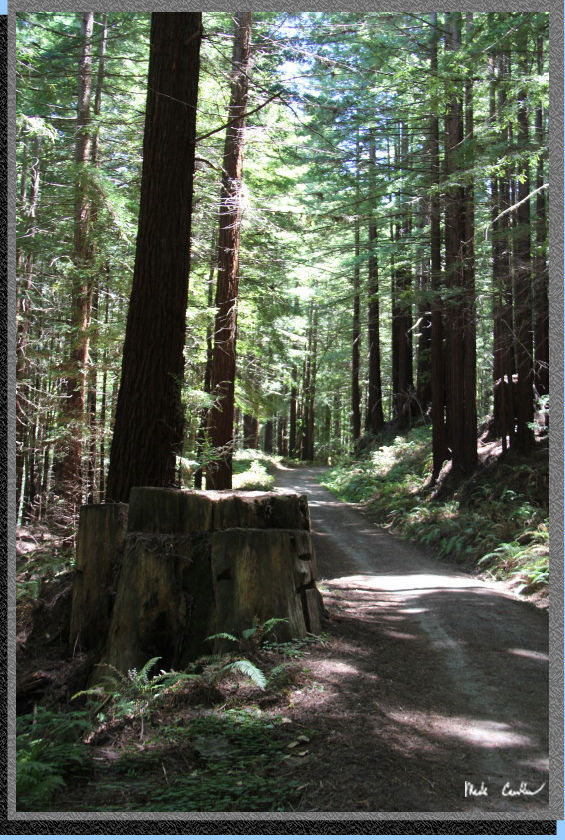 Evidence that not all the notches seen in the stumps are from the days of logging.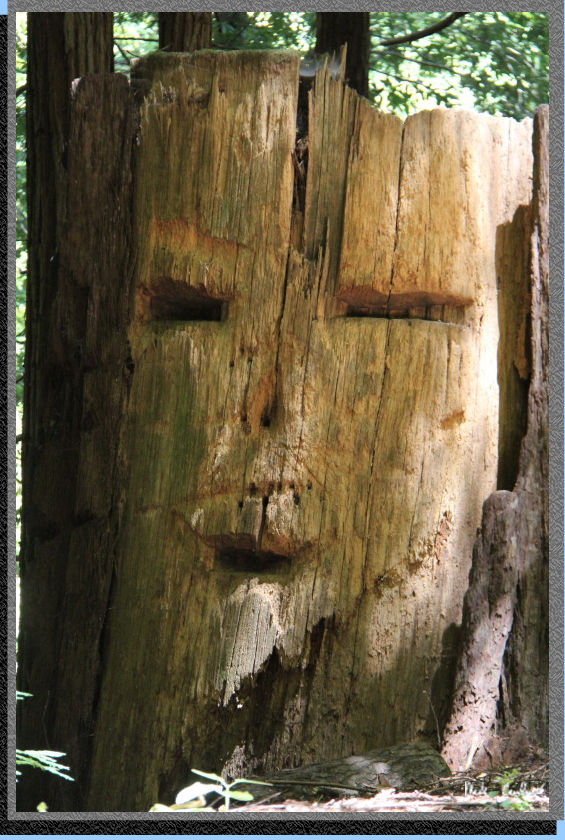 Here is the junction with Towne Fire Road. You will make a left onto this trail (down and left). The image below is looking back at the crossing sign, to make it appear on the wrong side. The Pescadero Creek crossing is near now.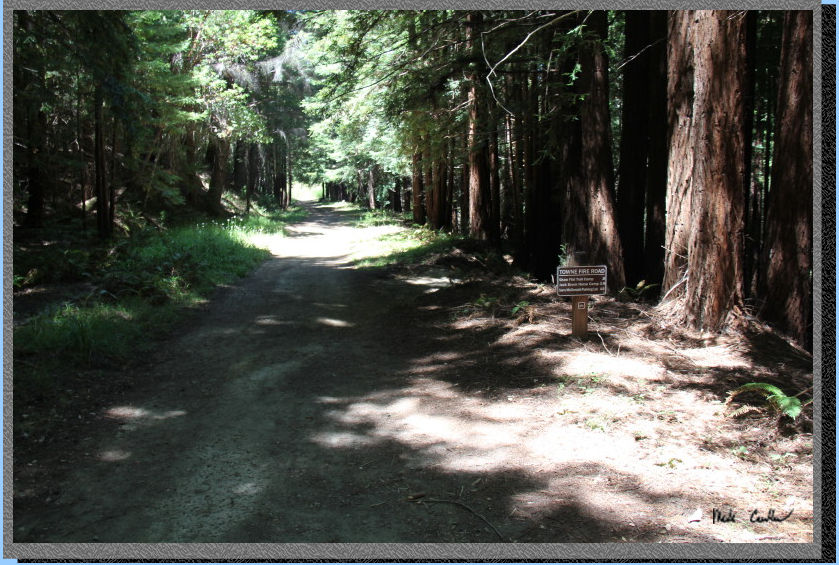 Here is the creek crossing. It was very exciting for Sarah to be crossing a creek for the first time. We both were able to make it to the other side safely.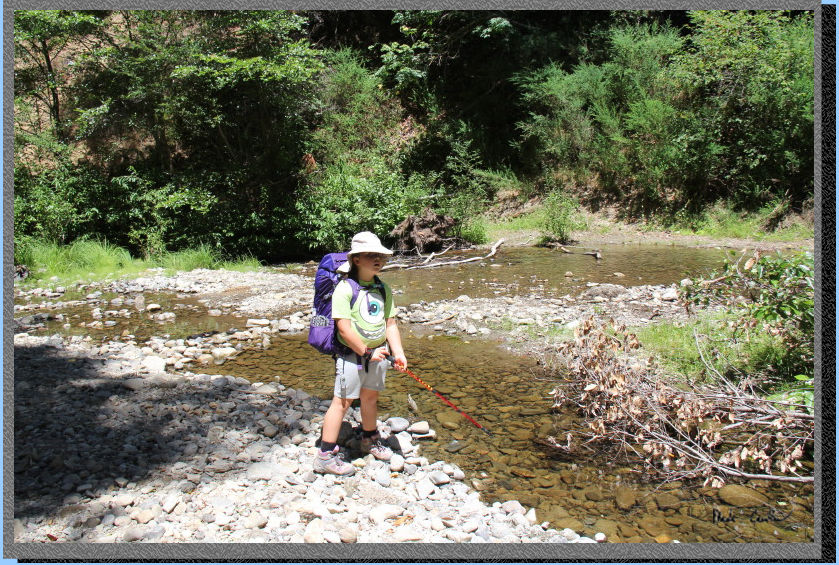 Take the right here to connect to Shaw Flat Trail and Camp.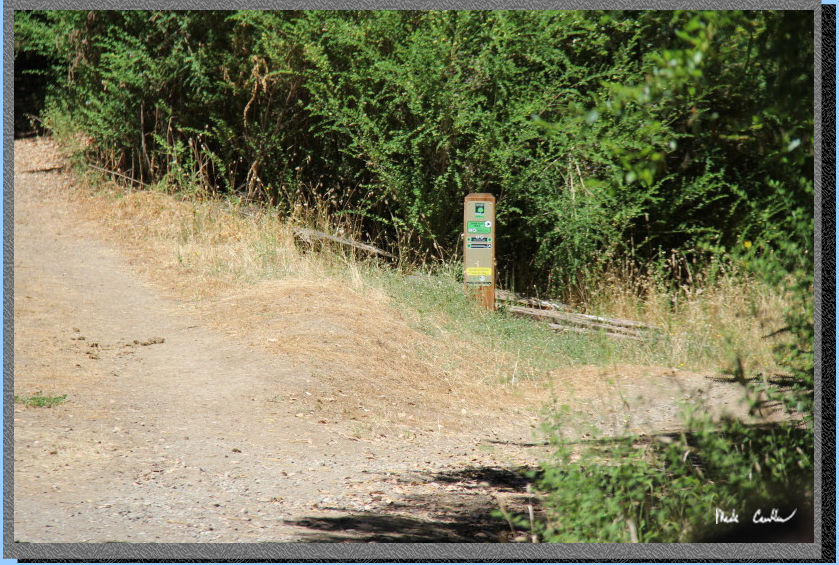 This is site number 8. This is the largest of the sites and also the one furthest to the east. We setup our tent and put our food into the bear locker before heading down the creek to filter some water. We hiked past camp (further east) to the creek.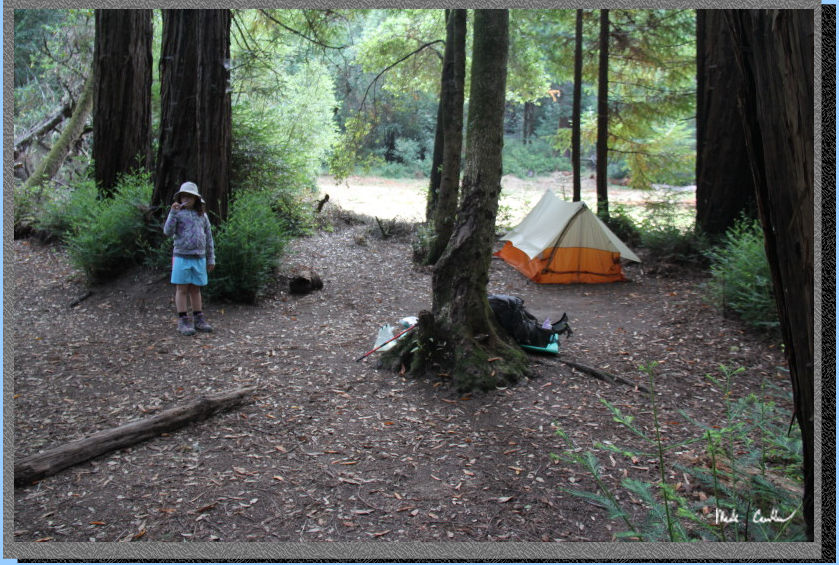 Here is Sarah playing in the creek after we filtered water. It was really nice to just sit down by the creek and it was surprisingly mosquito free down there. We stayed until we thought we should get back to start dinner. While down here we met up with a nice backpacker that would be our neighbor at #7 that night. He is a regular in this area and it was nice to chat with him about the trails in the area.

Here is another shot of the site the next morning. You can see there is a firepit at the campsite. I never asked about having a fire, so I am not sure what the current rules are.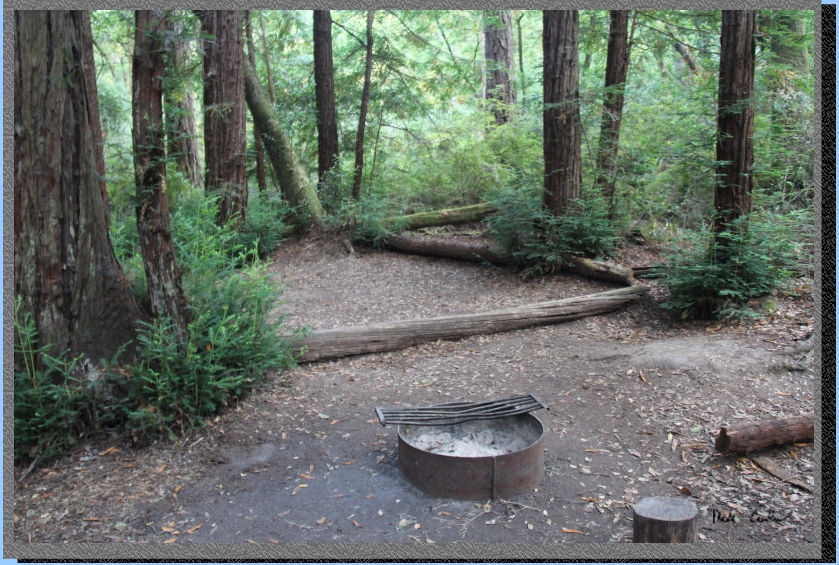 We had a nice night that was very mild. We headed out the next morning with energy and a plan to see the ocean on the way home. Here we are at the creek crossing again.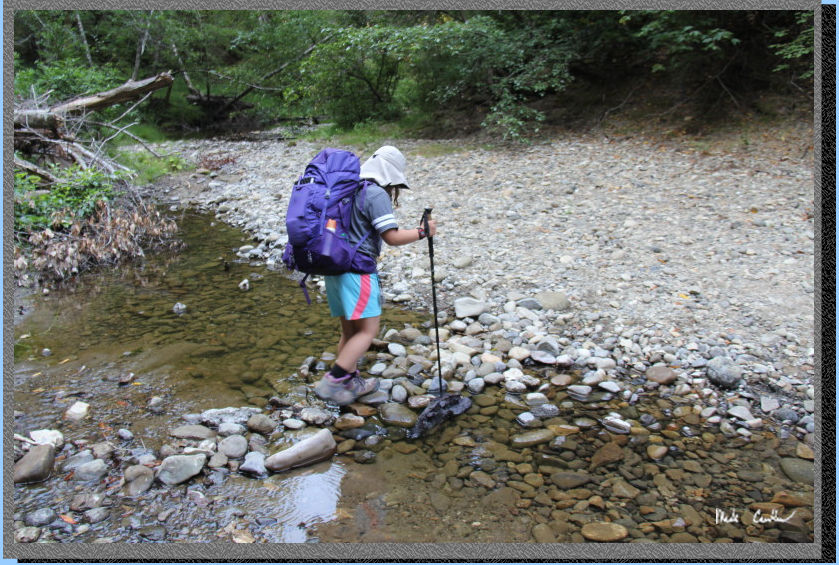 We made it across again without getting wet. I am pretty sure that Sarah liked that part..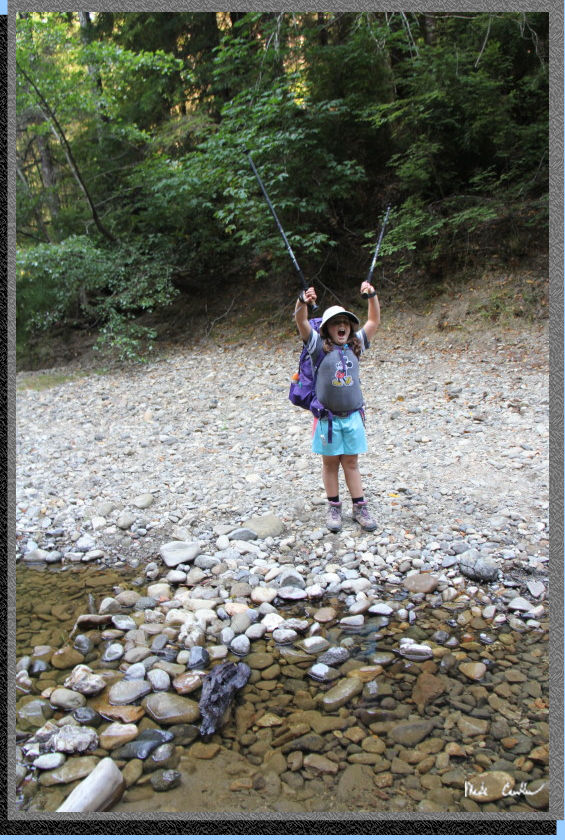 Besides the mosquitoes this was a great trip. I have been on a few trips were the mosquitoes were what I considered "bad", and this was one of them. Sarah eventually went into the tent after dinner as they would not let up. I have been here once before and we had a few mosquitoes at camp that night as well. So if you travel to this camp bring DEET. I will leave you with a few pictures that did not fit in the trail description but that I thought were nice.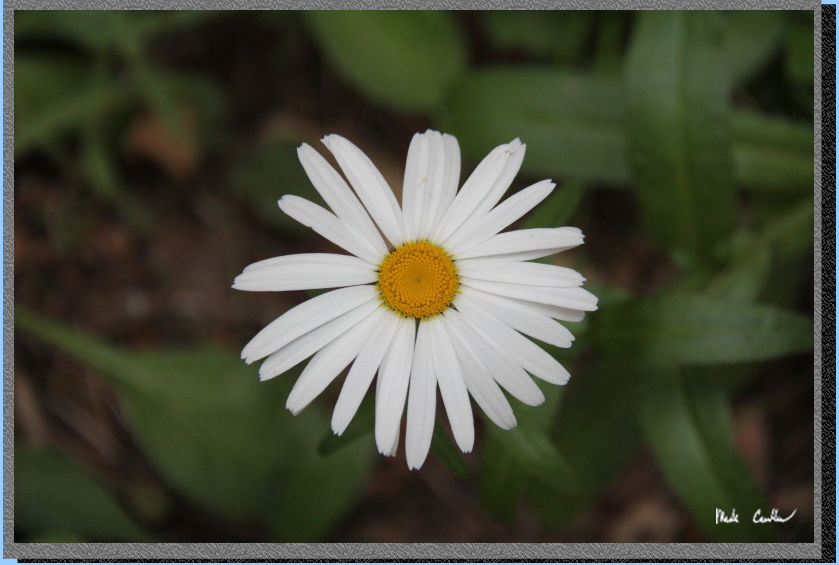 Here is a memorial bench were I believe Schenley Creek goes under the trail. We used it as our snack bench on the way out.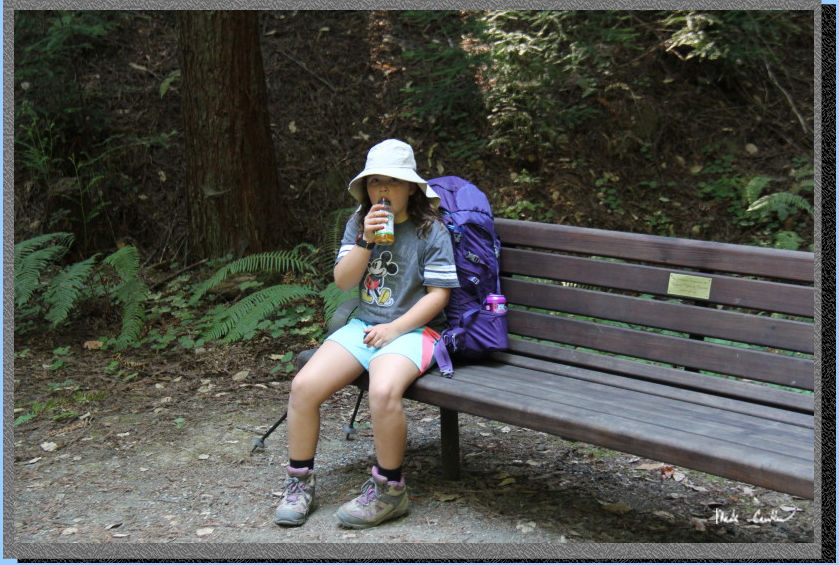 This tree is not quite ready to be a log. I thought it was pretty neat the way it stuck out over the trail.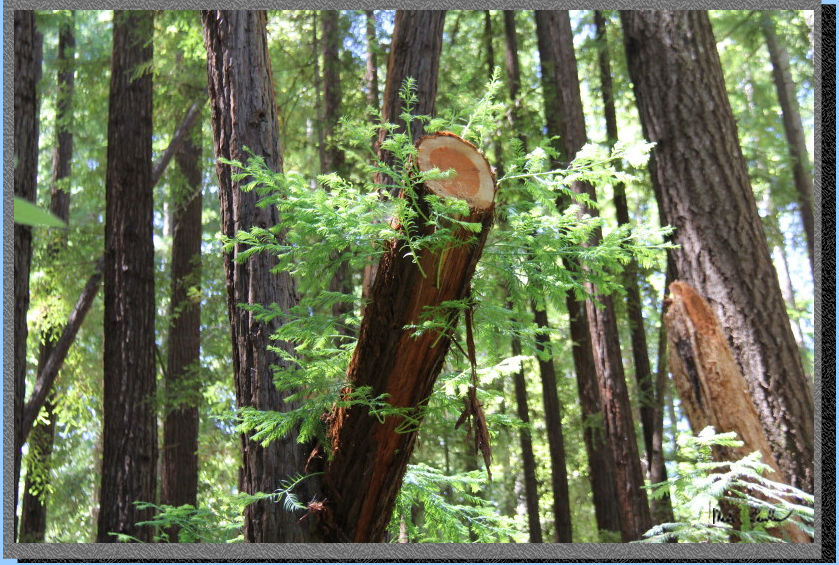 I tried to capture the feeling of the trees around this trail in this shot. It does an OK job..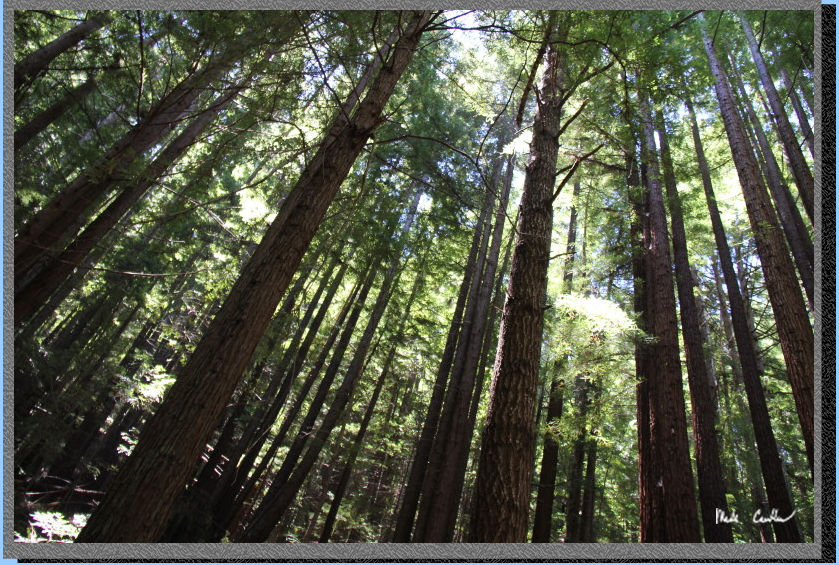 Red line shows the path we took from the Hoffman Creek Trailhead to Shaw Flat Trail Camp #8. I also marked Memorial County Park entrance on the map as well. Click either for a larger version.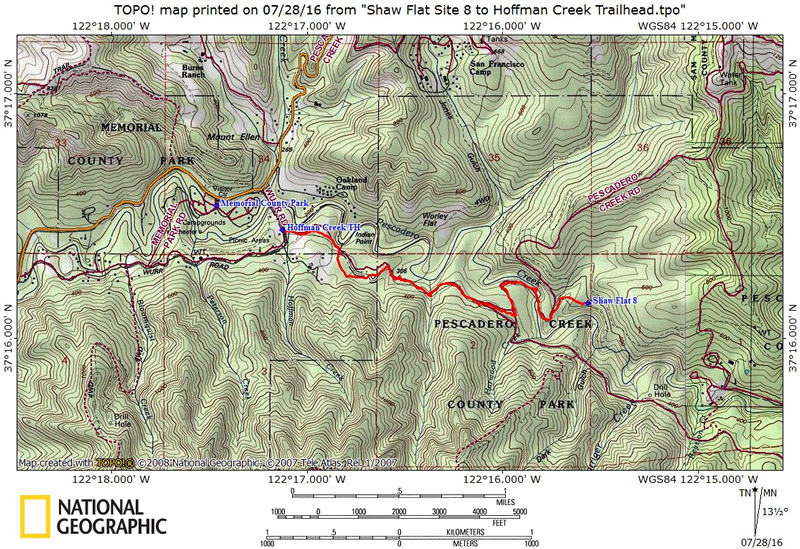 (back to top)
Profile on the way out (make sure to look at the scale and the total elevation gained/lost before you get excited):