We finally had the whole ABC crew on this trip (Leo, David, Eric and myself). Eric wanted to see some redwoods and that sounded like a good idea to the rest of us so Eric planned a trip to Shaw Trail Camp. He gave us two options of getting there: Option one was a 5 to 6 mile trip via Sam McDonald County Park and option two was a quick 2.5 mile trek via the Hoffman Creek Trailhead. Well it was decided that, for today, shorter was better and then we could fool around more at camp. You have to get a permit for either option from the ranger station at Memorial County Park. No reservations are taken for this trail camp so get there early if it is a popular weekend. From East Bay head towards Woodside using either highway 84 or highway 92. Head to Skyline Boulevard (Highway 35) and take La Honda Road to left onto Pescadero Road and then a right onto Pescadero Creek Road then a left into Memorial County Park. Spend $5 for the nice map of the area (unless you already have it) and then $10 for your site. After paying and using the facilities if you need to head back to the trailhead by taking a right onto Pescadero Creek Road and then another right onto Wurr Road. Trailhead is on the left near bridge over Hoffman Creek.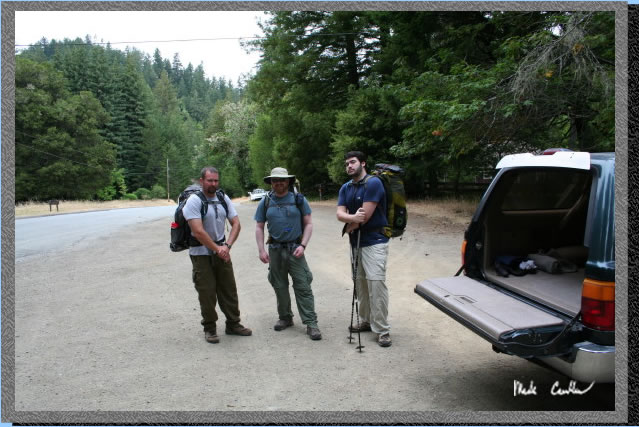 Here are Leo, Eric and David as we were ready to start our trip. See map and profile below of our trip. Weather was forecast for partly cloudy/foggy but it was just warm enough. Rain can be fierce in these mountains so if there is any chance of rain you should prepare for it. I always carry rain gear even if none is forecast (I prefer to be prepared rather than be wet). I will never be ultra light but my pack is getting lighter every year.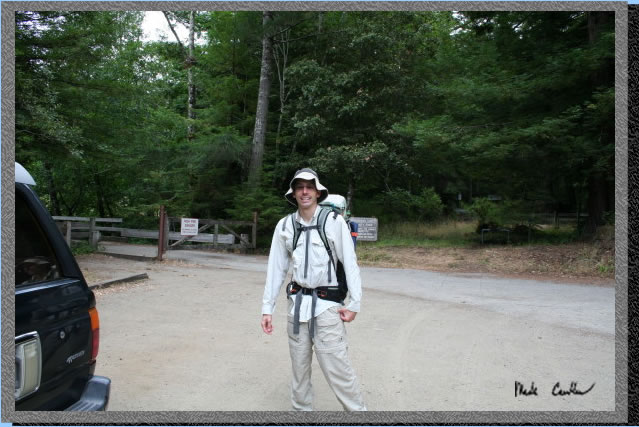 Here I am at the trailhead (my son wants proof of me actually going on these trips so i pass the camera more now). The trailhead parking is decent enough. We left on a Friday morning and there were only a couple other cars. I imagine it is a little more popular on a weekend. The trail starts just over my right shoulder. The nearby Christian camp was having some sort of Jazz music festival that sounded good at times but then it would start sounding more like they were tuning their instruments. Luckily we did not hear them after we hiked a bit.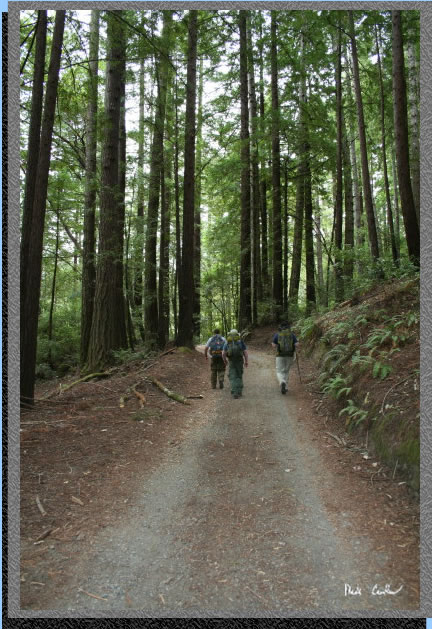 The trail is pretty level and well covered by big trees. Being this close to the coast the temperatures are already milder and with the tree cover it is downright perfect for hiking. Of course with the cover and the nearby creeks mosquitoes have an ideal habitat as well. It was a little hard to shoot in the tree cover (and the GPS had some trouble as well) as I didn't have a tripod and the light was less than ideal.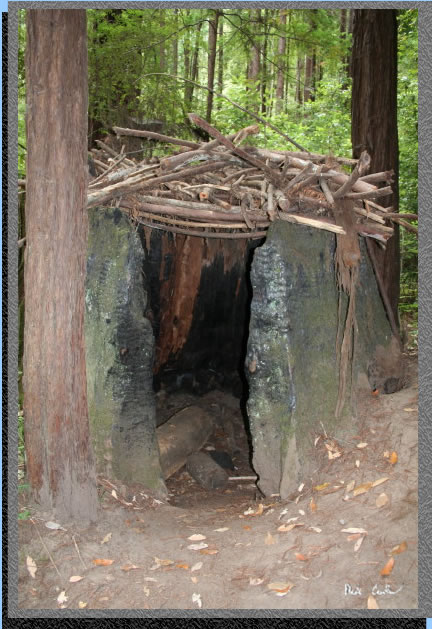 The trail/road we took in is well marked. There are a few spur trails to/from the nearby Christian camp but if you stay on the main drag there is no excuse to get lost. Here is a shelter that someone created out of a burned out stump. There is evidence of the history of logging in this area. The trail camp is actually the spot of an old logging camp and there are many stumps on the way in that have marks from the springboards used by loggers.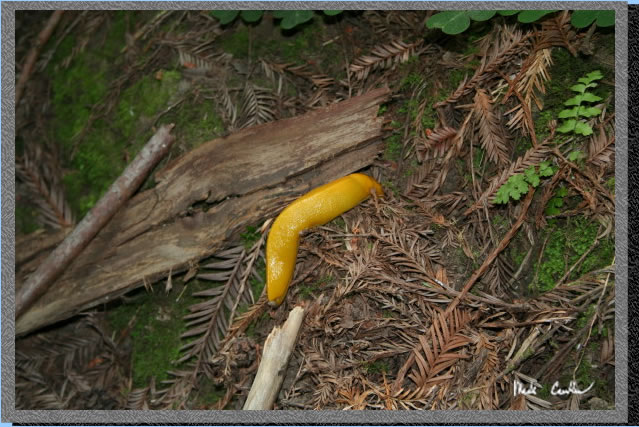 Banana slugs love these mountains. We saw a few both on the way in and on the way out, so watch your step as you don't squish one of the wonderful creatures. Of course daring your friend to lick one was always fun when I was a kid.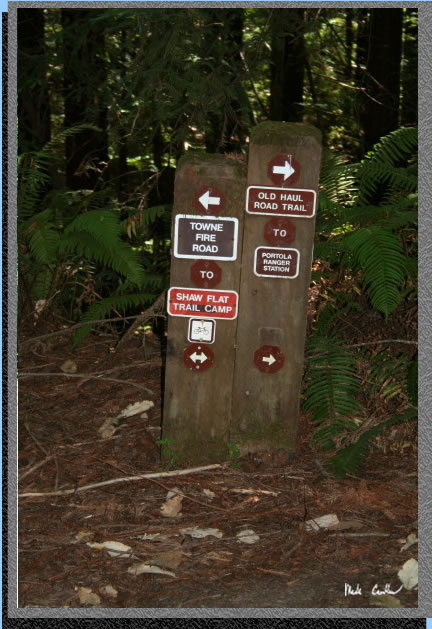 Here is the junction of the Towne Fire Road and the Old Haul Road Trail. Both will take you to the Shaw Flat Trail Camp as the post tells you. We took a left on the Towne Fire Road. Horses do use this trail so keep an eye and ear out for them.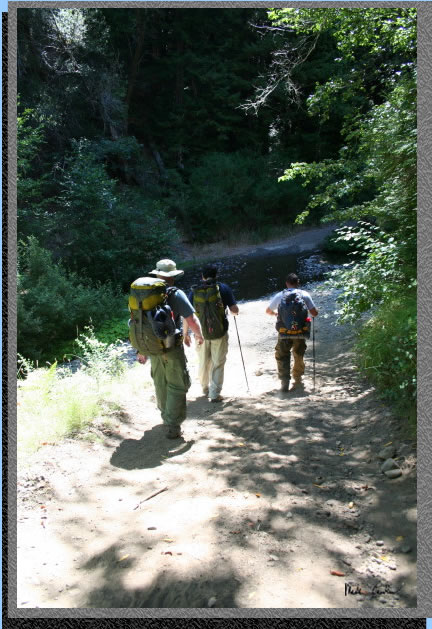 Here we are approaching Pescadero Creek. I have read through other web sites that this creek crossing can get interesting when the creek is running high. I imagine asking the ranger in advance of the creek conditions is the best option in Winter/Spring.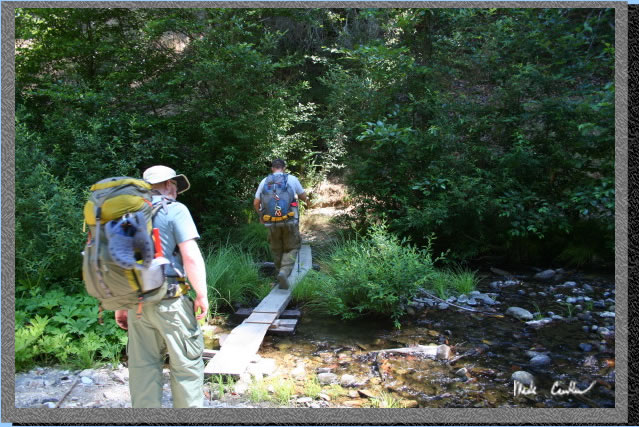 So there are two ways to cross this creek. The first way is depicted here by Leo and Eric while they cross on the bridge. Notice the ease of which they cross and how even if the water was higher it would not pose a problem.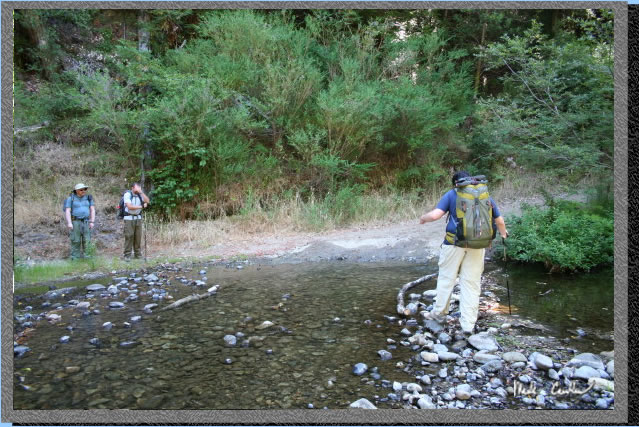 The second way is depicted by our youngest member (David) while he just crosses on some rocks. I am not saying which way is better but I used the bridge as I like to keep my feet and camera dry.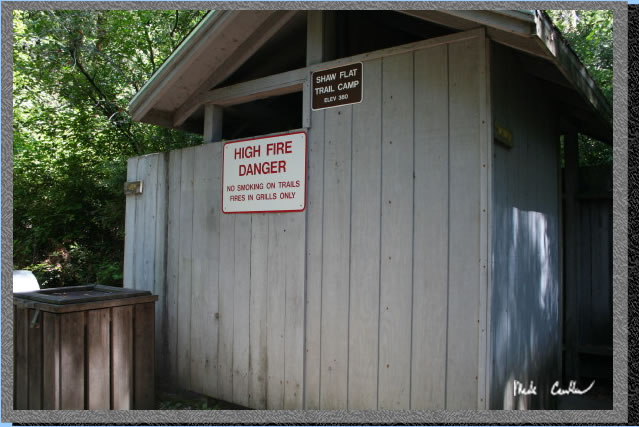 So with a little more hiking we made it to the Shaw Flat Trail Camp. The bathrooms are nice for pit style toilets. Water is available at Pescadero Creek either by back tracking or continuing past the trail camp to where the trail narrows and crosses the creek again. I recommend heading forward on the trail as the ranger pointed out that horses and vehicles cross this creek so getting your water upstream is always the best option (I also think the jail, I mean Honor Camp is upstream). We picked the last site (#8) as it is the biggest and offered the best seating. It also had many mosquitoes!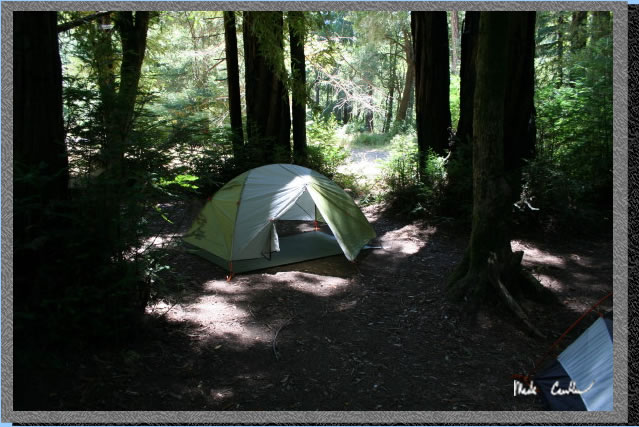 Here is Eric's shelter for the night. He decided to just go rainfly and groundsheet to save some weight. I think it worked out for him as I heard him sawing some logs most of the night.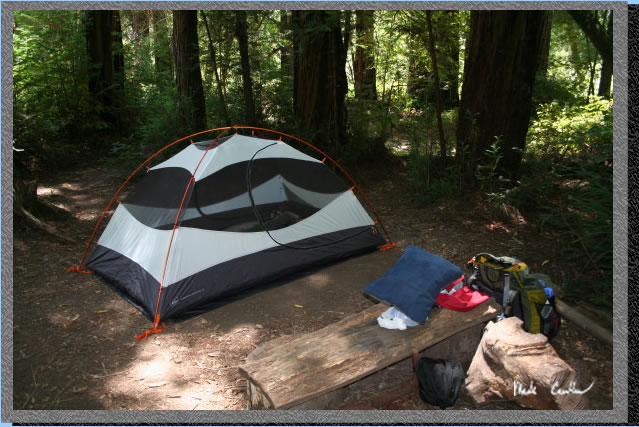 David went with tent and no rainfly (at least until later I believe). He prefers he room of the 2 man to stretch out in. We all think he is crazy for packing in that many pounds of a tent for himself but hey it is his back.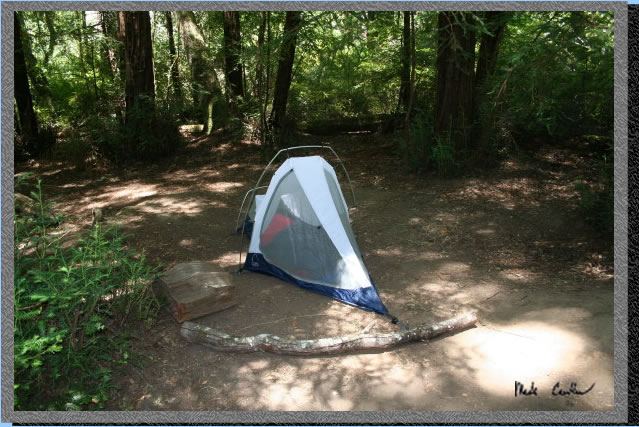 I went with just my one man Sierra Design with no rain fly (hey it was warm and no clouds that night). I do pack it with me though just in case. It works well but I have found if water is pooling around the ten I have to watch for splashing into my tent. It happened once and I though it was my tent leaking . I solved it by moving my boots to outside the tent door to deflect any splashing in my very small vestibule.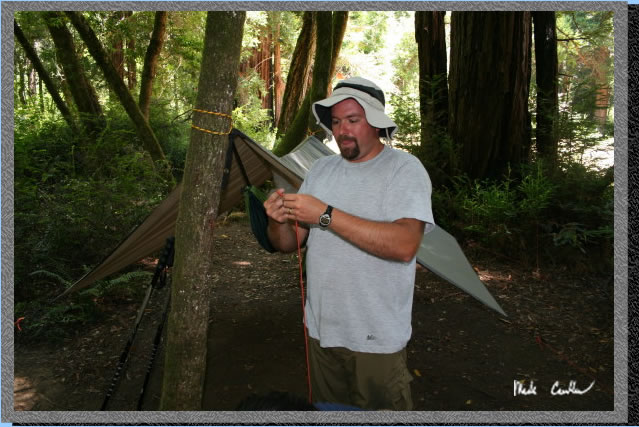 Leo did the hammock thing. He is our master knotsman. I think he likes sleeping in the hammock so he can show off his skills with ropes. He says it is more comfortable than sleeping on the ground but we all know how much he likes using the truckers hitch..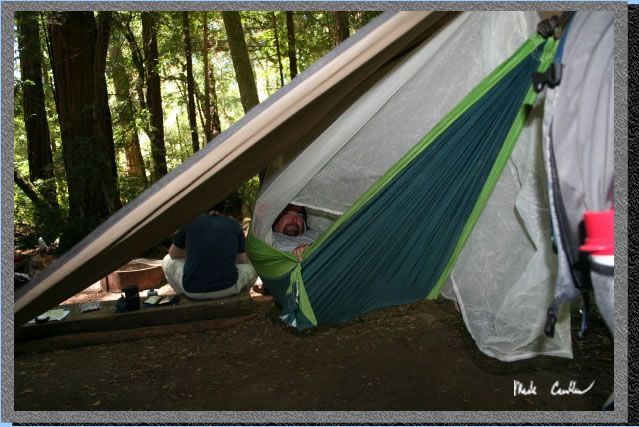 Here he is the hammock testing it out. He does appear comfortable even though getting in and out of it is not an easy feat. He does have the setup perfected now.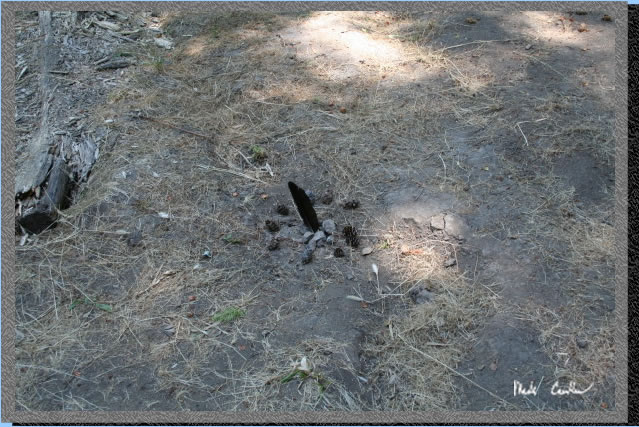 Someone decided to do the whole Blair Witch rock thing out in the field near our site. I wasn't scared though... of course it was during the day.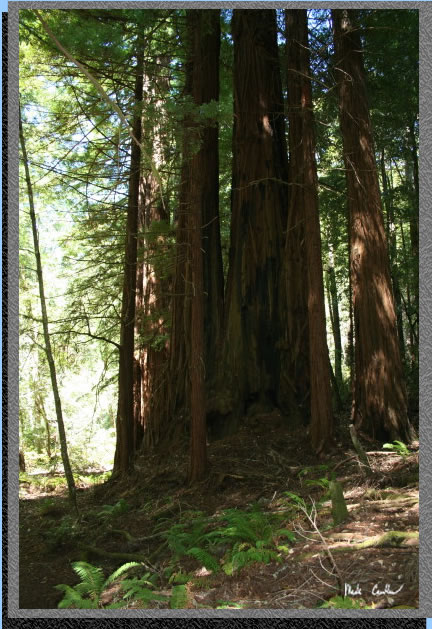 There are some trees that are magnificent on the way down to the creek crossing. Make sure you venture down this way to check them out.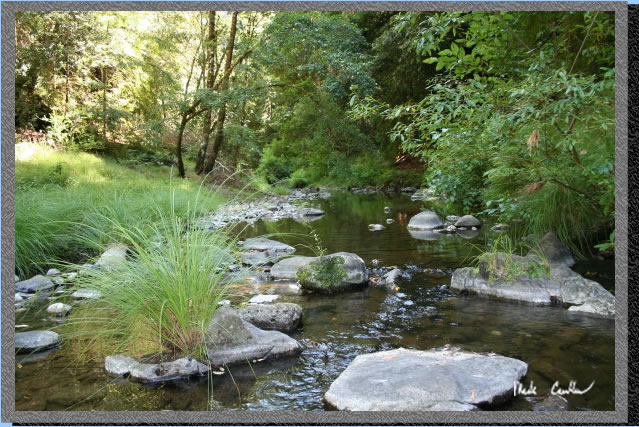 So the creek wasn't flowing that much but enough to keep some small fish happy .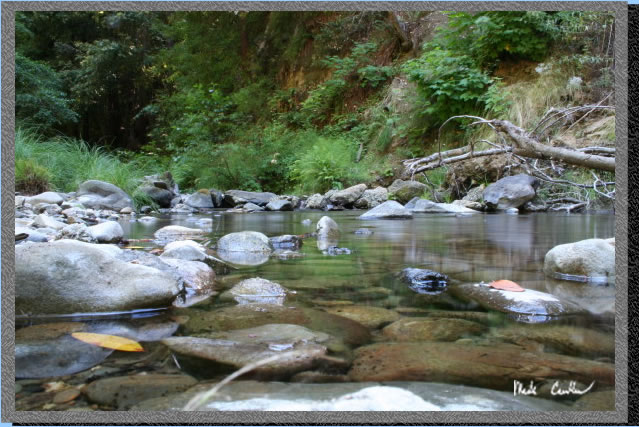 We goofed around by the water for a while so i took some shots to get some wallpaper shots for my computer. This one was taken by setting the camera on a rock and using the self timer (I didn't bring a tripod and the light was low out here).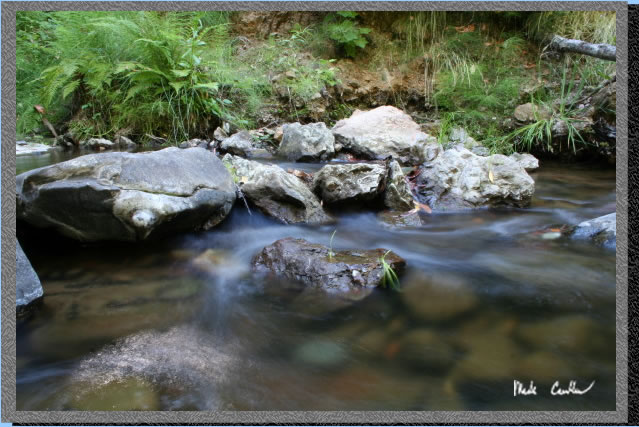 Keeping the shutter open for a while near flowing water is always a neat effect. Don't look to close as it was a little breezy so some of the plants may be slightly blurry (I haven't really gone through them in detail yet to see if I got lucky or not).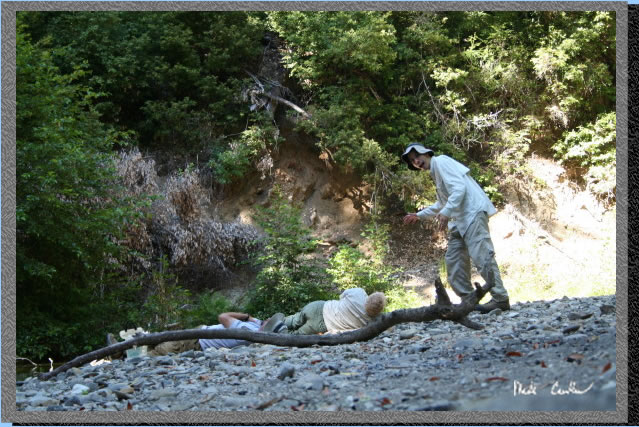 Two in our group decided to try to sleep so I decided to try to mess with them but they looked too peaceful (and I made too much noise) so I decided not to.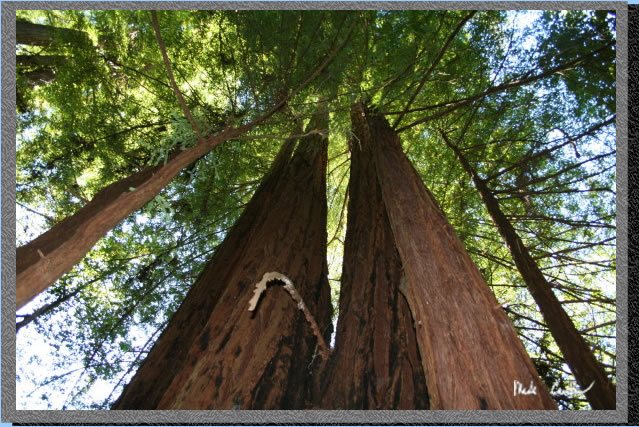 A shot up to the canopy to show the height of some of these giants. I can't imagine what this area must have been like before logging.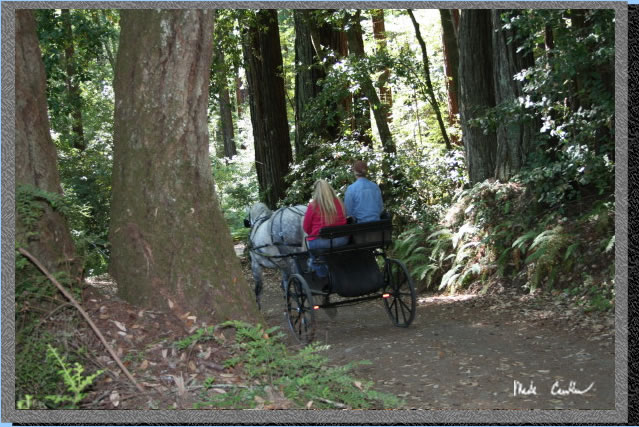 So we had a great night even with the mosquitoes. They finally went to bed after trying to eat through our layers of clothing and deet. This shot was taken on the way out showing a horse and carriage. I had to take it once they passed as the horse looked nervous and I needed the flash on.