We decided to sneak in a sierra backpacking trip before the real snow starts and picked the west side of Desolation Wilderness. I visited Lyons Lake with some friends in college (long ago) and decided it would be a good trip this time of year. This trail is popular during the summer so doing it off season would give us a little more solitude. The hike in is pretty easy and generally in the up direction. There are some stream crossings and with the latest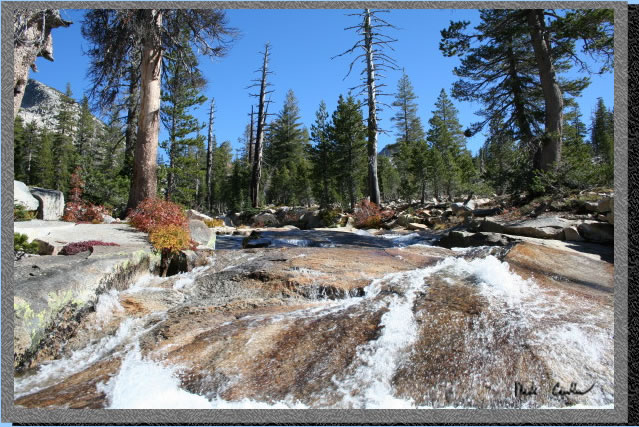 storm blowing through and depositing both rain and snow they were running more full than normal for this time of year. That water was cold to! Permits are of course required in Desolation Wilderness. You can get them mailed to you ahead of time if you call the Pacific Ranger District at 530-647-5415. Or pick them up on the way as you drive by their office (4 miles east of Pollock Pines). They are only open weekdays after Nov 1st so call ahead if you are going during the week. Reservation fees are $5 per person per night or $10 per person for 2 or more nights. You are required to stay where you tell them for the first night but are on your own after that. During the summer there are zone quotas so buying early is a must for weekends on popular trailheads. The picture shows Lyons Creek about halfway to Sylvia Lake.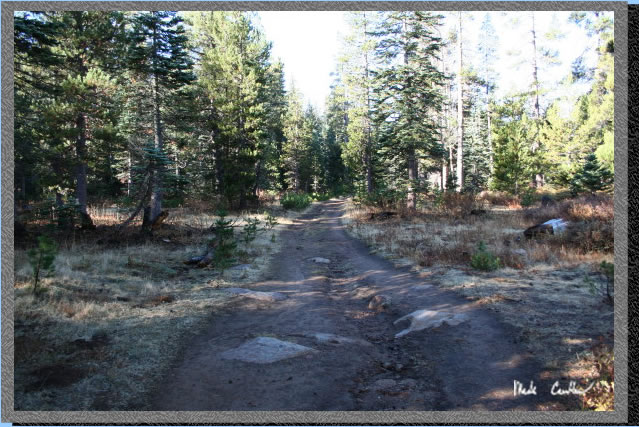 The trailhead is reached by exiting Highway 50 on Wrights Lake Road. Travel approximately 4 miles on this paved road following signs to Lyons Creek Trailhead. The trailhead is located adjacent to the paved road and has a day use iron ranger for fees. (Although when I left they took the trailhead map/info board down and the iron ranger was wrapped up for the winter.) Parking at the trailhead is good for this time of year but can get pretty full on weekends. Eric and I headed in on a Friday and only saw day hikers on the way in. Temperatures in the high 30's keep most away. Here is a shot of the trail/road on the way in. The trail is well tree covered for the vast majority. The trailhead used to be located further in along this road but has been moved to its current location at some point (not sure the history on this). See map below.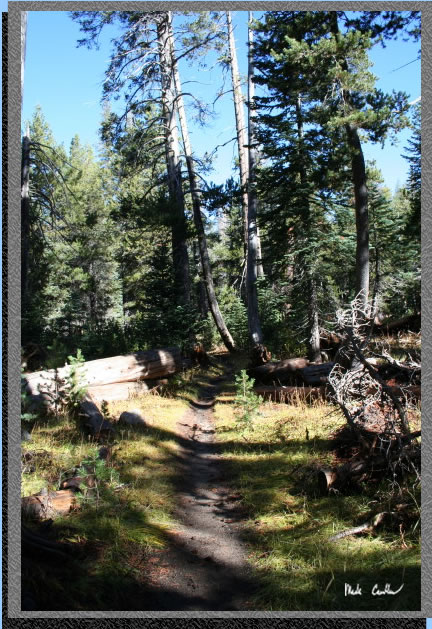 The trail gets down to single track after a few tenths of a mile and starts a gentle climb parallel to Lyons Creek. You can hear but not see the creek during this first section. Once you hike a little further the creek is located adjacent to the trail. Make sure to trek on over to it whenever you want. There are some awesome looking granite pools as the creek makes it way down from both Lyons and Sylvia Lakes. .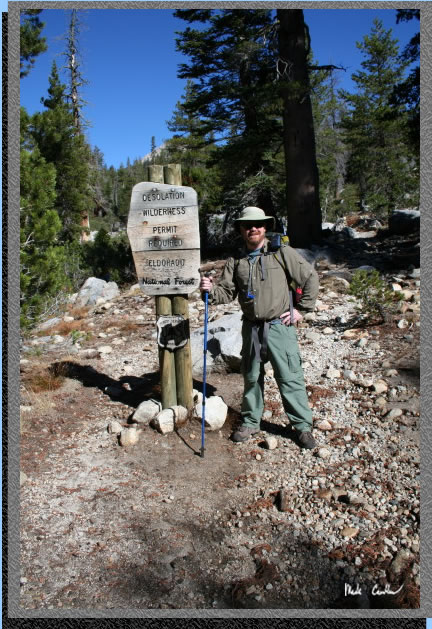 The trail opens up a bit at the wilderness boundary and is now right next to Lyons Creek. You can't help but want to go explore some of the creek here. Unfortunately the water is frigid otherwise I would have wanted to get in. Here is a shot of Eric and the Wilderness Boundary sign.
.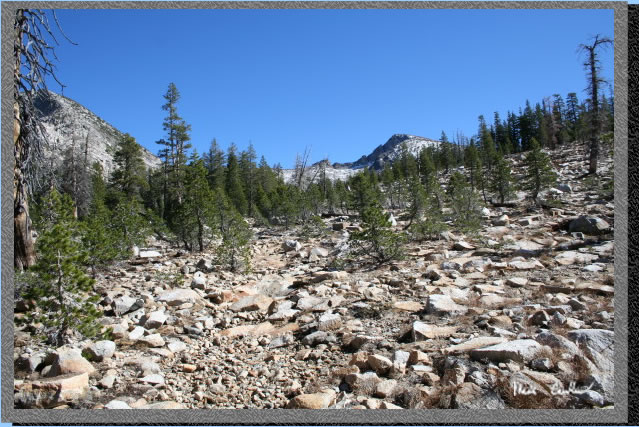 The trail is open and rocky in a couple spots but overall route finding is very easy. There are many landscape handrails along the way (Lyons Creek, Blue Mountain, Mt Price and Pyramid Peak).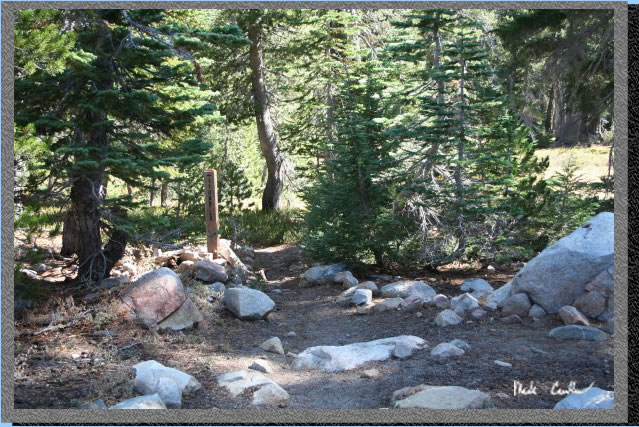 There is one creek crossing before this trail junction. I didn't take a picture of it. This shot is of the Trail junction for Lyons Lake. Continue straight at the junction for Sylvia Lake. Lyons lake is beautiful and worth a day hike. The last stretch to Lyons is a little steep and the lake is all exposed granite. Great for a swim but if you are spending the night and want some shelter from the sun/wind Sylvia is a better choice.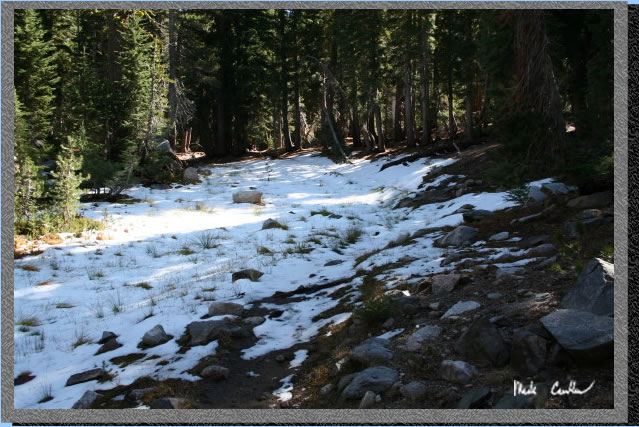 You are almost there now. We had to cross this snow field (well for this time of year it was impressive).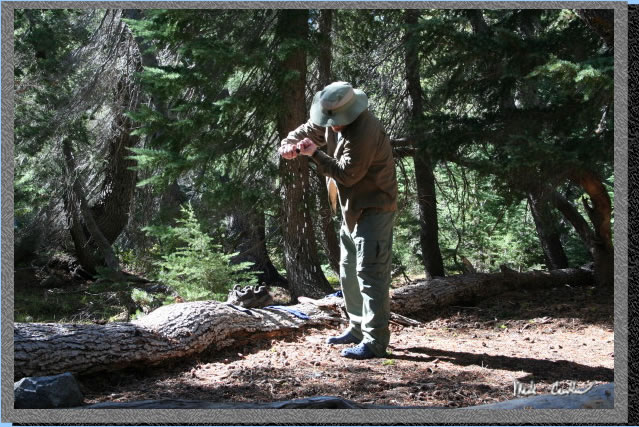 There are two more creek crossings. One was a bit tricky to find a good spot that you could cross easily. Eric was willing to fall in on one of these tricky spots to demonstrate proper boot and sock drying techniques back at camp.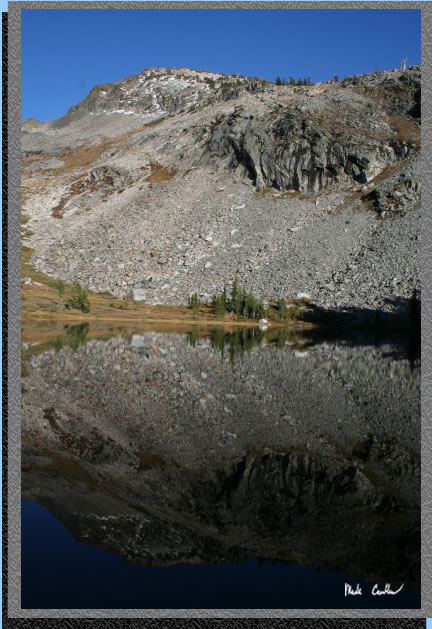 Sylvia Lake is great as it has tree cover. There are some sites on the south side of the trail on the way in that are near but not too close to the lake. Streams seem to be running all over this area which is great at night as a natural sound machine. Views of the ridge are spectacular. Nearby Lyons Lake is also a great one to visit but camping on exposed granite is not for everyone..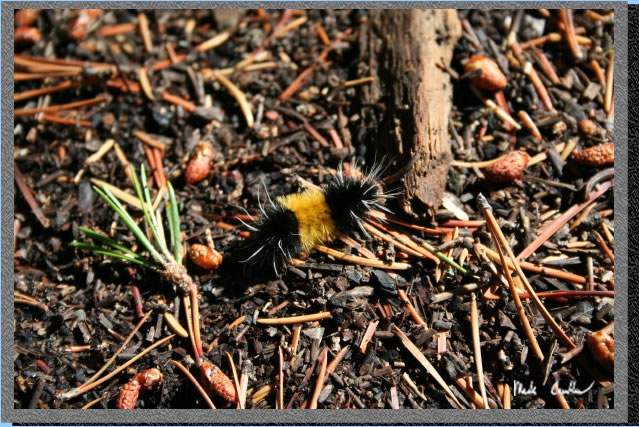 After setting up camp we were visited by this very fuzzy caterpillar. He was fast and we quickly lost track of him.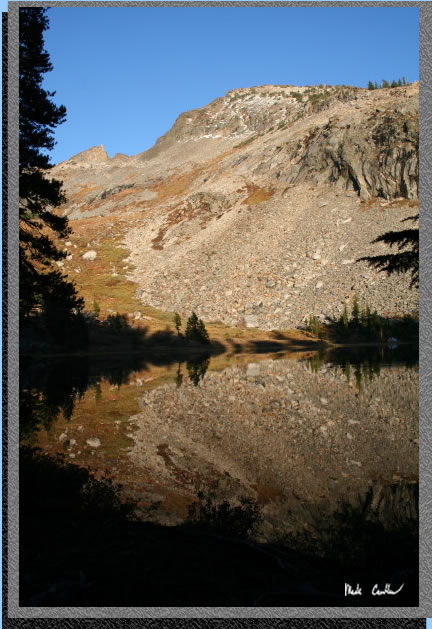 I took many pictures of the Lake. See the highlights below.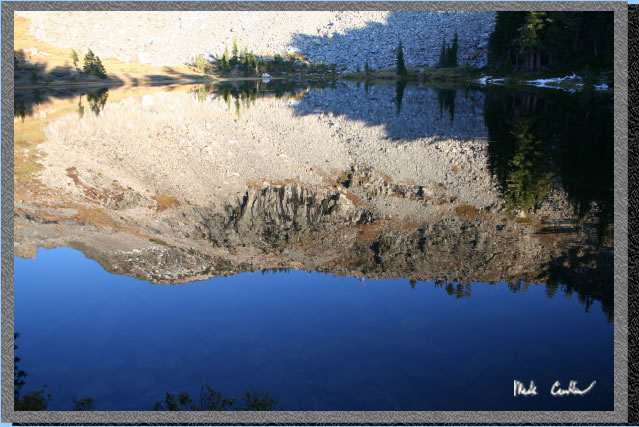 Reflection off Lake Sylvia.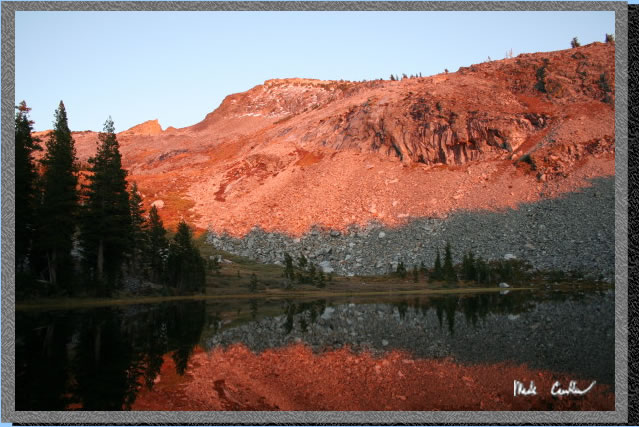 I really needed a fish eye lens to capture more of the ridge and lake at the same time.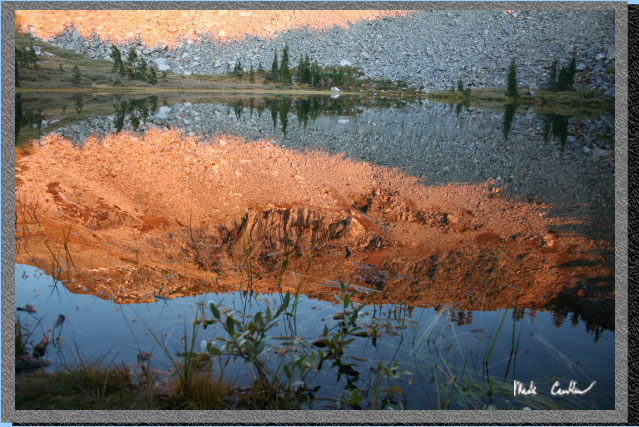 Another shot as the sun was going down.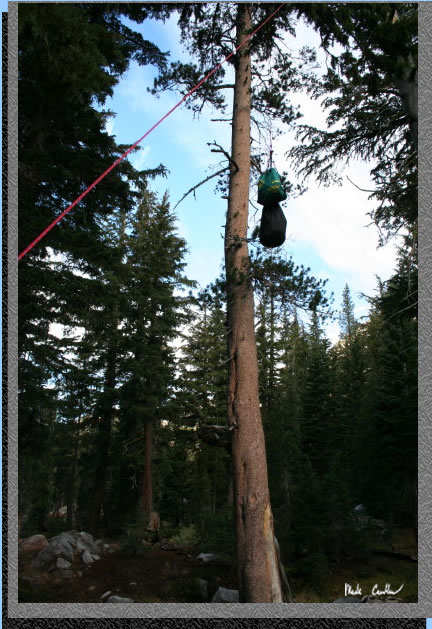 That night it was very clear and with no moon star gazing was great. I saw a few shooting stars even. The next morning I was taking in the sites at the lake and saw a big coyote running on the far side of the lake. He stopped a few times to look back at me and appeared to be alone. Neither of us heard any coyotes that night but they are definitely out there. We bear bagged that night and I got a shot as I took our food down that morning. .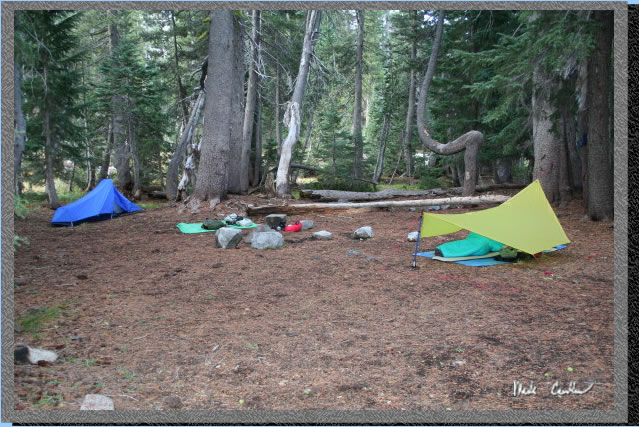 Here is camp. Eric was going "ultra light" with a tarp on the right while I used my one man tent. Dave and Leo were headed in today to camp with Eric for another night. I was headed out soon to head back home.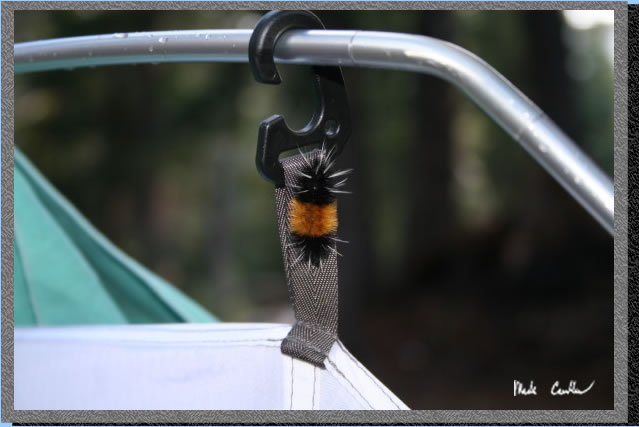 As I was packing up I noticed that our friend the caterpillar had found a cozy spot that night to sleep. He was under my rainfly at the very peak (probably the warmest spot under the fly).
.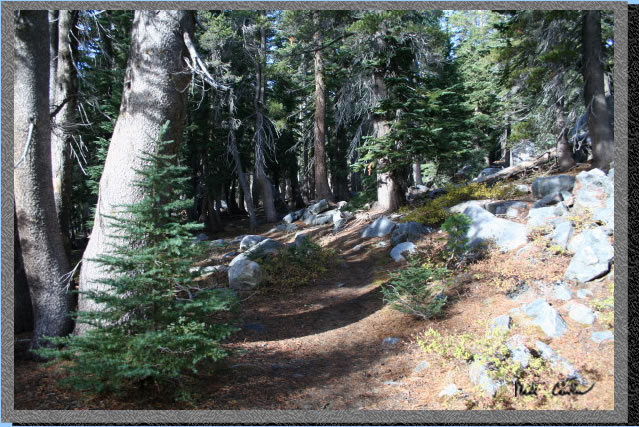 I started heading out to meet up with Dave and Leo (Team 2). After meeting up with "team 2" I continued on after wishing them a good hike and night out. Being Saturday there were many more day hikers and even a couple hunters out.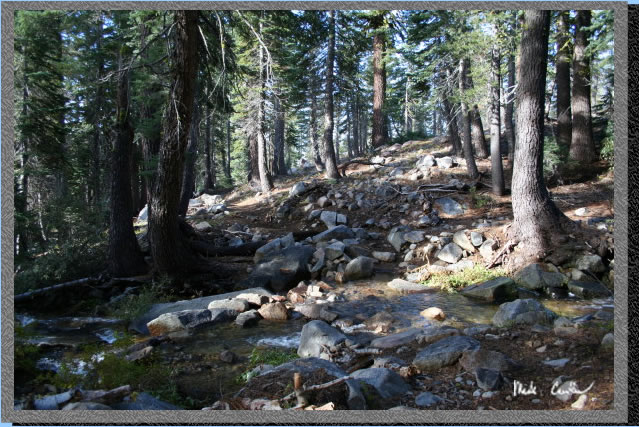 Here is one of the stream crossings on the way out.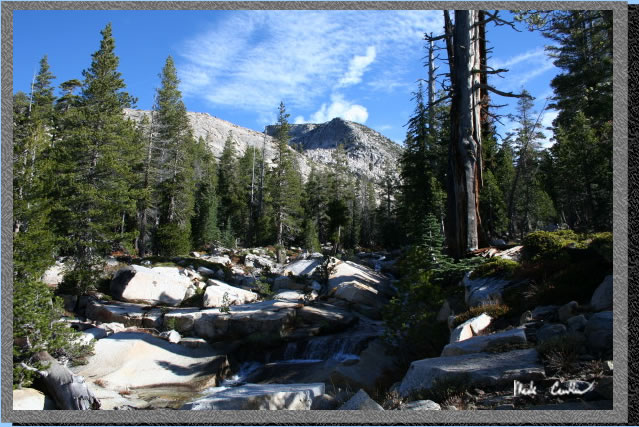 A shot with the creek and mountains behind.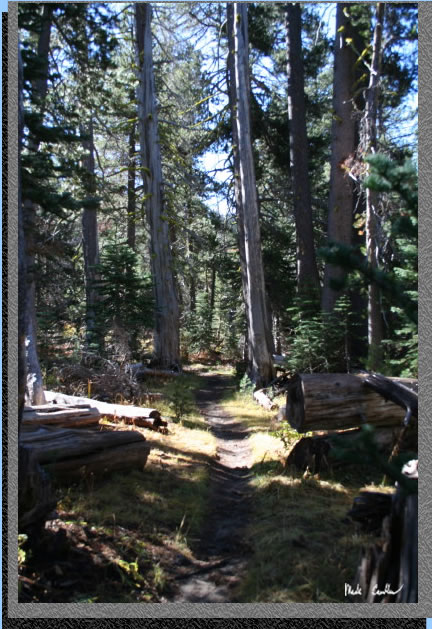 Trail as it winds through the trees.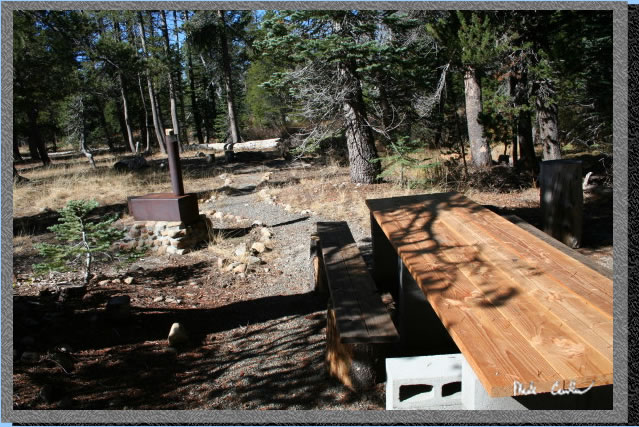 Once you are almost back to the trailhead look on the right and check out the camp that someone has set up along a small creek. There are remnants of a fence once being around it as well. The stove looks like it has been disabled but the table appears to have been recently repaired. Not sure what this area was/is but neat to see.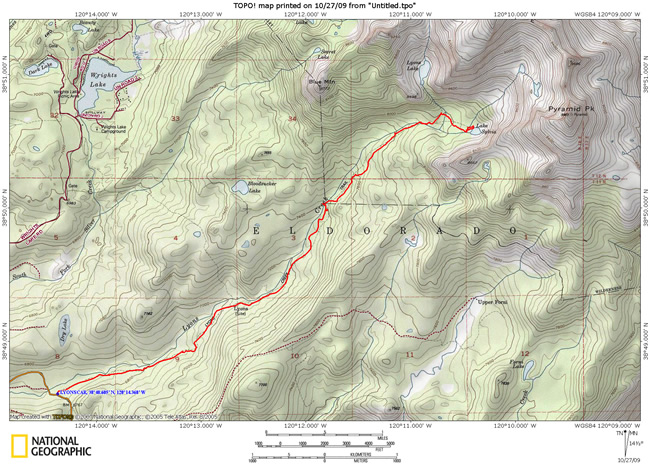 Click on map or profile to load it larger size.

The red line is the path we took. According to GPS it was just over 5 miles from car to camp. Click on either one to see them full size. The elevation profile shows the trip from car to the camp. See the general upward direction. Overall a great trip. Next time we will hopefully have all four of us together as one team as the logistics of two teams got a little complicated at times. There are many other lakes in this area and plenty of day hiking options as well. Exposed granite, peaks, lakes, trees, creeks and wildlife abound through here so it is no wonder why they have trailhead limits during the summer.