Tyler and I decided to squeeze in a July trip. I had always wanted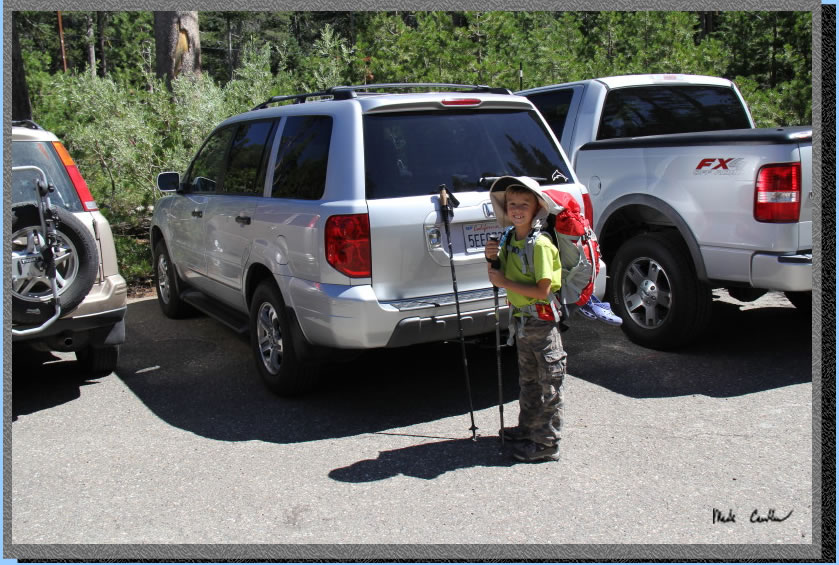 to try out the water taxi at Tamarack Lake so I made a reservation for Tamarack Lake on www.recreation.gov. Desolation Wilderness is heavily regulated and is under quotas for most trailheads in the summer. Permits are $5 per person per night (Max of $10 per person if you are doing a longer trip), with $6 extra for booking online. You need to tell them what trailhead you are headed in from, and what "zone" you will be spending your first night in. The zones closest to the trailheads book up quick but only half of the spots can be reserved ahead of time, the rest can be booked the day of. We headed in from the Echo Lake trailhead. To get there from Sacramento head east on Highway 50 until you get to Johnson Pass Road. Take a left onto this road (marked with Echo Lake signs and "Snow Park" signs just before the summit). Then take another left onto Echo Lakes Road. The road was closed on this trip due to them repaving it. So, I called the Echo Lake Chalet (the people that run the water taxi at 530-293-5547) and asked if they were still running the taxi and if we were allowed to walk in. They told us that we could walk in and that the taxi was running all the way to Upper Echo Lake (if the water is too low they can't traverse the channel between the two lakes). We parked at the Snow Park parking lot and headed in (map/profile). I have done this trip without the water taxi, to read about it click here.
The trip along the road was a nice warm up. It has a very gentle grade and we chatted with a number of people, both in the lot and while hiking along the road. I am sure that my talk of the water taxi got them more customers that day, I should have asked for a discount. The price is $12 per person each way. They also want a 3 person minimum to make the trip. We had no problem with the minimum as the boat was almost full both ways. Here is one of the cabins on the way in with Lake Tahoe in the distance. Most of the road construction was down by the dock today so we probably could have driven in.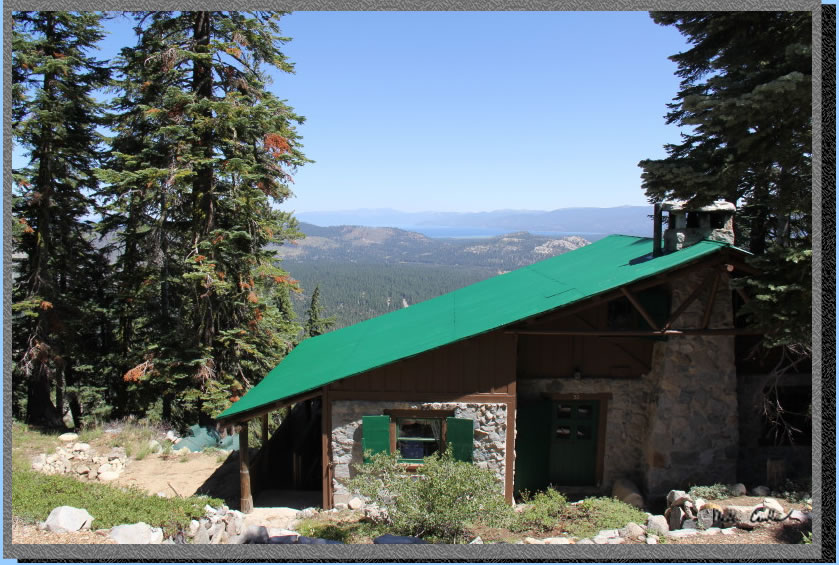 Here is one of the many signs on the way to the dock.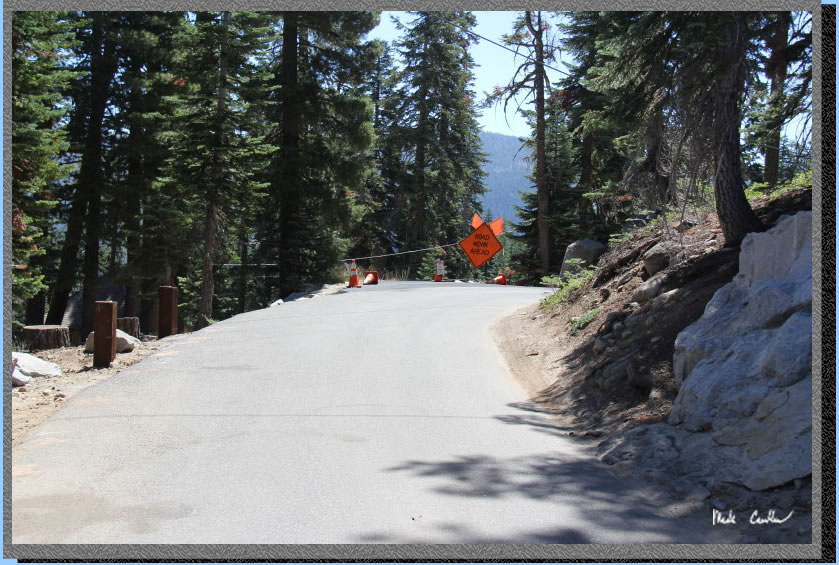 There is a trail from the parking lot up above the dock/store area to the dock/store area. It is steep but was a much better option that the road today as it was being oiled and graveled (stinky, sticky stuff).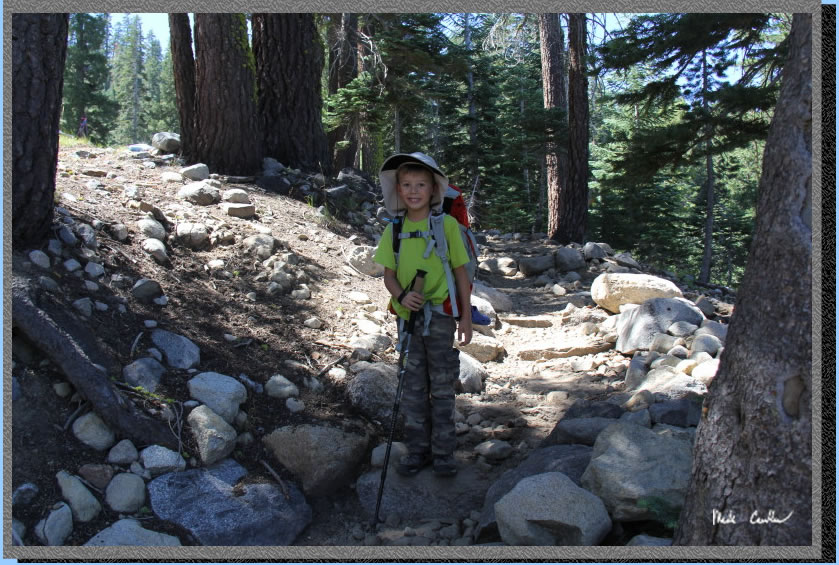 They were loading up the water taxi when we got down to the dock area (the store is open until Labor Day). There are some pit toilets as you come down off the trail. This shot was from the water taxi. You can pay cash or credit card and as I said above it is $12 per person, each way.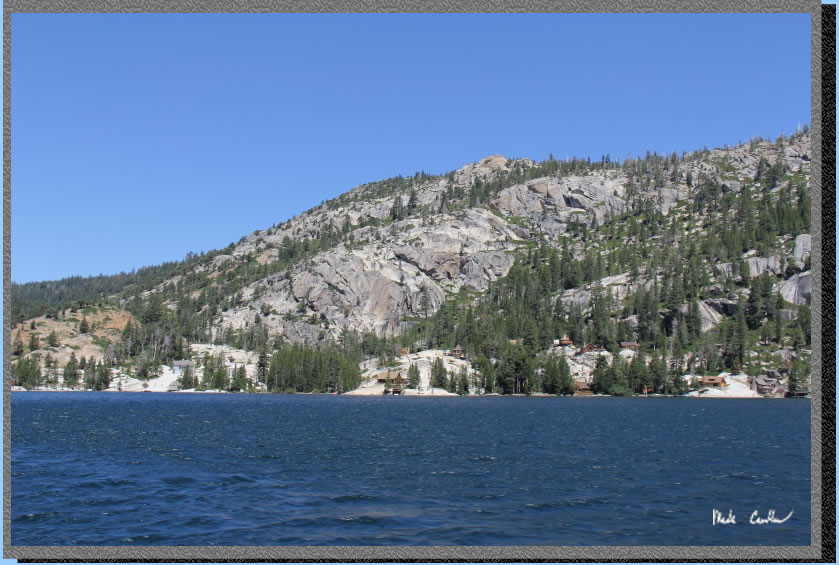 It was a quick ride to the west end of Upper Echo Lake except for the tricky, shallow, section between the two lakes. Our captain was very friendly and put up with my questions about the lake depth, cabins, crowds, etc. Lower Echo Lake is 185 feet deep! The first 17 cabins along the trail are not controlled by the Forest Service while the rest are on 20 year land leases with restrictions on renting to 10 days a year and no additions to the cabins. After we got off the boat we saw the "phone booth" we would use on the way out to call the taxi back.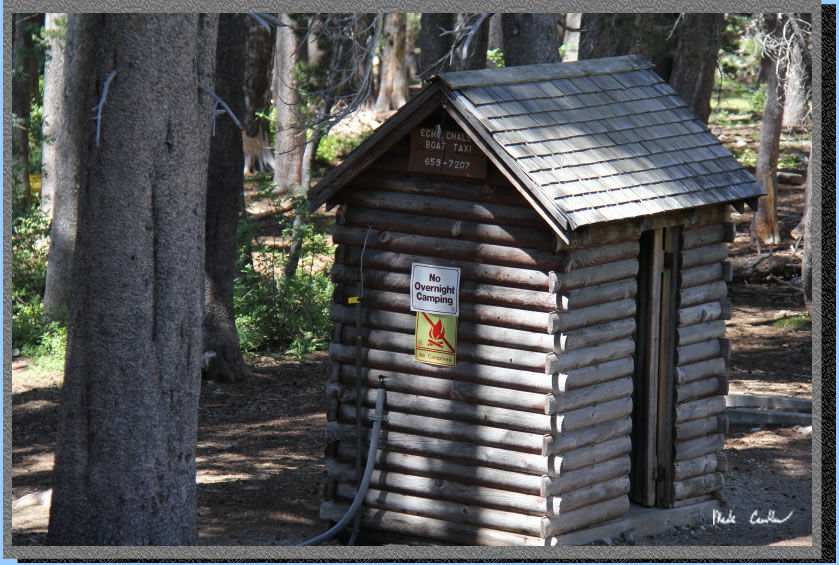 You hike up to the trail past the "Boat Taxi" sign. I still can't believe there is a boat taxi. There is a day permit box down by the dock here is you need a day permit for hiking in Desolation Wilderness. If you don't have a permit (either an overnight version of a day version) and a ranger stops you prepare to be in trouble. They will cite you and they are out here. There is no fee for a day permit and if you are camping overnight it is cheap enough to get an overnight permit. So follow the rules please..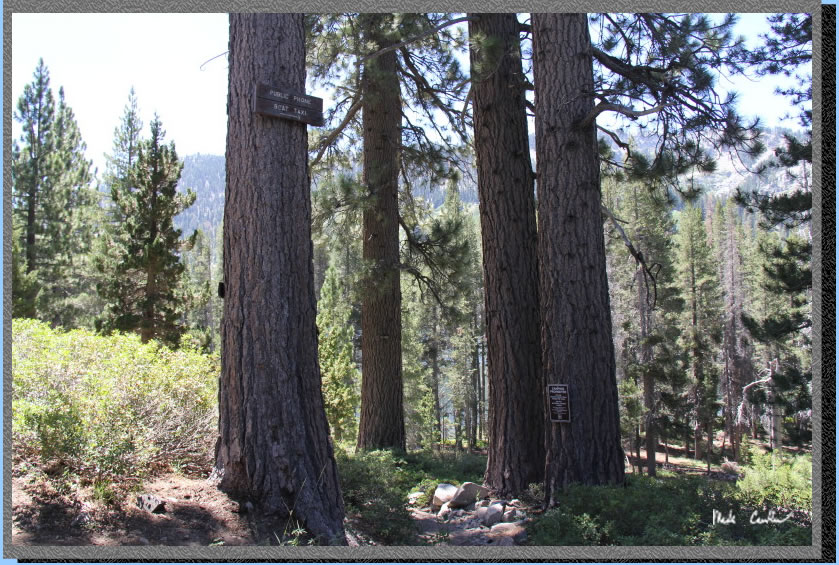 Tyler pointed out this caterpillar on this rock to me and wanted to grab a picture on his camera.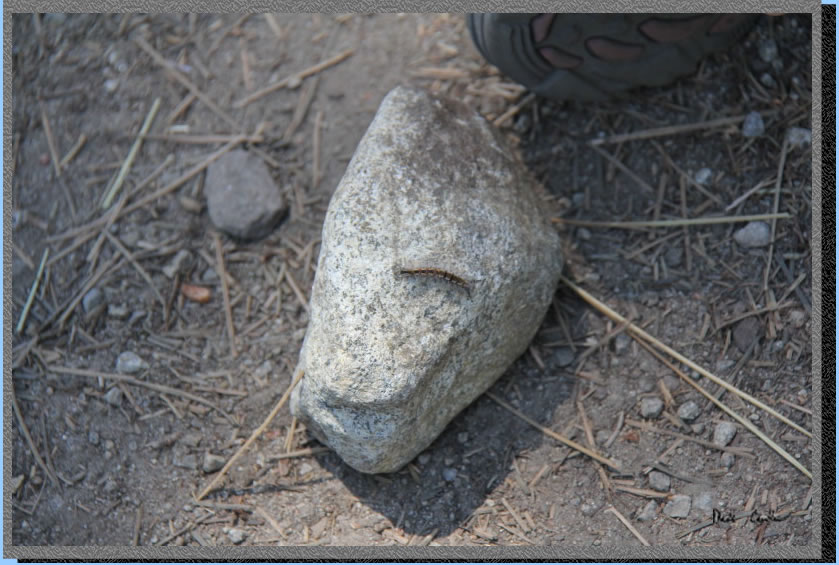 He bent over a little too far at one point and fell down. I forgot to tell him to be careful when bending down with the pack on. This was his first trip with a real backpack (day packs on his other 4 trips). I guess the pack was so comfortable he forgot her was wearing it. The pack is an OSprey jib 35L. It seems well built and very adjustable. He is a tall 7 year old and it worked great. It wasn't cheap at $129 but seems like it will last him and be able to be handed down to his sister when he outgrows it.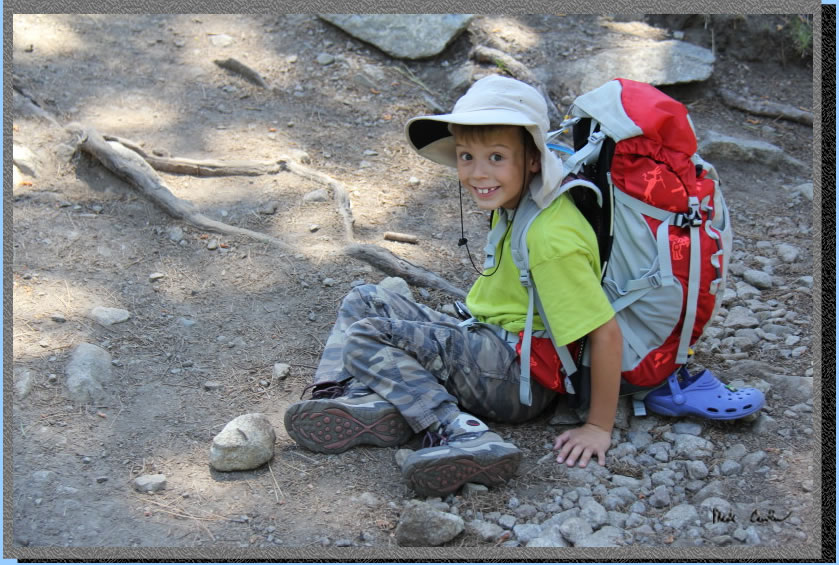 The water taxi cuts out the easy part of the trip's mileage, so what is left is rocky and up.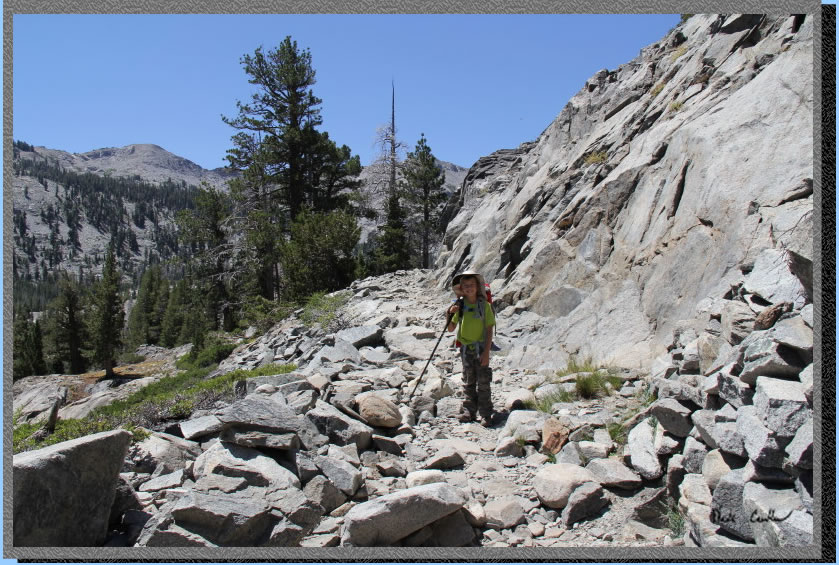 Look back once you gain some elevation for great views of Upper and Lower Echo Lake.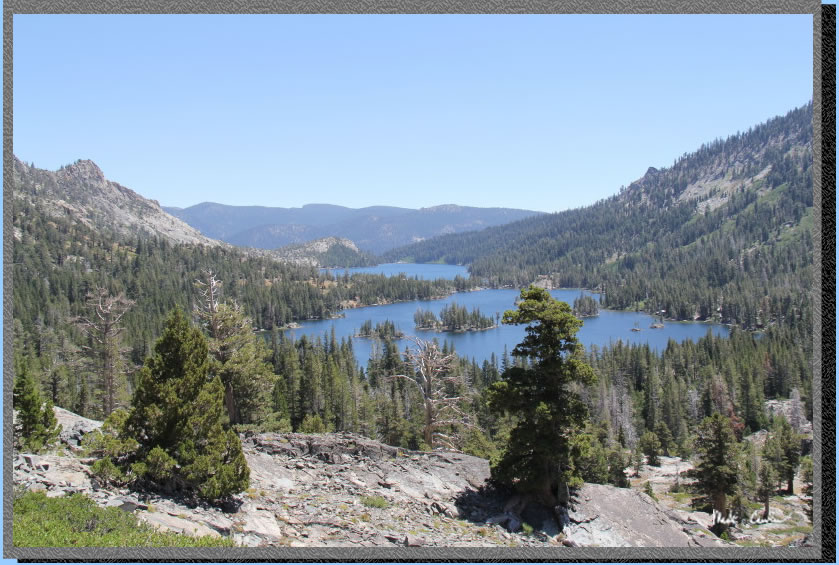 It was a great day for hiking. Gentle breeze and around 70 degrees. .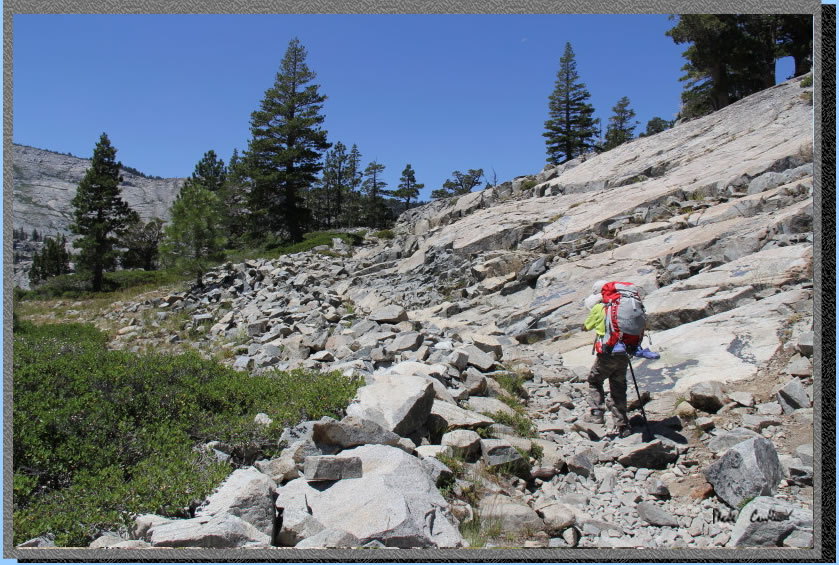 Even though this was a Tuesday (and the road to the trailhead was closed) there were plenty of hikers/backpackers out and about. Here is Tyler as we officially enter the wilderness now (sign says Desolation Wilderness permit required). There is a junction just past this sign for Triangle Lake (on the right)..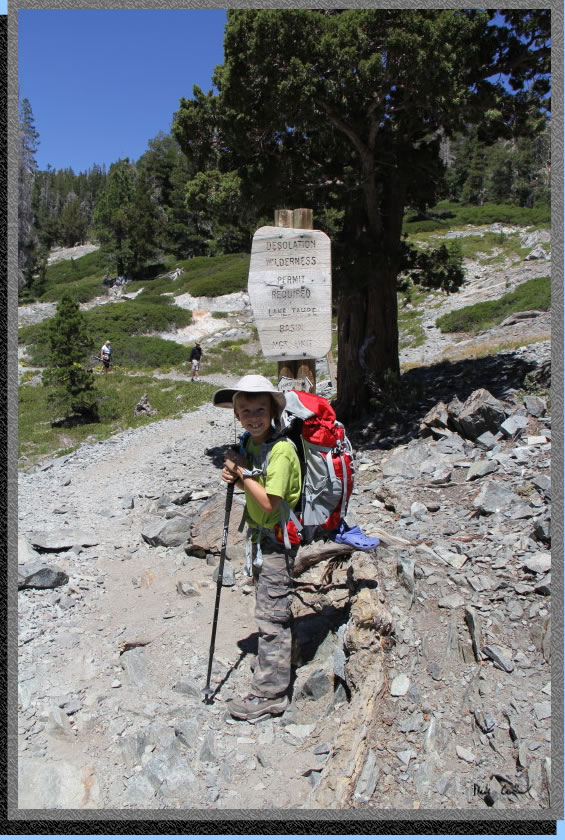 Here is one of the more rare shady spots on this section of trail. There were plenty of bugs (not the mosquito kind ) and birds.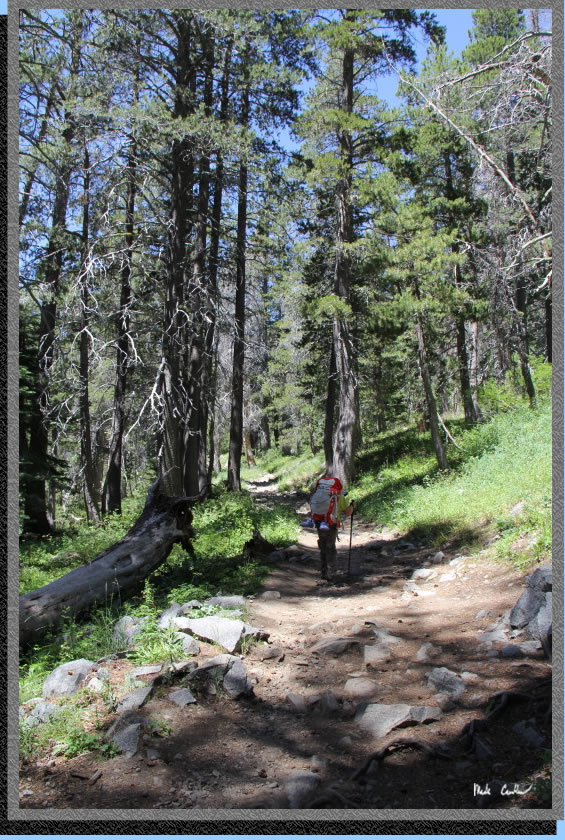 Still climbing and looking back at where we started from.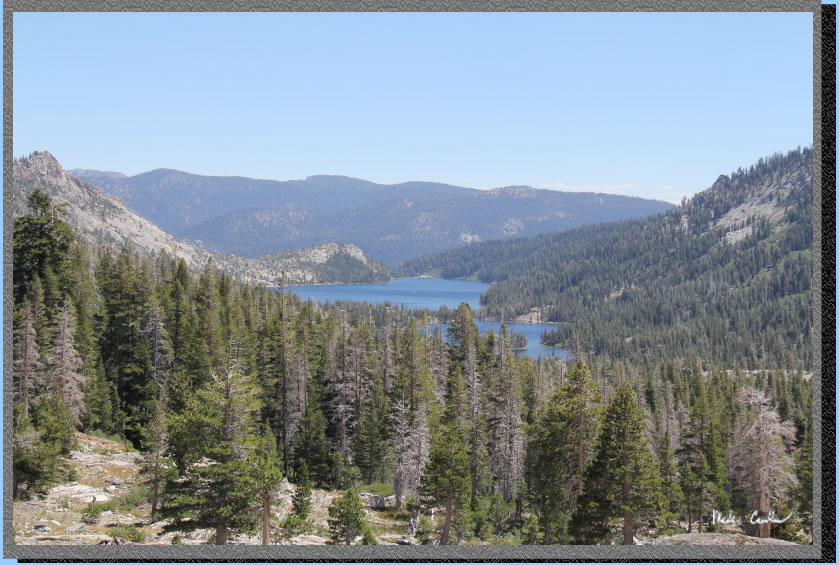 The next junction is for Tamarack Lake. Take a left and head down to the lake. The official trail is easy to get off of if you aren't paying attention but you should be able to stay close enough to the trail to get down to the lake. There are many "ducks" marking the way, if you aren't looking up to catch glimpses of the lake.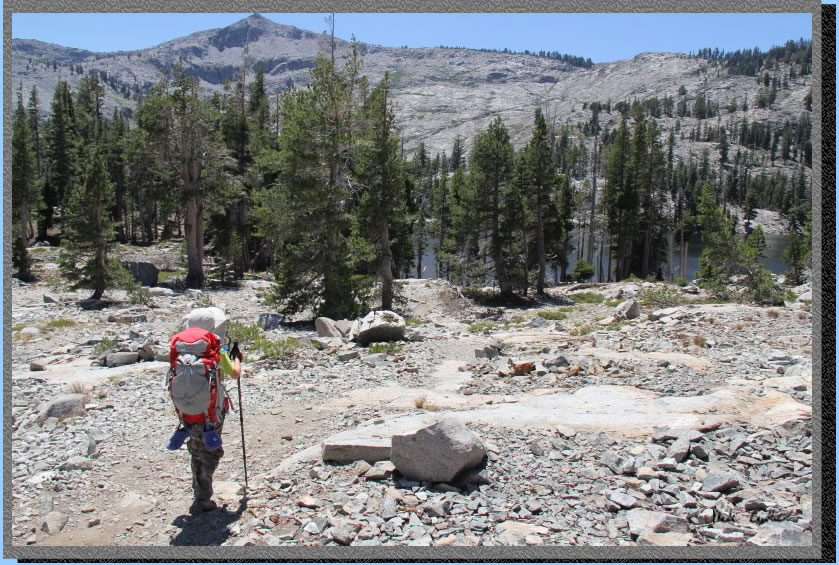 We setup camp and filtered water from the lake. I didn't see any fish in this lake but did in Upper Echo Lake. Here is my Big Agnes Scout UL2 tent. It was decently windy that night and the tent held up great. It is guyed out all over the place so I think it can take some wind. This is its third trip and I am still impressed. I will be going on a 4 night Sierra trip in 2 weeks and that will be the true test. I have been babying it with site selection due to the ultralight fabric, the price you pay for it being so light.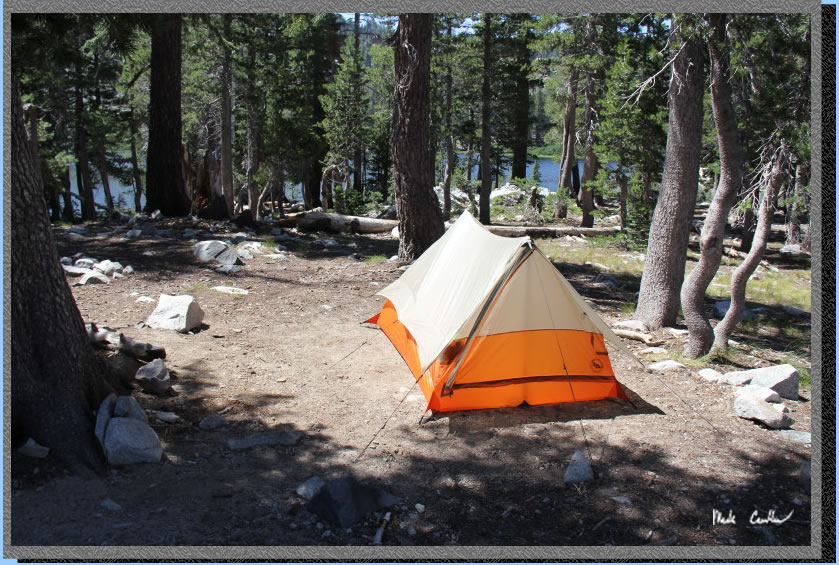 Here is a shot of the critters that will try to sneak some of your food from you if you aren't careful. These guys were all over the place and seemed pretty used to people and what treasures they might have. Keep a close eye on your food.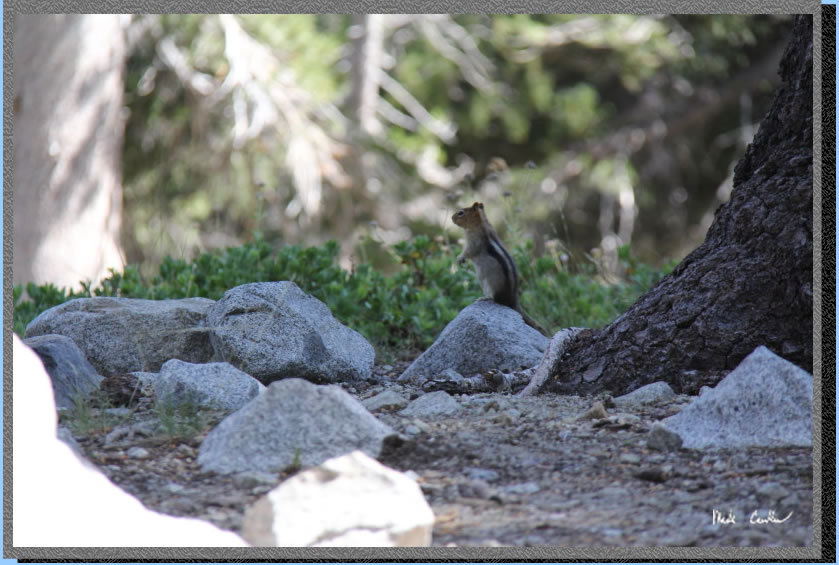 Tyler decided to test out the water. He said it was cold but not too bad. Ahh, that is the same line I use to get people to join me in the freezing lakes. I think he might have been right here though as the lake didn't seem that cold. It was windy though so not the best swimming weather.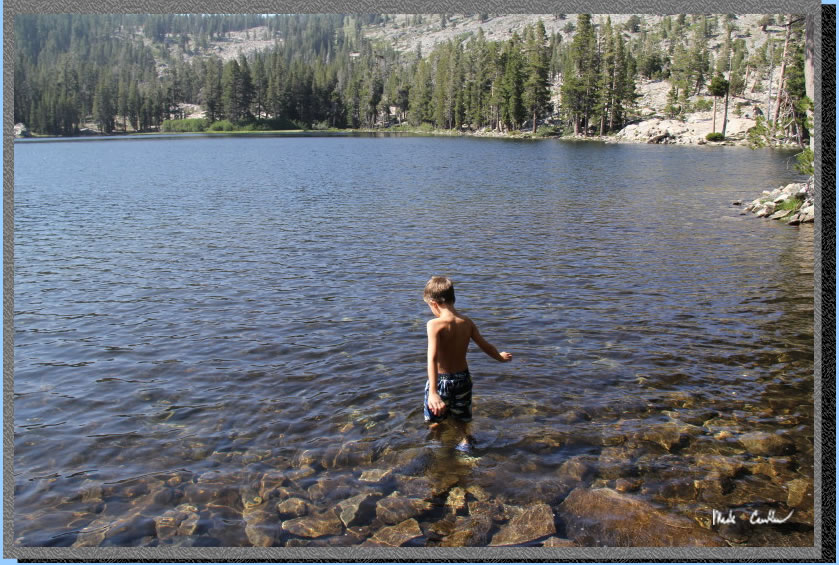 THis shot shows Ralston peak and Tyler climbing a fallen log. Who needs a playground when you are out here!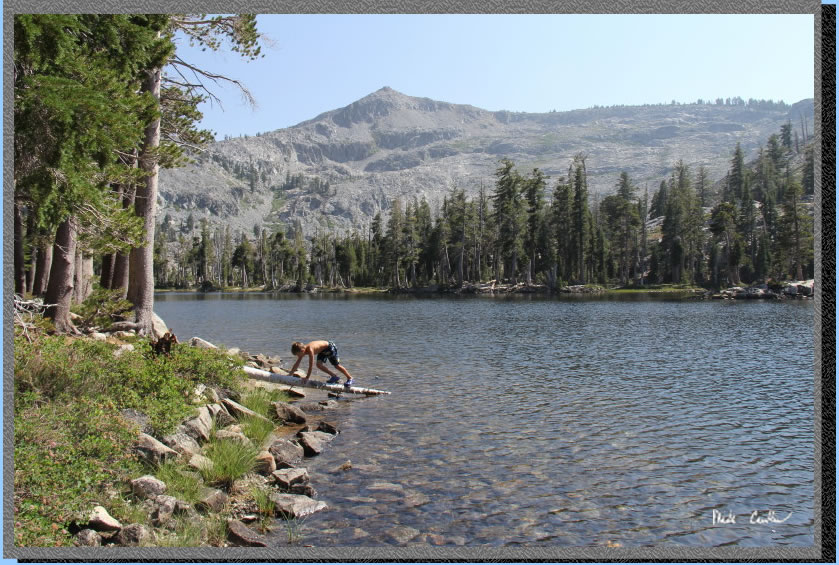 After the swim Tyler put on a few layers to warm up. It was cooling off fast and the breeze made it feel a little cooler than it probably was. I was rooting the breeze on though as it usually keeps the dreaded m word away (mosquitoes).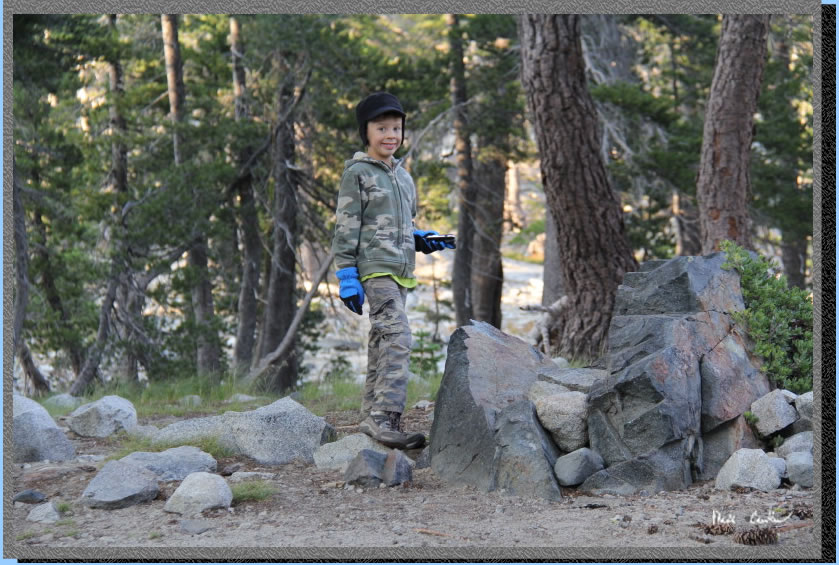 We had a nice dinner and then helped someone that wandered into camp asking to borrow our cell phone. It seems she was camping at Tamarack Lake but got lost on a day hike to Lake Aloha (she ended up at Lake of the Woods).. Her mom was waiting for her at the trailhead so she wanted to tell her that she made it to her camp. I was glad that I had enough reception for her to leave her mom a message. It sounds like this girl got lucky as this story could have ended much differently if she hadn't stumbled across a nice lady at Lake of the Woods that gave her some water and showed her how to get back to Tamarack Lake (this girl had no gear and was wearing shorts and a tank top). We didn't have any other visitors that night except for some bats. They were really munching all the bugs in this area. We had a good night's sleep and packed up after breakfast the next day. Here is Tyler contemplating carrying my pack...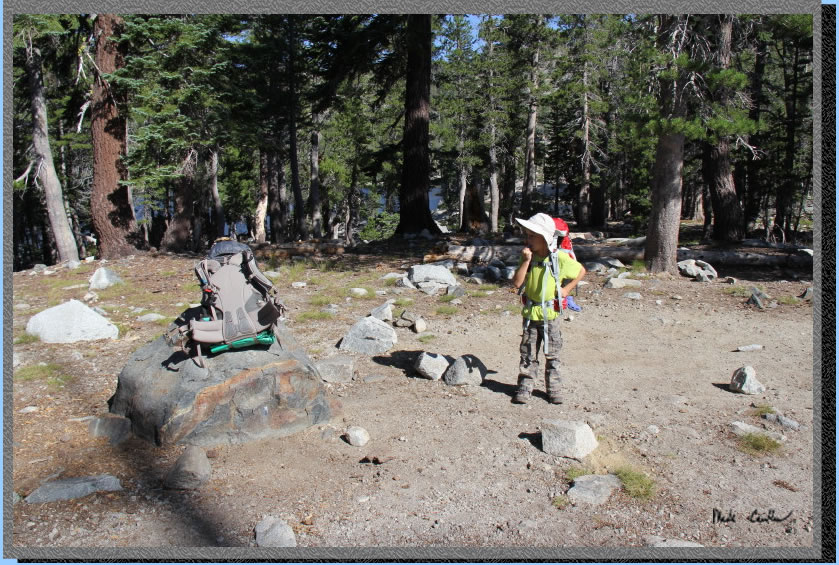 AI took some shots of the few wildflowers still blooming.
.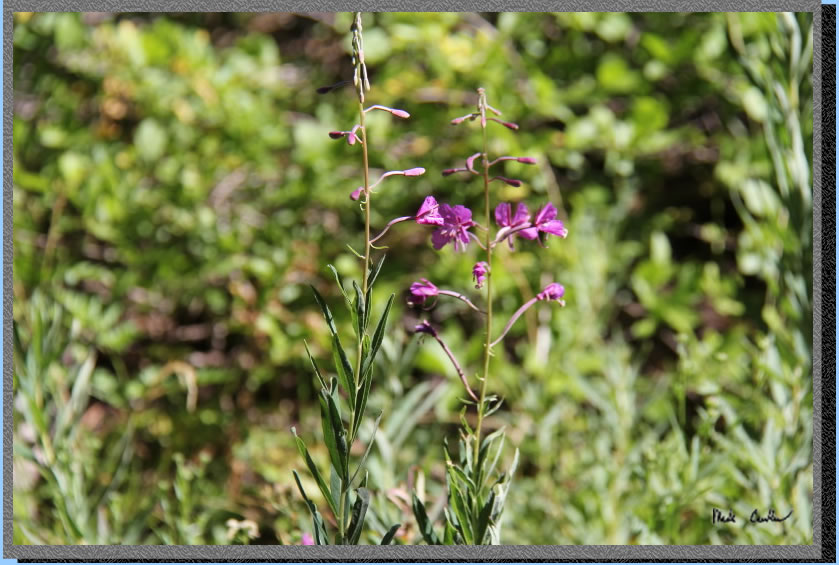 I liked the texture of this tree branch.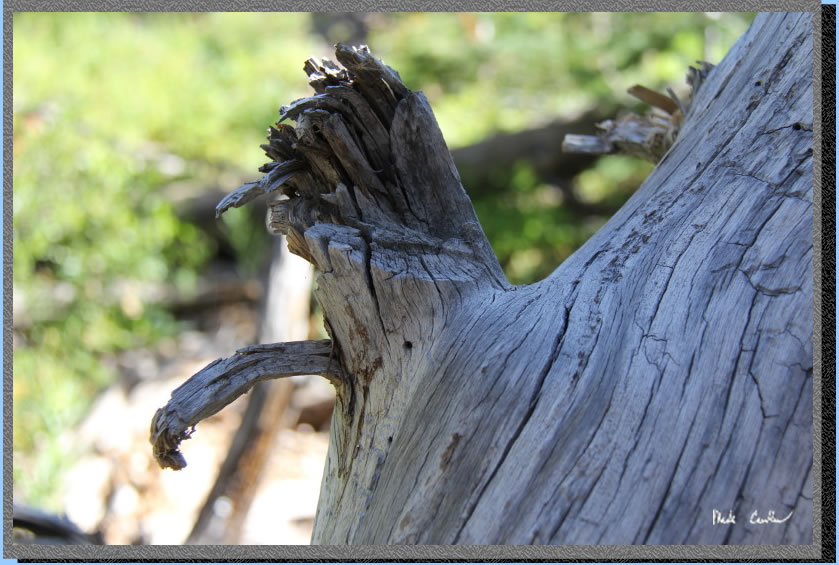 It was another great day to be on the trail. I am pretty sure that Tyler had a great trip as it was around here he asked if we could stay out for two nights next time...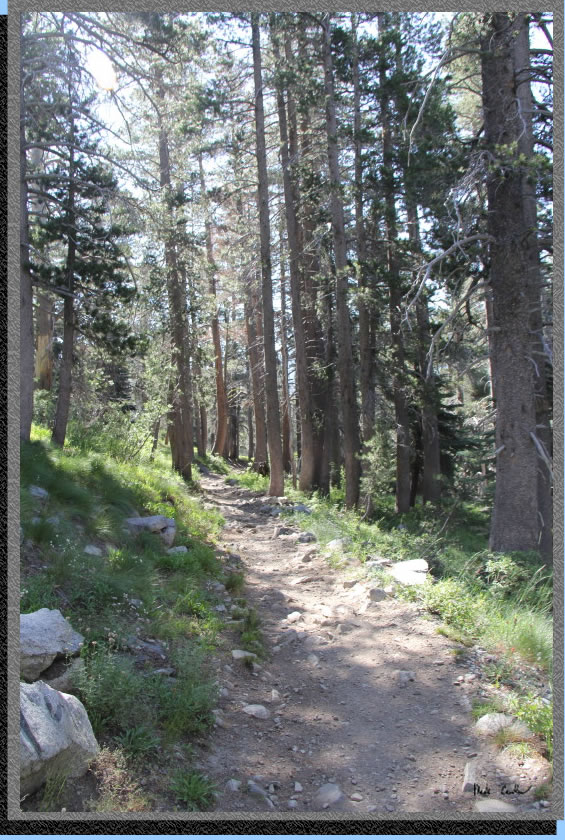 Here is the junction to Triangle Lake on the way out. You can see the back of the wilderness boundary sign past Tyler. I failed to mention that this section of trail happens to be the PCT as well (Pacific Crest Trail).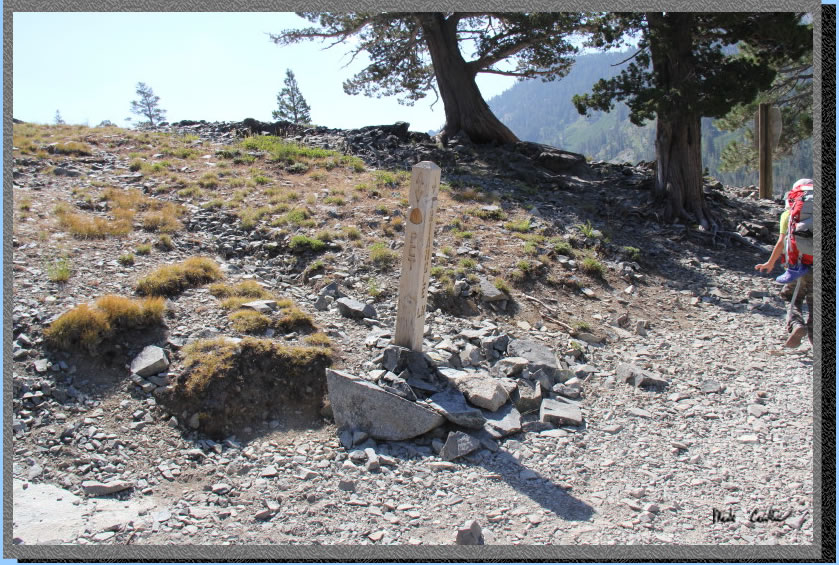 This tree provided a cool foreground to my shot of Echo Lakes.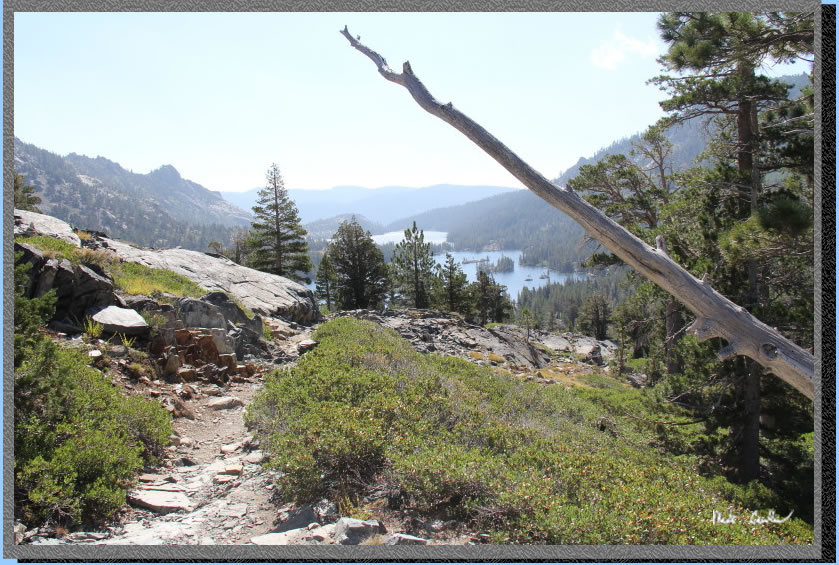 This old tree pointed the way to the water taxi. I almost felt guilty taking the water taxi back out.... almost.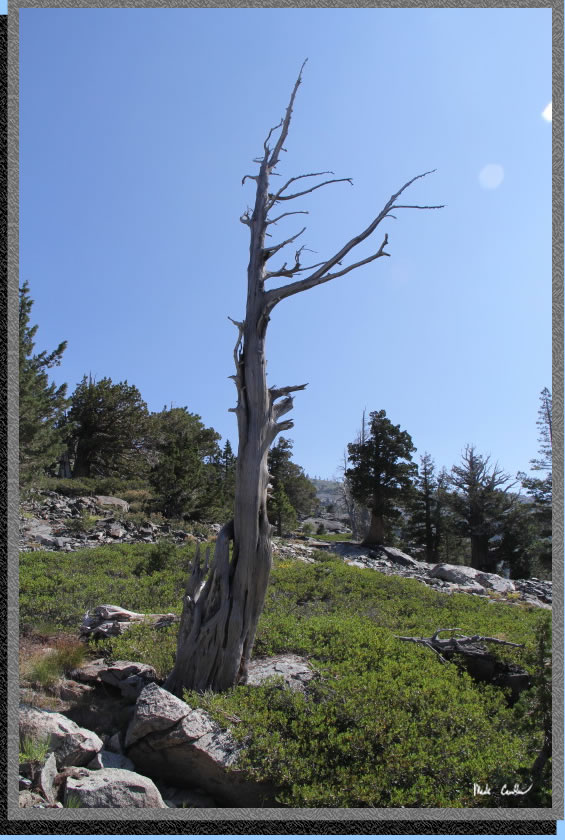 I took this shot of the phone booth that you call the water taxi from. It also has a pay phone. TO call the water taxi open the gray box and pickup the receiver. This calls the water taxi for free.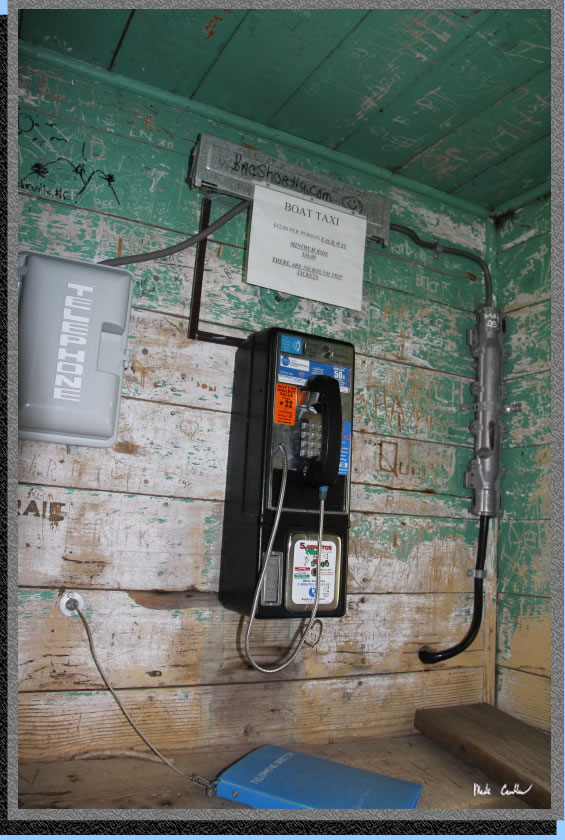 We waited with a few other people for the water taxi to arrive. This butterfly was hanging out on the dock with us.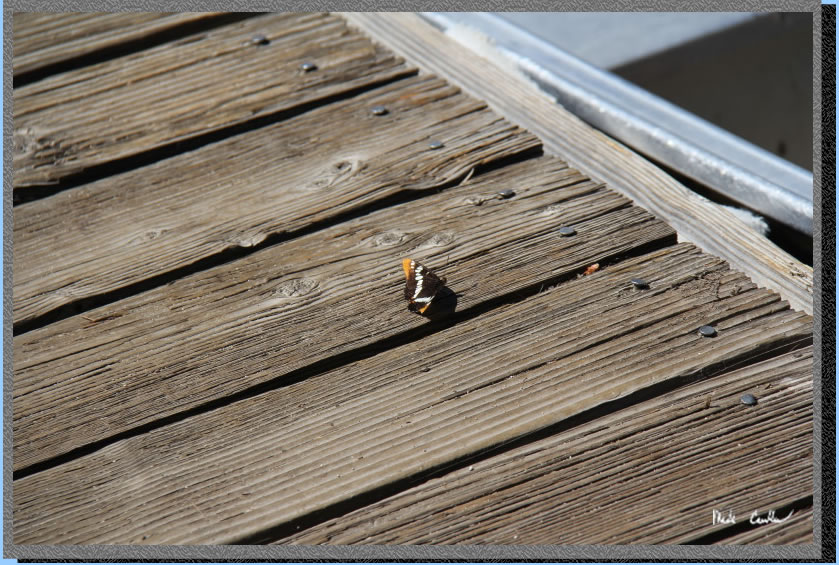 Tyler was taking in the sights on the boat trip. It was really neat to see the lake from the water.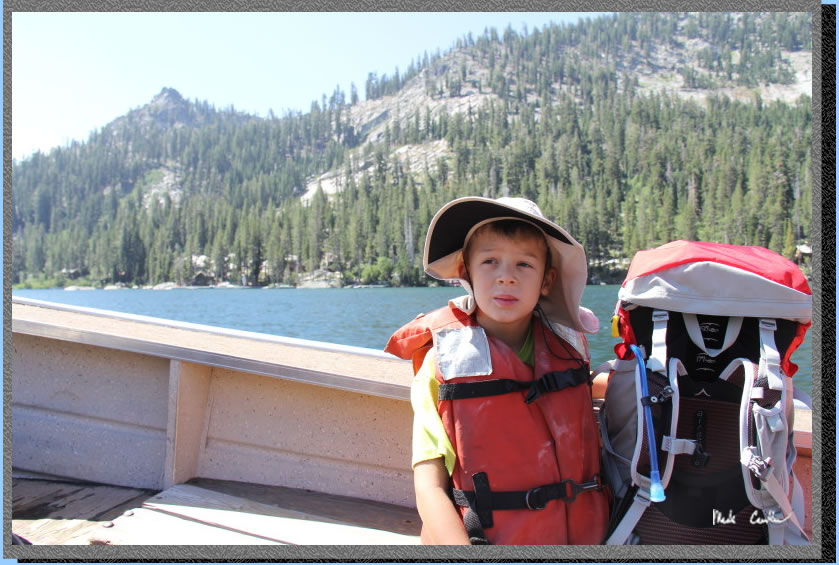 I figured I might as well grab a few shots off the boat (see the spray on the lower left). This was a great trip and really cool to get Tyler out to the Sierras for the first time. I am sure that we will be back in this area again. Just remember that this area is popular so the weekends will be crowded in the summer. If you want to beat the crowds just come off season, no water taxi though...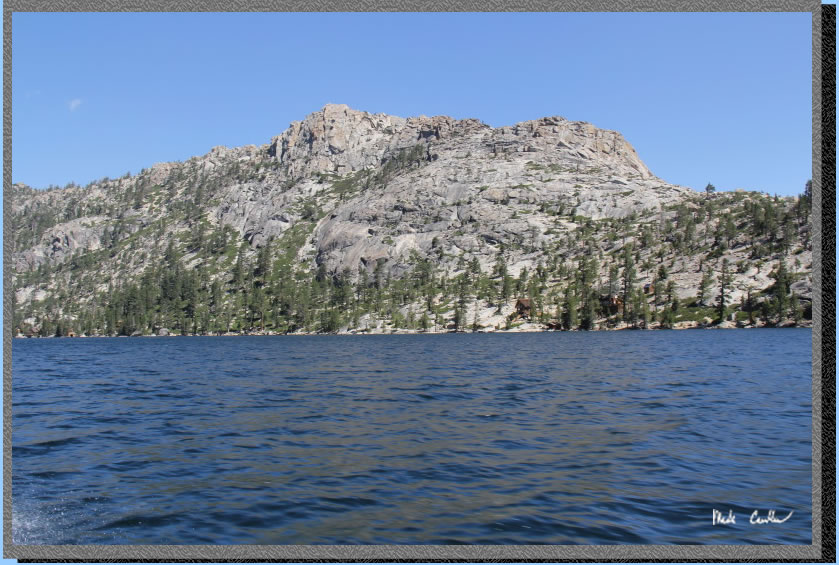 Map and profile show trip on the first day on the way in from "Snow Park" parking lot to Tamarack Lake. On a normal day, the first 1.1 miles would be by car to lot above boat ramp/dock. The trip by boat was 2.1 miles which left 1.3 miles of hiking to get to Tamarack Lake (Yes, on a normal day you can get to Tamarack lake by hiking 1.3 miles (if you take the water taxi). Click either for a larger version.
.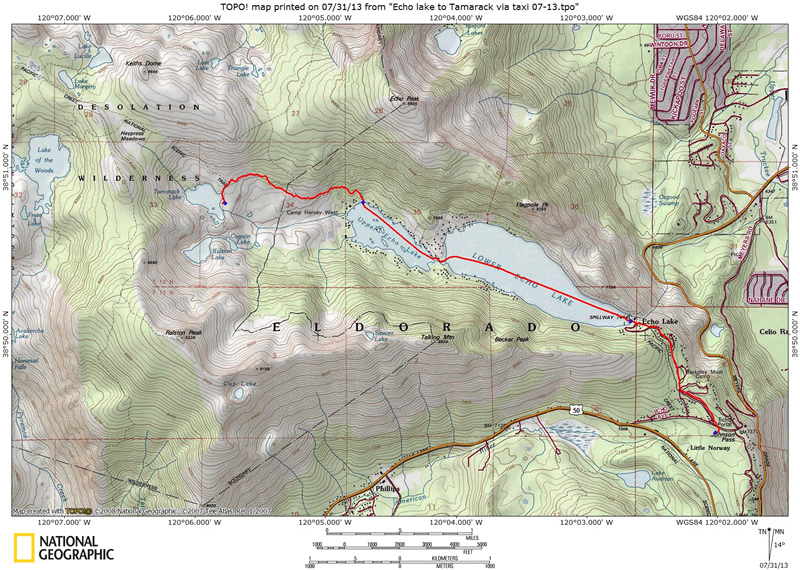 (back to top)