Leo and I decided to head up to a new trailhead. I always do some family camping at Pinecrest Lake off 108 and there is a great deal of Wilderness/Forest space to explore in this area ,so we chose a spot not far from Pinecrest. We decided to do a backpacking trip to Bear Lake in the Emigrant Wilderness. I called up the ranger station at Pinecrest and they let me know that no reservations or quotas currently exist in that Wilderness (209) 965-3434. You must stop by and get a permit to camp in the Wilderness. There is no fee for the permit. If you do not have a good map of the area you can buy one at the ranger station for $11.00. A little steep, but it is a nice weatherproof map (kind of large for trail use though). To get to the ranger station from the bay area take highway 120 East until the junction of 120 and 108. Stay straight to go onto 108. When you see a right hand turn for Pinecrest slow down but do not turn right quite yet. The Ranger station is at the "Y" where Pinecrest Lake Road are and highway 108. Turn right into the ranger station just past the right for Pinecrest Lake. We talked with a ranger who told us most of the lakes that are close to a trailhead are popular during the summer, but this year has been slow so far. The trailhead we left from is called Crabtree Trailhead. It is a little ways from 108 but not a bad road. Parts are unpaved but it was dry. I saw a Mazda Miata in the parking lot of the trailhead, but I would bring something with some more ground clearance (I am sure they scraped in a few spots). To get to the trailhead (from the ranger station) head towards Dodge Ridge by driving toward Pinecrest and take your first right (there is a sign for Dodge Ridge Ski Area). Just before you get to the parking lot of Dodge Ridge take a right onto a road labeled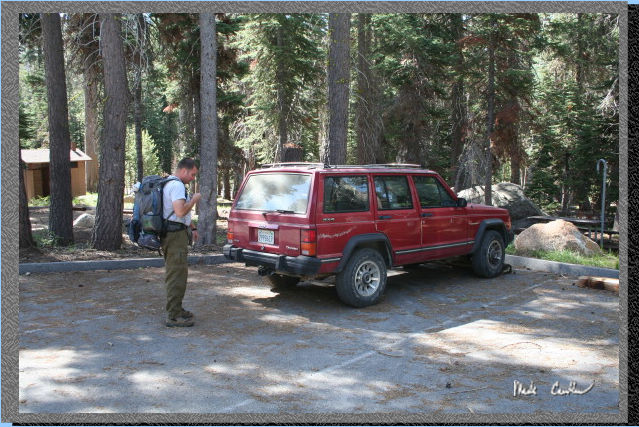 Crabtree/Gianelli trailhead. This is the overflow parking area during the winter for Dodge Ridge. Stay on this road until the first junction where you take a left. Stay on this road heading west until a junction for the pack station. Take a left and go past the pack station over the big speed bumps and then watch for a sign for Crabtree trailhead on the right. The trailhead has ample parking. One thing to note is you are only allowed one night stays at some of the lakes in this region, so discuss your plans ahead of time with a ranger if you want to stay more than one night without breaking camp and moving to another lake. It is about 4.4 miles from trailhead to the spot we camped on the far side of the lake. Here is a shot of Leo doing his last minute hydration tube check before we hit the trail. See map at end of trail description.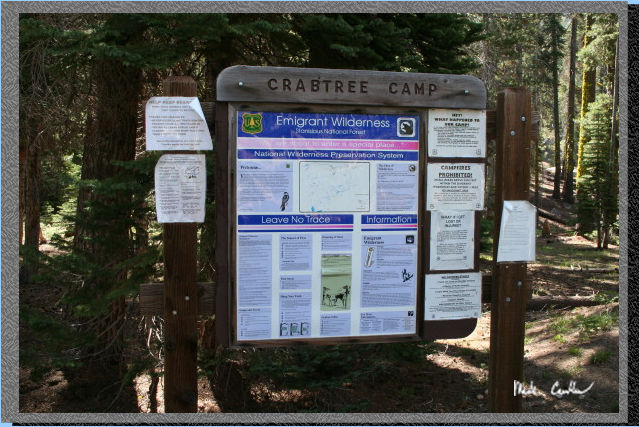 Here is the trailhead sign. The trailhead is at the northwest side of the parking lot. There are a few signs about bears, so I would make sure to be prepared for bear bagging and with a plan should you encounter one on the trail. If you are prepared you will probably never see one.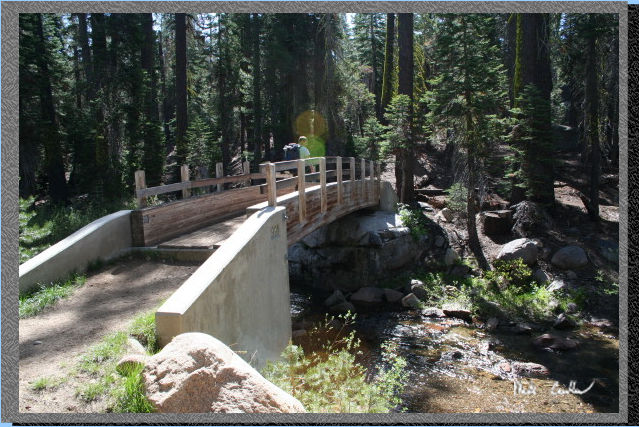 The trail starts out going over a bridge over Bell Creek. The whole trail seems well maintained and very well marked. I tried to take a picture of all trail junctions as we hiked along.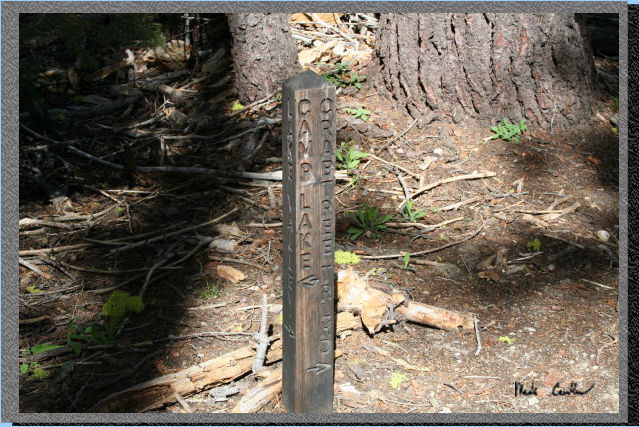 Here is your first trail junction, right after the bridge. Stay straight for Camp Lake (this is the lake before Bear Lake).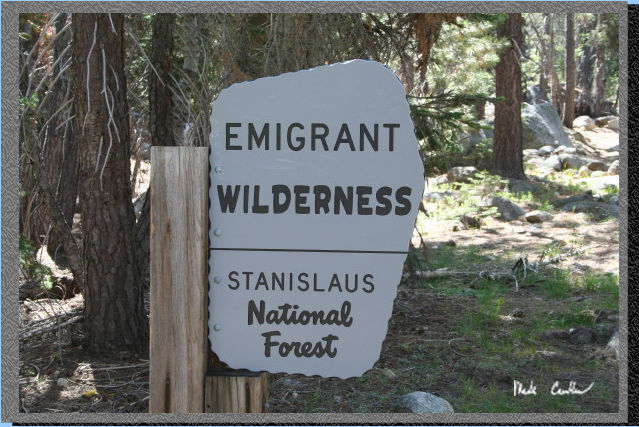 Here is the Emigrant Wilderness sign on the way in. This is your reminder to have a permit for your overnight stay.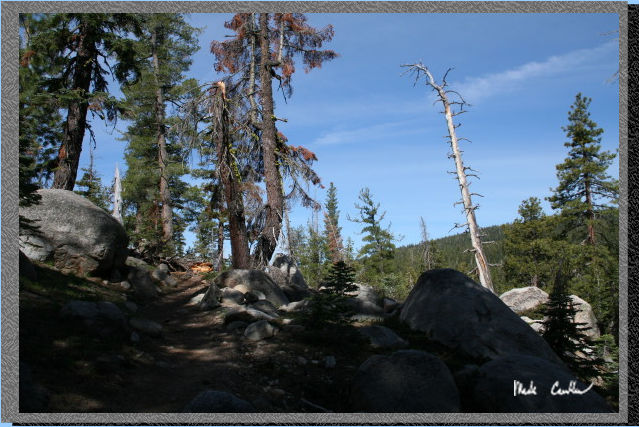 The trail is beautiful on the way in. There are a few stretches of some uphill, but I would say the trail in as a whole would be rated as easy. The trail stays below tree line, so there are some good sections of shade. The rock formations are amazing, so make sure you are not looking at your feet the whole way in.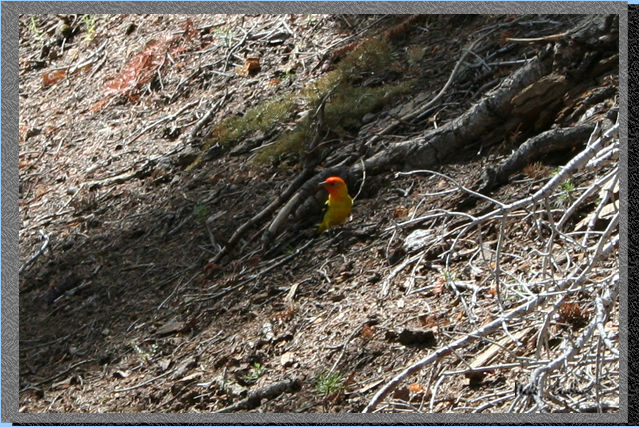 This little guy was so brilliantly colored it was hard to miss him.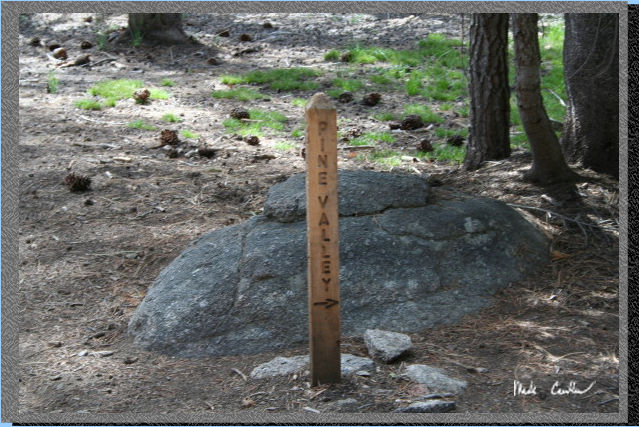 The trail junction for Pine Valley is at about one mile in. From the overlook at Camp Lake, Pine Valley looks like a neat place to explore but steep to get out of.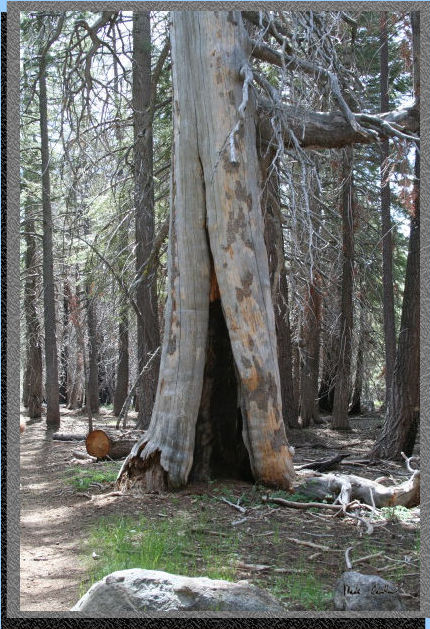 Here is a tree that has been hollowed out by fire. Some parts of this trail appear to be right on the edge of a past fire. Trees on one side of the trail seem to be damaged while those on the other appear untouched. I picture some brave firefighters making a stand from the trail.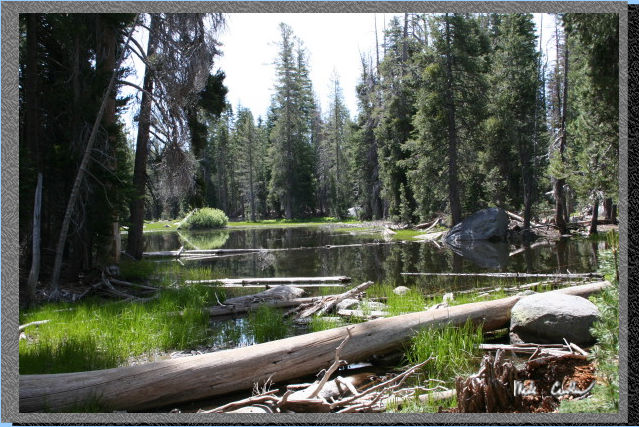 Here is a pond on the way to Camp Lake. No swimming here but I am sure the mosquitoes like it.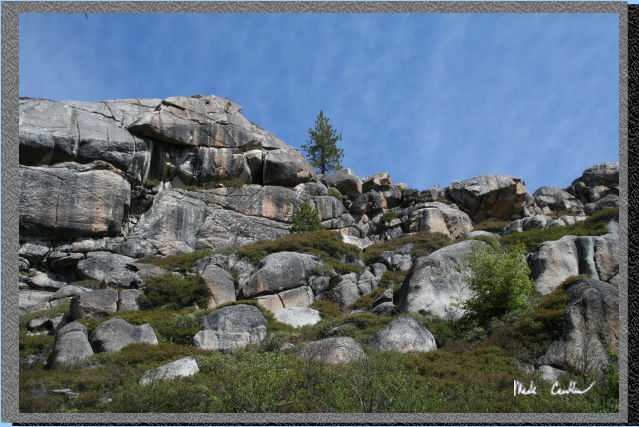 The ridge along the trail has some magnificent rock formations. Make sure you look around as you hike or you will miss these kind of views.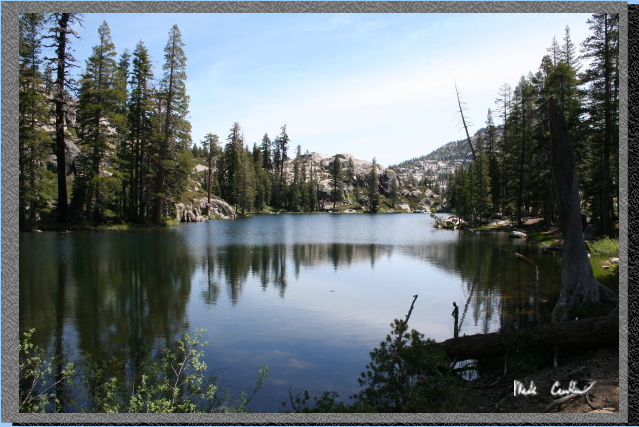 Here is Camp Lake. There are not many spots to camp around this lake.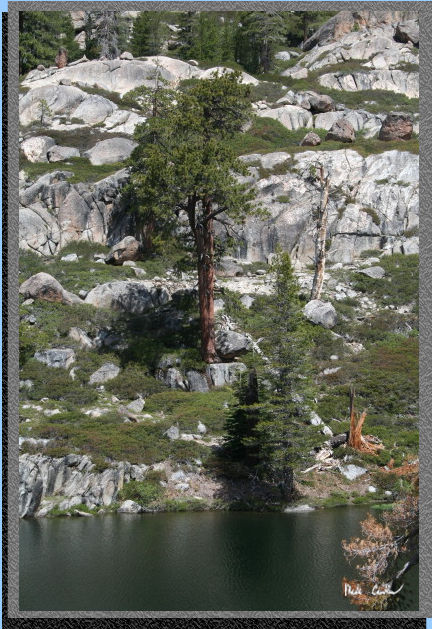 The ability of trees to grow where there is little to no soil is amazing to me. Here is a tree that appears to be thriving despite its precarious position above Camp Lake. Of course I have no idea how long this tree took to grow this much. Some of these trees are probably growing slowly, so could be quite old.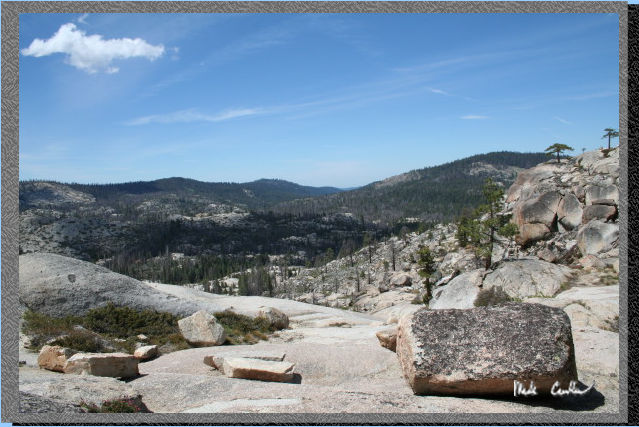 I decided to venture up to the ridge overlooking Pine Valley to the south of Camp Lake. There is a nice campsite that is above Camp Lake. Very flat with this view a short walk away, and a view of the Lake to the north. Big enough for 2 or 3 tents.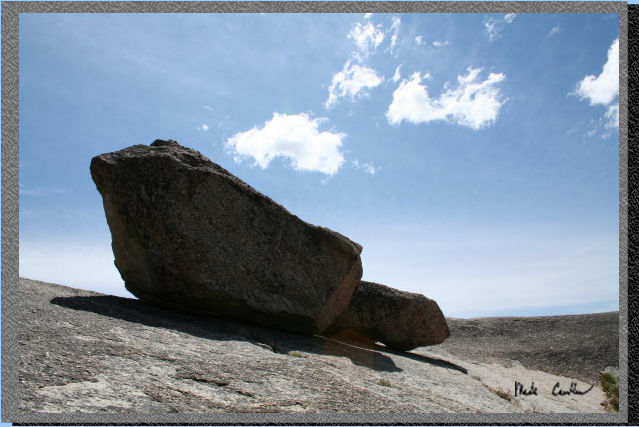 A boulder at the same overlook as above.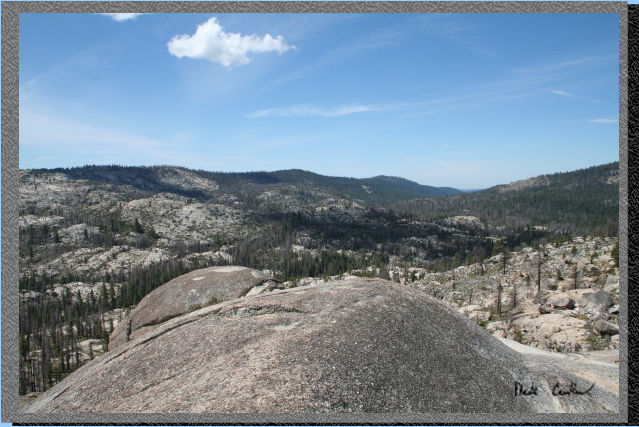 Another look at Pine Valley and the amazing glacier polished granite.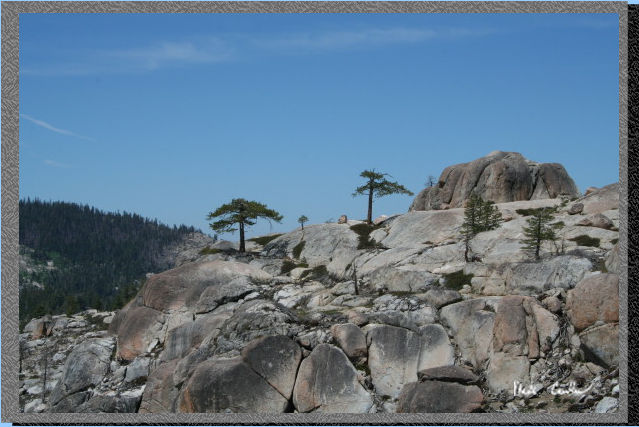 Some wind swept trees in the distance.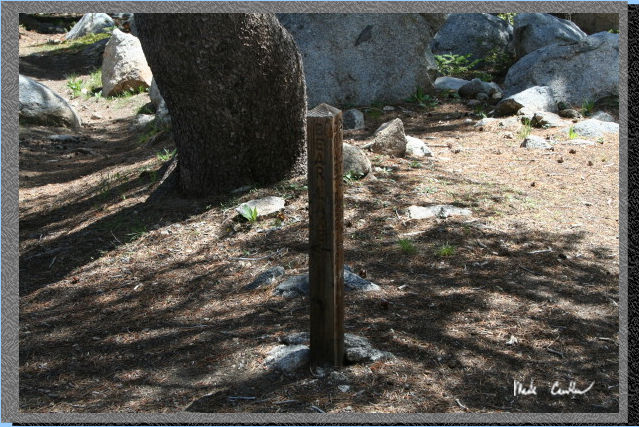 This is the trail junction to Bear Lake. Hang a left at the sign. You are less than a mile from the lake now!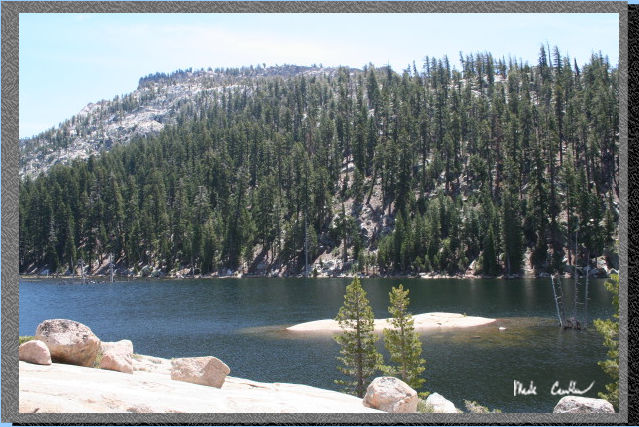 Here is Bear Lake. Excellent swimming possibilities and numerous sites along the south and west side of the lake. We headed to the far side of the lake to see if we could find the site the ranger told us about.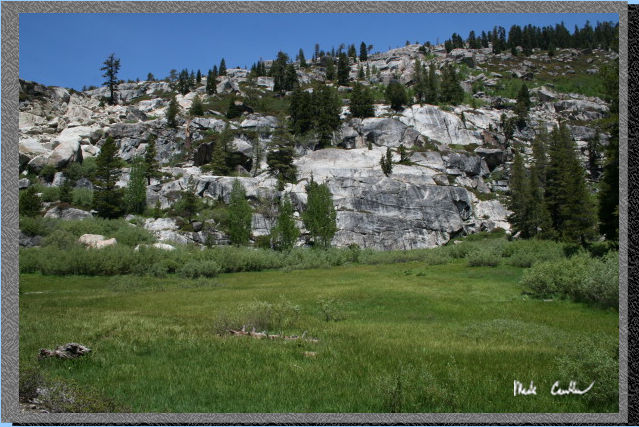 You have to cross this meadow to get to the site we picked. Someone setup some fallen logs to help people cross the meadow and the small stream that crosses it.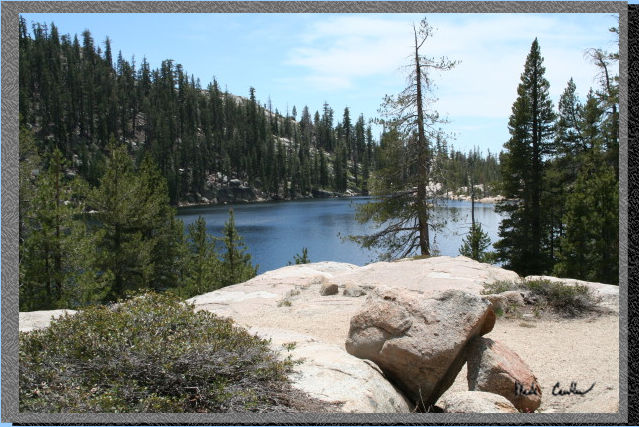 Here is the view from the site we picked. Great flat spot for one tent and an existing fire ring if you need to have a fire. Mosquitoes were bothering us enough to make a fire.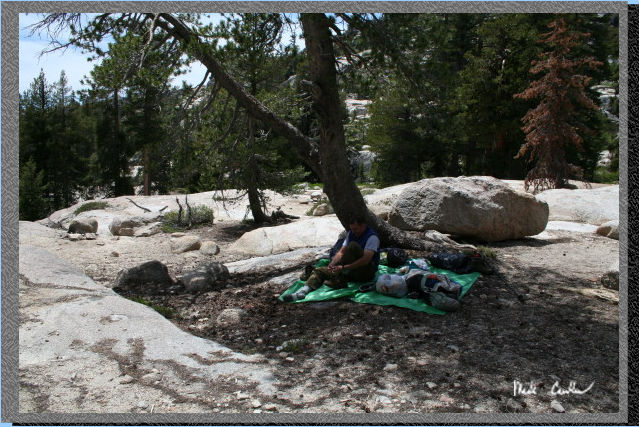 We picked this tree to hang out under during the day to stay out of the sun and provide us with a little wind break. Here is Leo checking out his feet after the hike in.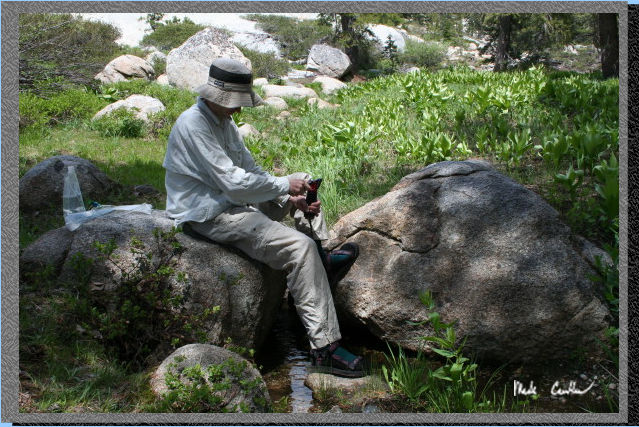 We decided to pump water out of a stream just a little ways from camp. The stream went through these two boulders and filled a small pool between my feet in the picture. I don't think I could have designed a better spot to filter water. There was even a spot to place the water bag you were filling on the other side of me. Nothing beats fresh mountain stream water.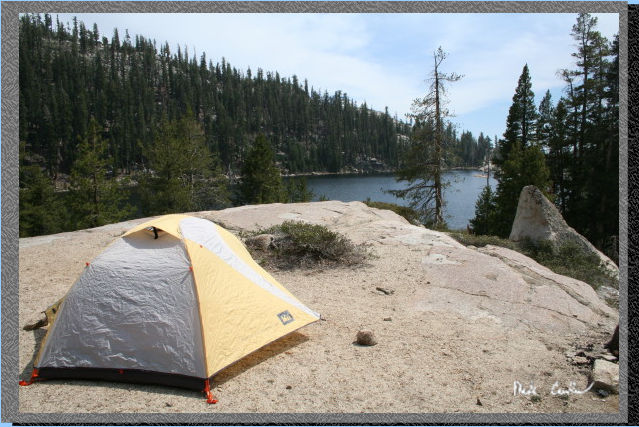 Here is the tent all set up. There is actually enough dirt under the tent to allow the tent stakes to be pushed all the way in. Well almost all of them. The small rock is next to the one stake that could not be pushed all the way in (to prevent someone from tripping in the middle of the night).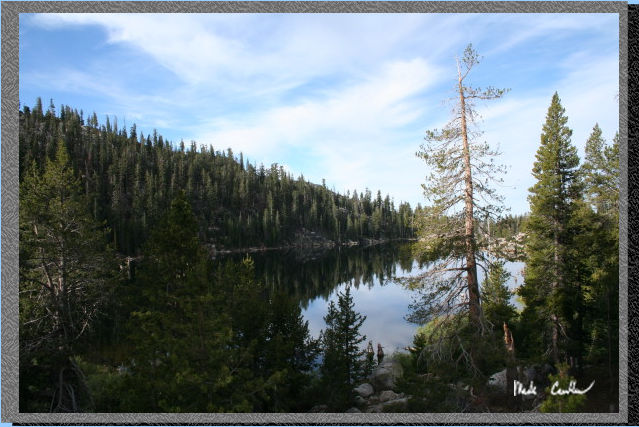 Here is Bear Lake in the morning. Besides the mosquitoes this was another awesome trip. I managed to only get 3 bites, all on my feet when I was only wearing my socks/sandals around camp (like a dummy I forgot to spray my feet). Scroll down for some more shots on the way out, and also for the map at the end.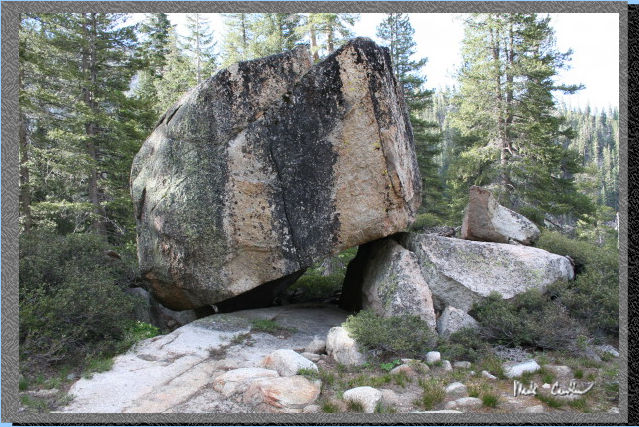 A boulder near our camp. It was big enough under the boulder to sit up and also to allow for you to sleep under it (if you are brave enough).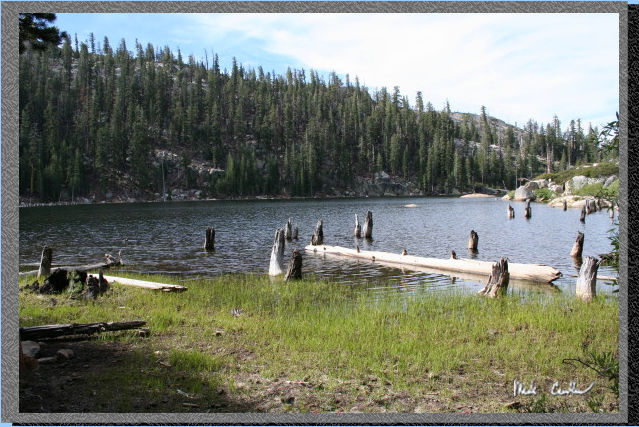 Here is another view of Bear Lake.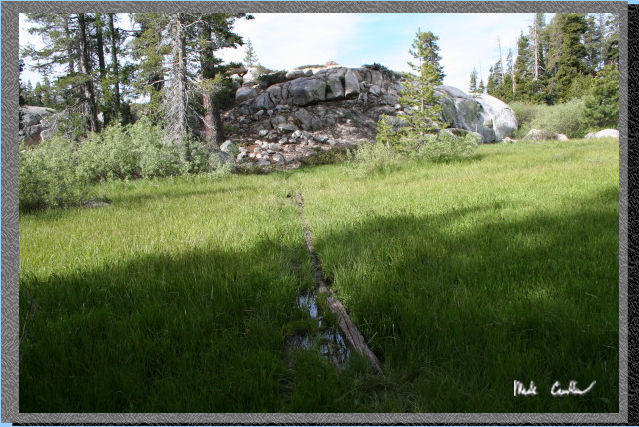 This shot shows the logs I was talking about earlier to allow for an easy crossing of this very marshy meadow.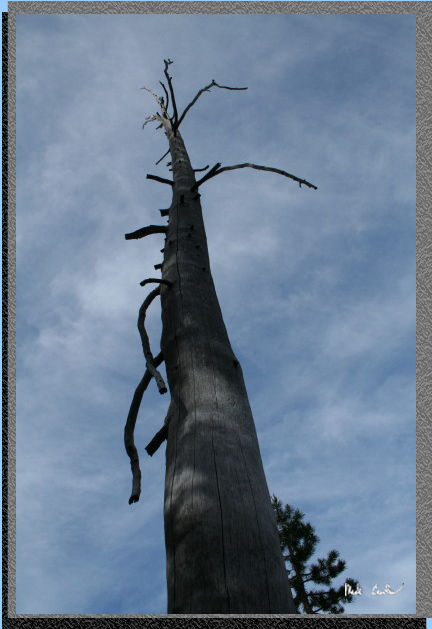 A tree on the way out.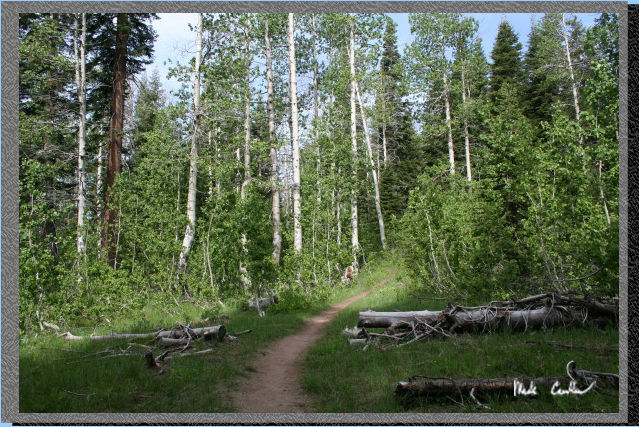 Beautiful section of trail through some great foliage.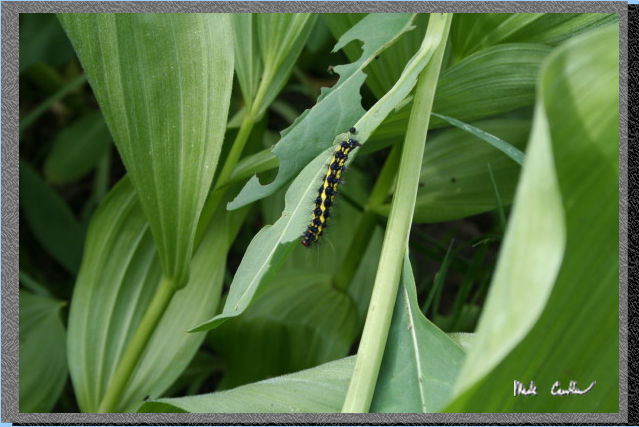 There were a bunch of happy caterpillars on these plants, and even on the trail in some spots.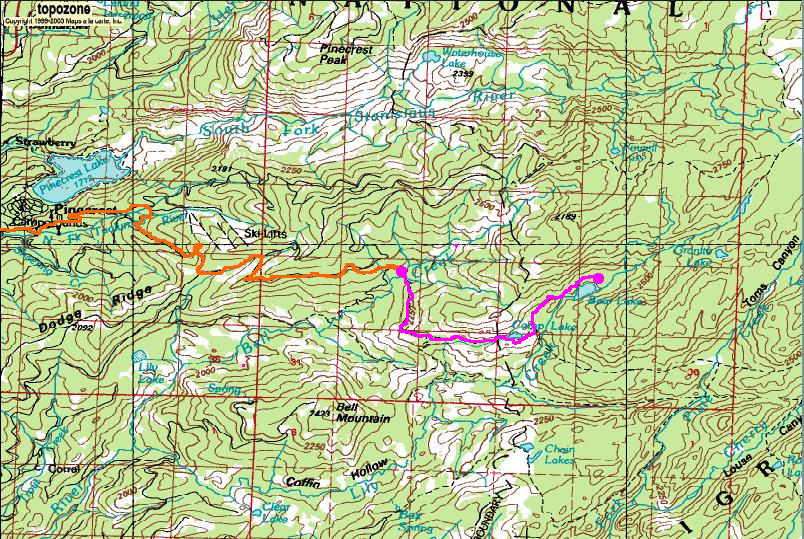 The orange line is the approximate route we took in the car. The Pink line is the trail we took. The two pink circles are the trailhead and the spot we camped. I tried to depict our side journey to the overlook of Pine Valley from the ridge to the south of Camp Lake by marking our path out some. Do not miss this overlook. It is just off the trail. (There is another road on the way in you can take from 108, but the ranger let us know the route described above is the quickest.)