This backpacking trip was done in both Castle Rock State Park and Big Basin State Park in the Santa Cruz Mountains. We were attempting to do the entire Skyline to the Sea Trail which starts at Saratoga Gap Vista Point (where Highway 35 and 9 meet) to Waddell Beach. The whole trail is around 30 miles. Our first day was from the Castle Rock parking lot to Waterman Gap Trail Camp. The second Day was Waterman Gap to Big Basin Park Headquarters. Our third day was supposed to be from Park Headquarters to Waddell beach (10 miles) but we decided that 20 miles was enough for us (don't worry another attempt was already scheduled/completed). map
Leo, David and I where the three on this trip. All of us have camped here before but none of us had done the whole trip yet.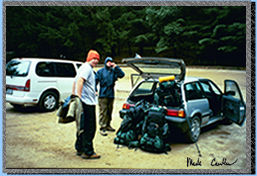 We knew that we were going one way on this trip so we decided to pack into Leo's famous Honda Civic "SUV" and have someone meet us at Big Basin the next night (our out if we decided to not go the whole way). David pack is shown below next to mine. Hey, he got it to Waterman Gap (~10 miles away).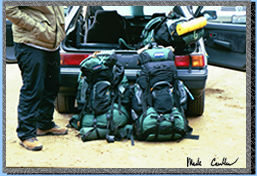 Parking at Castle Rock is adequate but arrive early to be sure to get a spot during peak usage.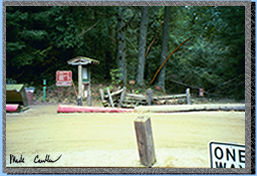 There is a bathroom and trash cans here at the trailhead and I would suggest using the facilities before heading off on the trail. The trail is well used most of the year and stepping off the trail to water a tree in some sections is impossible due to poison oak, or streams being so close by.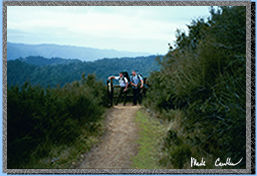 The trail initially takes you past Castle Rock (3214 ft) and then on to Goat Rock. There are a few steep and narrow sections of trail but it is well marked. There are a few spur trails off to some outlooks but the main trail is easy enough to follow. We decided to take the Ridge trail to Castle Rock Trail Camp. There is a phone, bathroom, water, firewood and shelter here.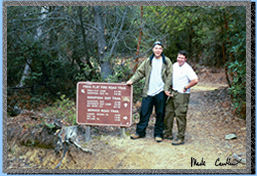 This is a nice place to go if you want an easy hike to a very beautiful area. It is about 2.7 to 2.8 miles to this camp from the parking lot. We continued on to the Traventine Springs Trail and then onto the Saratoga Toll Road Trail all the way to Waterman Gap.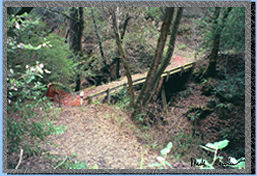 Once on the Saratoga Toll Road trail we came across some interesting sights. On the left is the old trail. It has been re-routed as this bridge is in bad shape. I am not sure that it would even support a deer running across it. This section of trail runs along highway nine, and when cars come by you can here them. A little unnerving at first, but we did get used to it.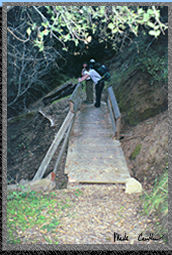 The bridge on the right had been broken by something and it didn't take long to figure out what caused the damage.
The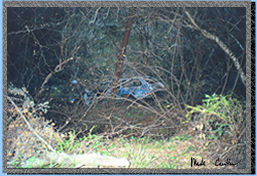 car below was the only recent car around and must have taken out the bridge as it tumbled down the hill. After seeing this we paid a little more attention to the sound of squealing tires on the road above us.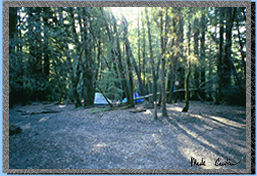 We set up camp as soon as we hit camp. We were all surprised when we had running water at this camp, as we were told there was none. We had taken water from Castle Rock Trail Camp all the way here for nothing as it turned out (8 pounds of water). We came to find out later that they just filled the tank for this camp the night before, so when we asked if they had water a few days earlier they had been honest when saying no. One funny thing that happened to us at Waterman Gap was that a mouse made it into Leo's pack in the middle of the night. We tried shooing it away but we had to hang all of our packs in the middle of the night. Not exactly what I wanted to do in the middle of a good sleep.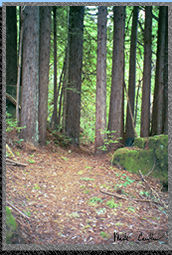 The next morning we all were ready to hit the trail again. The thoughts of a shower, and possibly a beer, inspired us to get going early. The trail is more and more scenic along the way.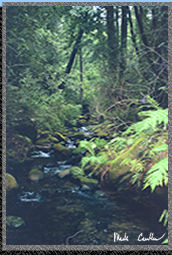 The weather was getting darker though, and we all knew that it was only a matter of time before we got some serious rain on us. As it turns out we made it to within sight of Park Headquarters before the heaviest rain that I have seen in quite some time was unleashed. I mean it was just pouring. It wasn't hard to see why it was so green and why ferns were so abundant in these mountains anymore. After the torrential rain it was time to set up camp, but our friend Ray showed up so we had a beer. We decided that we would call it quits and head back instead of camping in what looked more like a lake than a campsite. The raccoons are very used to people and willing to get into anything you leave out so be very careful with your pack if you don't want it torn open by these black eyed bandits.
See our second, succesful, attempt here.
DAY 1
DAY 2