Leo and I decided to head up to the Santa Cruz Mountains for a quick backpacking trip. We originally were going to do a snow trip, but the snow this year just wasn't around long enough for us to get up there and camp in it. There is always next year. We hadn't been to Castle Rock State Park in a while so it gave us an excuse to get out and see if anything had changed.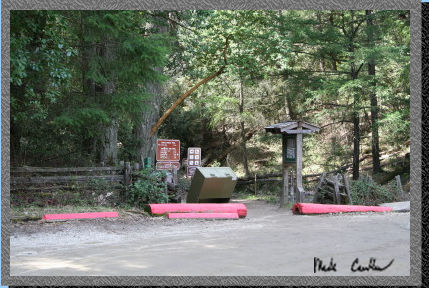 You do not need reservations to camp at the trail camp. Everything is first come first serve. When we talked to the ranger she let us know that last Memorial Day was the first time they were full since 1962. So I think the rule is don't be crazy enough to try to backpack over a popular weekend unless you want to be elbow to elbow. Apparently many of the people were Boy Scouts. Here is a picture of the trailhead. To get to the trailhead heading South on 680 toward San Jose continue until it turns into 280. Take the Saratoga exit South. This turns into Highway 9. At the junction of Highway 35 take a left and the entrance is on the right side.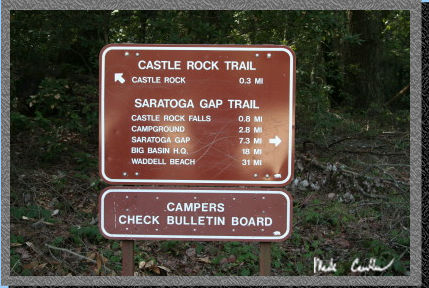 Check in with the Ranger to see what the latest news is. There are a couple different options on routes to the trail camp and if you want to hike a little bit further you can camp at Frog Flat. I recommend #3 as we have stayed there before and it is nice and usually you can have all of Frog Flat to yourself. I think it is only 3 or 4 tenths of a mile past the trail camp sites. We were camping on a Friday night and since it is so early in the season we expected to have most if not all of the camp to ourselves. We had one other group come up but they camped just out of earshot. We took the Saratoga Ridge Trail to the trail camp (2.7 miles). See map/profile below.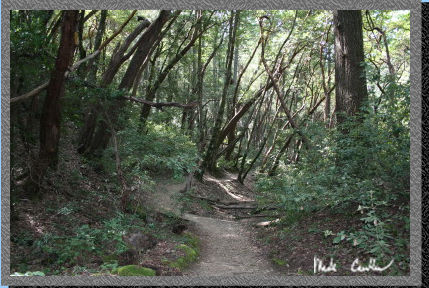 Most of the trail is covered as is typical in this area. The trail is easy and well marked (except for a decent uphill section at Goat Rock). Make sure to keep an eye out for Poison oak as it is plentiful. There are some great views on the way as well. i recommend hiking the whole Skyline to the Sea trail if you can make the time. It can be done in 2 nights with roughly 10 mile days. The trip is great (Eventually I will get the pictures on here, still have to scan them).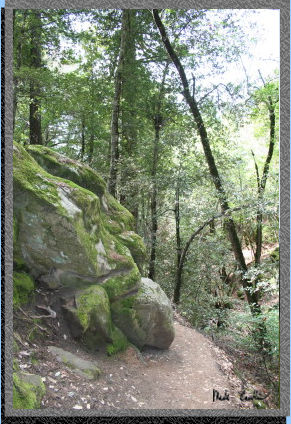 The rock's in the area bring out the climbers so don't be surprised to see a mess of them (especially on the weekends).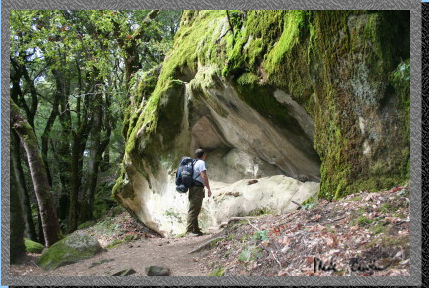 Here is Leo contemplating moving this rock a little further from the trail. He decided that he would use his leave no trace skills and just leave the rock, this time.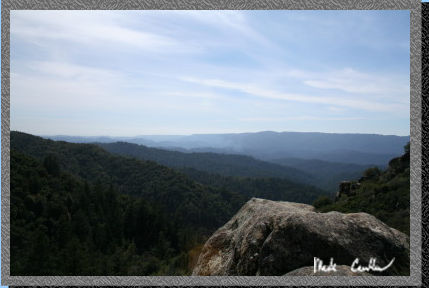 There are some of the great views on the way to Goat Rock. It was a little hazy as there were a few burns going on in the distance.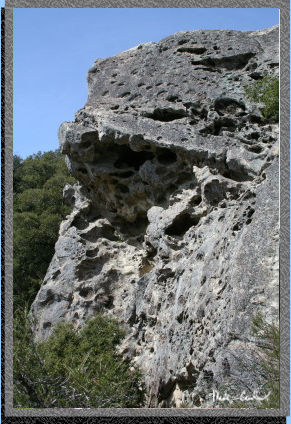 Here is Goat Rock. You can see why the climbers are all over this place. There are a few spots on the trail that go out to the base of these rocks so unless that is your plan, stay on the more traveled path. There are some steep sections along the trail so you should be careful as you hike as a slip could put you well off the trail.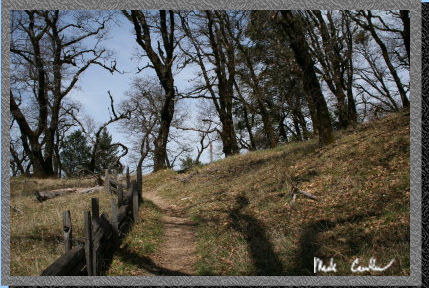 Here is the section of trail after Goat Rock. There is an interpretive center option here if you go right instead of straight at the junction at the top of Goat Rock. You can actually climb up to the top of goat rock. It is a nice view.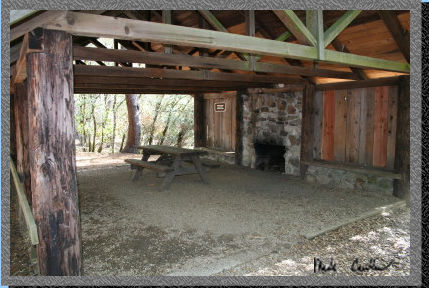 Here is the shelter at the trail camp. Leo and I did hang out in this shelter one year when it poured on us. It was a great test of our tents waterproofness. Is that a word? There are signs posted that you should only camp in the shelter in inclement weather. Remember that you are in the Santa Cruz Mountains, so if it does start raining expect to have a good test of your rain gear (you did bring it, right?).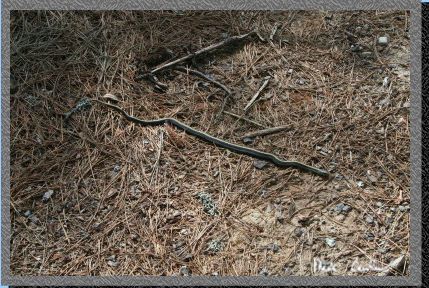 Here is a little snake friend we saw while hiking around the sites looking for one that we remembered from another trip.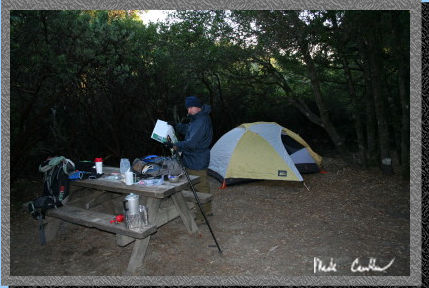 Here is our site, #18. There are tables at the sites, running water from faucets nearby and a few pit toilets. I know, not exactly roughing it but it is nice to get out here and recharge.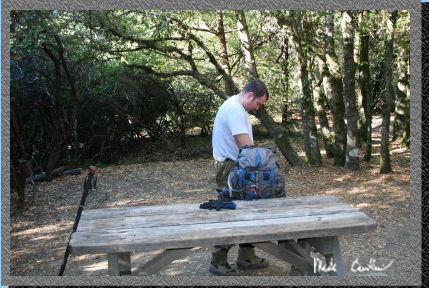 It was a little windy that night but there were no mosquitoes and we both had enough gear to stay warm. We stayed up playing cards and chatting. Here is Leo packing up in the morning. You are allowed to burn fires here as long as the fire danger is low. They even provide wood bundles for $7. Make sure to bring some cash if that is something you want to do.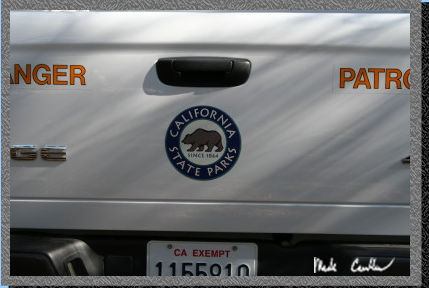 We saw the ranger on the way out. She was checking to make sure everyone at the trail camp was registered (us and one other group) and generally checking on things. She was driving the nicest Ranger truck I have seen.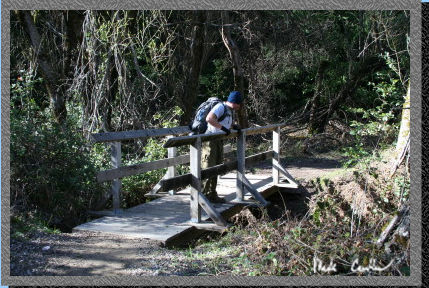 Here is Leo as we hiked over the creek near the trail camp on the way back. It was still cool when we started out but it warmed up as we got closer to the car.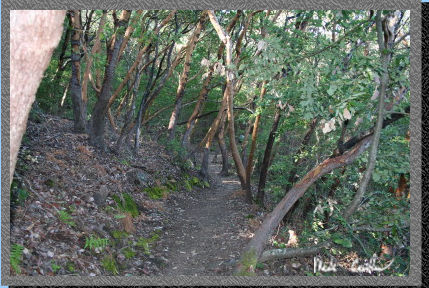 It is amazing how much the foliage changes on this trail.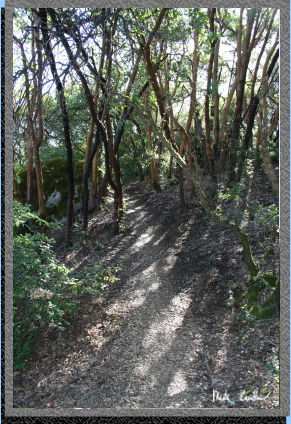 Here is the sun breaking though some of the cover. The temperature can vary a great deal depending on the wind and the section of the trail you are on.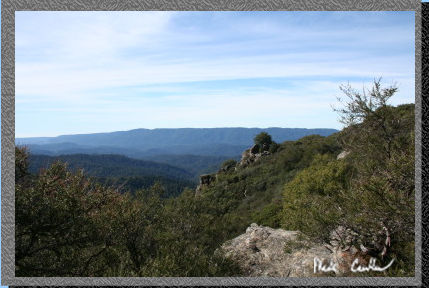 Here is another view of the surrounding valley.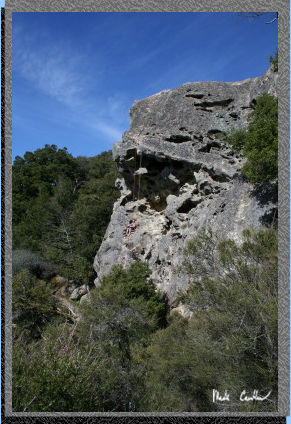 Here is Goat rock with a couple people climbing it. We left on a Saturday morning and saw quite a few climbers on the way in. I am not sure what the rules are amongst climbers as far as sharing the "Rocks". I assume there is some nice way to share the time or routes on the rocks in the area. If you want them to yourself try going during the week. I saw only one group of climbers on Friday and I imagine that in the middle of the week there are even less.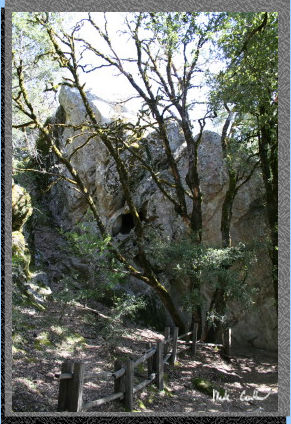 I do not remember the name of this rock but I liked the lines in the picture.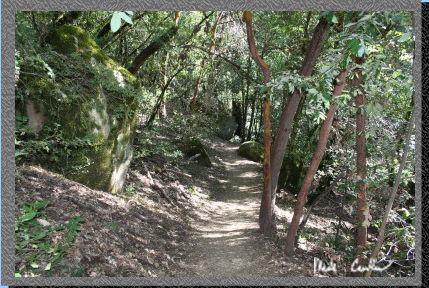 More Shots of the trail pretty close to the trailhead. Notice the moss covered rocks. It is much cooler through these well covered sections along the stream.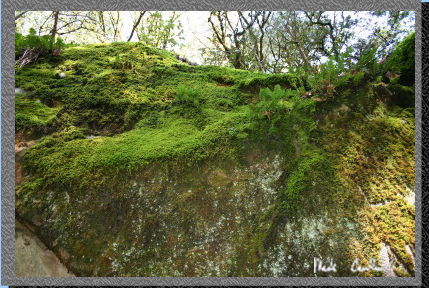 In case you missed the rock.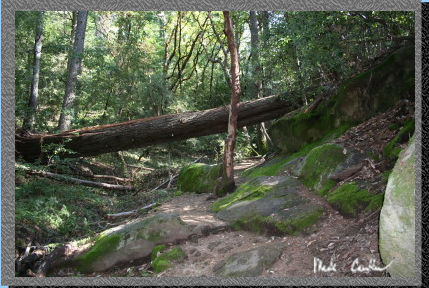 Here is the last section on the way back. This tree that fell over the trail is huge and I am not sure if they will try to remove it or not. I am sure that this tree came down with more than a thud. This is a great trip and I would recommend it to anyone looking to do a nice warm up trip to try out new gear. Make sure to pack rain gear and a tent that is sealed well from rain.
Map and profile from Trailhead to Castle Rock Trail Camp is shown below (gps track is from a 2014 trip in the rain). The shelter is great when it starts to pour Santa Cruz style on you. Click on either one for a larger version..