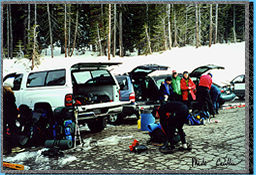 This trip was done through a snow backpacking class I took with the Sierra Club. Although I am experienced in the snow I thought it would be fun to meet some new people who are into winter camping. If you are looking to get into some snow camping I recommend going with someone that is experienced, at least your first time. Crocker Point is located about 6 and 1/2 miles from the Badger Pass Ski Area in Yosemite Valley. On the map below you can see the trail at the bottom edge of the map leading towards Dewey Point and then over to Crocker Point.
After parking our cars and getting our gear on we were ready....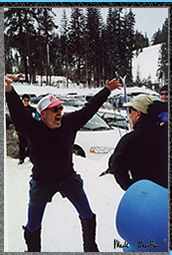 Well almost ready. Because of the size of our group (we were 20 strong) we had to break into two groups of ten. This was easy enough but then it came time to decide which group was going to head off on the trail and which group would sit around for fifteen minutes before they started. The two leaders decided to make a decision using a game similar to paper-rock-scissors... except that it involves a hunter, a bear, and a lady. The bear kills the lady, the hunter kills the bear, and the lady...well let's just say she wins over the hunter.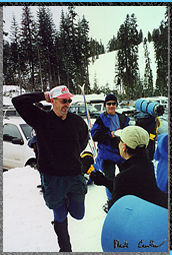 As it turns out my group got to go first - thanks to some expert decision making on character choice.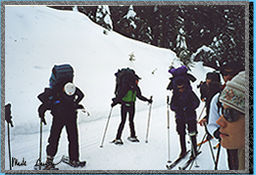 The trail starts on a groomed trail (actually Glacier Point Road). Here we are after a brief stop to readjust our packs after hiking for about ten minutes. This is a very popular route for snow shoeing and cross country skiing.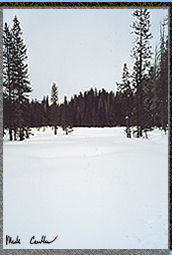 After a couple miles on this trail we turned left on a trail crossing McGurk Meadow. Although you could get by without snowshoes on the groomed trail, here you could not. This trail is very well marked. Even in this dark photograph you can see a marker on the tree to the right.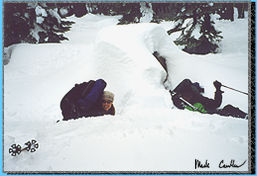 After almost reaching Dewey point we broke left to head to Crocker point and set up camp (saving Dewey point for a day hike later in the weekend). Along the way we crossed over what appeared to be a snow covered log. A few of our group made it over no problem but toward the middle of our group the snow gave way and we lost a few backpackers into the abyss. Of course I lent a hand to the fallen... after I grabbed this shot first :-)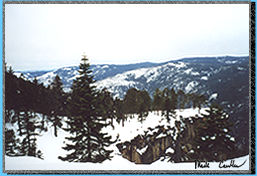 Dewey Point is higher than Crocker Point so along the way we were able to catch some views of our goal.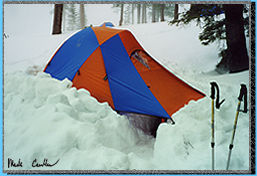 After making it to Crocker Point we each went to work on constructing our sleeping shelters. I opted for sleeping in my tent on this trip. The only modifications that I did was to dig a passageway/storage area in the front of my tent and build a wind wall around my tent. I used the snow I dug for the passageway to construct the wind wall. Being able to store my pack and snow shoes out of the elements is always nice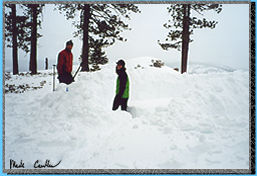 After setting up my things in the tent I headed up the hill, shovel in hand, to help on the construction of the kitchen. We choose a spot pretty close to the edge so we could have some nice views. One of our concerns was the possibility of wind so we dug down and built the walls up pretty high. It turned out to be a pretty roomy kitchen. We made it big enough to sit ten comfortably, but left some space should guests arrive.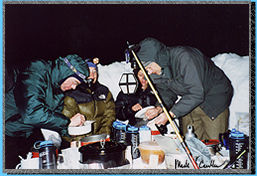 That evening we feasted well. Here is a shot of our kitchen in action. Notice the fancy lighting. We actually had lights on both sides of the table but you can only see the one in this picture. One of the great thing about snow camping is the ability to bring whatever food items you want without the worry about them spoiling. I am thinking about doing shrimp cocktails on the next as an appetizer.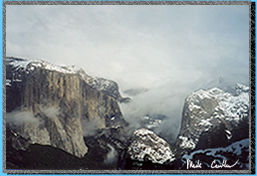 The next day we decided to do some day hiking. Our first trek was down to Stanford point. This was a mainly downhill jaunt about 0.7 miles each way. Breaking trail there wasn't too bad. Once we got to the point we were greeted by some pretty cloudy views but we waited a little bit and the views ended up being simply amazing. The way the moving clouds changed the lighting and those familiar sights of Yosemite was unbelievable. It was like a slide show that nature was putting on for us while we enjoyed our lunch.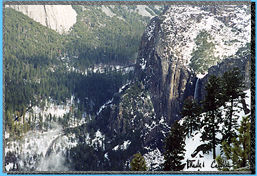 After we had our fill of some beautiful El Capitan views we turned our heads to the other side of the valley and saw Bridalveil Falls with Cathedral Rocks behind it.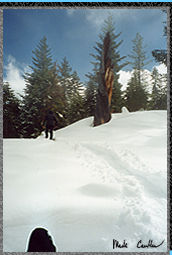 We made our way back to camp but we decided that we should trek on further to Dewey Point. Unfortunately this is a mainly uphill trek but we were rewarded with some blue sky along the way. A few minutes before this shot was taken I stopped to look behind me (to see where the person following me was) and a hawk glided over me. It was so quiet I was able to hear the wind through its wings. Just writing about it gives me goose bumps.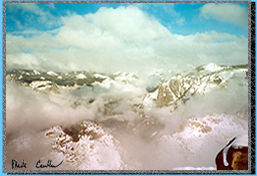 The views from Dewey Point were trying hard to out do the ones from Stanford Point.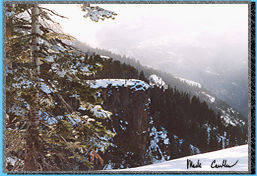 On the way back to camp we got some more views of our camp at Crocker Point. By the time we got back to camp it was nearing dinner time so we had another great evening of food, stories, jokes, spirits, and great companionship. When we were finished and it was nearing bedtime we decided to go on a night hike to Stanford Point. It is always nice to try to warm up before you get into your cold sleeping bag but this hike was more than a warm up. Experiencing the stillness and beauty of the snow covered terrain is so cool at night.
I am going to end this trip description with some other photos taken on this trip that didn't fit neatly above. All and all this was one of the best snow camping trips I have had the pleasure to experience.