This backpacking trip was done in the Trinity Alps Wilderness (north of Redding) with my friend Dan. There is so much to see in this area that you could easily spend a couple weeks and still not see it all. There is a lot of up and downhill, so make sure that you are ready for a moderate/strenuous trip. We encountered a nice hot spell that made this pretty strenuous in stretches. map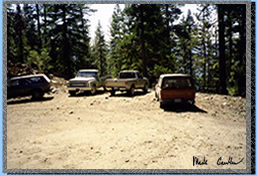 To get to the trailhead take I-5 to Redding and then take highway 299 west to highway 3 north to Weaverville. Travel 14 miles further north on highway 3 until you turn left onto a dirt road marked stonewall pass. (It is 0.7 miles east of the bridge across the creek.) It is about 6 miles to the trailhead. Some junctions on the road are marked but some are not. If you follow what looks the more traveled route at the unmarked junctions you will get there fine. This road is not that rough, so I would say that most road worthy cars and trucks would be OK. Parking at the trailhead is OK but watch for the horse flies. They bite hard!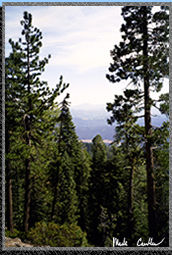 The trail is easy to follow and starts uphill immediately. Make sure to look back to see some great views of Trinity Lake when you have gained enough altitude. There are some serious switchbacks on this trail so get used to winding your way up and down the steep sections.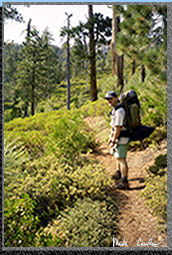 We left the trailhead at about 2:30 pm (at about 4500 feet) and were heading to Echo Lake about 5 miles and 2800 feet higher. The trail runs alongside Stoney Creek all the way to Red Mountain Meadows.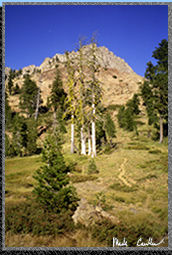 There is a trail junction before Red Mountain Meadows that you want to go left on if you are headed to Echo Lake.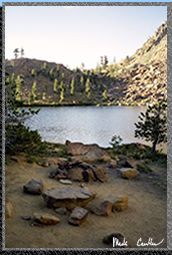 After we huffed it up Stonewall pass we had a little break before heading uphill again to Echo Lake. This is a gorgeous lake with red tinged mountain all around. The glow from the sunset and the rocks makes you feel like you are on Mars. The best campsite is on the southeast side. It has a nice rock table and some flat areas for tents. There is also another site that is closer to lake's outlet where you could put a very small tent.
We got an early start the next morning. It was easy to go to sleep early after the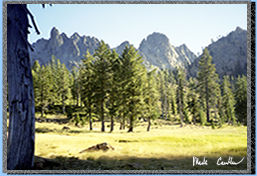 previous day of long uphill hiking. We decided to move camp to Summit Lake that sits at about 7500 feet and about 3 miles away. We immediately started up Little Stonewall Pass and then down the other side. We saw quite a few deer in this open section before climbing again when we got to Deer Creek Pass. After getting to the top of this pass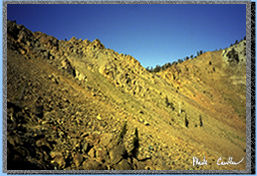 we had a great view of Deer Lake. Our lake was up an over the ridge to the left so we hung a left as the trail remains almost level before switchbacking up to the top. Dan and I met a family that was just leaving Summit Lake near the top. Lucky for us since the lake is not that big and there were quite a few of them.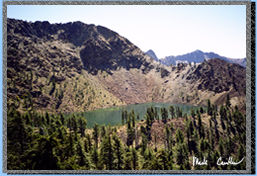 Once we got to the lake we set up camp and had a little snack. It was still early in the day so we decided to hike to some of the other lakes in the area. Our plan was to hike to Diamond Lake and Luella Lake (have lunch at Diamond Lake and hopefully make it back for dinner).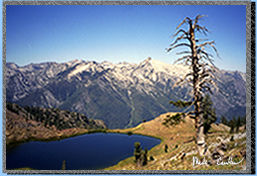 This picture is of Diamond Lake. It is truly a gorgeous lake with some great views.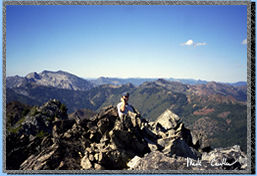 We had a great day hike and when we started heading back from Luella Lake we decided to try to climb up and over Siligo Peak to short cut our travel back. Well I am sure that it ended up taking longer but the views were spectacular and Dan was able to make a call home from the top to his 8 month pregnant wife. From the sharp top you are able to see Mt Shasta. We made it back to camp and had a nice swim before dinner. The trip back the next morning was very nice. It was nice to be traveling downhill and the weather was a lot cooler than on the way in. I am going to end this trip with some pictures that I couldn't fit in the trip descriptions.
Below left: Deer Lake from Siligo Peak.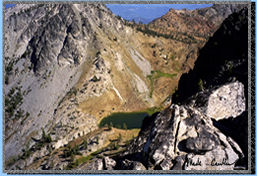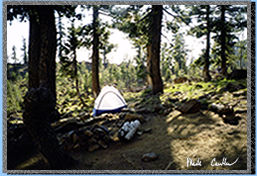 Above, right: Our campsite alongside the shores of Summit Lake
Below: Two pictures taken on the way back. One of a tree that decided that two tops are better than one and one of Dan and I as we crossed what I think is lower Siligo Meadow.