Our original plan for this backpacking trip was to head to Beyers Lake via the Indian Springs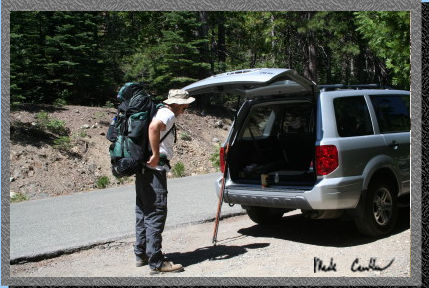 trailhead in Tahoe National Forest. After talking to the ranger at Big Bend Visitor Center we learned there was a power line in that area that was down and it was closed to the public. So we decided to alter our plans and start the trip at the Fuller Lake trailhead (map). To get to the trailhead (from Sacramento) head east on 80 until the Highway 20 (just 2 miles West of the Big Bend Visitor Center). Take a right on Bowman Lake Road and head to Fuller Lake the road goes right alongside it. Parking is in a small lot off the road or do like we did and park in one of the turnouts just before the parking lot. Here is Lee getting ready to hit the trail.
There were 4 of us on this trip (Shannon, Ray, Lee, and I). We started out going over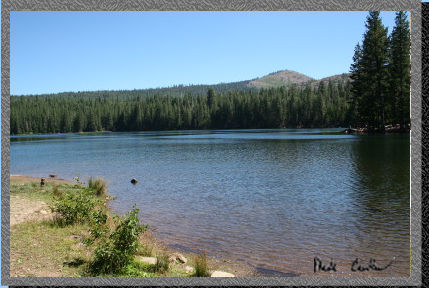 the dam at Fuller Lake. Do not cross the aqueduct (like we did). The terrain is extra steep and you go up and over a nice ridge just to go back down it. Stay to the right of the aqueduct and follow it until a road crosses it. Cross over the bridge and follow the road until you get to a tree that is marked trail with an arrow. The trail is marked on the map below. The route on this map is a very crude one, as the trail we took is not marked on it so I had to draw a line on it. Here is Fuller Lake with the dam to the right of the picture.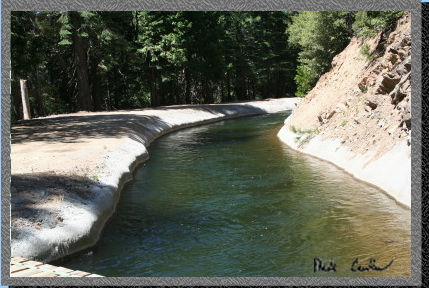 Here is a shot of he aqueduct near the trailhead on the way out. I am standing on the "road" that crosses it. The water moves fast and appears to be around 6 feet deep so I would not recommend taking a planned or unplanned swim.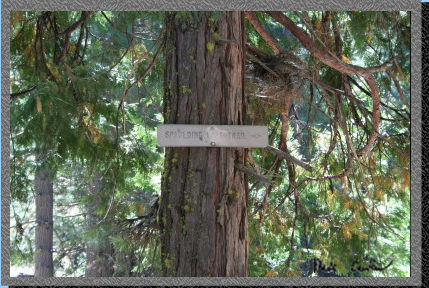 The trail makes its way under the aqueduct (it is in big pipes at this point). Apparently during the Spring melt there is too much water for these pipes to carry and there is so much runoff the trail is impassable so you have to scramble up the hill the pipe go over and back down the other side. This section is well marked by PG&E. Here is one of the trail signs to watch for. prioer to going under the "pipes"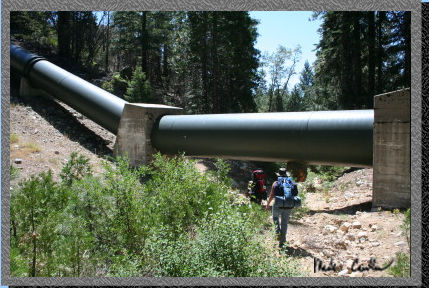 Here is the first set of pipes you go under. If you are quiet you can acutally hear the water flying through them. They are also cold to the touch.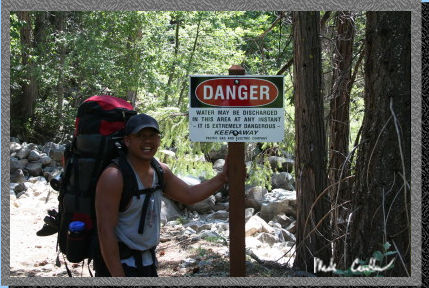 Here is a shot of one of the warning signs for the discharge area. We had to talk Ray into heading through this area. Notice the frightened look in his eye...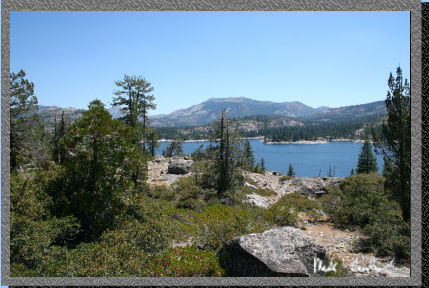 The trail goes alongside Lake Spalding or a little further inland depending on what trail you take. They both take you the Right direction though. The junction is marked on a tree with a "_|". Here is Lake Spalding. Another very nice lake in this area. There is a road that heads to this lake if you are inclined.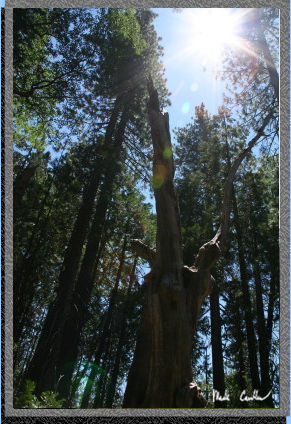 Continue on the Lake Spalding trail along Fordyce Creek. I saw this creek online and saw a picture of a kayak going over the falls. We decided to stop for lunch alongside the creek. The water is pretty darn cold and moving fast so swimming was not on the menu. The trail goes through some nice area of dense forest to exposed areas of granite (and everthing in between). Here is the sun breaking through an area of forest.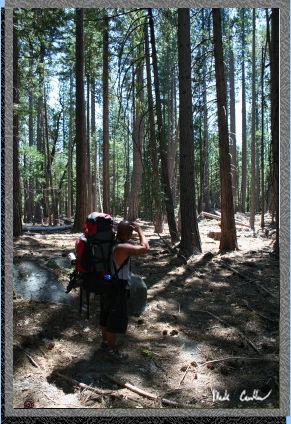 Here is Ray doing his best impression of a lost hiker in the woods. The cover was nice at this point because it was getting warm.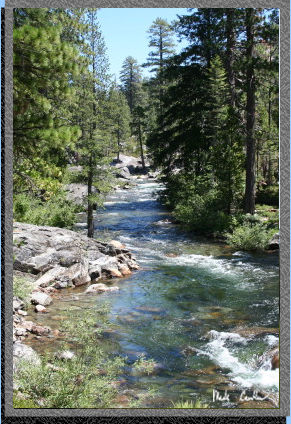 This is the spot we had lunch at. The "creek" was moving fast and it actually made my feet numb after just a couple minutes in the water. Again not exactly a good place to take a swim.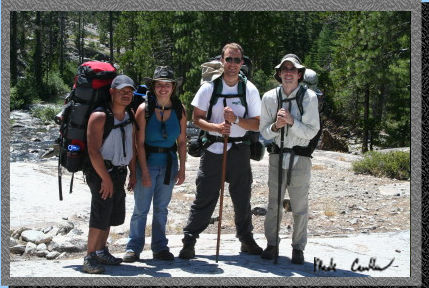 Here we are all together in a shot. Ray, Shannon, Lee, and I. We ran into two nice ladies with some dogs that had been to this are before and they were nice enough to take a picture of us at the falls.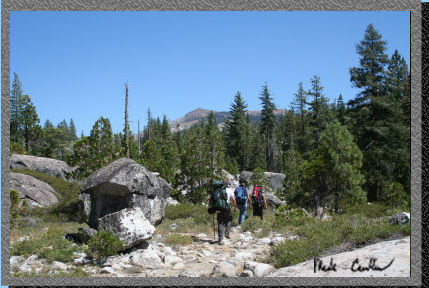 We continued on past the "falls". Notice that I am last.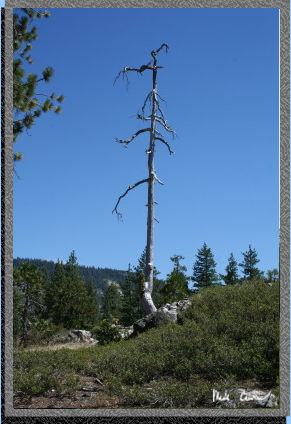 Here is a great looking tree on the way in. I am always amazed at how trees will keep on standing long after they have died.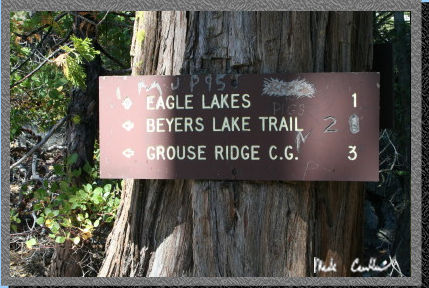 After a good hike we go to another trail junction for Beyers Lake. We hiked up it a bit and decided to consult the map. After seeing that we had many miles of uphill left if we wanted to make it to the lake we decided that hiking down to Eagle Lakes sounded like a better idea. We backtracked to the same junction and headed to Eagle Lakes. We crossed over the bridge and then changed our minds again and decided that we would look for a campsite that was on this far side of the creek that we saw on the way in. Here is the sign. Not sure why so many people have decided to write on it.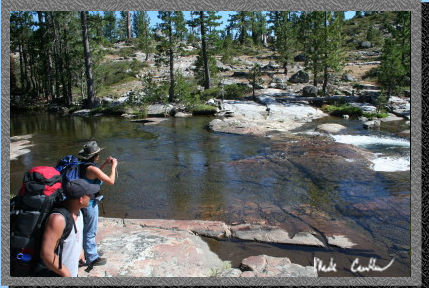 Well after looking for a safe place to cross we decided on a spot that was moving fast but not too deep to walk across. I stood in the middle and helped Ray and Shannon cross safely. While I was standing there I had a fish hit me. That was a little weird. We made it across and thought we were home free. Well as it turns out we now were on an island and the campsite we wanted was not on this island.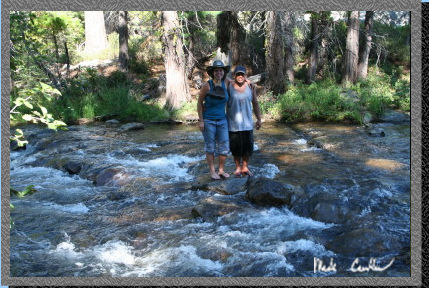 So we did another 2 stream crossings to get to the correct island and camp. Here are Ray and Shannon on the last crossing.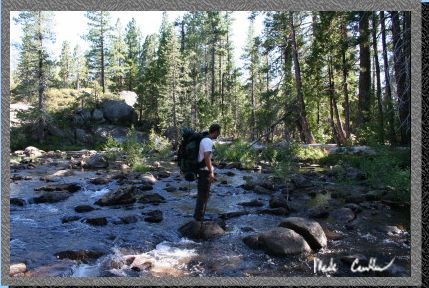 Here is Lee doing the last crossing.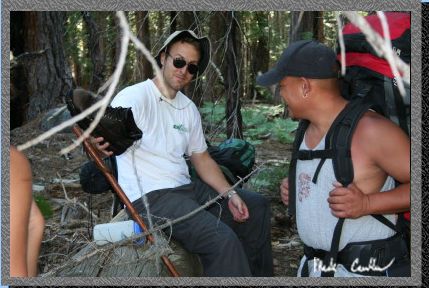 We almost managed to stay dry but in the last crossing Lee took a step on a rock that ended up not being stable and fell in. Luckily it was when he was almost ashore and besides his boots getting wet he was OK. Yes that is water coming out of his boot.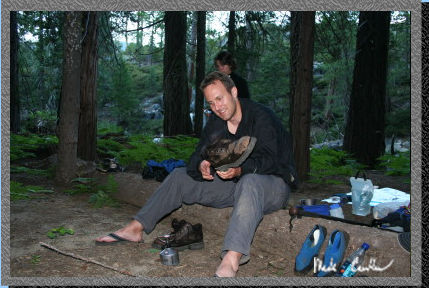 We were all pretty tired from the hike in so we set up camp, pumped water and started eating dinner. The site we finally arrived at was actually almost directly across the creek from the junction of Spalding Lake trail and Beyers Lake trail. There was a fallen tree that spanned the creek to this site and that was going to be our route out of here the next day. Here is Lee "drying" his boots. Using a canister stove is not the best method unless you are an expert boot-cooker.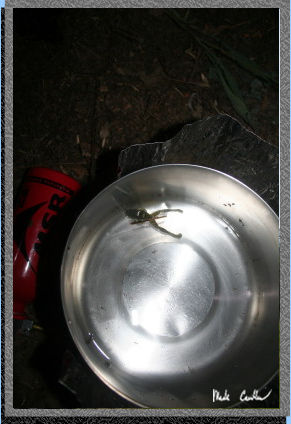 We had a few mosquitoes but nothing too terrible. The only weird thing that happened that night was when I was boiling some water some frog came out of nowhere and landed on the side of my pot. Unfortunately for him I did not have a lid on the pot, as I was serving some water, and even though I tried to push him away from the boiling water he decided to jump right in. Well that was his last leap as he instantly died. I felt bad I couldn't save him but I was also surprised he aimed for the only thing that could hurt him at our camp. Here is the poor little guy.
Here are some shots taken on the way out the next morning. Great trip even though we did not end up where we were originally aiming.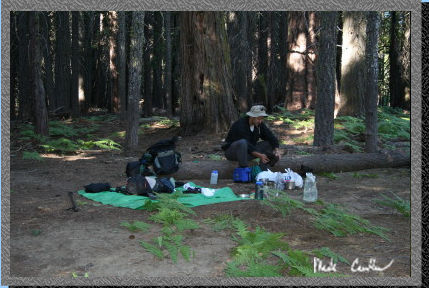 Here is camp the next morning.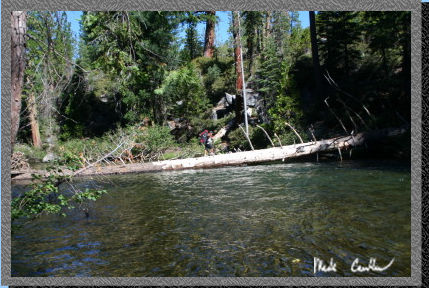 Here is our path on the way out. Luckily this log had only one tricky spot in the middle so we all made it across safely.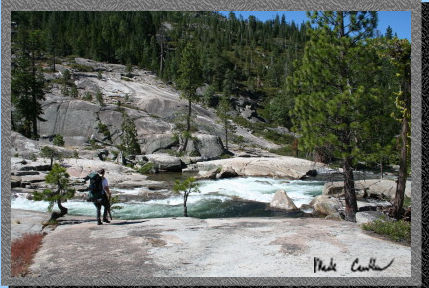 Here is Lee at the top of the falls.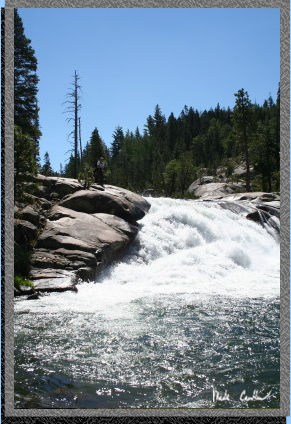 Here is a shot of the falls from the bottom. Lee is at the top although he is hard to see.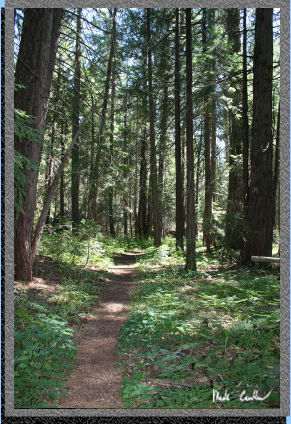 Here is the trail during a covered stretch.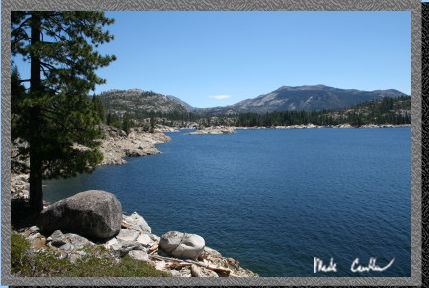 Lake Spalding.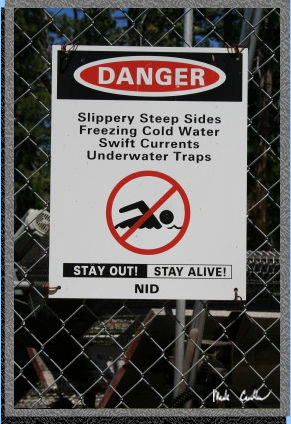 Here is why you don't swim in aqueducts spelled out for you on a sign.