I decided to head back to Gilmore Lake. I had been there once before many years ago with my friend Ray. It was a slightly different backpacking trip that time, as it snowed a couple feet on us on the way in. Gilmore Lake is in Desolation Wilderness and you need a permit to either camp overnight, or even day hike in Desolation Wilderness. So, plan ahead as there are quotas for each section of Desolation Wilderness. Yes, this means that it is not dependent on what trailhead you enter from, it matters where you are planning on spending the night. Call 530-647-5415 for info and permits. To get to Gilmore Lake I decided to use the Glen Alpine trailhead. To get to this trailhead you need to head past South Lake Tahoe on Highway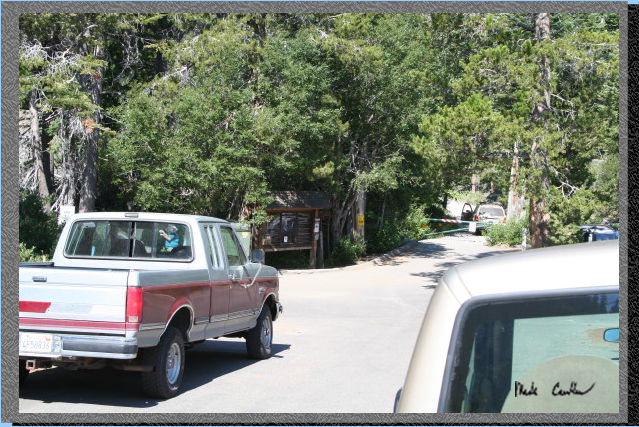 89. Head N past Camp Richardson and then look for Fallen Leaf Lake Rd on the left hand side. The road in goes along the lake and is very narrow (one lane). Stay on this road until it dead ends into the trailhead parking lot. You go by quite a few private cabins and have some nice views of the lake on the way in. You pass right by the Fallen Leaf Lodge and also the Fallen Leaf Lake Fire Department. Here is a shot of the trailhead. There is a 2-seater pit toilet at the trailhead. There is a lot of parking at the trailhead but this is a popular Wilderness Area so arrive early if going on a weekend to have the best shot at parking in the lot and not along the road on the way in. The trail starts past the gate in the middle of the picture with the tan SUV with the door open. The first section of trail is a rough road to some private cabins. When I was getting ready to hit the trail I had a chipmunk try to get into my pack. He was very brave and didn't seem to care what I did until I got my walking stick very close to him. Do not leave anything unattended as I am sure that he is not the only one that is brave. Coordinates at trailhead are N 38 52'37.5", W 120 04'48.7". It is 4.3 miles from the trailhead to the campsite I chose at Gilmore Lake.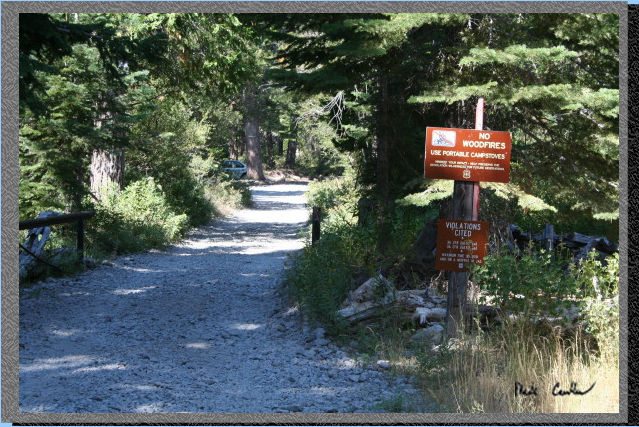 There were plenty of signs on the way in about not having fires. This is another gate that you pass (It was already open when I went by). The general direction you will be going to Gilmore is up. It is gradual until the Wilderness Boundary and then starts increasing. This trail is about 1/3 covered and 2/3 uncovered so when the wind picked up I was happy. The trail goes right through the historic Glen Alpine Spring Resort. The trail is well marked and all junctions are marked well. The official Desolation Wilderness map is great and has this trail marked on it perfectly.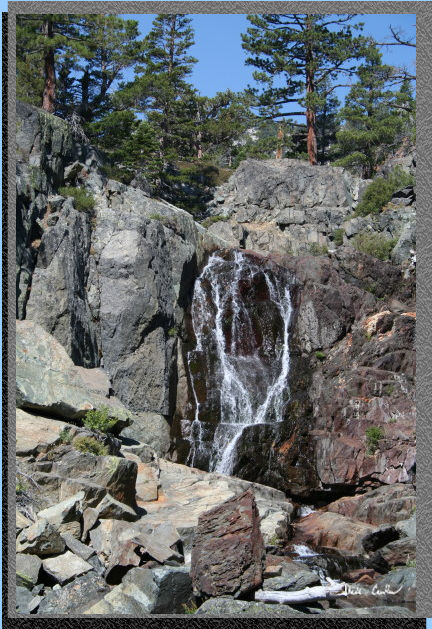 Check out the falls on the way in. There is a cabin that is right at the falls. I cannot believe how cool that must be (except for the part of all the hikers walking right past your cabin I suppose). There are a few good places to see the falls so take you time and take a look at them from a couple angles.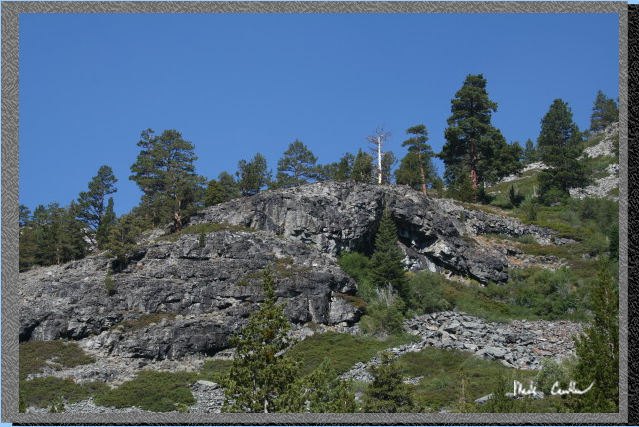 You travel alongside the ridge that forms Cathedral Peak. Eventually you will have to start heading up the ridge but it starts you out nicely with only a slight upwards direction. Make sure to look up and to the right on the way in to check out the views of the ridge above.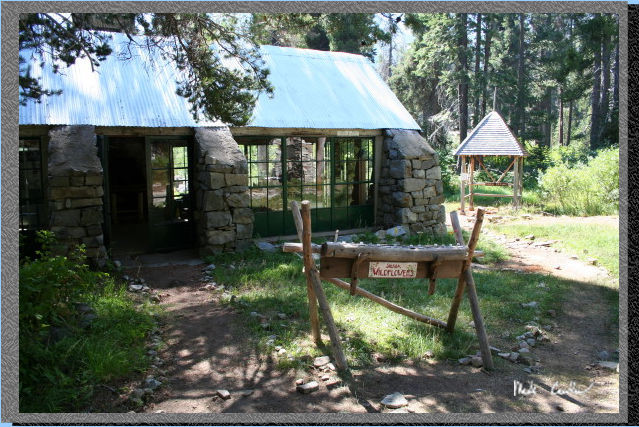 Here is the interpretive center at Glen Alpine Springs. They had a nice display of wildflowers and a ranger on duty to answer any questions you might have. I headed in on a Sunday so most of the hikers I saw were headed back out.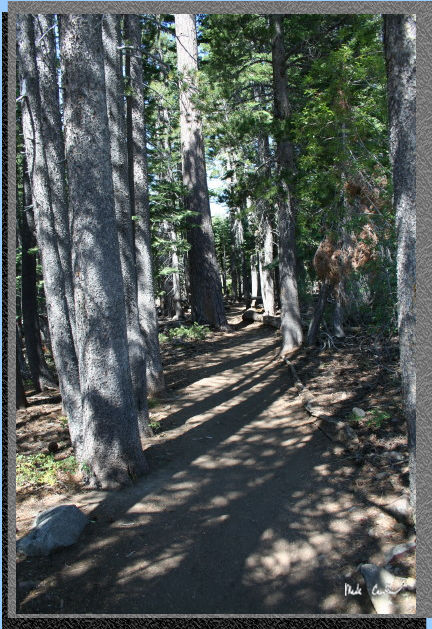 The trail is beautiful on the way in because of the varied terrain you will encounter. You go from a gravel road to a narrow switch-backing trail along a creek (and everything in between). Here is a shot of a covered section. The shade was nice as it was late morning and warm when you were in the sun.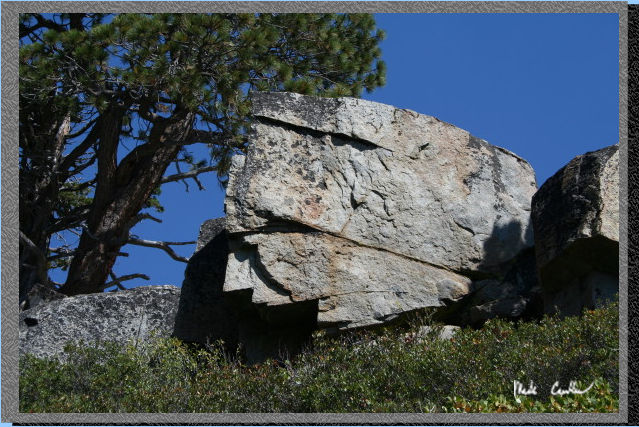 This rock was perched above the trail and I thought it looked like someone peering over the edge.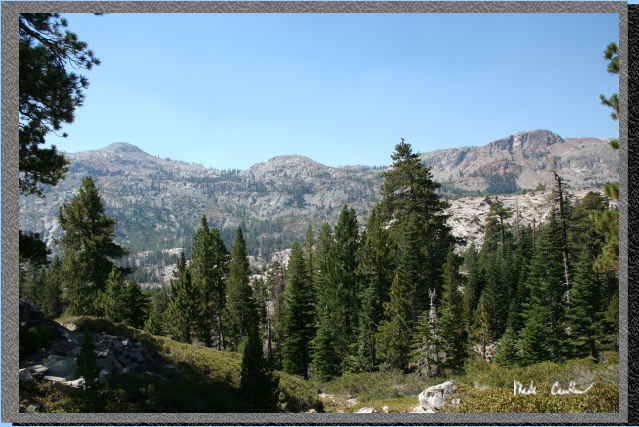 The views of the ridge to the west are great on the way in. Make sure to keep your eyes peeled so you don't miss these views. There are a few spots on the way in you can venture off the trail slightly to catch some killer views.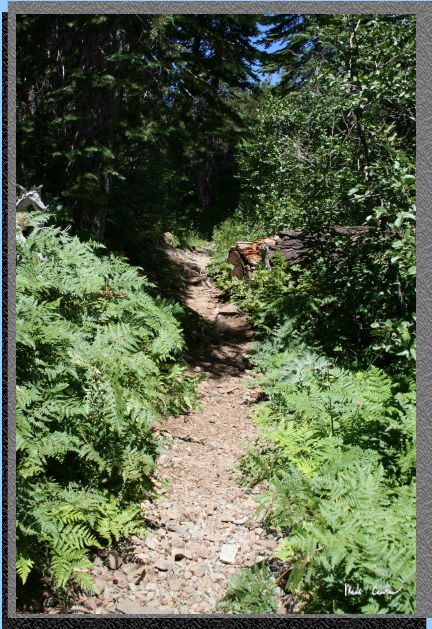 Here is another example of how varied the trail is on the way in. It looks like you are entering a redwood grove the way these ferns crowd the trail. Pretty good for a wilderness areas that is named Desolation. When the trail and views are this good you know that you probably are not going to have it to yourself. This is definitely the case on this trail and in this wilderness.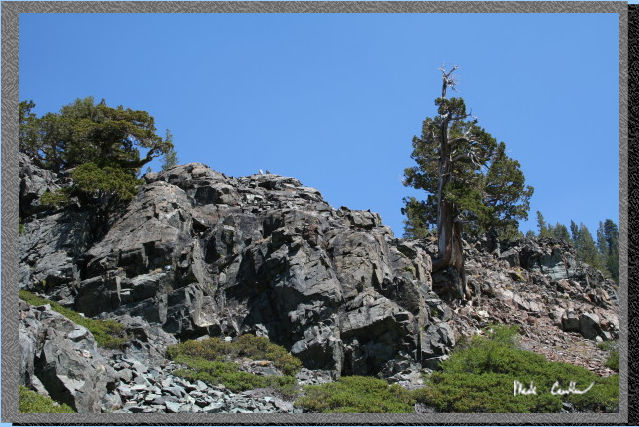 There are a lot of sections of exposed rocks above the trail. It is amazing to me that these trees are able to grow right out of the rock.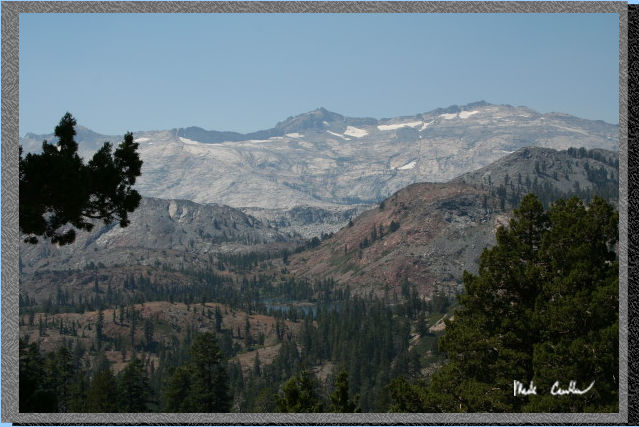 I think the peaks in this shot are Pyramid Peak and Mt Price. These are the peaks above lake Aloha. Most of the taller peaks in this area are around 10,000 feet. You can see the snowfields that are trying to make it until the next snow. You can see Halfmoon Lake down below. I haven't ever been to it but I have heard it is nice.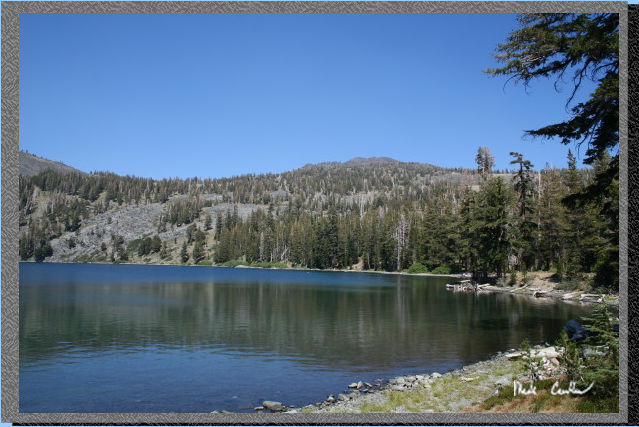 So after a good amount of up (around 1700 feet) you make it to Gilmore Lake. It is very nice offering some good fishing and great views. The reason I picked it was because I wanted a good jumping off point to get to the top of Mt Tallac. So I set up my tent, filtered some water, and then packed only the essentials to head up to top of Mt Tallac.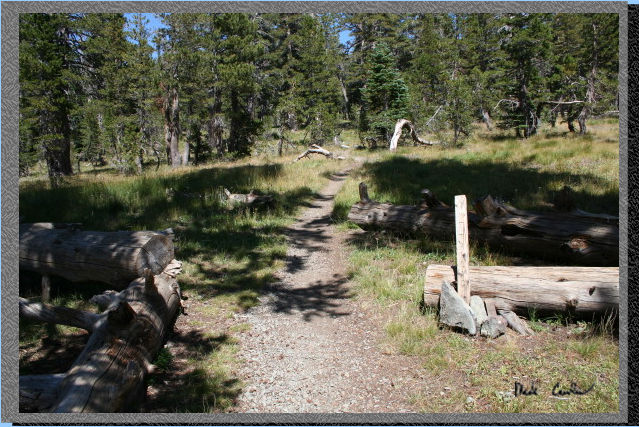 I headed across the dam to get to the trail up Mt Tallac. This is the very start of the trail. This is a no joke section of trail (2 miles and close to 1600 foot gain). That wouldn't be so bad but you have to go back downhill to camp. That is always the harder part on the feet and knees.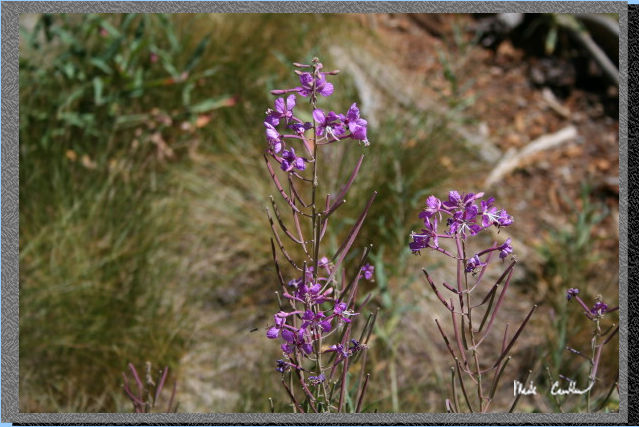 There were some great wildflowers on the way up. Here is a shot on the way up. Most of this section of trail is exposed so keep an eye on the weather and stay hydrated and protected from the sun.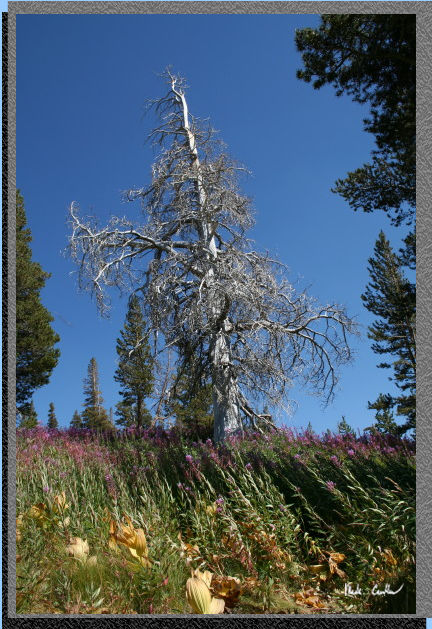 This wonderful white tree provided this great shot amongst the wildflowers.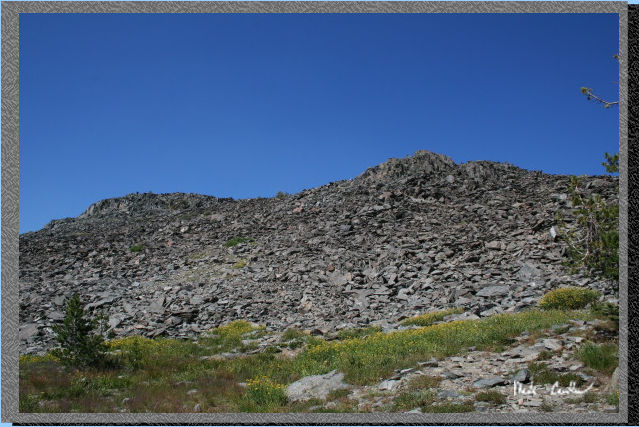 Here is the top of Mt Tallac in the distance. Make sure to stop and turn around on the way up to see Gilmore Lake and the rest of Desolation Wilderness coming into view. It also will give you a chance to catch your breath. This is a popular hike and is accessible from 2 different trailheads so do not think you will be alone at the summit. It is amazing how many people are willing (and able) to make the climb to 9700 feet.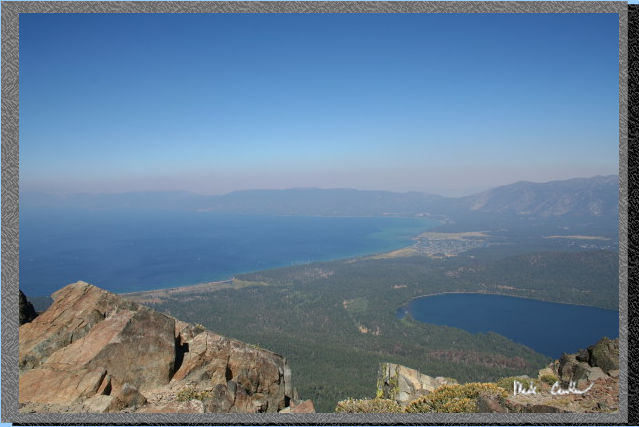 Here is the view of South Lake Tahoe in the distance. There is a 360 degree view from this peak so take you time to look around and grab some shots. Most of the people I saw took a snack or lunch break on the peak. The wind was strong and the cliffs would be unforgiving if you lost your balance so be careful. In this shot you can see Fallen Leaf Lake on the right. Even the wind was not enough to clear the skies of the smoke and smog. Too bad as I have seen it from this peak when it is clear and it is beautiful. Of course this means that I have to come back.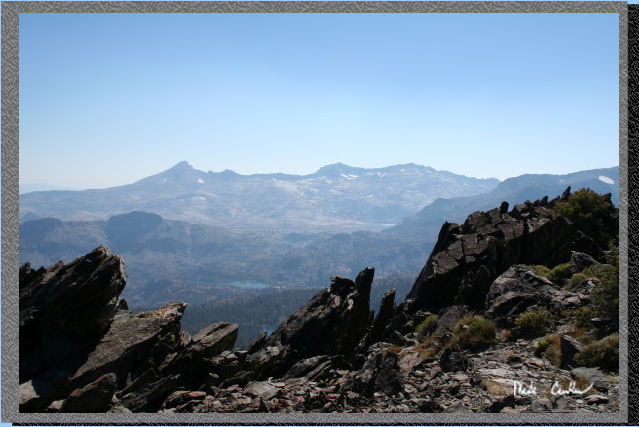 Here are the views to the west from Mt Tallac. Again you see Pyramid Peak and Mt Price. You can just see the edge of Gilmore Lake and then Half Moon Lake.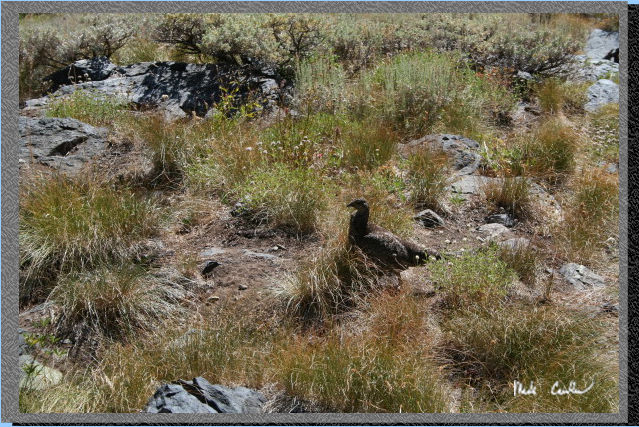 After taking in the views I decided to head back down. Here is a pheasant I ran into on the way down. She was tending to two smaller pheasants who I assume were hers. They did not really seem that afraid of me even thought I am sure I was making a lot of noise coming down the mountain. I tend to go down the mountain fast. My brakes aren't that good.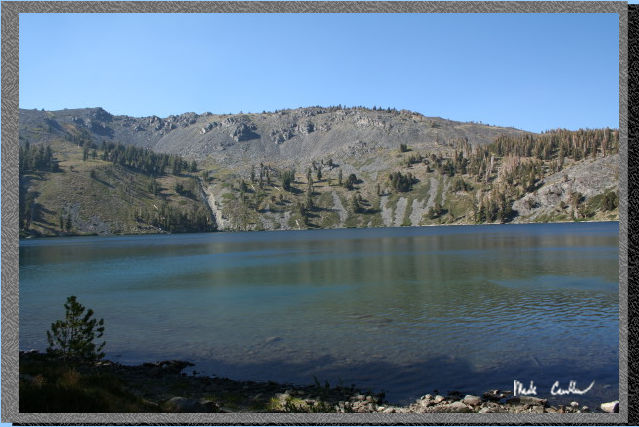 That night I was lazy and laid about camp. I was able to call home using my Sprint phone. Not a really clear call but not terrible. Since I was going it alone it was nice to let the people at home know I was OK. I ran into a nice pair of hikers going on 2 weeks on the trail. They had started in Yosemite. We shared a bear bag rope that night and one of them informed me of a meteor shower that night. They were going to sleep in the open to try to catch some of the action in the sky that night. It was a little windy that night but I had guyed out my tent pretty good so nothing was flapping. Here is a shot of Gilmore Lake in the morning.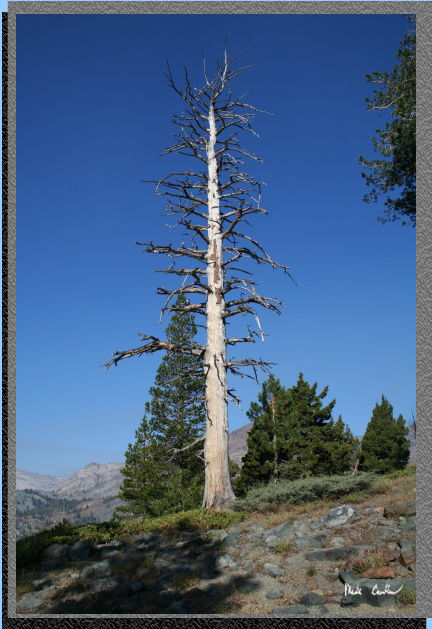 Here is another great tree I grabbed a shot of.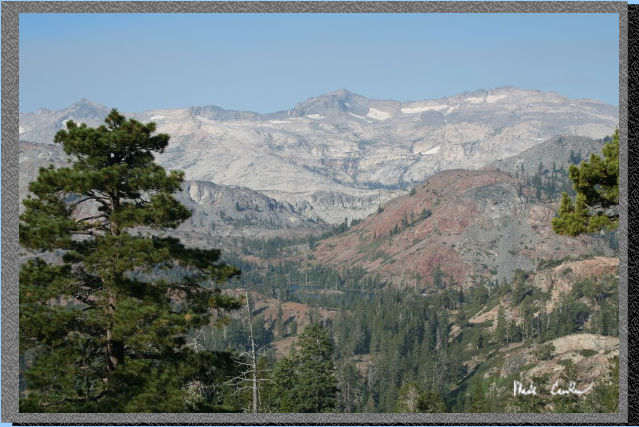 Here is another view of the landscape you will encounter in Desolation Wilderness.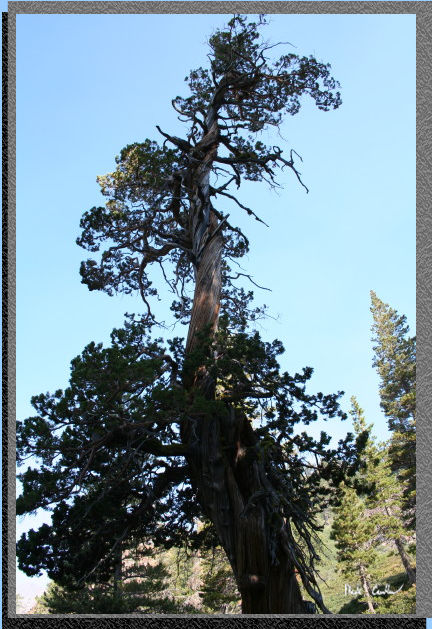 This tree looks like it was twisted in the wind. This picture really does not do it justice as the texture of the bark even looked as if the wind had formed it.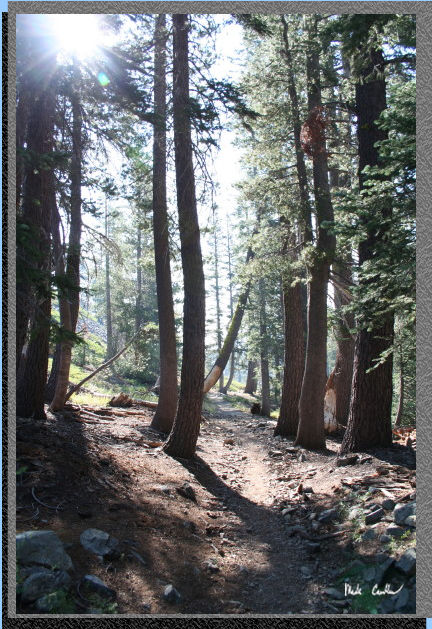 Here is the sun coming through the trees on the way out. It is hard to get the exposure you want sometimes when you are shooting into the sun.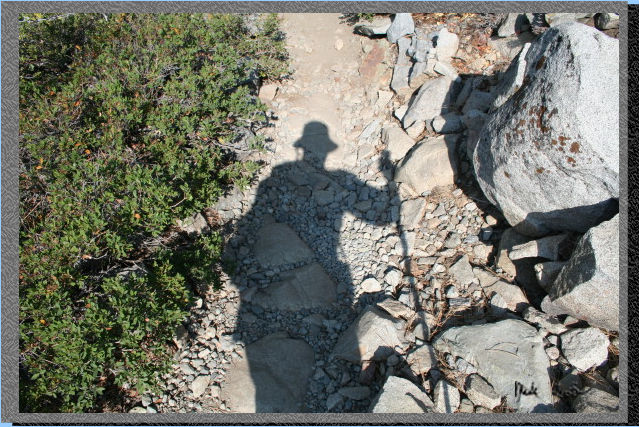 Here is a picture of my shadow on the way out. A great trip but I really thought that on a Sunday - Monday trip I would have had some of the trails to myself. I guess I forgot how popular Desolation Wilderness is. Everyone I talked with on the trail and around Gilmore Lake were great though. It is amazing how much nicer people are when they are away from "civilization". All in all it was an excellent trip, so make sure to hit this area of Desolation Wilderness at some point.