This backpacking trip was done in the Sunol Regional Wilderness (part of the East Bay Regional Park District). The four of us, Leo, David, Matt, and I, left from San Ramon and headed South on 680 exiting at the Calaveras Road/Highway 84 exit. We turned left onto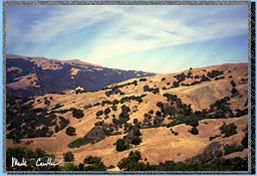 Calaveras Rd (back under the freeway) and then another left onto Geary Rd which takes you the rest of the way into the park. Reservations are required to camp here so make sure to call ahead (510) 636-1684. One other thing to note is that the gate to the park is only open 7 am to dusk, gates are closed and locked except during these hours. This time of year can be hot but we got a pretty early start and we got lucky on the weather treating us right. The hike into the Sunol backpacking area is easy except for the last uphill section. Of course there are many ways to get to Hawk's Rest. The route we chose was about 3 miles and is marked with the orange line on the map below. The route was about 3 miles and is the most direct, but it saves the uphill section for last.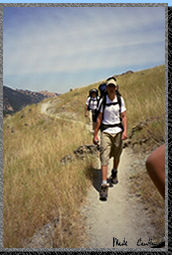 Hiking through the grasslands can be hot but luckily for us it was not too bad. It was even breezy in a few spots which really helped to keep spirits up. Although I still prefer the amazing views in the high sierra, I still enjoyed this trip's views enough to want to return again (maybe go in to the next campsite at Doe Canyon Horse Camp, another 5 miles).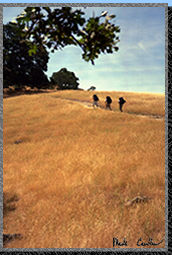 It amazes me that a place so close to home can have so much beauty. I hung back and let the guys get a good distance away from me to capture this shot. The Oaks along the trail were quite large. I wonder how old they are? With views like these you know why fires aren't allowed. Camp stoves are the only means of fire allowed.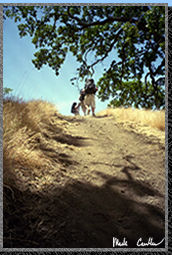 The trail does get steep. I almost stepped on a snake a little ways past the point where this picture was taken. I really should pay more attention to where I put my feet. Snakes can blend in with the colors of the trail so easily Don't let this picture fool you. Shade is definitely not the rule for this trail.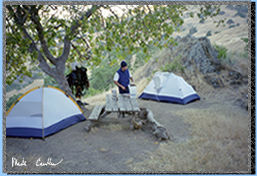 Eventually we made it to camp. I couldn't believe we actually had a table. We did have to do few repairs to make it stable enough to use. It must have been up there a while or had a really hard life though. One of the benches is completely missing. There are some nice views from this site. Even better views can be obtained form the next site up the hill. It think it is called Eagle's Aeire, but don't quote me on the spelling of it (the sign was in bad shape).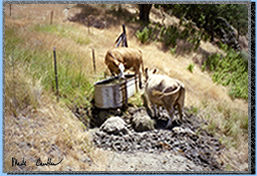 There are cows in this area so make sure that when you pass through a gate you close it behind you. There is a water trough for the cows very near the water faucet for the backpacking sites.
After some snacking and card playing we had a late dinner. It doesn't get to dark at night due to the fact of all the nearby cities. You can see the glow from Fremont and Milpitas. Even with those glows to deal with you still have some decent stargazing opportunities looking the other direction.
This was a great trip. I would recommend it to anyone that wants to do a quick trip without having to drive to far away. You can male this trip into a mutli-nighter pretty easy. You could start at the Stanford Ave Staging Area and travel nearly 28 miles of trails to the Vallecitos Trail Junction, climbing both Mission Peak and Rose peak along the way. I might have to add that to my to do list.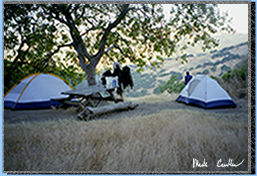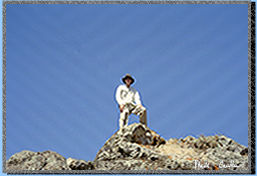 There is a really cool rock formation up near the water faucet for the campsites. The picture is of me on the top of it. If you are going to climb it make sure you go around the back side of it and there is a really easy route up to the top. (from the front it looks like you had to work really hard to get up there!). The other picture is of our campsite near dusk.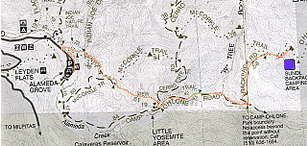 The orange line shows our approximate route. I did not leave my GPS unit on this trip so I don't know exactly how far our trek took us but I am guessing around 3 miles (probably no more than 3.5). Hawk's rest is at the following coordinates N 37 30'42.1" W 121 47'33.7". There is a net gain of 800 feet in elevation according to the wilderness permit. I didn't test the accuracy of this with my gps unit but it certainly felt like more.