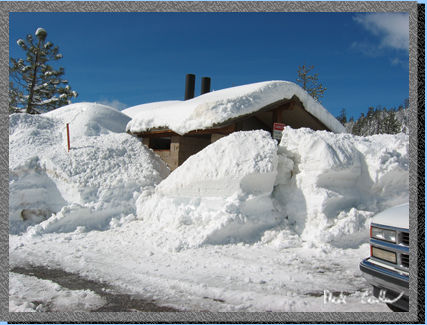 So in February Russ and I decided do a little snow trip up to the Loch Leven Lakes area. Ok, I know I was here only a month ago. But as I said last time this is one of those quick trips because the trailhead is right off highway 80 before Truckee. There are quite a few people that use this trailhead for day snow shoe trips and just playing in the snow so get there early to insure a parking spot. Once you get a 1/4 mile away from the trailhead you should have the area to yourself. This is the pit toilet at the trailhead. It was dug out enough to get to the doors but just barely. map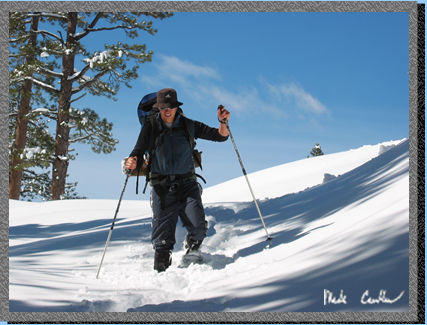 Here is Russ getting used to his snow shoes. It takes a little bit of time to get used to walking with snowshoes. I use some MSR ones that have detachable tails. Most of the time I use them without the tails. I can pretty much go up anything with my snowshoes on. They have aggressive side rails that really bite into the snow and ice. It is like 4 wheel drive for your feet. Of course they are not crampons so I don't get too crazy.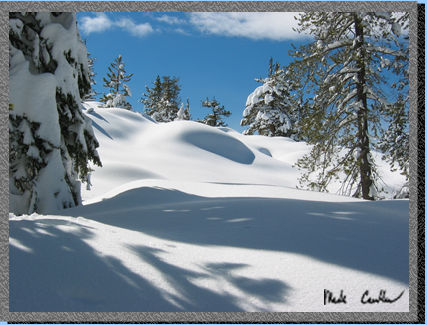 It had snowed quite a bit since the last trip out here. The trees were all covered with a fresh layer and the powder was quite deep in spots. We were breaking fresh trail the whole way in.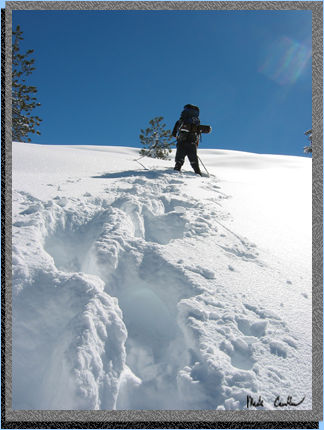 Here is an example of how steep it can be. It just depends on what course you choose while out there. Between the sun and us going straight up this "hill" it was keeping us quite warm.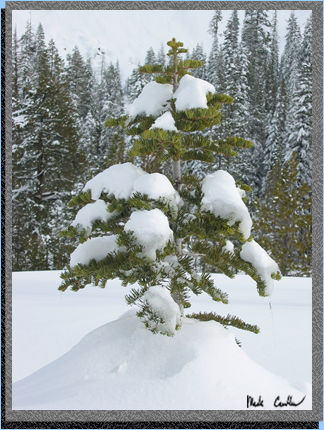 While Russ was busy working on the kitchen I took a break to capture a shot of this little tree. Well I think it was either a little tree or the top of a buried tree. (Hard to tell without digging.) I think we camped in about the same area as the last trip in January.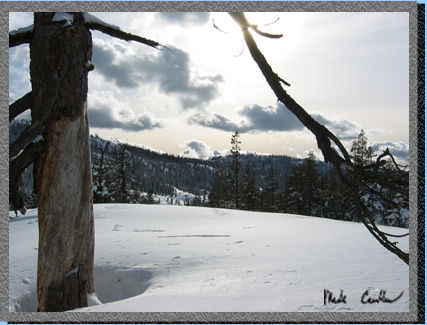 When the sun started going down it made things start to look pretty dark and dreary. This picture really captured that.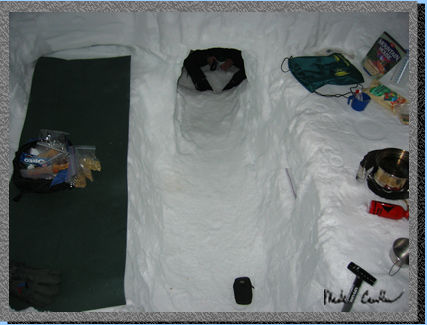 We had decided to dig out a good size kitchen with a small cave to stay out of the elements. We did our cooking in our walk through kitchen but did our hanging out and eating/drinking in the cellar. Cooking right on the snow can be done if you are careful and it is not bitterly cold. I would suggest that you bring something nonflammable to insulate the stove from the snow so it doesn't sink too much.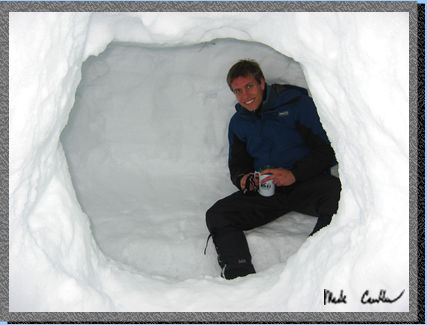 Here is Russ with a hot beverage in the cave. We later brought in the foam pad to sit on. It was really quite cozy in our cave. We actually noticed that it was quite a bit warmer in the cave than out in the kitchen. We moved one of those small thermometers in the cave to check out the difference from outside but I can't remember how many degrees it changed it was somewhere between 5 to 10.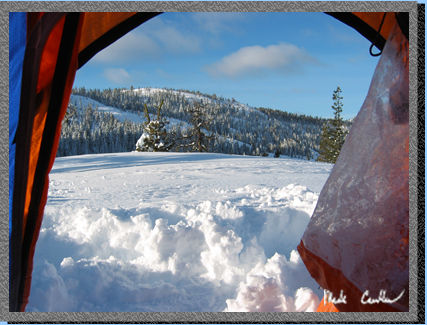 Here is a shot taken in the morning, You can see the nice layer of frost on the rainfly. This was another great snow trip.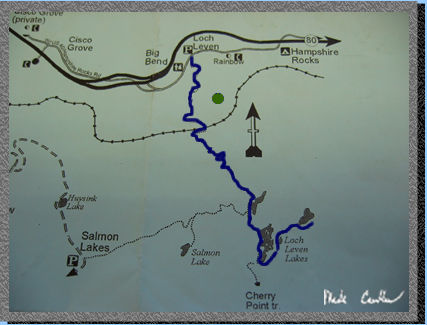 The blue line is the route to Loch Leven Lakes in the summer. The green dot represents the approximate place we camped in the snow. To me it is more about building your snow structures than doing a super lengthy snow shoe trek and besides the snow starts to look similar after a while. The blue line is about 4 miles.