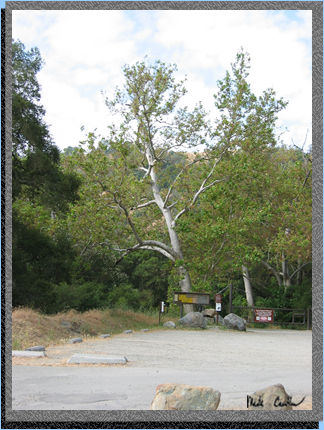 This a quick backpacking trip for me since I live in Pleasanton. I have done this trip a few times now but it is through some neat terrain with plenty of wildlife along the way. Although it was pretty brown this trip it was still a fun trip. For another trip description see Sunol to Del Valle in 2003 trips. On that trip I went straight through to Del Valle. If you can arrange a pick up at Del Valle and don't mind the ups and downs in that section of trail from Maggie's Half Acre to Del Valle I would recommend it over the out and back trip described here. You must get a permit to travel in the Ohlone Wilderness. The permit doubles as the map and is only one dollar for a year. Campsites are also by reservation only. You can either call in or take your chances and get one form the ranger. Weekends are popular up here so if you are traveling on a Friday or Saturday get a reservation. I have had good luck on other day of the week just getting a permit from the ranger. Call 510-636-1684 for reservations or for general info the ranger at Sunol is 510-862-2244. This picture is of the parking area near the trailhead. The gate on the right of the picture is the start of the trail. See map.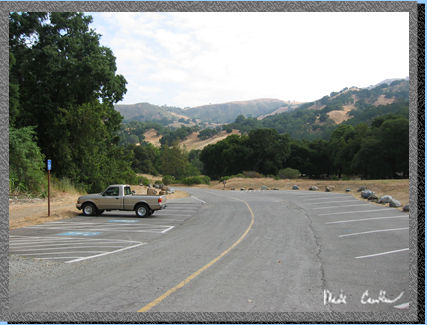 Looking back here in this picture you can see my truck and the parking area. It does have quite a few parking places and even on the busy weekends I have been able to find a spot. Of course I usually hit this trail early in the day because of the exposed ridge sections. If there is a breeze it is not too bad but it can get hot out there. There are rattlesnakes and poison oak in this area so keep an eye out. All of the main trails seem to be free of poison Oak but if you venture down to any of the creeks or off trail watch out.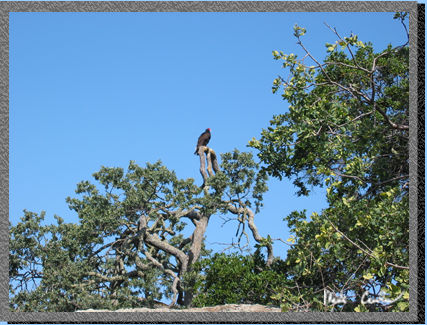 This vulture was just sunning himself with his wings spread all the way out. I was a little too slow with the camera to catch him before he tucked his wings back in. He probably heard me breathing hard since this section is the hill up to the Sunol Backpacking area.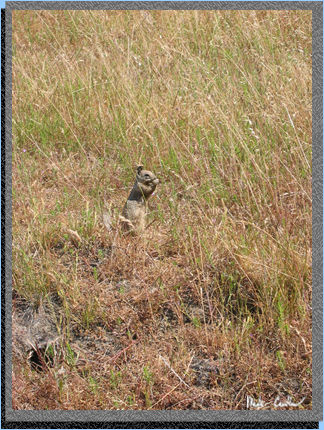 This little guy was in the Ohlone Wilderness. He didn't seem to mind me taking his picture. I am not sure what he is munching on. There are quite a few squirrels in the area. There are also the things that eat these guys (bobcats, mountain Lions and eagles). I have seen them all so they are out here.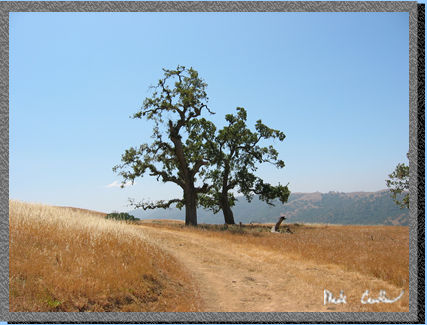 Here is one of the many oaks along the way. Most of the scenery is better when it is greener so if you can get this trip in before the hills turn brown go for it. I thought that I would be ok in May, but the hills seemed to get drier faster this year.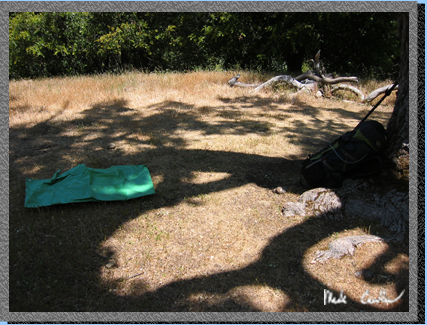 Here is camp. All of the sites have some shade. You do have to move around a bit to stay in it though. I stayed at site number three. It think it is the best site for shade. The only nuisance around camp can be ants but they left me alone this trip. Rose peak is only a little ways from camp so I would recommend that after setting up camp take the trek up there and enjoy the wind and the view. If you get up there on a clear day the view is amazing. There used to be a sign in sheet up there. Now there is a cable but I think someone decided to take off with the box.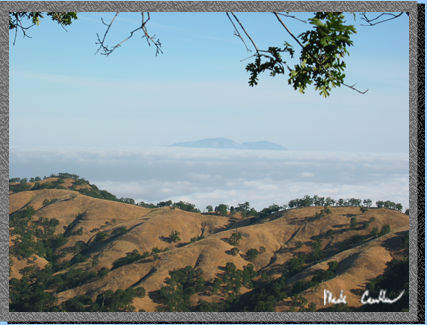 The fog rolled into the valley that night so in the morning only the twin peaks of Mount Diablo were peeking above the clouds. Here you get some idea how high up you really are.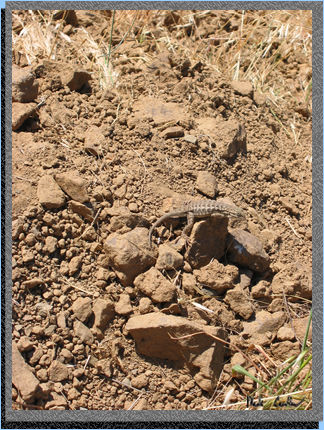 There were a few critters on the way out as well. It seemed that all the lizards were out trying to get warmed up for the day's activities.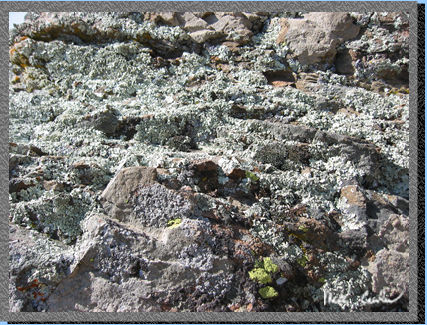 Sometimes I just see a rock or a tree and nee to take a picture of it. Here is a shot I took because of the different textures it had. It looks better full size but this shot gives some idea what I was going for.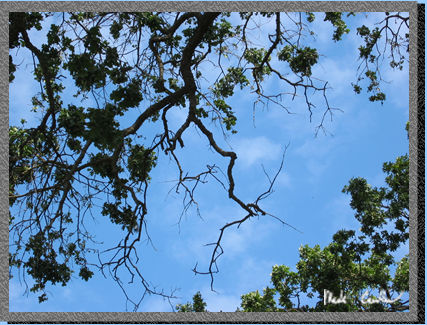 This shot was taken at camp while I was relaxing and looking up into the trees. This would be nice to have on my office ceiling. It is just peaceful to look at.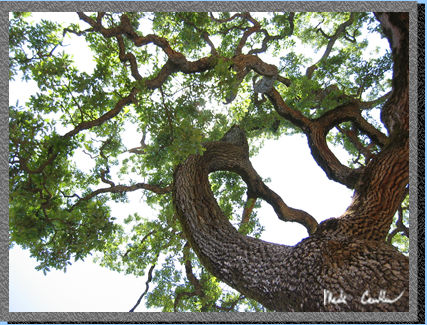 Another shot that required laying down. It really doesn't even look real to me in this picture. Oaks are amazing trees. This is one of those trips that is the default backup plan. Sometimes it is nice to not have to drive to the Sierras and this is almost in my backyard. Scroll down to see the map.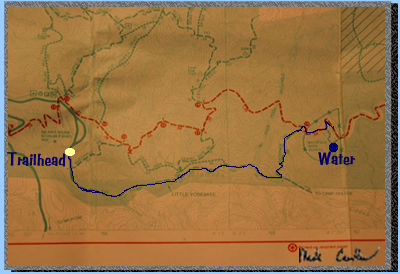 The blue line is the course I took. The trailhead and the first "plumbed" water source is also listed. After the blue line I took I continued along the red line off the right side of the map to the left side of the map below.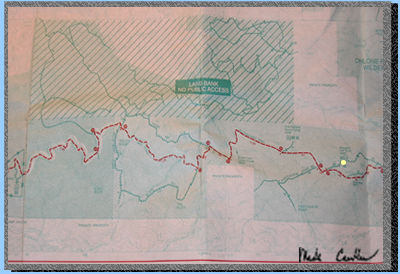 The trip is between 9 and ten miles each way. To get to Maggie's Half Acre you half to detour off the main trail before you get to Rose Peak (elevation 3817 ft). Camp sites are at 3480 ft and you the trailhead is listed at around 400 ft. The little yellow dot marks camp. There is water but they recommend filtering it anyway. There is also a trash can and pit toilet. The same facilities are at the Backpacking area on the way in. You can really make this trip even longer than my Sunol to Del Valle trip by starting on the other side of Mission Peak off Stanford Ave. (That turns this trip into 28 miles.) I haven't done the section from Fremont to Sunol yet, if someone ends up doing it give me an email with a description. Thanks.