Penner lake is located in the Tahoe National Forest. My companions on this trip include: Dan, Margaret, Mike and Deepa. We got a late start on Saturday morning; we didn't leave until 10 am from Davis. The drive to Carr Lake trailhead is not too bad. If you are traveling north on 80 take the highway 20 exit and travel west. After traveling for about 4 miles take a right turn on Bowman road, not Lake Spalding Road like we did accidentally. Drive on until you see a sign for Carr Lake at about 8.5 miles and take a right. This road is a little rough but both of our cars made it through the approximately 2 ½ miles fine.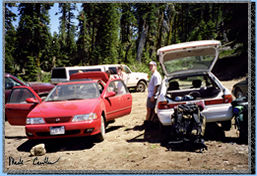 Dan's car is an Escort so you can have some idea what car can make it. It does get a little rough in spots, and the whole way is gravel so driving slow is a must. Watch out for people in big trucks going too fast on this narrow road. Once you make it to the trailhead you will see how popular this trail is. Most of the folks using this area are day hikers or stay at some of the closer lakes to the trailhead. This was not really the case this holiday weekend though. Parking at the trailhead isn't great but once the lot at the top of the hill is filled people start parking on the road on the left hand side. There is also a small open section on the right hand side as you ascend up the hill to the trailhead. After finding a good parking spot we headed up the hill and reached the trailhead.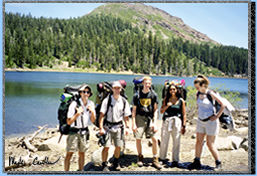 The hike to Penner Lake is about 3 miles (see map below). A few steps past the trailhead we were greeted with a view of Carr Lake. (A beautiful little lake even with the hoards of people camping around it.) We continued on Round Lake Trail as it crossed the outlet of Feely Lake. The trail continues along the shore of Feely Lake with Fall Creek Mountain looming above it (See picture on left).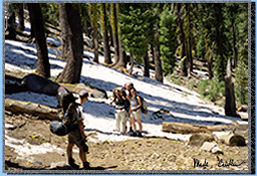 The trail climbs a bit to the first trail junction and we had to cross some snow amongst the shade of the pines (see picture on right). At the first trail junction take a left (about 1 mile form the trailhead) onto Crooked Lakes Trail.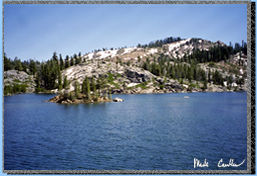 We passed Island Lake on the right (another gorgeous lake). After hiking a bit more we stopped for lunch at a shady section near the river at about 1.7 miles from the trailhead. It was nice to be able to enjoy a relaxing lunch as we listened to the wind through the trees and the rushing water. There were still patches of snow in the shady sections. Just enough snow to grab a handful and throw at your friends.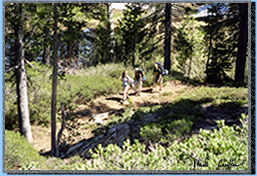 Continuing on the the trail we passed by the Crooked Lakes. There are quite a few of these lakes to choose from if you are interested in camping more by yourself. We didn't make the trek around any of the Island Lakes so I am not sure what kind of camping spots lie around these lakes. (On the hike out there were some people camped at the edge of a few of them.)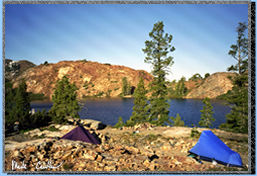 The last section before Penner Lake is pretty steep but you get some nice views of The Black Buttes along the way. Once reaching Lake Penner we got to tackle the problem of finding a campsite in which we could pitch 3 tents reasonably close together. After quite a bit of scouting of both side of the lake we decided on a site on the northeast side of the lake. You can see my trusty blue Sierra Design Light Year and Dan's purple tent (I forget the make, but Margaret thinks it is exceptionally water tight :-)
After setting up camp Dan went fishing and I decided to go for a swim. The water was cold but the sun was shining and if it wasn't for the wind it wasn't to bad of a day for a swim at 6900 feet. It is amazing how fast that cold water can take your breath away. I guess that is half of the thrill. Well I didn't stay in for very long, but long enough to be a little numb when I got out. After drying off I changed into some warm clothes. It was dinner time before we knew it. Cheese Tortellini and fresh fish were the specials tonight. Some people in our group wanted a fire. I was outvoted and we had one. Fires aren't something I enjoy much anymore. I guess I have seen too many of the negative effects from them to justify them. We made an early night of it because the wind was really picking up.
Dan, Margaret and I headed out about nine the next morning (Deepa and Mike had decided to stay one more night). The trip out was pleasantly uneventful. I am going to end this trip description with a few pictures from the way out. I would recommend this trip to anyone that is into backpacking.This trip offers some great views with modest mileage. If you want to try something a little more challenging I recommend taking the Sand Ridge trail to Five Lakes Basin (It offers some ridge walking and a better chance at solitude with even more great vistas).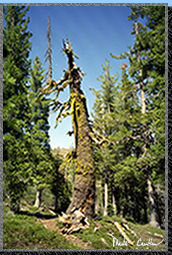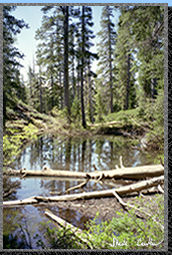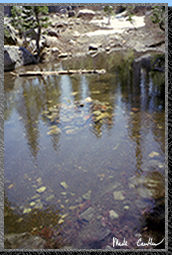 The picture in the center is actually of a fire pit that was completely submerged by snow melt.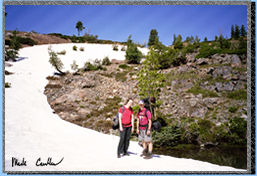 This picture is of Dan and Margaret not far from Lake Penner on our trek back to the car.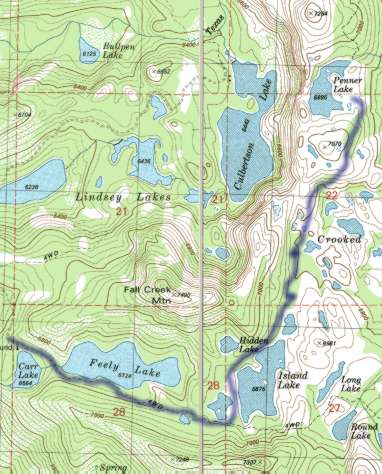 On the map above you can see the start of the trail very close to Carr Lake. (You actually used to be able to drive to Feely lake before parking.) The trail we took is only shown on this map until Island Lake so I made an attempt to draw our route to Penner Lake with the fuzzy purple line. Don't count on seeing the fuzzy line when you are on the trail.