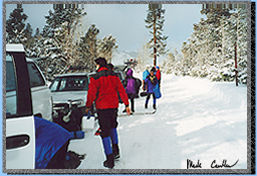 Red lake is located about 2 miles East of Carson Pass on 88 (South of Lake Tahoe). Our approximate route was the blue line on the topo map below. I estimate that we hiked in roughly 2 miles. This trip was done with the Sierra Club's snow camping course. Although I am familiar with snow camping I thought it would be fun to meet some new people to camp in the snow with. If you are looking to get into backpacking in the snow and live in the San Francisco Bay Area I recommend taking this class. On the right is a picture of us getting ready to hit the trail. We were 24 strong on this trip. Quite a large group but we broke up into smaller groups once we made camp.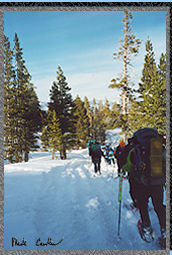 Our group was the first to hit the trail that morning so we got the pleasure of breaking trail. Luckily we had a lot of people so we could always keep the first person fresh by rotating lead. It is amazing how much work it is to break trail with a pack on in fresh powder.
(If you look close at the picture at the left there are some obvious signs that my story and the picture do not agree. Well I actually don't have any pictures of us going in to camp so this was actually taken on the way out. We got the pleasure of seeing some snowmobiles on the way out the next day. That is the grooves you see on the trail to the left of us.)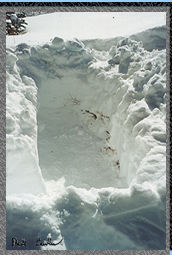 Once we got to camp we started making our shelters for the night. Some people opted for tents, some trenches and 1 person made a cave. I dug myself a trench.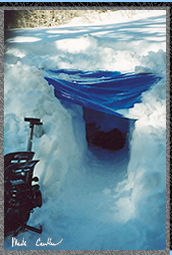 Once you get the tarp on the top and have it guyed out it looks a lot more like a place to call home for the night. Digging a trench is relatively easy and they say it is warmer than sleeping in a tent.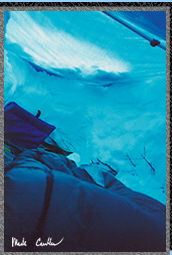 It was a pretty cool shade of blue inside my snow trench when the sun was out. I made my trench in the shape of the letter "L", I had enough room to store my gear at the entrance. (I actually used my pack at night to block the door keeping most of the warmth inside.) My trench was deep enough that I could sit up in it to change.
After a nice warm meal and some good conversation with my cooking group I decided to make it an early night so I headed off to my trench. Before I got in I took a look at my thermometer attached to my pack and it was registering a little over 10 degrees. It didn't feel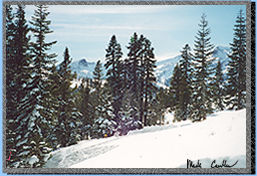 that cold so I thought that my thermometer was just not being accurate. Well it was pretty warm in my snow trench that night. When I woke up that morning I took a look at my thermometer again and it was hovering right around 0. (That number was confirmed later) I saw that and I tightened up my sleeping bag a little and decided to get some more sleep until it warmed up some. When I finally did get up I was greeted by some beautiful sights.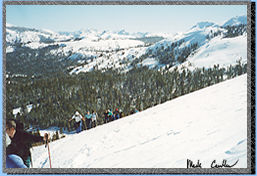 After a nice breakfast of warm oatmeal we decided to do a little day hike before we headed back to the trailhead. Since it was such a clear day we decided that it would be nice to go up to the top of the ridge we were camping near. It was really warming up fast now that we were moving and the sun was out. You can see our group slowly working their way up the ridge. On the topo map I marked our day hike in gray.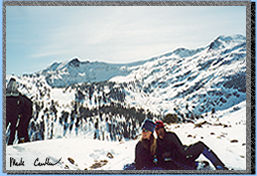 We really had a nice lunch on top of that ridge. The views were simply spectacular. We also had some fun triangulating our position using our map and compass skills. This is one skill that you can't practice too much.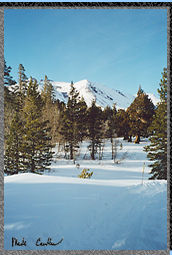 The way out was pretty uneventful except for some sweet views. The way the shadows were being cast by the trees and mountain tops made the sights pretty dramatic.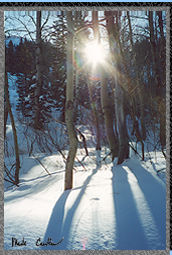 I was lucky enough to turn around and catch this shot. It is amazing what you can miss if you don't stop and look around now and again.
It was a great trip and a record low for my outdoor adventures. I used my 0 degree sleeping bag that night and I stayed warm. Luckily for me it lived up to its rating.