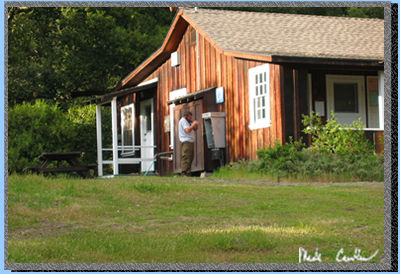 Star's Rest is a backpacking campsite that is in Sunol Regional Wilderness. You do have to make reservations for these sites as they do fill up. If you phone in the reservation there is also a service fee but the fees are relatively cheap. You could probably chance not getting reservation on a weekday but don't on a weekend (that includes Friday). The picture on the right is of Leo making a call before we took off from the trailhead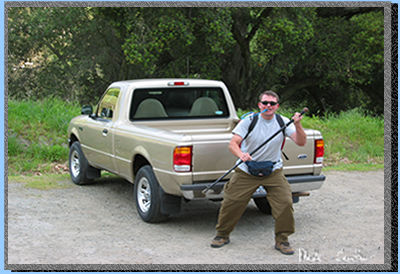 The trailhead starts at the far end of the parking lot. We parked and hit the trail at around 6:30 pm. It was a late start but we had planned it that way. This picture is of Leo ready to assault me with my walking staff.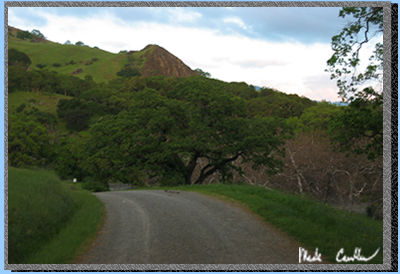 You have a couple of options getting to the backpacking area. We decided to use the road route (the most direct route). See the map (our route is marked in blue). You can tell from this picture that it was starting to get darker.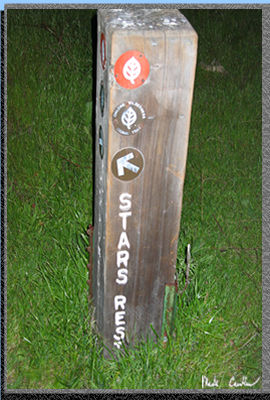 We traveled on Ohlone Road until we took a left onto Backpack Rd. You can't miss it there is a huge sign. If you continued on you would get to Camp Ohlone according to the sign. It gets steep now but it is nice to get off the road. We continued on until the picture on the left which told us to take a left and continue up. It was getting darker now as you can tell from the picture and the use of the flash.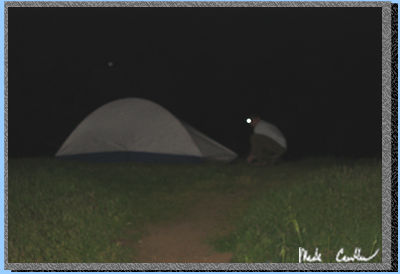 We set up the tent with the help of our headlamps and then went to go get water. The water is up by the Hawks Rest campsite. It isn't much of a site since the table there is barely standing and the site is rather small and almost on the trail. In order to get to the water spout we had to go down to the main trail and back up the the water. It was a little bit of a hike but we only had to do it once.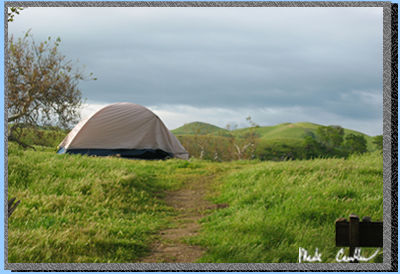 We had a good night of food and drink. It was a little cold and windy but we were tired enough when we went to bed for it not to be a problem. In the morning we saw that if we stuck around to much longer we were going to end up wet.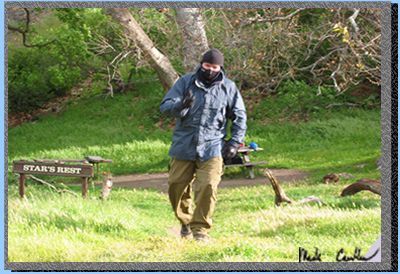 So we decided to head out. This shot is of Leo going up to where the tent was to get his pack. You can see that it was a little chilly that morning. The table behind him was great for cooking on and hanging around. It almost feels like you are cheating when you backpack in to a waiting picnic table.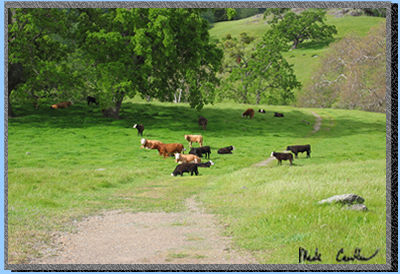 So we packed up and headed out. This is a picture of some cows that are always hanging around this spot. There were some calves so we were cautious. I have had a cow not let me pass without charging me before (and I didn't enjoy that much. These cows didn't mind us walking right by their offspring though.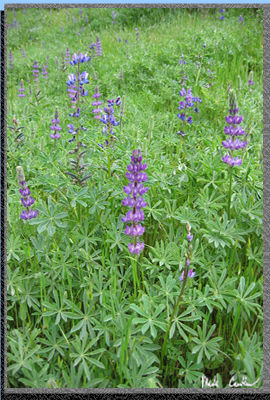 This was a great trip to do this time of year. Having Sunol so close makes it easy to do last minute or "off season" hike here. It is very nice after the rains because everything turns green. If you go later in the summer everything is brown again. The sites are nice and I would recommend Star's Rest to anyone who wants a little privacy while camping. It sits up and has a decent view of the surrounding canyon. I think it is around 3 miles to Star's Rest the way we hiked in. Sunol is a great place to do day hikes as well. I will end with a few shoots taken on the way out. (We did get our things in the truck before it started raining.)