Leo, Lee and I decided to do one more trip close to home this year before heading into the Sierras. Leo decided on visiting Henry W Coe State Park. You might be saying Henry what right now but it is really quite a nice spot to backpack. Coe Park is the largest state park in northern California, with over 87,000 acres of wild open spaces. See map below for our route (black line). Contact info: Henry W. Coe State Park 9000 East Dunne Ave. Morgan Hill, CA 95037 phone 408-779-2728 fax 408-778-5749. There are no reservations so get to the ranger station early on the weekends. We didn't see too many travelers on the way in but we left on a Friday. There are quite a few backpacking areas but if you have a particular one in mind just make it there early. To get to the Park from San Francisco take 101 South to Morgan Hill and exit East Dunne Ave (big sign before exit). Cross over freeway and stay on East Dunne the whole way (13 miles). You pass over Anderson Lake on the way.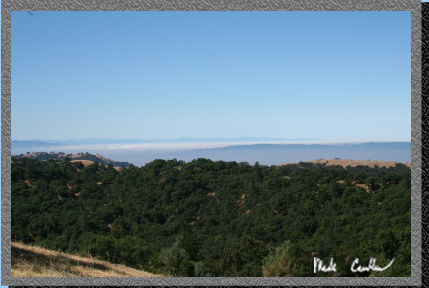 We decided to head to Upper camp. HQ is at around 2600 feet and Upper camp sits at 1600 feet. We choose the most level and shaded route there which is (Corral trail to Flat Frog trail past Frog Lake, Hobbs Rd, Upper Camp Trail. See map. The shortest route is Hobbs Rd but it is up from HQ and then on the fireroad most of the time. With it being warm we decided shady and flat sounded nice. This is the view from the ranger station (HQ).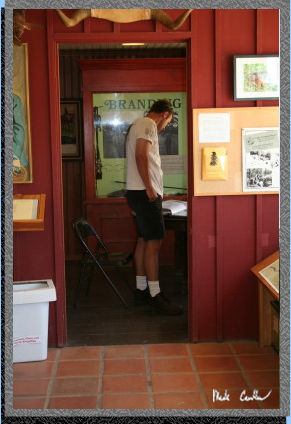 Make sure to blow the dust off of some of the things at the Ranger station. There is quite a bit of history to this park. Rangers are really friendly here so ask them whatever you would like. It gets VERY hot here in the summer so be sure to pack plenty of water and take breaks in the shade if you are feeling the heat. Getting heat stroke out here would not be a good thing. You don't want to have the nice rangers rescue you. Lee is looking through some of the books at the ranger station.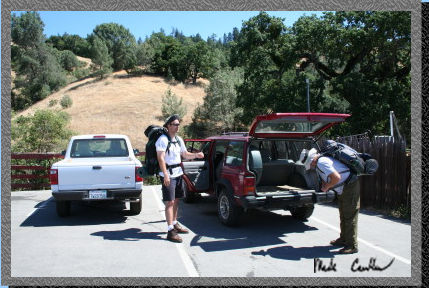 Here we are packing up to hit the trail. The Corral trail is just on the other side of this fence.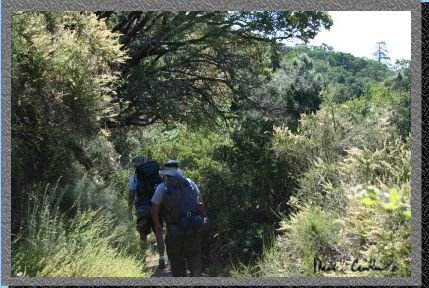 So we followed the trail which is very well marked almost the whole way. There are some intersections that you need to pay attention to, but still very easy route finding (especially with the detailed map you can buy from the Rangers. With all of the rain this year the trail was overgrown in spots but we welcomed the shade. (I was informed by the Rangers that the ticks can be bad up here. We ran across only one.)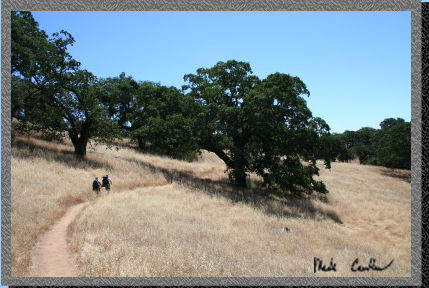 There are of course some open sections like this one. Fire restrictions were the usual for this kind of terrain (camp stoves only). Not that you would want to look for wood off the trail anyway. (Poison Oak can be plentiful in spots).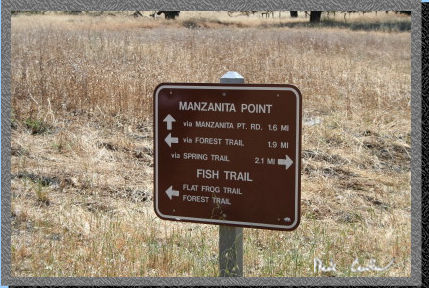 Here is one of the signs we passed. As you can see there is a lot of detail to make sure you are headed the right direction. There are also plenty of options to do loops instead of the traditional out and back trips.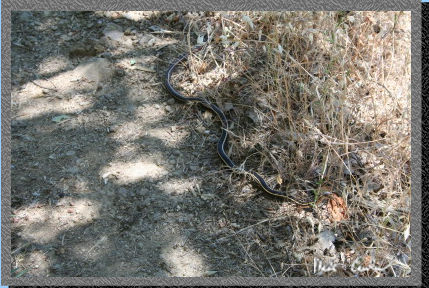 We saw a few friends on the way like this snake that did not want to yield to us. He opened his mouth at me and then finally decided to head into the dry grass..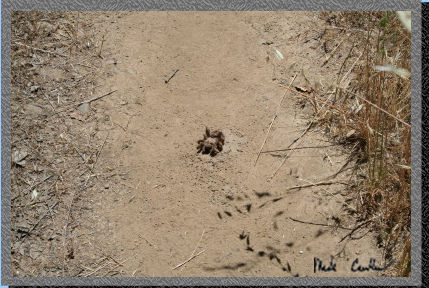 Here is another fury friend. This tarantula was dead and in the middle of the trail. Not sure what got him.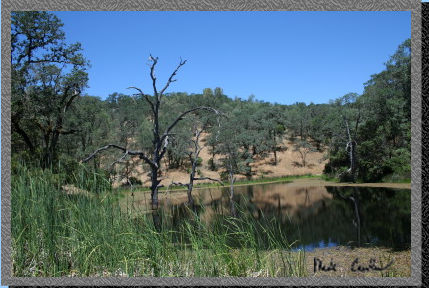 Frog Lake is aptly named as I am sure when it is dark there are plenty of them around (and only frogs would want to swim here). The trail goes around one side of the lake that looks like more of a damn to me. Since this was a ranch at one time I think this was a lake created for horses and cattle.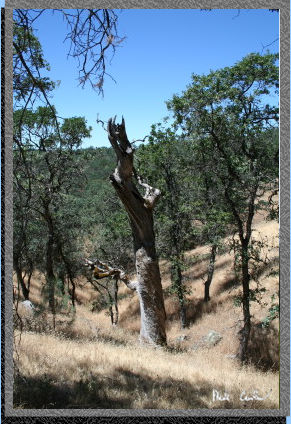 There are some neat trees and rock formations along the trails we took. Here is one of the pictures I took.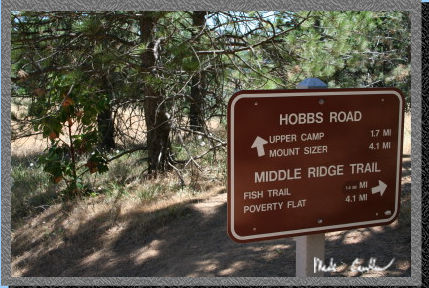 So we took the Road from this sign on. It is downhill from here so be prepared to have your feet crammed in the front of your boots for a while.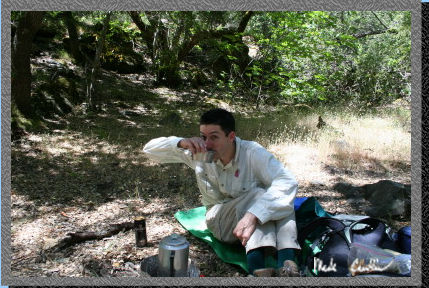 Here I am at camp. There are numerous spots to pitch your tent but the first one on the way in is big enough for two small tents and close enough to the stream for easy water access. The trail to Upper camp from Hobbs Road is NOT marked so just be aware of where you are on the map or do what we did (Miss the turn and see where the road goes over Middle Fork of Coyote Creek and turn around).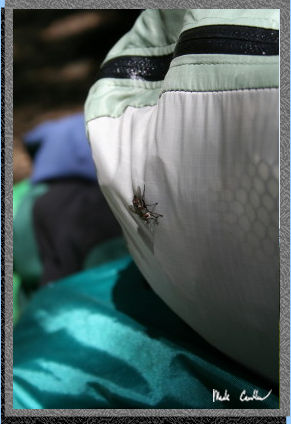 I won't lie to you there were some annoying flies and mosquitoes around camp. Here is one of the bigger flies that took an interest in us. I managed to get bit a few times on my hands and one on my leg (I think when I was coming back from swimming). Yes I said swimming. There is a nice spot a couple hundred yards up the stream that is deep enough (around 6 feet) to go in and cool off. It is shaded so it is nice and cool and there were not too many bugs. The only thing biting were the trout. They took an interest in us and were trying to eat our toes. No joke. I guess they noticed we did not have any fishing poles with us...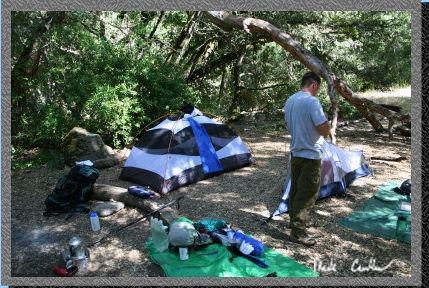 Here is a shot of camp. You can see Leo doing something (can't remember what) and my one man tent behind him. The stream is off to the left. I didn't take any pictures of it or the watering hole we swam in. I almost ended up falling on the way down to the watering hole so be careful. I stepped on a rock that was really slick and did one of those almost out of control runs down the rest of the hill to the stream. We found a better way on the way out.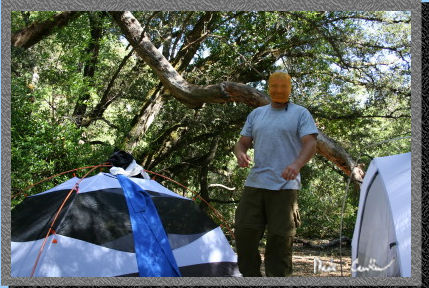 Here is Leo wearing his "bug mask". He tried to scare Lee in the tent but there was no real effect from him as he didn't open his eyes. I believe Leo's bug guard is actually the stuff sack for his towel. Leo said it offered some protection from the flies that were really getting on our nerves. Deet didn't seem to really bother them much.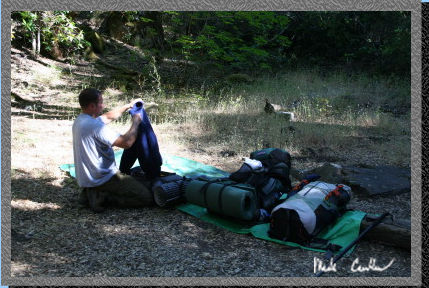 We had a nice night that cooled off a little more than we thought it would. Not too much of a breeze so the mosquitoes did try to eat us some. This is us packing up in the morning. The only wildlife that night (that woke me up) was a big toad that was hopping about. I tried to get a picture of him but it did not turn out.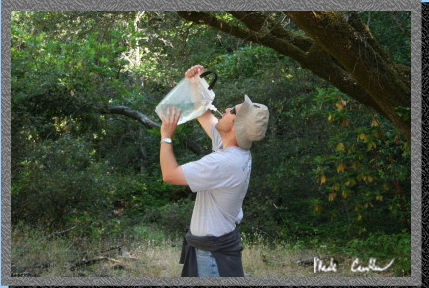 So the key is to stay hydrated out here so that is what Lee is doing here. I tried my new water filter (MSR Sweetwater Microfilter) and it is sweet... no pun intended. It is very compact and requires very little amount of force to pump. So far it gets a big thumbs up. My previous filter was a PUR Hiker and it was great but is bigger and towards the end of its life it got very hard to pump even with a new filter.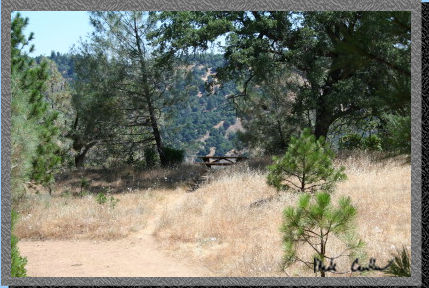 So we made our way back up the mile and a half on Hobbs Road. It is quite a stretch of uphill with very little for shade so attack it early in the day. This picture shows a park bench overlooking the valley Upper Camp is in below.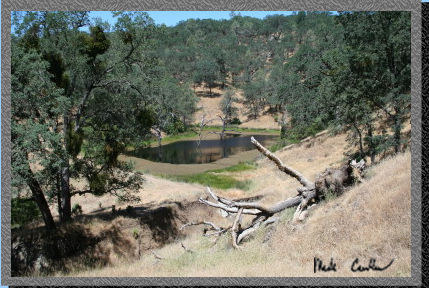 Here is another shot of Frog lake from the trail above.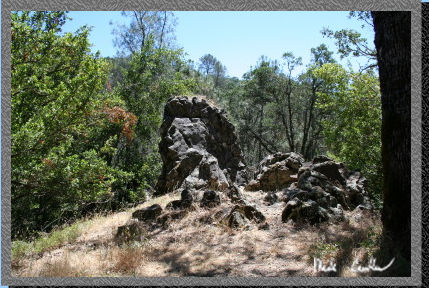 Here is a rock formation on the way out. Make sure to look up once in a while so you can catch some of the things to see. I know it is easy to get too focused on getting somewhere instead of enjoying the journey there.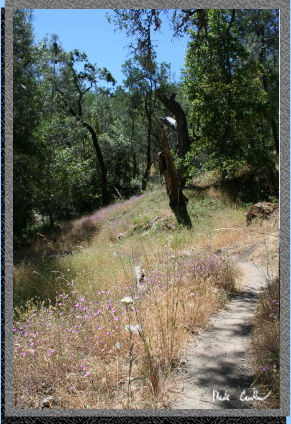 There were some wildflowers that still were blooming in spots. Not many though as we had such a long stretch of dry weather to this point. There are sections of the trail that are overgrown so I would wear lightweight paints. Lee wore shorts on the way in but pants on the way out for that reason.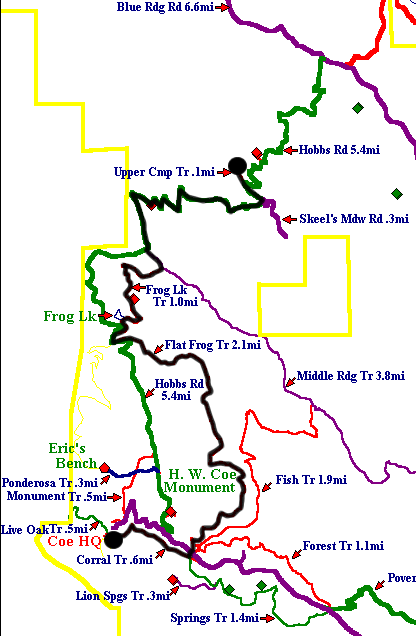 I marked this map with a black circle and black line to mark our path. I estimate that our hike was around 5 miles. It is easy on the way in (as long as you don't mind the downhill part on Hobbs Rd) and moderate on the way out since you have to climb back out of the canyon you went down. According to the ranger the stream runs year round. I would say that early spring (when everything is still green and blooming) would be a better time to go... you could run into some serious ticks though, according to the ranger.