Russ and I decided to do a quick backpacking trip out to the coast. Russ came up with the idea of seeing Alamere Falls located in Point Reyes National Seashore. Because of the time of year and rain forecasted we could get a permit last minute. I would recommend making a reservation so you are not disappointed though. The nearest backpacking sites are at Wildcat Camp. There is a fee for the permit that is required. No fires are allowed so bring your stove. Water is available out of a creek near camp or one of the lakes along the way. Be sure to bring your filter. For more info call Point Reyes National Seashore at (415) 663-1092.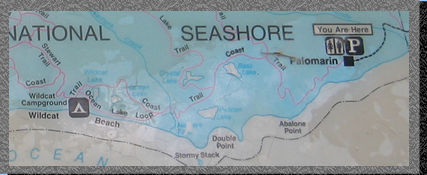 To get to the Trailhead travel on Highway 1 South of Olema. 8.9 miles South of Olema take a right onto Olema/Bolinas Rd. Drive 2.1 miles to Mesa Rd and take another right. Continue on this "road" to the trailhead. The last portion of the road is gravel but not too rough. On the map above You can see there are more lakes than you would think so close to the ocean. There are great views along the way and once you reach camp you have access to the beach.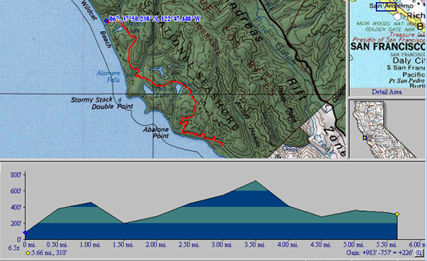 Wildcat Camp is located approximately 5.66 miles from the Palomarin Trailhead. I let my GPS unit record the trip from camp to the car. The red line on the map represents the path we took. The elevation profile looks scarier than it really is. I would rate this trip as easy, even when carrying a pack.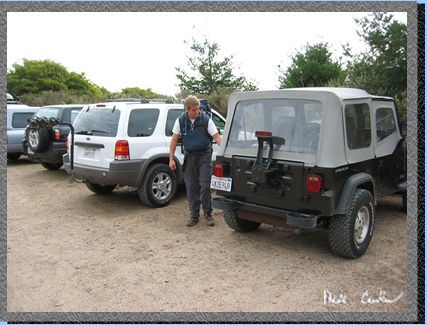 Here Russ and I are leaving his jeep at the trailhead. The trailhead is in the picture below. There are pit toilets but no water at the trailhead so bring your own for the way in. The first lake is a little ways in.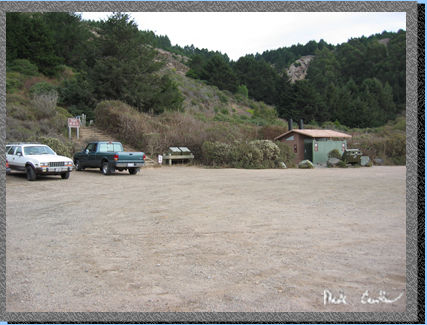 The trailhead is by the green/blue Ranger p/u. You walk up the stairs and then take a left. Recycle bins and trash cans are at the trailhead. I wouldn't leave anything in the car... see the picture below.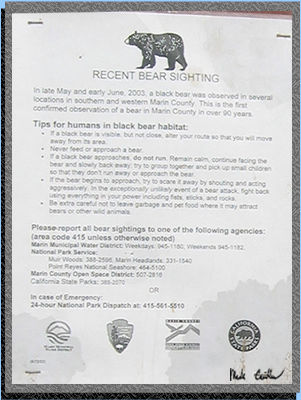 This was posted on the trailhead bulletin board. It basically says a bear was spotted in the area for the first time in 90 years. That is so cool. I hope they make a come back to the area. If you do travel out here and are lucky enough to see one do report it to a ranger so their progress can be tracked. We didn't see any bears. We did have pesky raccoons but I will get to that later.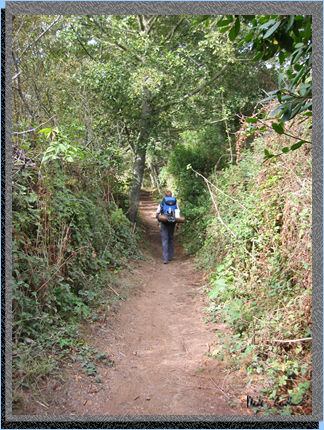 We hit the trail about 10 am. The trail seems mainly up (or level) and exposed until the junction with the Lake Ranch Trail. Take a left there and head down to Bass Lake.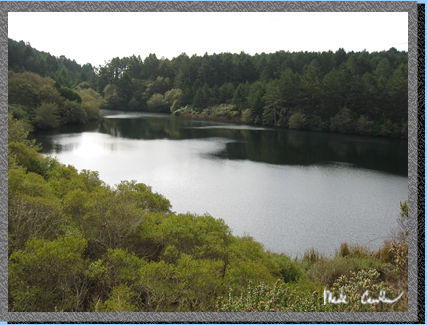 Bass Lake is pictured here. I didn't venture around it but I hear there are some nice picnic spots and it is a nice lake for a swim.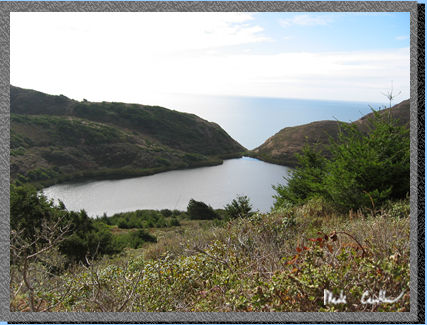 Pelican Lake.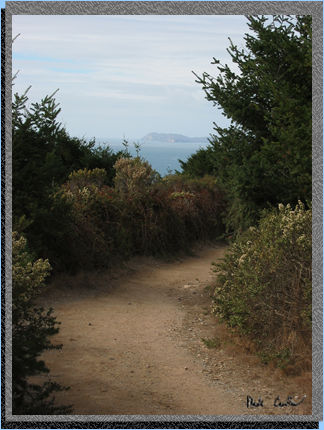 Taking pictures along this trail came too easy. There were just a few day hikers along the way but otherwise we had the trail to ourselves. Besides being a little hazy it was a great day.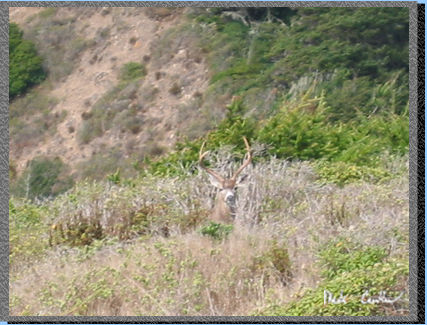 Keep an eye out for wildlife. I forget why I stopped but I was glad I did once I looked up to see this guy.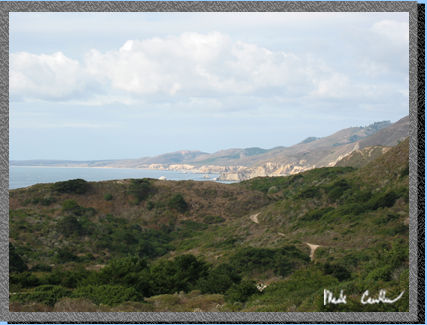 The views just keep getting better the further you travel. I only wished the day was not so hazy so the picture was sharper.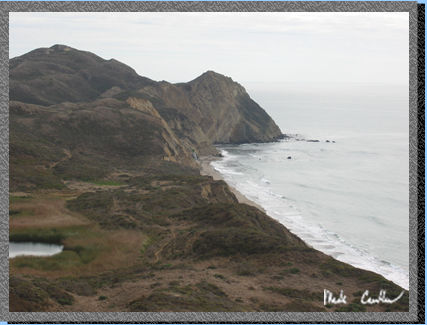 This shot was taken looking back towards Wildcat Lake and Alamere Falls in the distance. From this spot it is down to camp.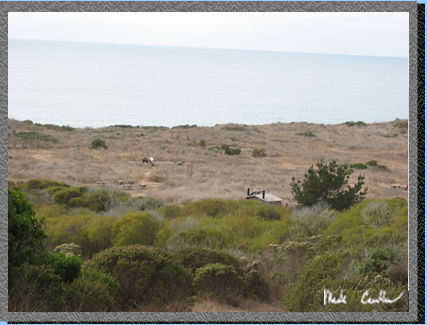 Here is camp. Our camp, 4-B was to the right of the horses in this picture. Yes those are horses left of the middle of this picture.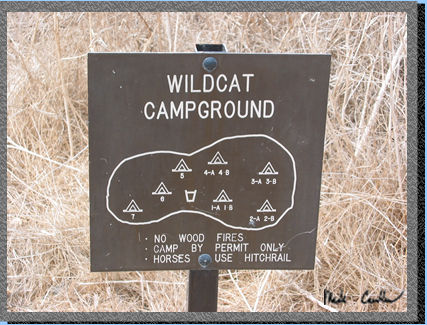 Once you get down to camp you can see the sign for the campsites. Our site was good but I can imagine that when all sites are full I wouldn't want one that has an A and B so close to each other. I would say take sites 5, 6, or 7 if you want privacy. For us we had all the privacy we wanted since we had the whole thing to ourselves.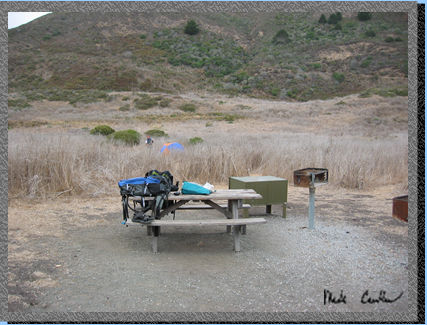 All sites have a barbecue, bench and food storage locker. I would use the locker as the raccoons are really bad. They seem to understand when you have your supplies laid out for meals and when you don't. They are also very used to people and are liable to walk right up to you if you let them... so DON"T. You can see Russ setting up my Sierra Design's tent. It blends in nicely doesn't it.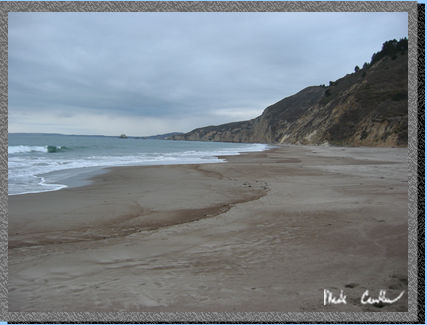 Once we set up camp and pumped water we trekked down to the beach. Oh water near camp consists of a stream near the horse trough that you pass on the way in. A ranger told us to go upstream of the bridge over the stream to get water. We did and had no complaints. Beach access is merely yards away from camp. Most campsites have a view of the ocean but not the actual waves breaking.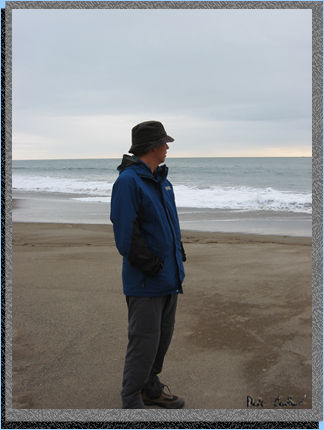 Here is Russ taking it all in. We decided to trek down to the falls on the beach.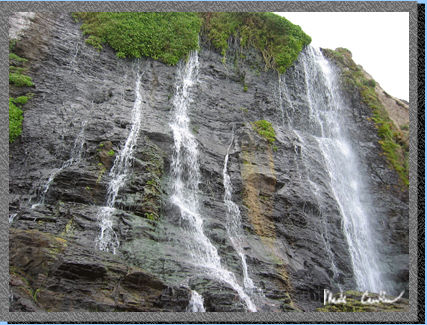 The falls are only about 50 feet high but there is something about a waterfall right on the beach that makes you forget that and just enjoy it.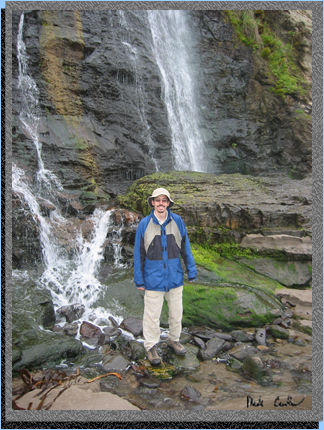 Here is a picture Russ took of me. I am bad about remembering to have people take my picture on trips. This gives you some idea as to the size of the falls. I want to come back in the spring to see what the falls look like going full blast.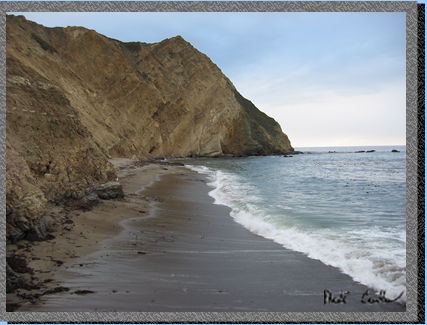 A shot as you look out on the beach past Alamere Falls. We saw two other people on the beach that day and none at night.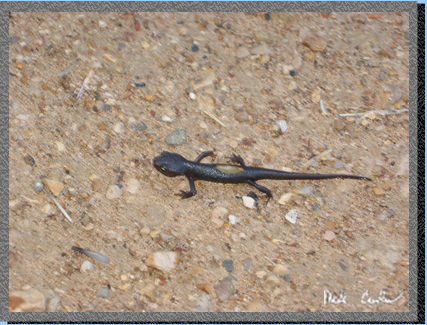 I thought this little guy was dead at first but he is not. They just don't move while you are around. I guess that is there only defense. Well I am sure they also taste bad so birds don't eat them. This one had a leaf stuck on his back. Be careful not to step on them as they won't move out of the way. If you stare at one long enough it will move though (If only a finger or toe).