Eric, Leo and I were supposed to do a local trip after hitting the Dublin REI grand opening. As it turns out it ended up being just Eric and I on the backpacking trip portion. We picked this spot because it was local and for a local trip it is pretty sweet. Eagle Springs Backpack Camp can be reached by using the Ohlone Wilderness trail from either Sunol Regional Wilderness or Mission Peak Regional Preserve. Heading in from the Mission Peak side makes for a significantly shorter hike, but much steeper. You would head in from the Stanford Ave staging area if you pack in from this side. I have yet to hike this short section of trail but will someday. We decided to go our usual route of the Sunol side. If you want to see this trip in spring 2009 click here, 2005 click here. Park at the equestrian area for the closest parking to the trailhead. You must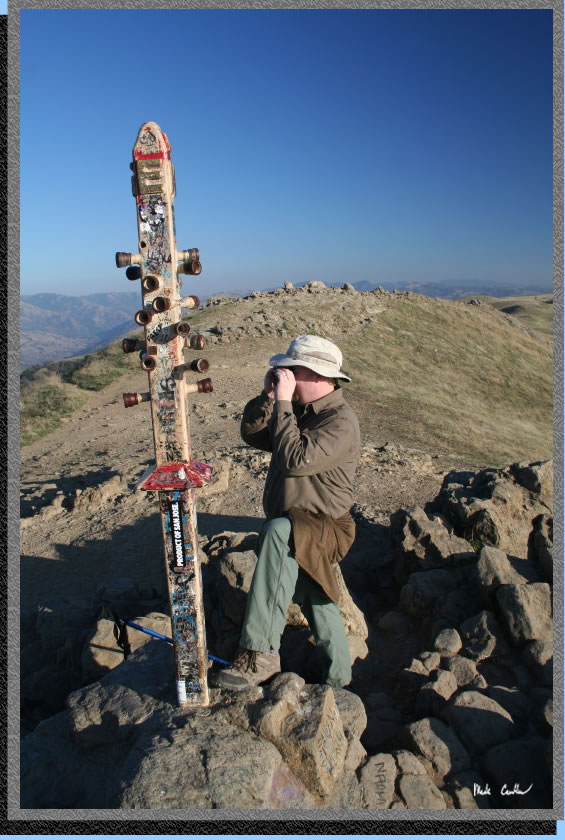 call ahead for reservations as Sunol backpacking is popular. Prices were $5 a person per night and an $8 reservation fee over the phone. Reservations can be made by calling 888-327-2757 but for questions about conditions or recommendations call the local ranger at 925-862-2244. With the state budget situation finding a ranger to answer a phone or even take your money at the gate could be difficult. This is another reason to book online. They actually give you a parking permit now when you reserve online now so if you don't find a ranger when you arrive it is no big deal. When we arrived at the gate that Friday afternoon it was unmanned, or unwomanned, with a note that said to leave your camping permit on your dash. I decided that I would write down the info from my overnight permit onto the parking permit, as I wanted to have the permit with me that said site #4. If you want shade you want site #4. This time of year shade is not that important due to the mild late October weather. All four sites have picnic tables and flat areas for at least a tent or two. Water is available but says to treat. There is also a pretty nice outhouse and trash cans. HIking in from this side is around 4.3 ish miles and 1700 feet up. The grade is mild but don't take my word for it, see the map and profile below. Once we got to camp we dropped our packs and headed to the top of Mission Peak to see what you can see. In this case it was mainly smog, sadly. Here is Eric taking it all in. The other sad thing encountered was a large amount of graffiti. Really, you have to write on the rocks up there. Just lame.
Here is Eric and my trusty Ford Ranger at the Sunol Regional Wilderness equestrian area parking lot. There is an outhouse and horse water. According to my map there is water at the family camping area but I have never seen if that is actually true. It also was posted on the gate that the family camping area was closed. Not sure if this is due to budget or the rumor I heard that the naturally occurring asbestos from the dam reconstruction was necessitating some camp closures. We weren't able to talk to a ranger that day.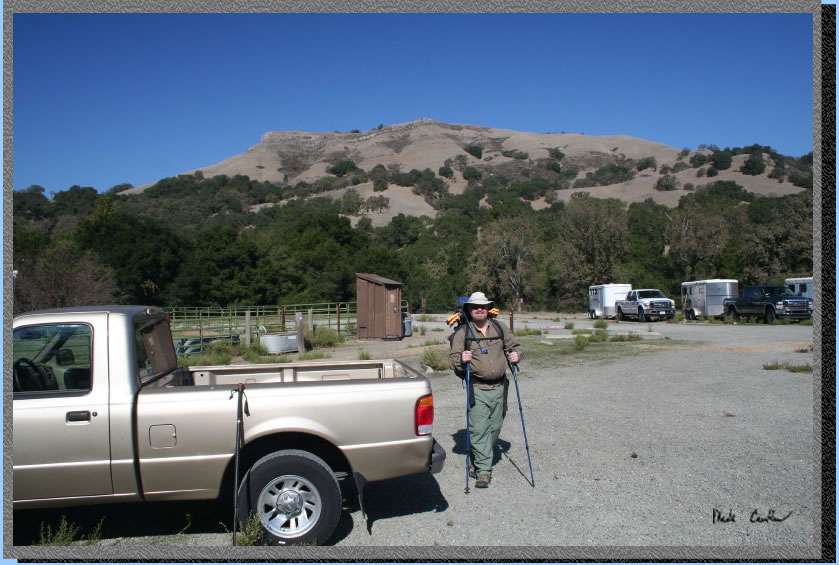 I took this shot of the counter weight setup on the cattle gate you enter to start the trail. It was a cool design but the cable being used was all twisted so had too much friction to work to its potential. Make sure that you close the gate as there are cows everywhere out here.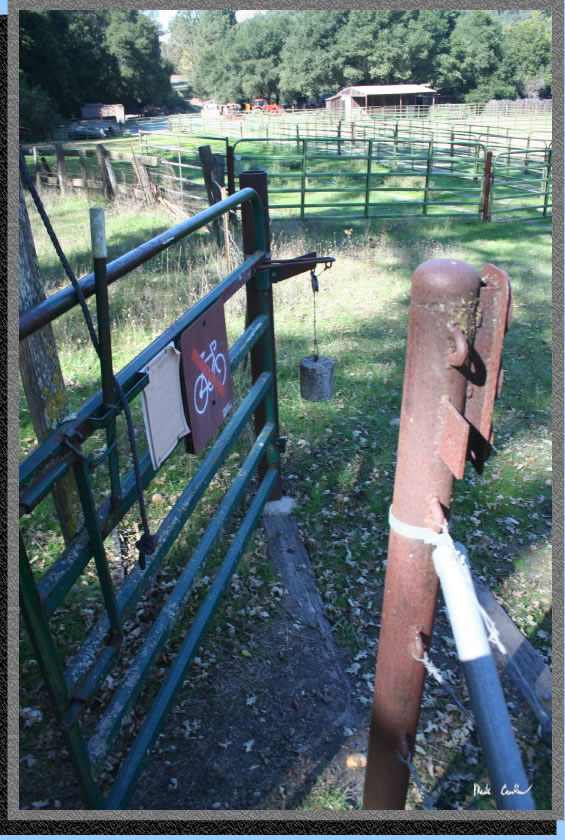 So you head in what seems like the wrong direction at first but the trail quickly starts to head the right way. Many portions of this trail follow fire road but there is a mix of cover and open fields that keep it interesting. The views along the way are also great. There are even a few streams that go under the fire road in spots so keep your eyes and ears open.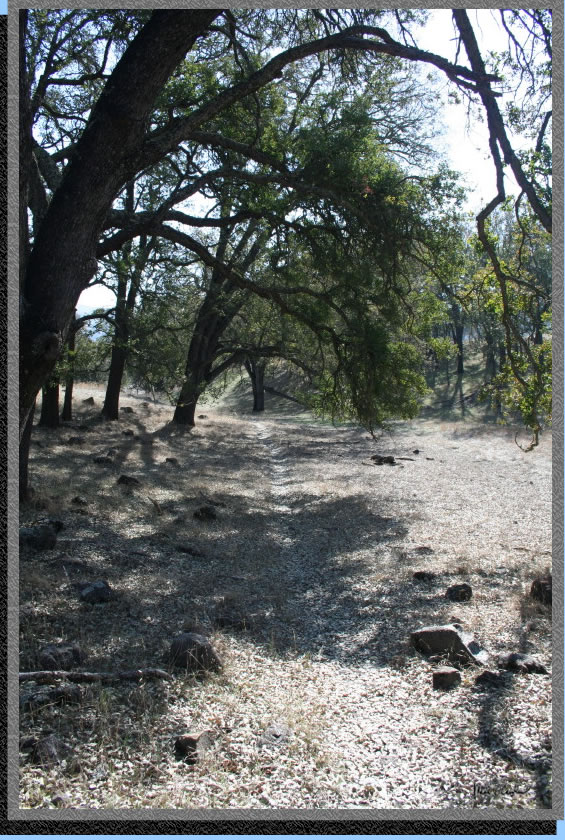 I tried to take some pictures in different spots on the trail this time (I am sure that I repeated some from previous trips through here though). This shot is where you cross Calaveras Road.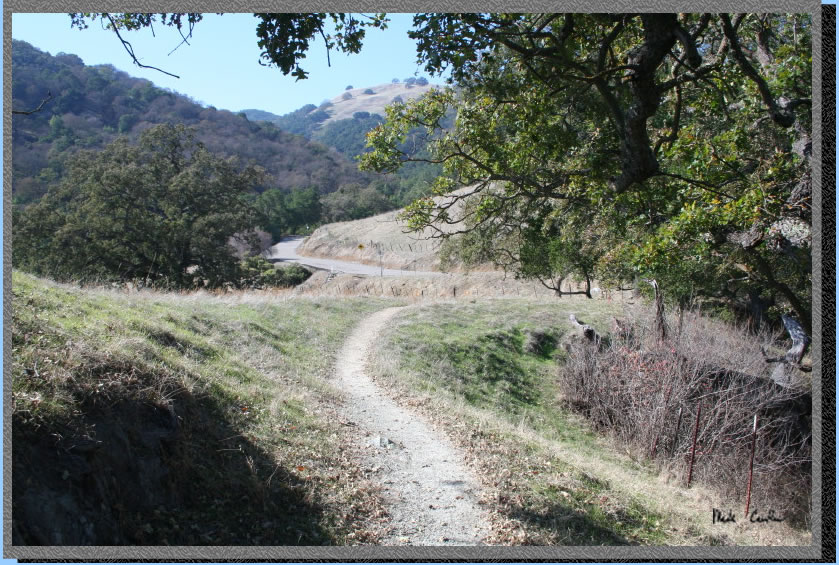 Here is Eric making sure the gate is secure and then crossing the road.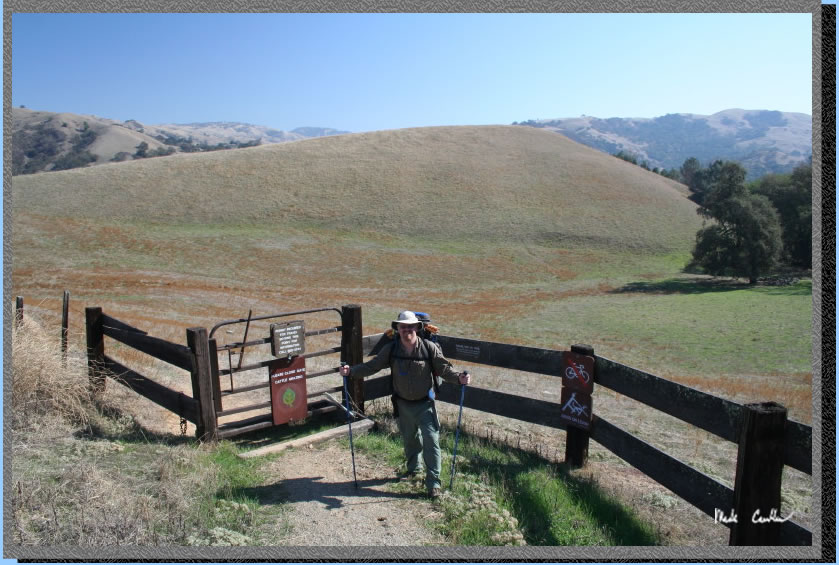 The retaining wall looks like it is bags of concrete that was allowed to just harden in any shape it wanted to. As Eric pointed out, it seems to work and probably a lot easier/cheaper than using blocks. Many cyclists use this road, probably more cyclists than cars.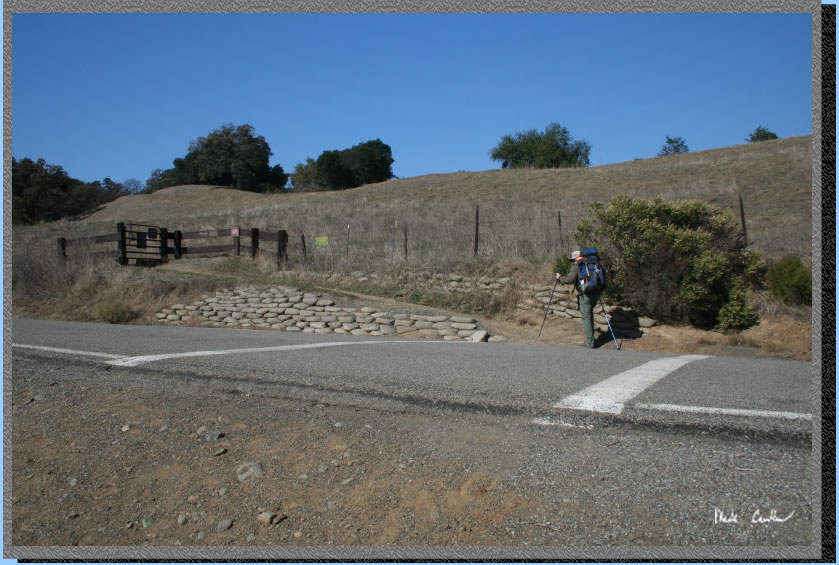 The trail is generally up on the way to Eagle Springs Backpack Camp. Since you have to gain 1700 feet this is not a surprise. For the most part the grade is mild and the elevation gain was downright nice for us with a gentle breeze to keep us cool.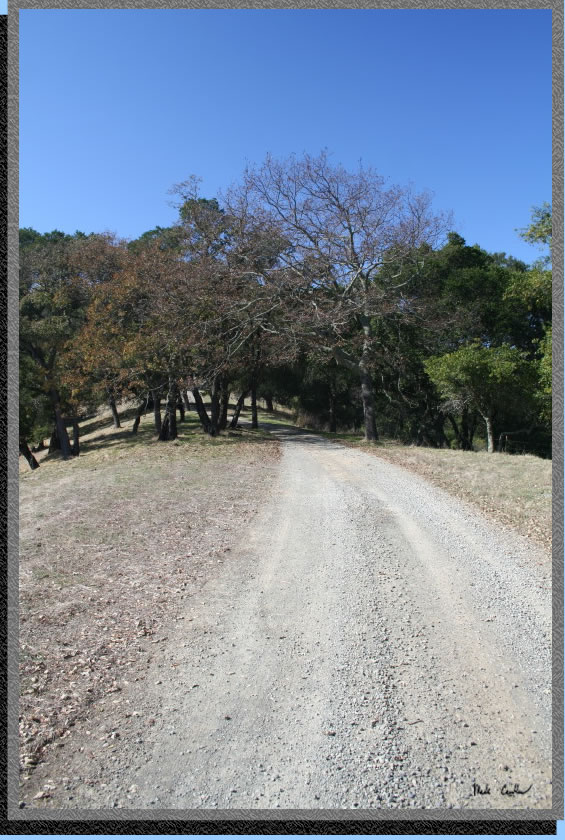 The lizards were out. I missed a shot of an earlier one rounding a tree but this one was out in the trail/fire road. A great looking little guy that was moving just enough to get out of our way and then try to blend in with his surroundings.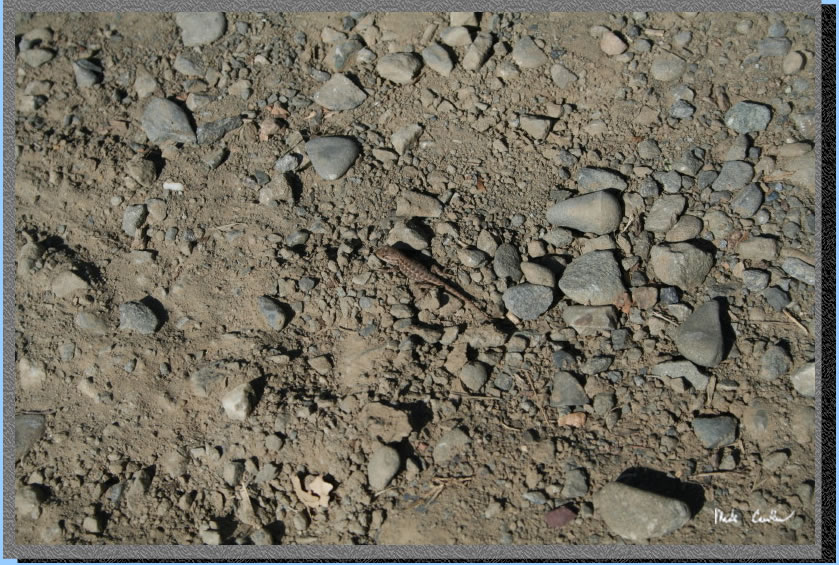 This is one of the more covered sections of the trail. There is some Poison Oak in these more wooded areas so keep an eye out or stay more in the middle of the trail.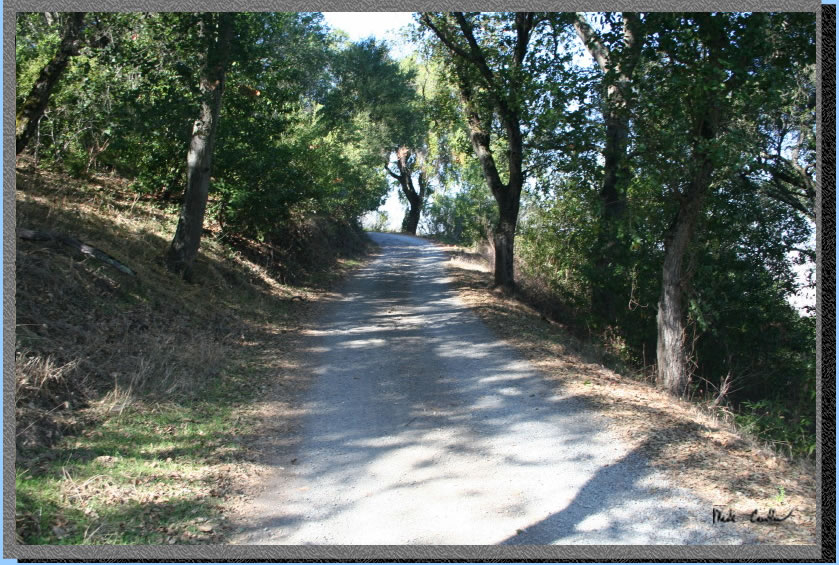 We made some good time on the way in with only a few stops along the way to get a picture or catch our breath. We stopped when we saw this cow on the trail and chatted a bit. There were many calves running around so we didn't want to walk by this big cow and find out one of the calves between her and us was her's. But the cow didn't seem to want to move no matter how close we got to her so we decided to just walk by her. She didn't even stop eating while we passed. Silly cows.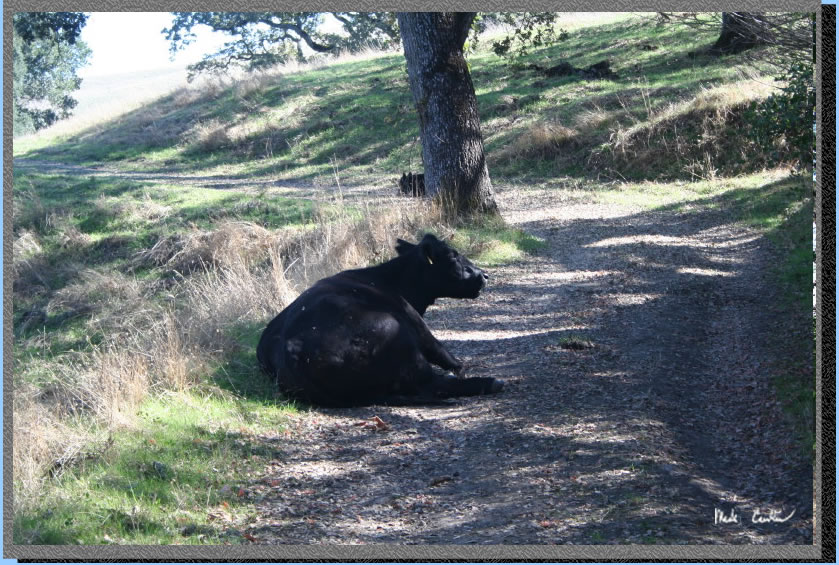 It was funny how inquisitive the calves are at this age. I like to moo at cows and normally the older ones pay no attention to you but the calves want to know what you are doing... or maybe saying. This one was especially brave since we were separated by a fence. The Ohlone Wilderness Trail crosses a good chunk of San Francisco Water District land so travel is restricted to the trail in many places. You are required to have a permit to travel on the Ohlone Wilderness Trail and the permit is also a very nice map so for $2 (at least it was $2 last time I bought one) it is a deal.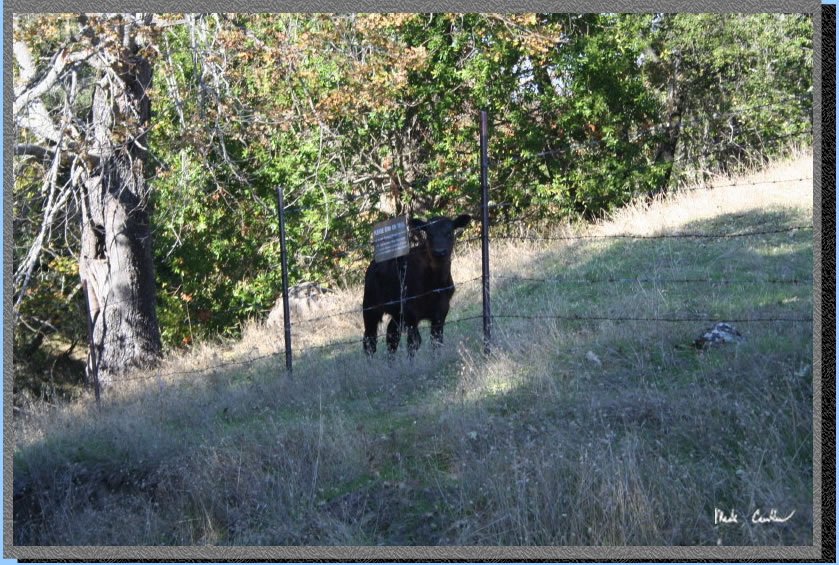 Here we are approaching the Ohlone Trail sign-in panel. You are on the home stretch now. As you can see in the picture the amount of tree cover has changed a bit. One more dip into a canyon and you are at camp.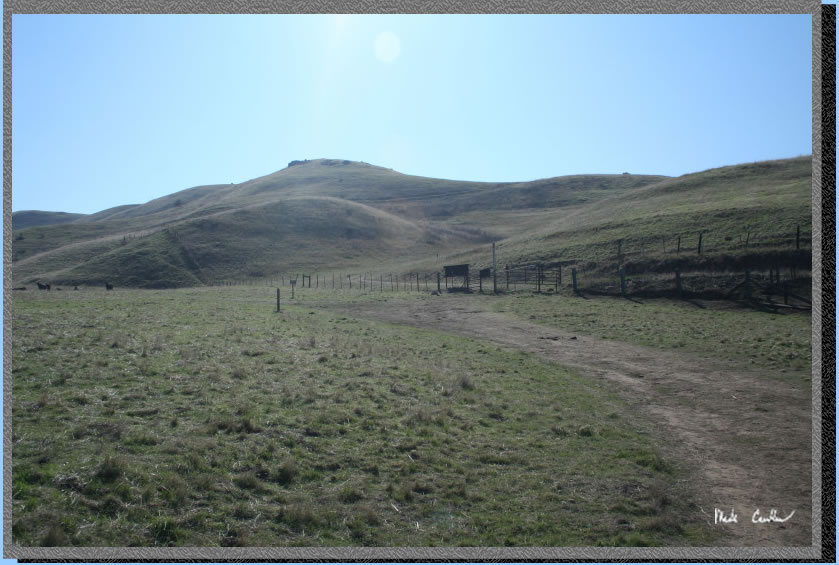 So this is the view from camp. Without the smog it is a great view of Mount Diablo. It did clear out some that night as there was a decent breeze. The shots in the morning turned out a little better (scroll down), but I have seen it much better out here.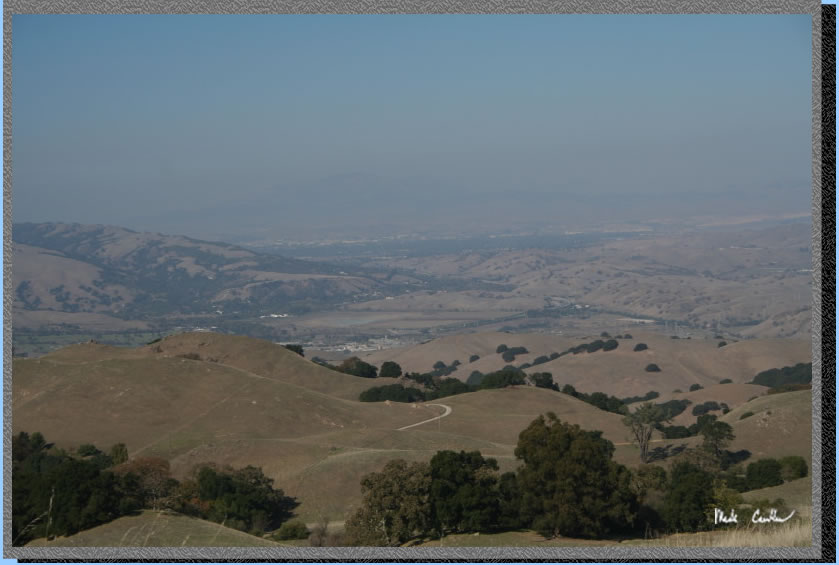 We day hiked to Mission Peak and took this shot looking down at camp. We hadn't seen another person the whole way to camp but saw a few people when we were hiking around Mission Peak. You can do a circular hike around Mission Peak and then back to camp. The white rectangular building is the outhouse, water is to the left of it. I forgot to mention the outhouse has a recent wasp problem. There is a trap in it that seems to be catching them but when I went in to use it the first time there was a big one flying around the ceiling. I am not sure that having a trap that attracts them is the best long term but by morning this wasp either found his way out or joined his brethren in the wasp trap. The whole camping area is fenced off from the cows and has 4 sites. Each site has a nice picnic table. Only site #4 has a tree that would actually provide shade so far. They have planted two trees around each of the other sites so there will be shade in ten years or so. Site four is under the tree where the sun and shadow meet right of center.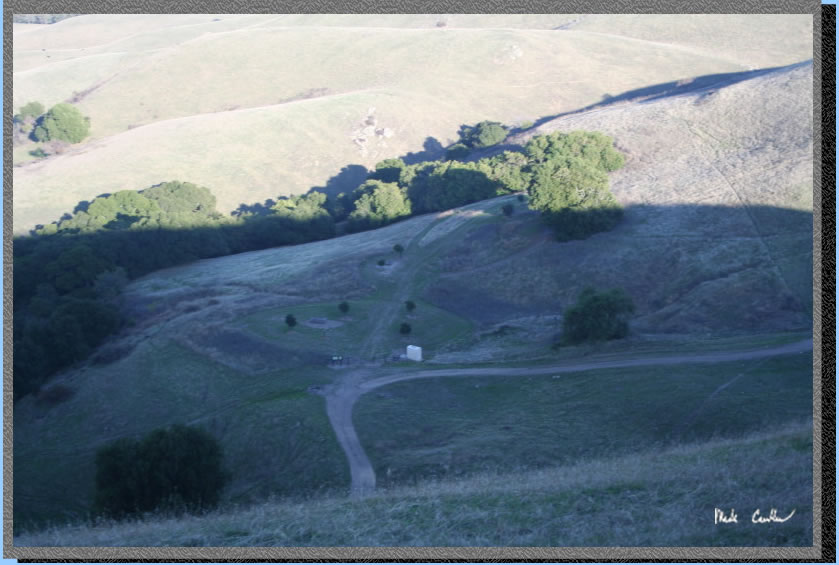 While hiking up to Mission Peak we saw this guy staying warm in the sun. He heard me coming and quickly got out of the way. Just a gopher snake but the other variety is out here so be careful where you put your hands and feet..

We checked out the view for a bit and then hiked down the other side to complete our loop. Here is a shot looking up at the trail and some people that hiked in from the Fremont side. It looks to be a popular trail to hike/run on from the Fremont side.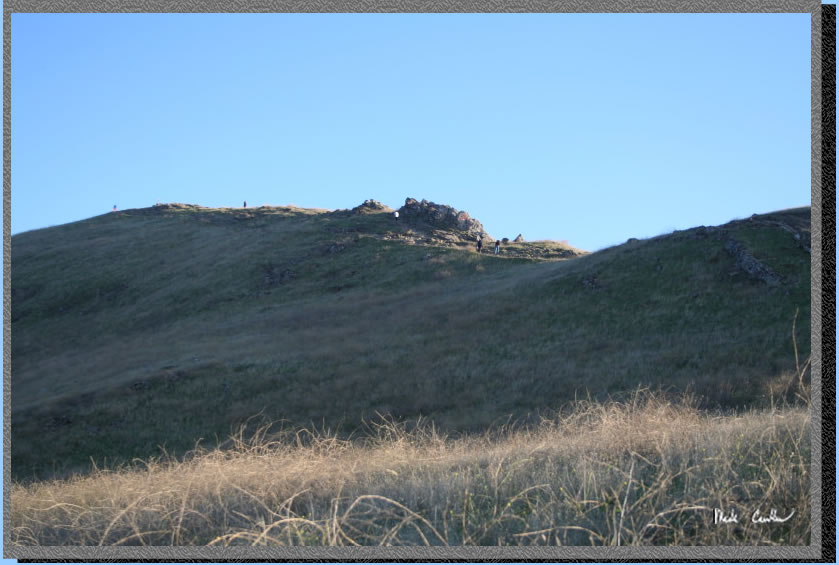 So the next morning allowed for a better view but still not clear by any means. The smoke down below was steam from a quarry, I believe. The green to the bottom left is the Sunol golf course and the double mountain is the twin peaks of Mount Diablo in the distance.

Here is the Mission Peak sign on the way out. It has warnings about mountain lions. Yes they are out here. I have been fortunate to see them twice. Ticks are also out here so check yourself for these guys so you can get them off you before they burrow in. We didn't see any ticks on this trip but it is pretty late in the season for them.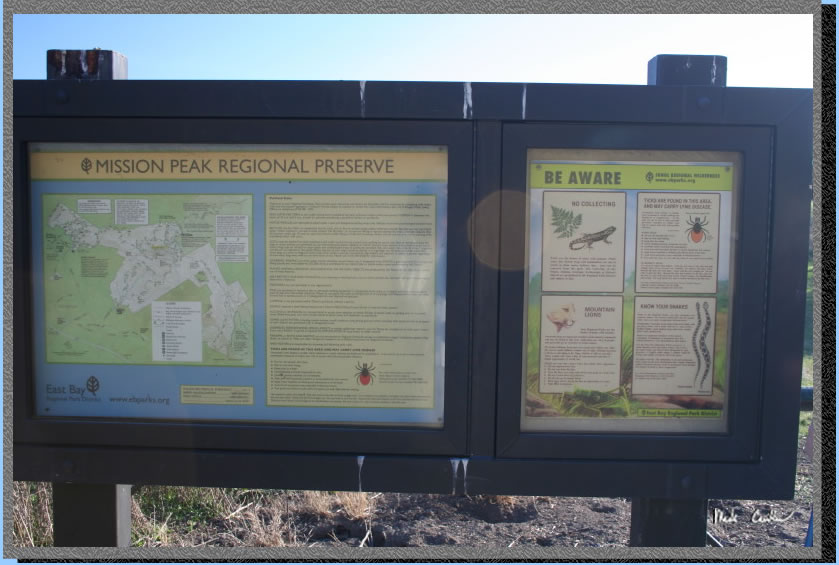 Here is another cow and calf on the way out. Some don't look big enough for the cold weather we are having as I write this a week later. Hopefully they stick close to mom. Eagle Springs is a great trip if you are looking to get in a quick trip without a long drive. I recommend that you try out the whole Ohlone Wilderness Trail sometime as it really is worth doing. See some of my other descriptions for backpacking camps in Sunol Regional Wilderness and Del Valle Regional Park here.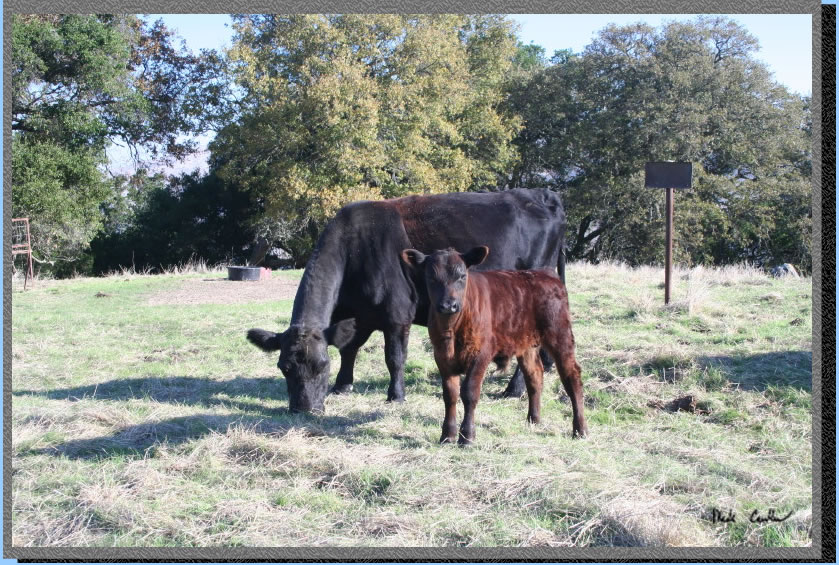 Red line shows the section of the Ohlone Wilderness Trail we hiked. Round trip elevation profile below map. Click on map or profile for larger version.
.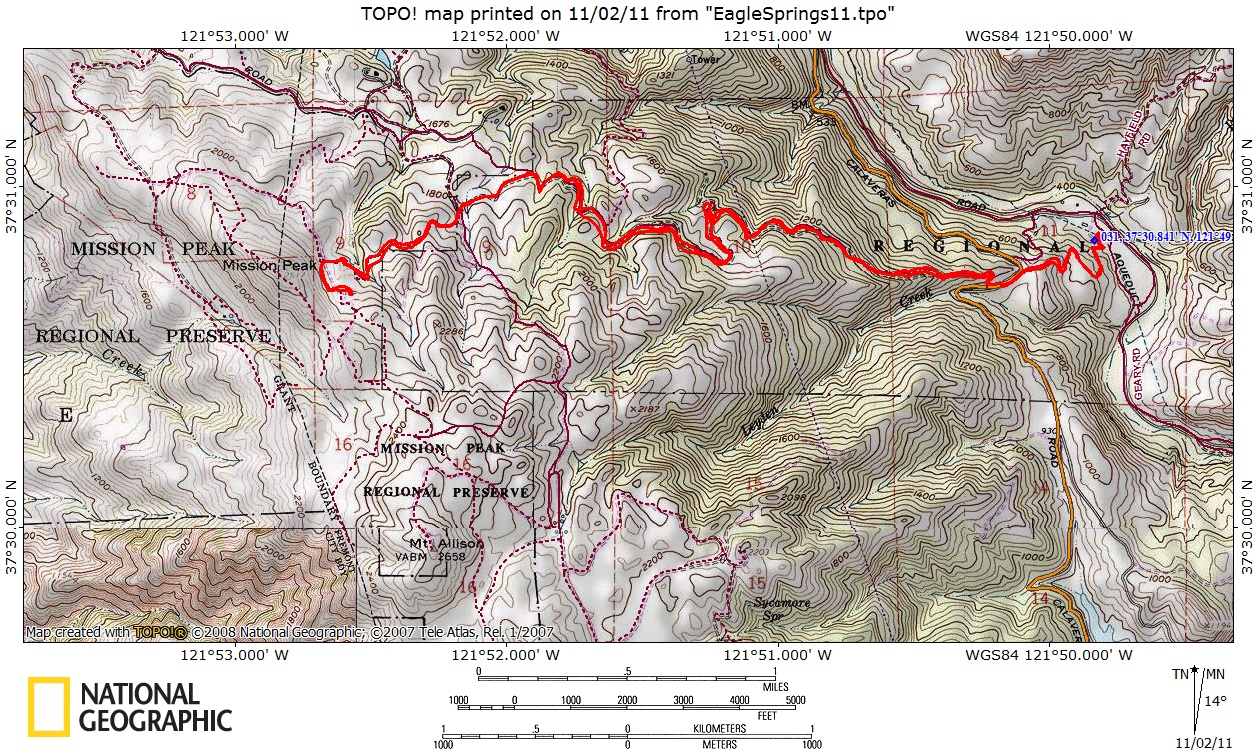 (back to top)