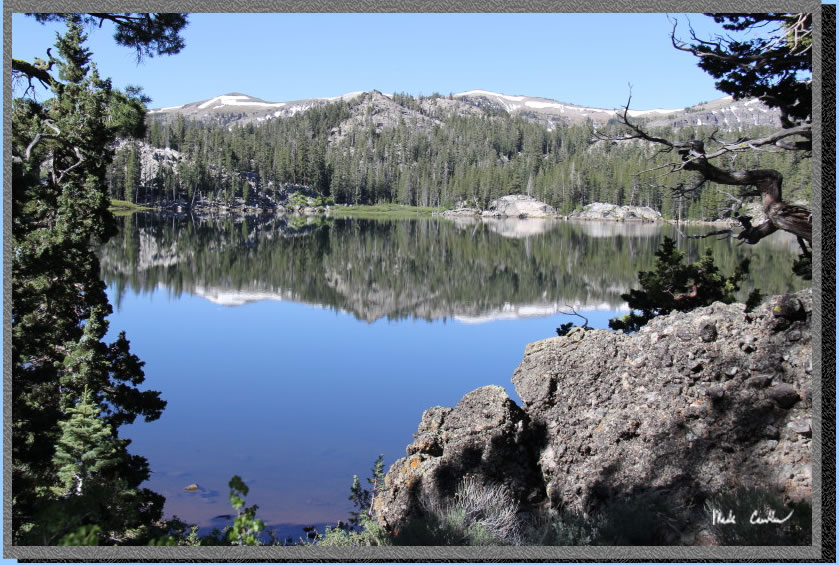 Tyler and I decided to do a two-night trip to an old favorite of mine, Round Lake. This particular Round Lake (a popular lake name) is in the Meiss County Roadless Area to the south of highway 89 (south of Lake Tahoe). We used the Big Meadow Trailhead right off Highway 89. Camping permits are not required, but you are required to get a fire permit and follow leave no trace (and the current fire restrictions). This section of trail is part of the Tahoe Rim Trail (TRT). Mileage is a little more than 3 miles with about 1,000 feet of climbing and 250 feet of descending leaving you 750 feet higher than the trailhead. See map/profile below. I parked at the furthest parking spot, so the mileage is slightly higher. I would rate this trip as easy, as long as hiking at 7,000 to 8,000 feet does not affect you much. Trail junctions are well marked and route finding is easy. This trailhead provides plenty of options for day hikes, or extend this hike, or camp at a different lake. For a through hike see this trip to Echo Summit using the TRT and Pacific Crest Trail (PCT). You can also visit Dardanelles Lake or Scotts Lake using this trailhead. We stayed at Round Lake both nights of our trip and ventured to Dardanelles Lake and back on our second day. Much of the trail to Round Lake is covered which is nice when it is warm. The trail can be dusty in spots and is also very popular on weekends. We went during the week and had the lake to ourselves the first night (I think). We had 2 other groups around the lake on the second night (a Thursday night). There are plenty of sites around Round Lake so it can still feel like you are out there by yourself. We stayed on the north side (outlet side), above the lake. Our camp was a little more open and had some great lake views like this one captured one morning. We did not fish, but were told there was good fishing at Round Lake, and I saw many jumping in the early morning and evening.

Here is a picture of the Big Meadow Trailhead. As I mentioned the trailhead is located off Highway 89 which you can access either from Highway 50 or Highway 88. I think 50 is a little faster but not as scenic as 88 over Carson Pass. The trailhead does not have water so plan accordingly. There are nice pit toilets (yes, there are nice pit toilets and some not so nice pit toilets) and trash cans . The trailhead is on the north side of the roadway. Here is a shot of the trash and bathroom facilities.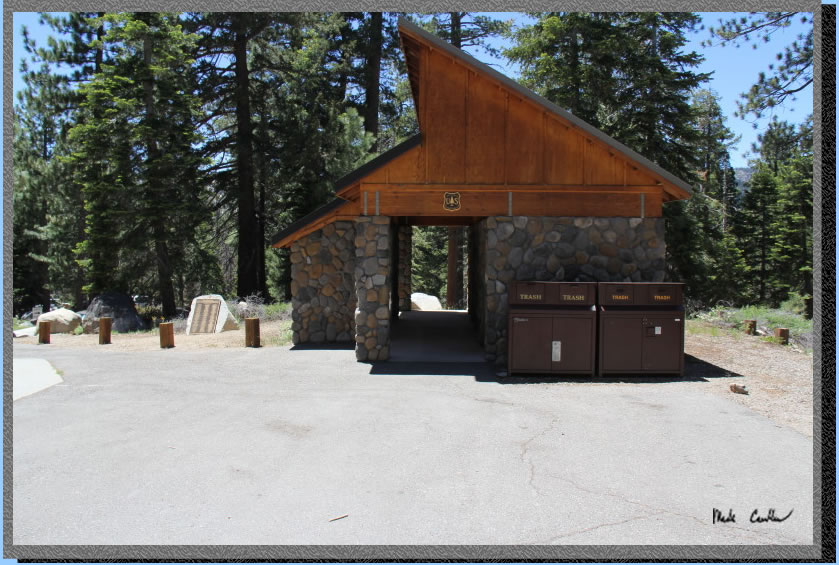 Leaving the trailhead, headed south (towards the highway) will lead you pass this informational sign/map. Make a point of looking at it and also carrying a map of the area. There are Black Bears and Rattlesnakes so know how to handle an encounter with each.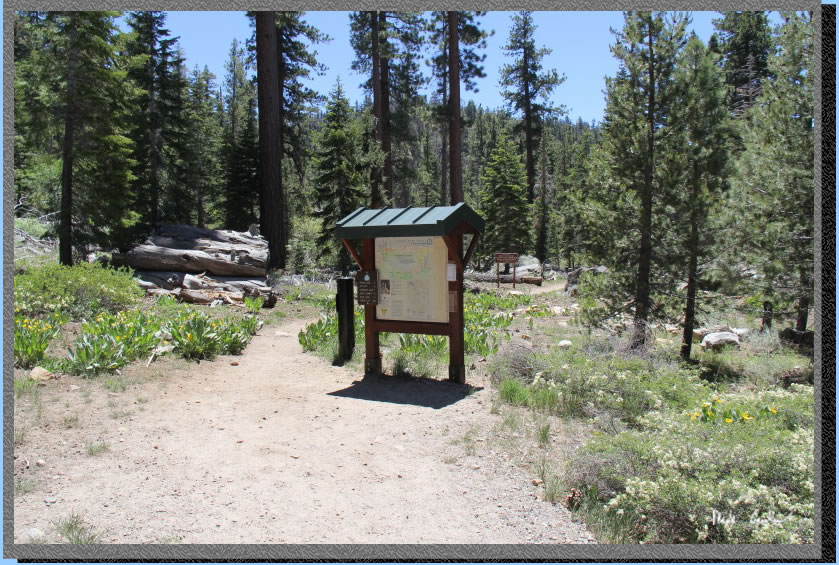 The trail crosses Highway 89 here at the yellow "Share the Road" sign. I find the safest way to cross here is to use my ears as much as my eyes. The road has a curve and it is difficult to see vehicles approaching, but easy to hear them before you can see them. Wait until you can't see or hear any vehicles and quickly cross the street. Crossing with a heavy pack means you are a little slower and less agile so keep that in mind.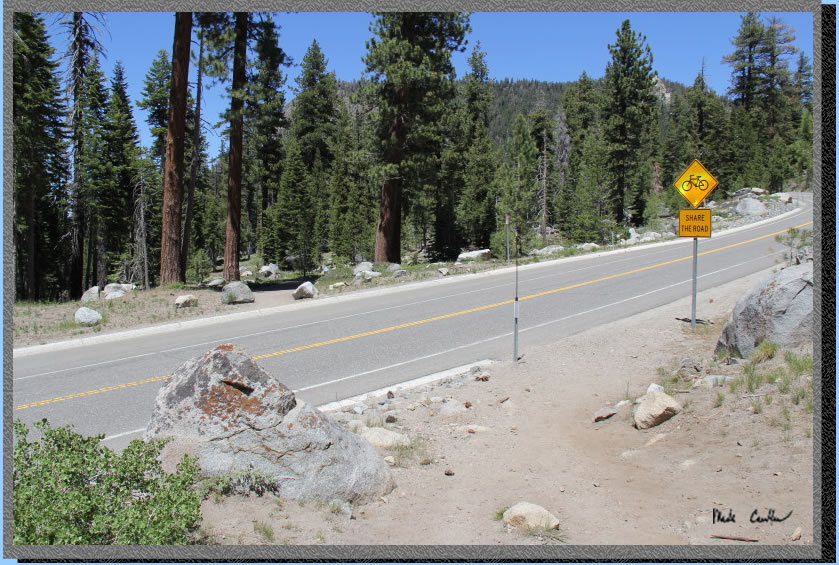 You will hear Big Meadow Creek once you get hiking on the other side of the road. The trail stays to the east of the creek and goes up at a moderate pace. Mountain bikers and horses frequent this area so look out for both. This first section will quickly have you breathing hard, so take your time.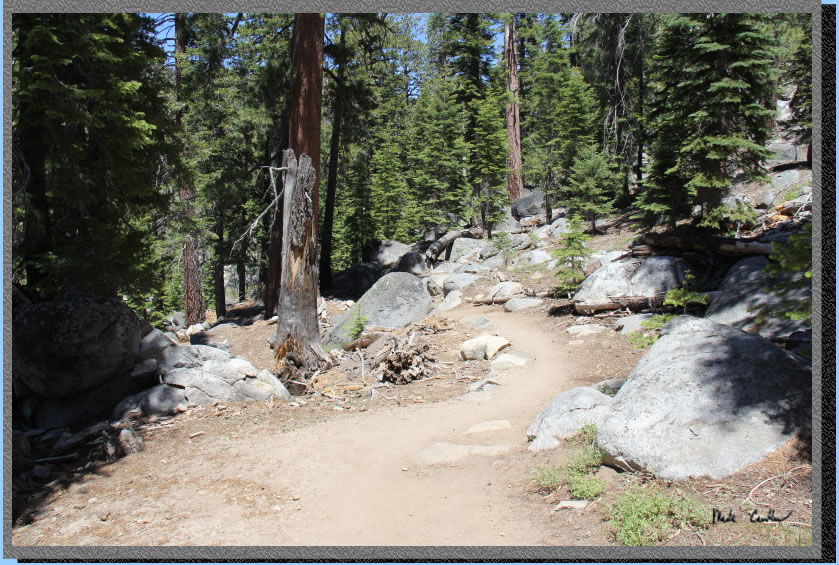 They reworked this first section of trail a few years back (Ok maybe more than a few now). It is a much better grade than it used to be but keeps you further from the creek. Before you know it you will be at your first trail junction, Scotts Lake.Stay to the right at this junction. The trail evens out at this point. Here is a shot of the trail junction.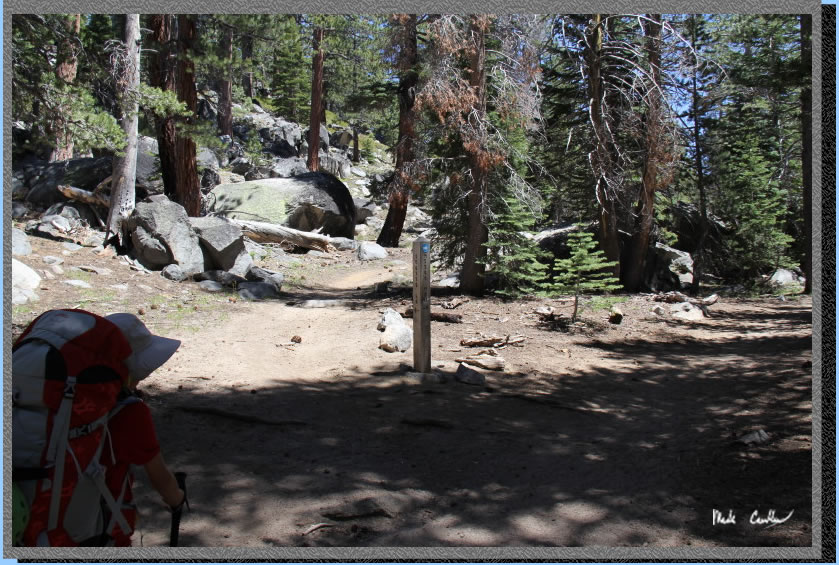 A short hike and you are at the Big Meadow Creek crossing which has a nice bridge. The water was flowing like it was more like July than June, but I was just happy that things were still blooming and green out here. Here is Tyler on the bridge. I have seen this bridge under water in early season before.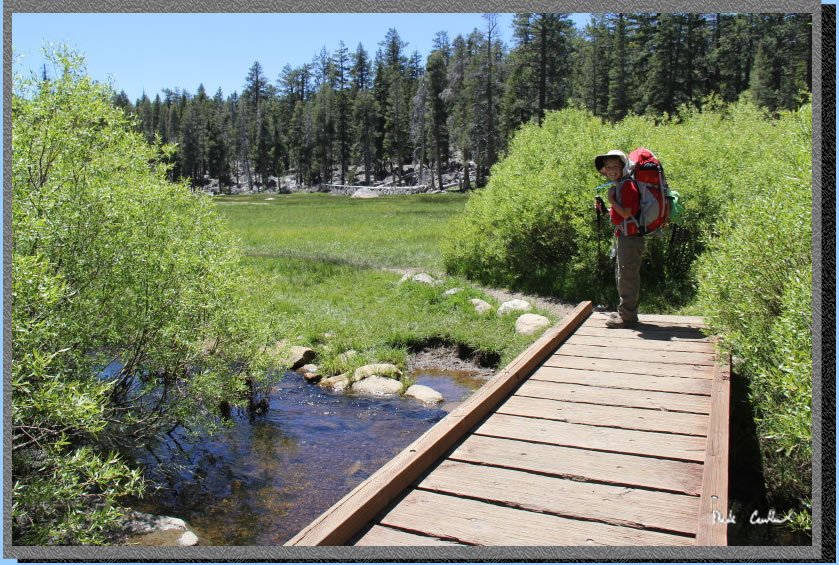 Here is Big Meadow in all its glory. You can see snow on peaks in the distance. It was nice to see some snow still around. All the talk of drought made me wonder if there would be anything green/wet out here.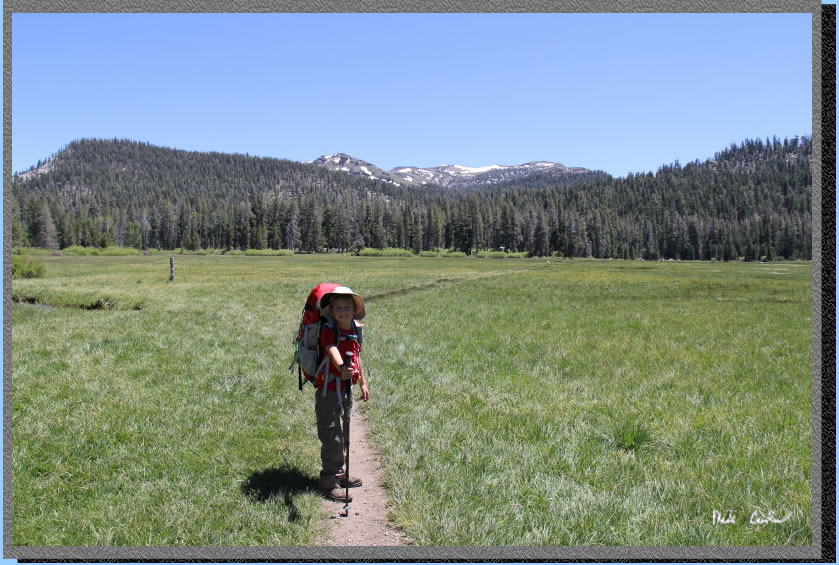 After crossing Big Meadow you head uphill again under mainly conifer cover. There was an abundance of mule ear through this section..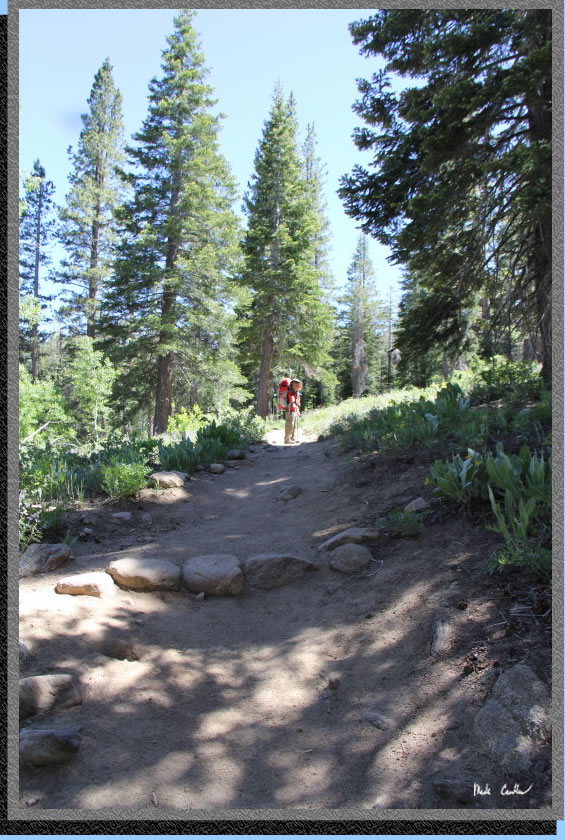 You reach a ridge and then head down the other side. The ridge gives some great views of the surrounding peaks. Weather was great for us with it reaching almost 70 and nice afternoon breezes to help control the mosquitoes. This shot was captured heading down the ridge. You reach the trail junction for Dardanelles Lake once you reach the bottom. Stay left to Round Lake.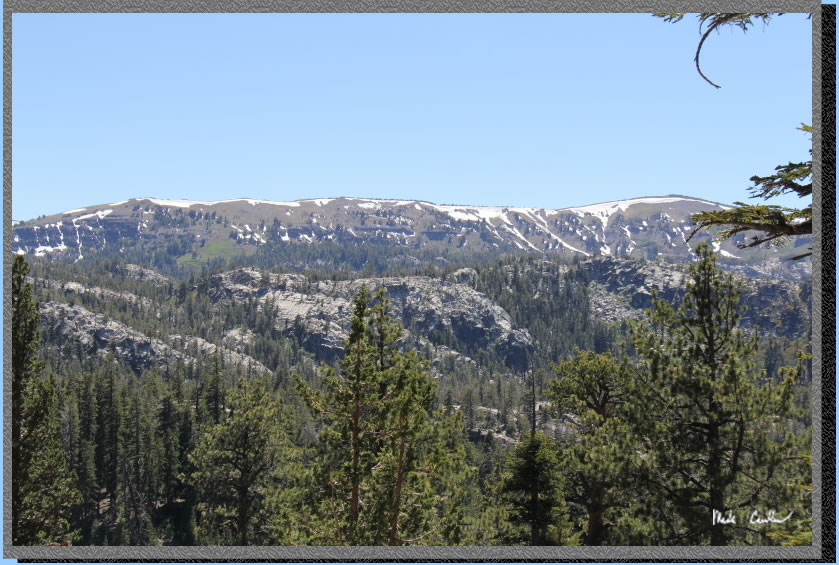 There are some really neat rocks to check out along the trail. Granite is always neat but this area has some metamorphic rock that looks like the roughest exposed aggregate boulders you have ever seen. Some of these boulders are the size of cars and some are even bigger. This rock is neither, I am actually not sure what kind it is but it looked cool so I had to grab a shot.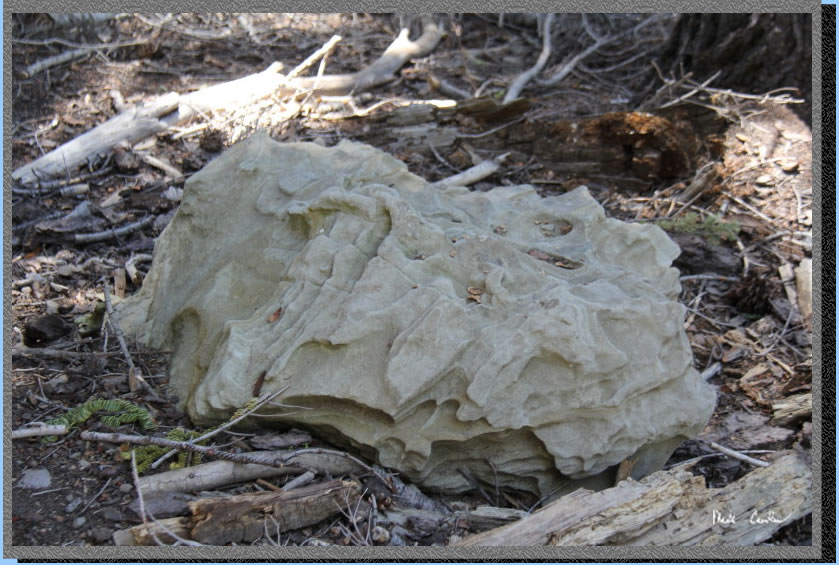 I told Tyler to keep his eyes peeled for snow and I think he almost gave up until we were almost to Round Lake. Here he is standing on his patch of snow. There wasn't much but it was enough to make an 8 year old happy..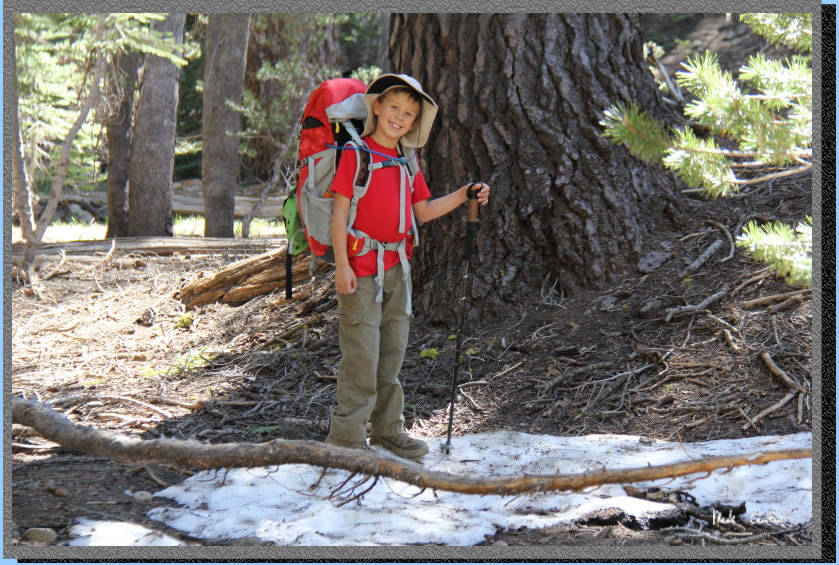 So we picked a site on the north side of the lake above the lake. Fire restrictions are in full effect so we could not gather wood or have a campfire. We did have an awesome view of the lake and surrounding peaks. It was a little exposed to the wind but I was willing to put up with that to lessen the amount of potential bugs. We talked with one family headed out that said there first night was pretty windy and their second night was pretty buggy. I was hoping for something in the middle. Lucky for us we had a nice breeze until after dinner and then we made it into the tent when the bugs got a little to thick. Deet was definitely needed to keep the mosquitoes away, as you would expect for a June trip. We managed to not get bite on this trip.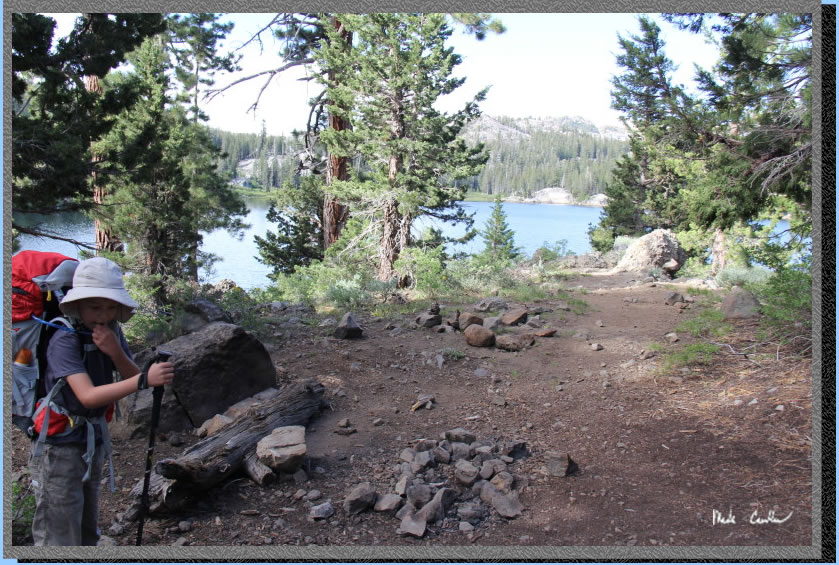 We had a nice night with mild temperatures. It got cold enough to get into our sleeping bags which was nice. Once Tyler talked me out of mine in the morning we ate a nice Mountain House breakfast and discussed our plans for our second day. We decided to pack a lunch and head to Dardanelles Lake. I should have run my GPS but was lazy so I didn't. I think the mileage was about 3 roundtrip. We had to back track to the trail junction with Dardanelles Lake and then do three stream crossings. I think Tyler liked the boulder hopping across the streams the best. All crossings were easy with strategically placed boulders.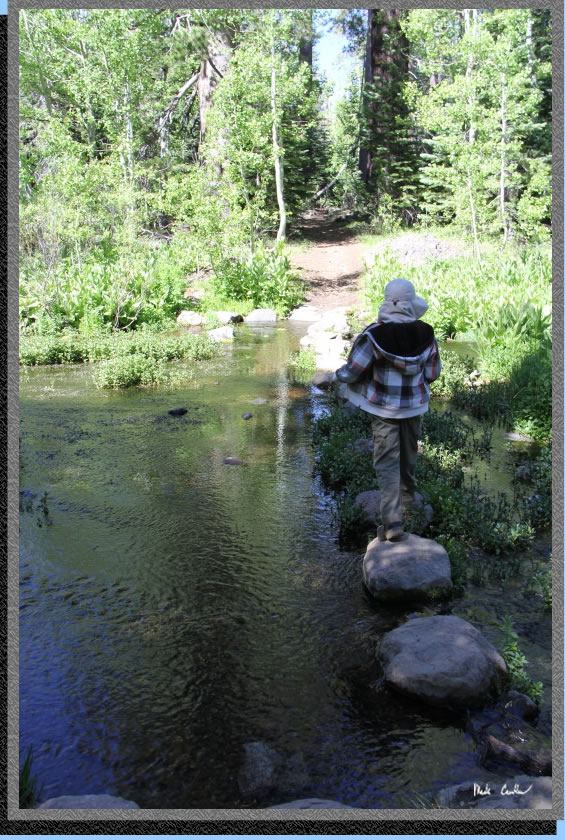 After a nice easy hike we made it to Dardanelles Lake. We saw two other backpackers around the lake but no one camping. This lake is shallower than Round Lake but still very swimmable. We decided that with the mild temperature and the breeze we would just get our feet wet. There was snow on the far side so the water was damn cold. Here is Tyler happy we made it to the lake.
.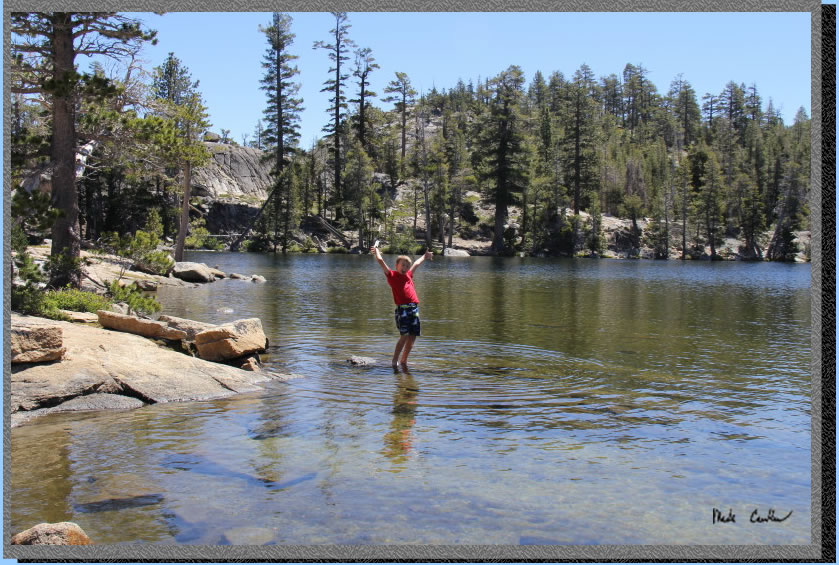 Here is another shot looking toward Round Lake. There were dragonflies, ducks and geese around this lake. Plenty to see.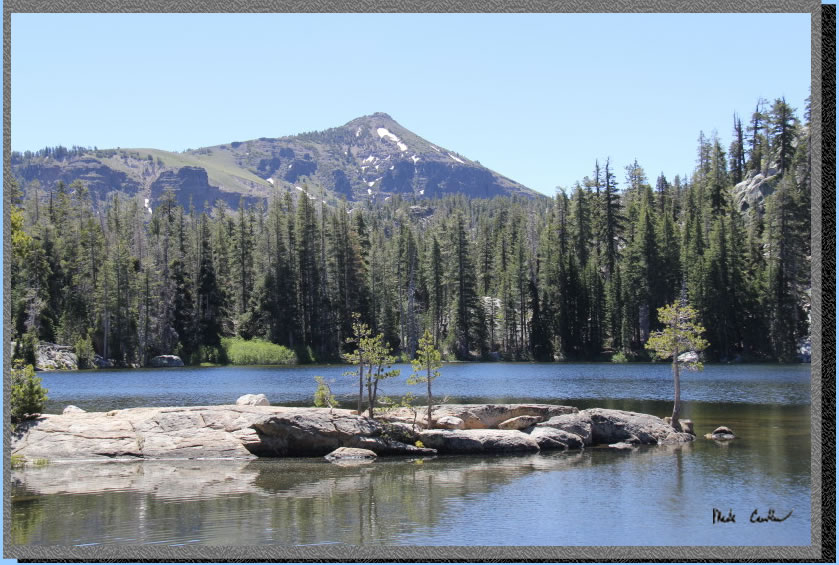 It is a little hard to tell but that is snow along the shore on the far side of the lake. This hunk of granite was awesome. It looks fake with the placement of the trees and the polished edges. We hung out and explored this lake for much of the day and then reluctantly headed back past Tyler's melting snow patch to our camp at ROund Lake. We ran into a large group of day hikers just getting to Round Lake. They did a little cliff jumping off the west side of the lake before heading out.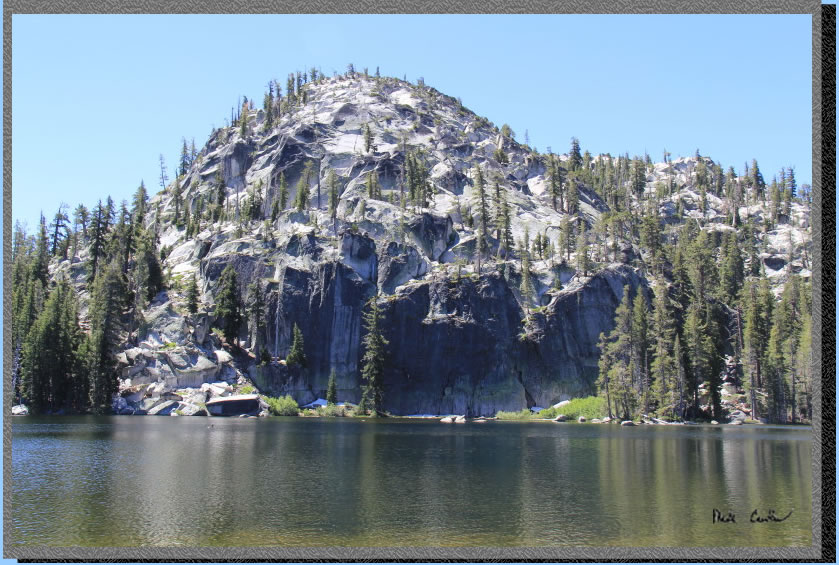 Tyler decided to play on the beach while I organized camp a little. Here is his creation to catch the pollen that was blowing over to our side of the lake.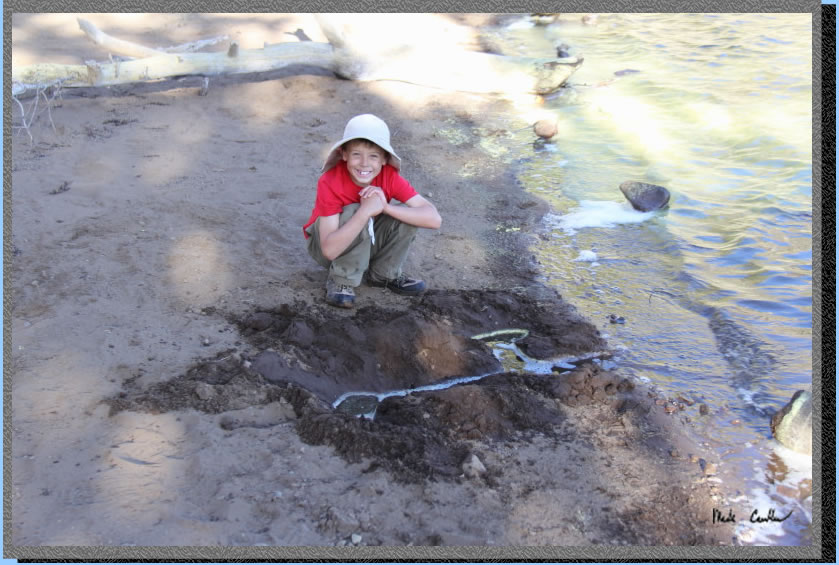 The snow patches above the east side of the lake were creating some nice cascading creek noise for us. We walked up to the largest one and checked it out. It wasn't really that much water, but it sure does have a neat sound that carries across the lake. We stayed up a little later on our last night in the hopes of seeing some bats. We did not make it late enough though. It being almost the summer solstice the day just outlasted us.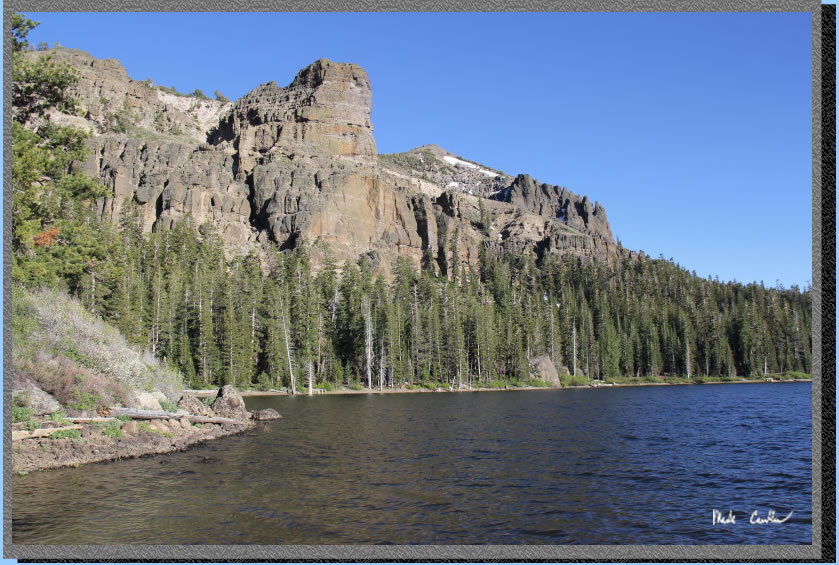 We had a slightly windier night on our last night. We packed up after breakfast the next day and headed out. Here is a shot of the trail close to Round Lake looking back. Most of the trail in is up, so we had a nice easy hike on the way out down to the trailhead. This section of trail was also rerouted a number of years ago. I like the current grading better so you don't have as much lost elevation.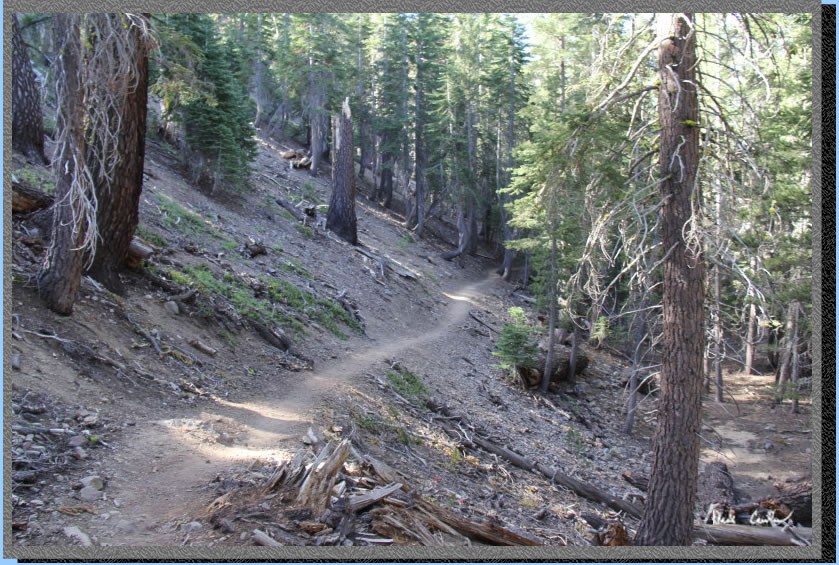 This shot was taken after the junction to Dardanelles Lake near the start of the Big Meadow Creek (at least one finger of it).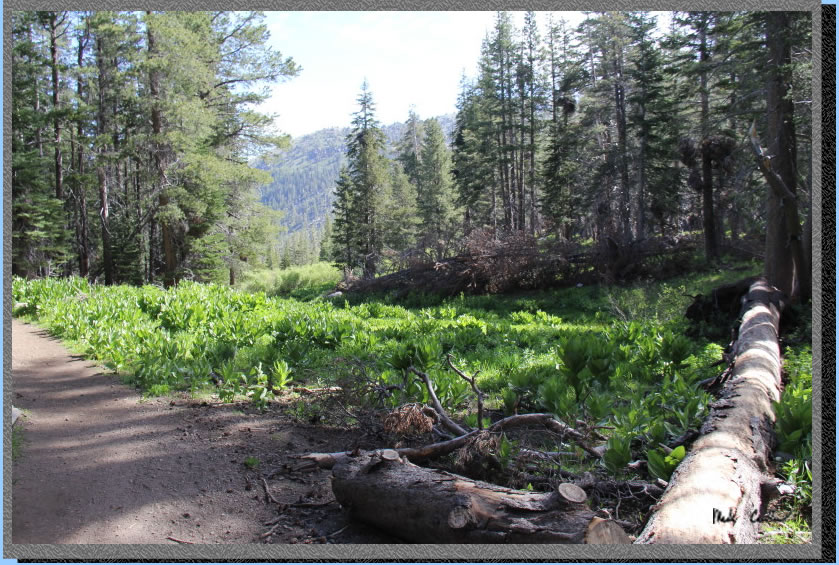 We made good time on the way out and ran into only a couple groups headed in on the Friday. Here is BIg Meadow looking north.
.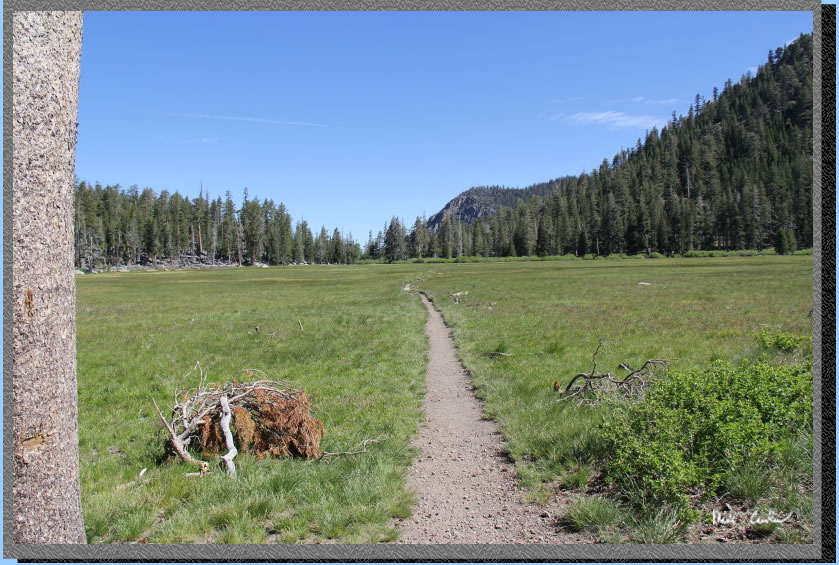 I grabbed this shot as we we got to the bridge over Big Meadow Creek. The curving trail, snow capped peaks and reflection made it my favorite picture of the trip. This was another great trip and Tyler had a great time. I love this trail and Round Lake. If you are introducing someone to the Sierras this a a great way to do it. I always recommend staying away from the "crowds" by avoiding weekends, and this area can be really busy on the weekends in the summer. The parking lot overflows onto the road. Unfortunately, the great places are usually busy on the weekends.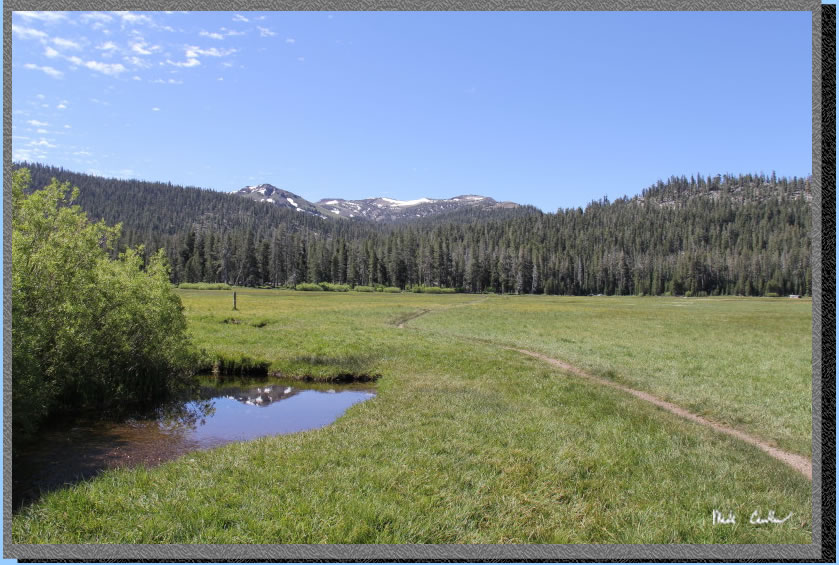 Map and profile from BIg Meadow Trailhead to Round Lake is shown below.
Click either for a larger version.
.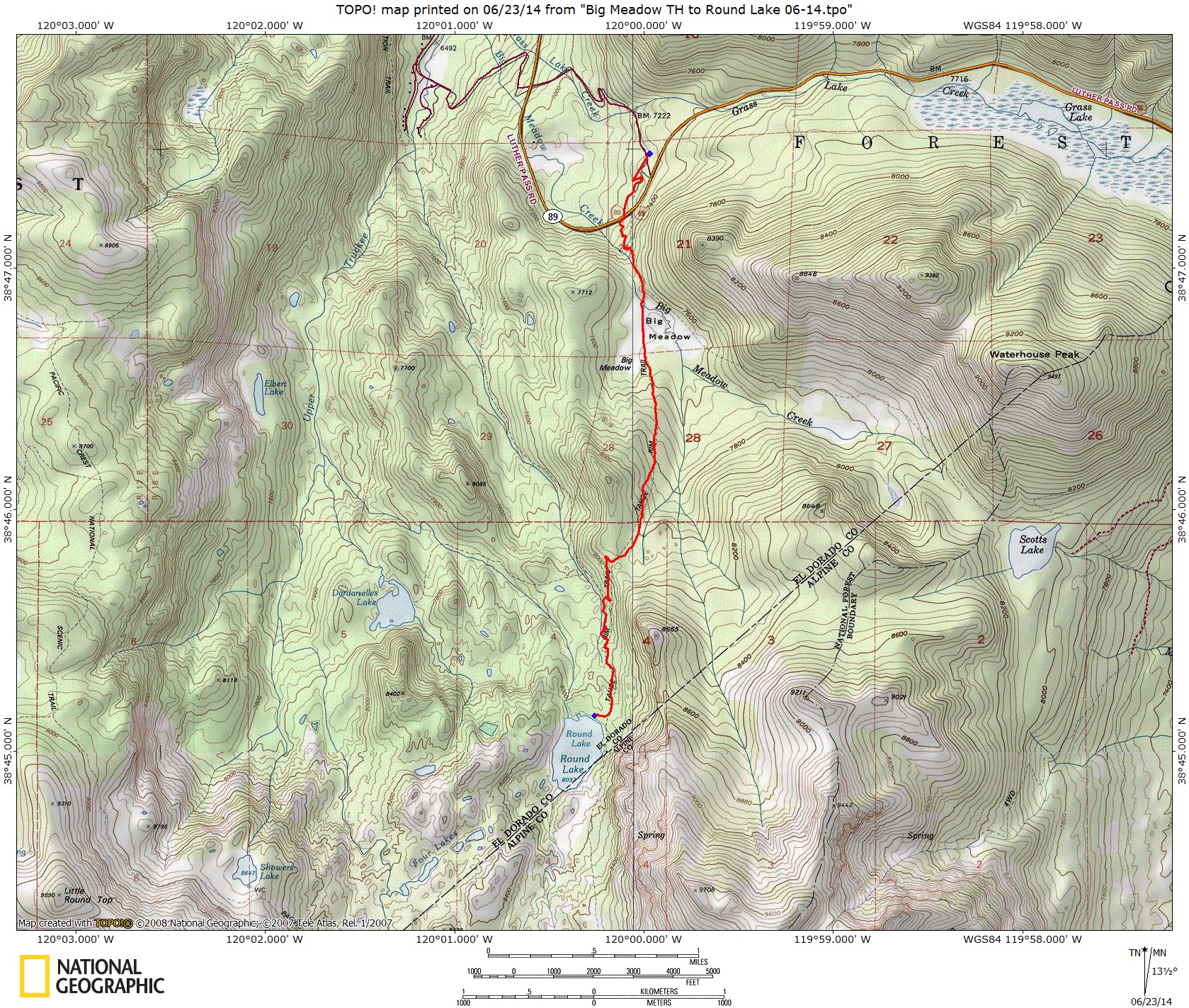 (back to top)