Page 1 of 2
So our friend Eric was going to do a section of the Tahoe Rim Trail (TRT)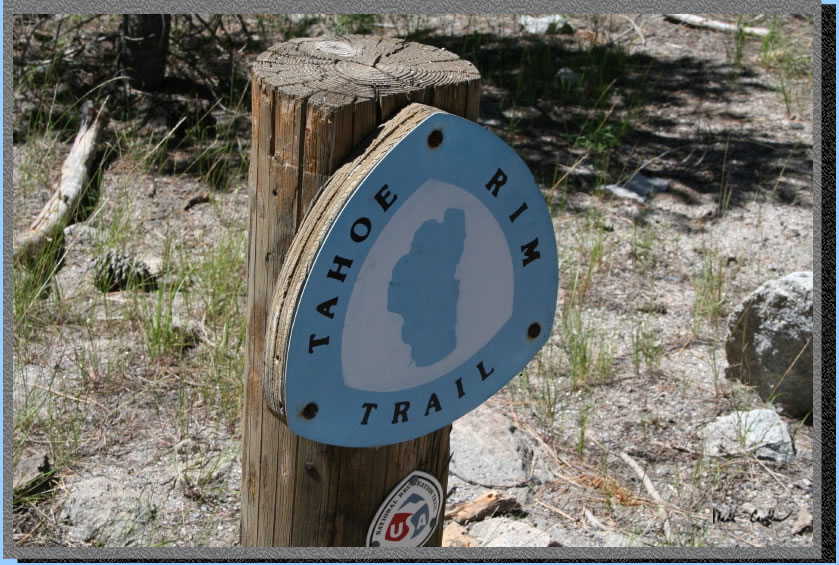 this summer and Leo and I wanted to coordinate a trip with him for a couple nights. After some serious looking over the maps we decided that the best option for everyone was to start at the Big Meadow Trailhead in the Meiss Country Roadless Area off Highway 89. To get to the trailhead either head east on 50 and take a right onto 89 (south) after going over Echo Summit and down toward Lake Tahoe (junction is well marked) or head east on 88 and travel over Carson Pass and then take a left onto 89 (north) after you pass Blue Lakes Road. We decided to keep the mileage short since Eric and his college friend Todd were going to be using this section as their warm up to another week in Desolation Wilderness, see map and profile below. We decided on 5 miles as a good average day mileage over the three days. The difficulty with the 5 mile mileage was there were likely no established sites at those increments. Since we mainly wanted to have a somewhat level site with a decent water source nearby we picked spots that looked like they would fit these criteria based on topo maps. We knew going in that we would have to be pretty flexible on where we ended up each night as what looks good on a topo map might be quite different in the field. No permits are required to hike in this section except for a fire permit. Eric went up the day before to do a car shuttle and gear drop for his Desolation portion of the trip and the next day Leo and I met him at the Pacific Crest Trail/Tahoe Rim Trail junction on the south side of Echo Pass on Highway 50. We left my vehicle there and took Todd's the rest of the way to Big Meadow Trailhead.
Here is Big Meadow Trailhead. The parking lot is a decent size but this is a popular taking off point on the weekends so get there early if you want to stay off the road. I have seen it overflowing before. There are pit toilets and trash cans but no water so fill up before the trailhead.The trail starts on the north side of 89 and immediately crosses the highway. Be very careful here as the crossing is on a curve and tourists probably don't expect to see hikers crossing the road here (despite the signs warning them).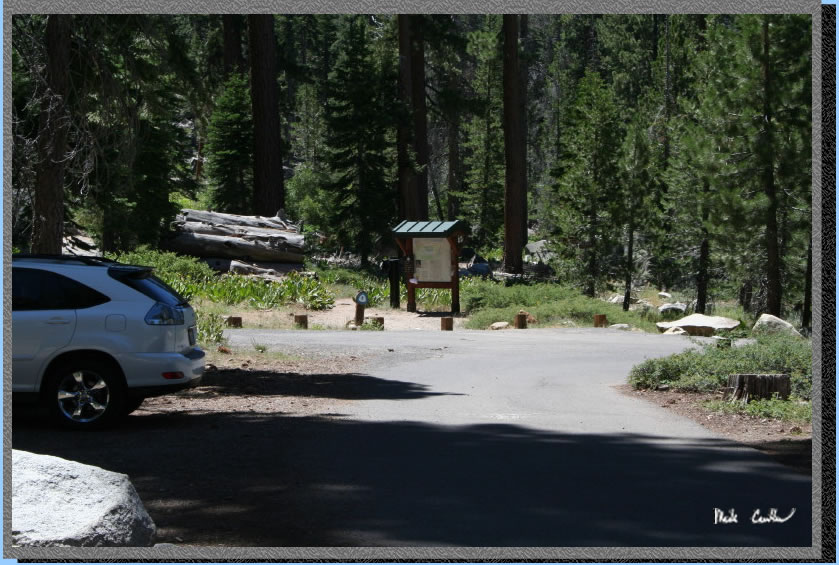 So we made it to the other side and started climbing the first section. Not much warm up to the uphill as it starts immediately. It was on this first climb that Todd let us know that he was battling a bit of a stomach bug/food poisoning from the day before and felt it was best to bow out of this section. We were disappointed to see him head back to the car but appreciated his ability to access his current state and choose the safer course of action. He told us he would meet up with us at Echo Summit where he and Eric would continue on. In hindsight we should have told him that he could "catch" up to us using the Carson Pass trailhead the next day if he was feeling up to it. The shot below shows the start of the trail once you cross the highway.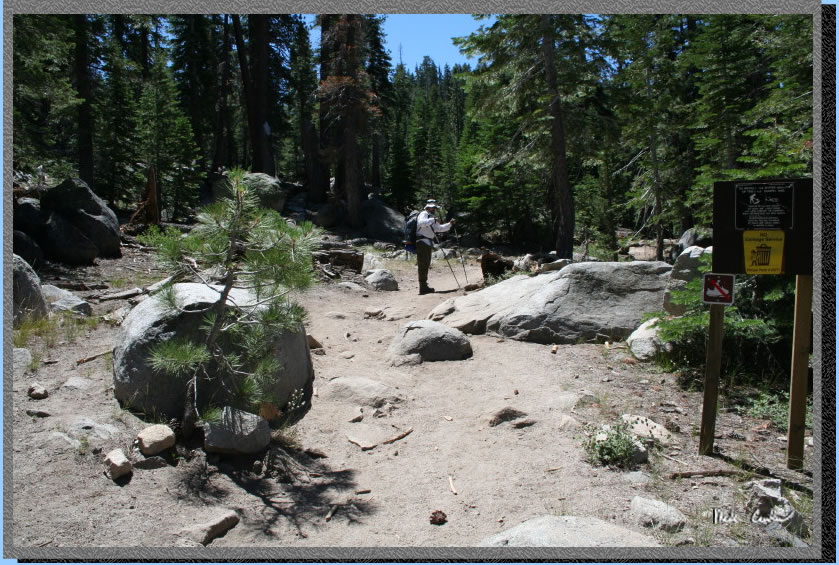 After heading up the first section the trail levels out and you come to your first junction. You want to go towards Meiss Meadow, not Scotts Lake. Not sure why the junction is labeled Meiss Meadow though, as the first meadow you pass is Big Meadow, at least on my map. I think Meiss Meadow is the one closer to Meiss Lake (still a ways away). But in any event you are headed toward a meadow and not a lake at this point so pick the meadow direction. Here is Eric after we discussed the signpost with another hiker on the way in and a map check. I have found you can never review your map too much, although it is sometimes depressing to see how far you still have to go with a heavy pack and tired legs.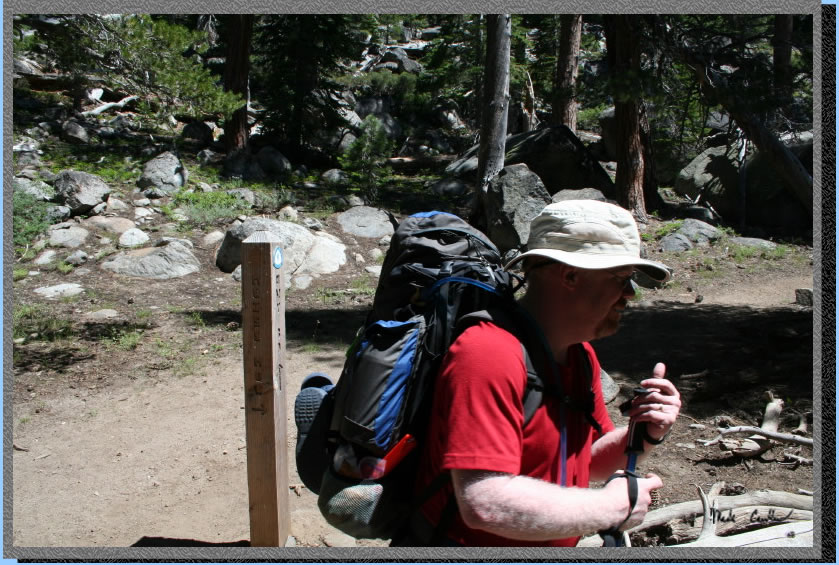 So head through the mostly covered section to Big Meadow. You get to cross Big Meadow Creek on the way to Big Meadow via this bridge. It was strong enough to help is across if you didn't stand on it too long but I hope someone repairs it before next year.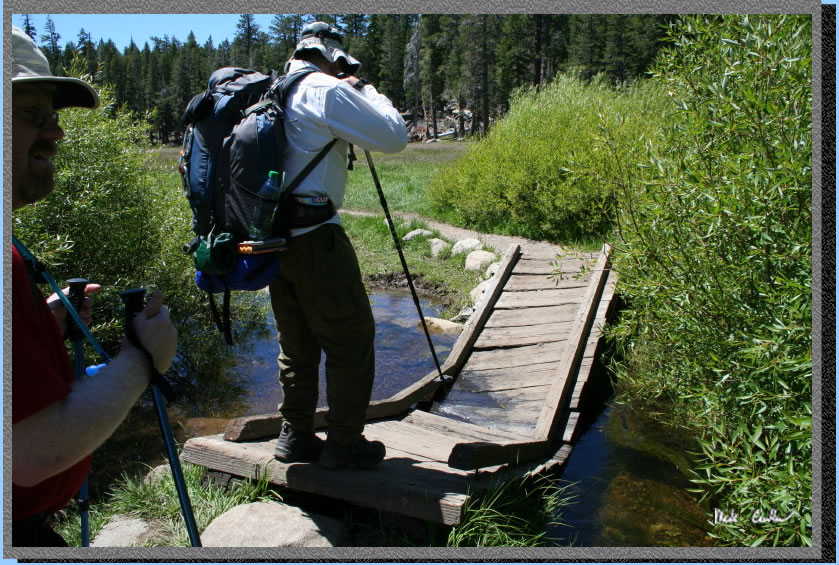 I forgot to mention that some backpackers at the trailhead let us know that mosquitoes were plentiful around Round Lake. It is a gorgeous Lake and I recommend it as a quick overnight. It has great swimming and the rock formations are just cool. Metamorphic rock is pretty interesting to look at, and if you are into it, climb. Here we are crossing Big Meadow. This year was especially wet from the late season snow and generally mild summer so it was no surprise to hear that DEET and mosquitoes would be common words on the trip.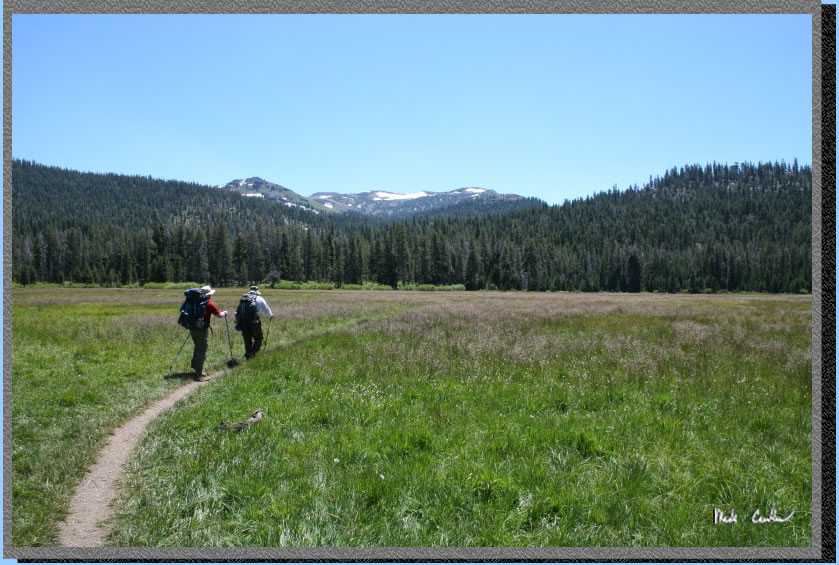 The trail transitions to a decent uphill to the top of a ridge but it is mostly covered with the grade mild for most of it. Check out the rocks on the way in. Horses and bikers are able to use this trail as well so keep an eye or ear out for them. Here we are nearing the top of the ridge. We saw both varities even on this Wednesday.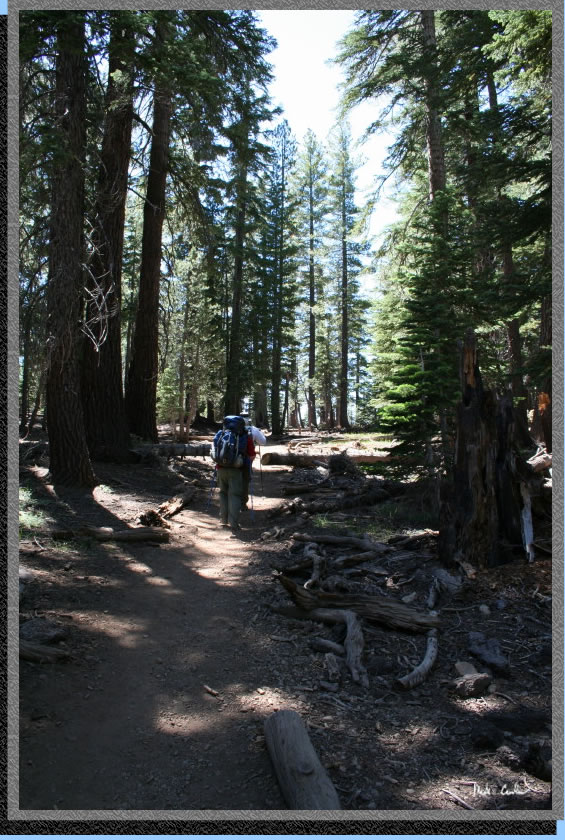 So we started our decent down the ridge via a few dusty switchbacks. I am glad that the majority of the trail was not this dusty. Dusty trails remind me of my days in Scouts at summer camp. Here is the view on the way down. There was a decent breeze on the way down keeping the bugs away from us. We had already deeted up at this point because those lovely blood suckers were already out to get us early on the trail.


Here in the next junction to Dardanelles Lake. Continue on towards Round Lake through a mostly covered section with gradual uphill.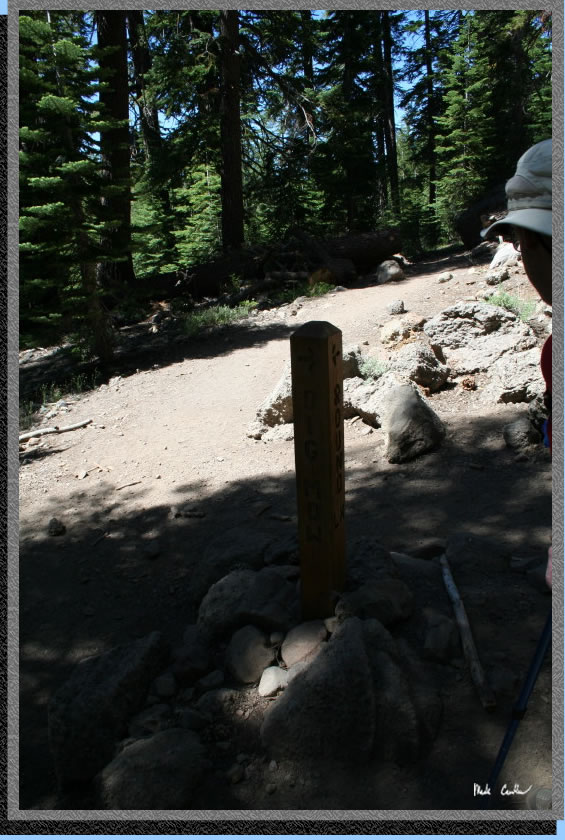 Here is a good example of the rock out here. It looks a bit like really rough concrete aggregate but it is naturally made through volcanic action.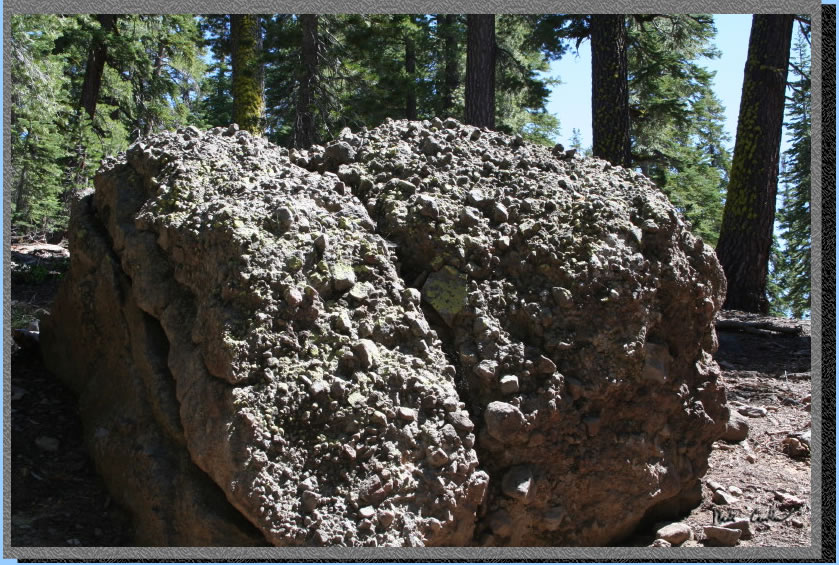 With it getting late in the day and us needing to get 5 miles done before picking a camp we had to keep on trekking past Round Lake. We stayed on the east shore of the lake where I grabbed this shot. There are many campsites around this lake and with the size of the lake you can have a fair amount camped around the lake before it feels crowded.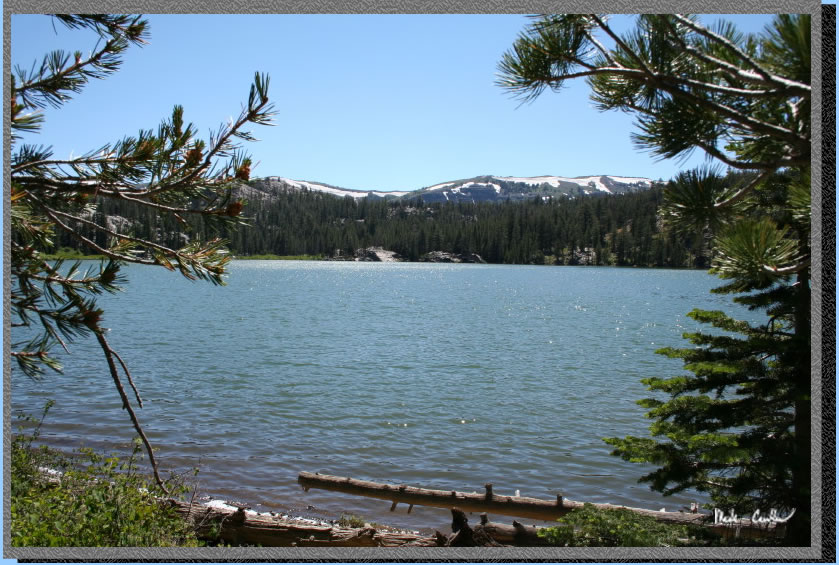 As we traveled around the lake we saw this rather stiff fellow perched on a log. He wasn't much for conversation so we continued on.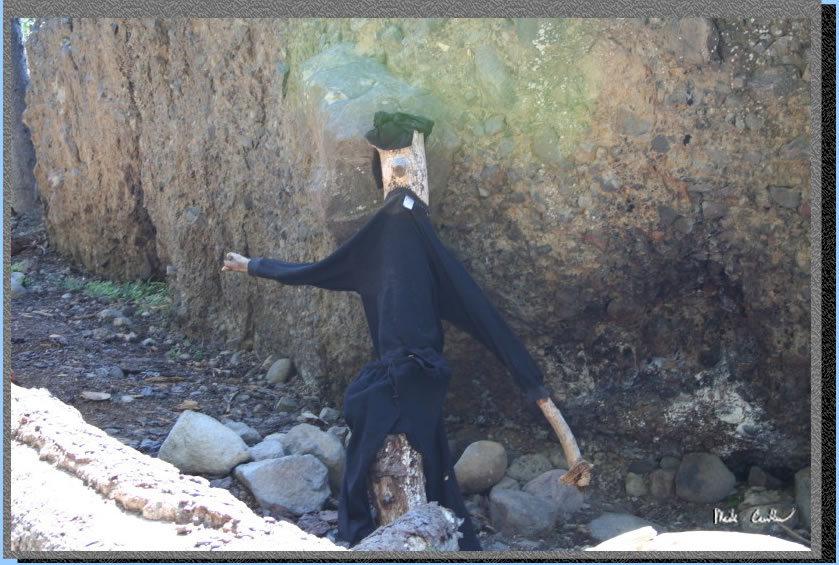 The trail starts to head up after you take a left to head away from the lake. We had our first taste of the wildflowers through this section.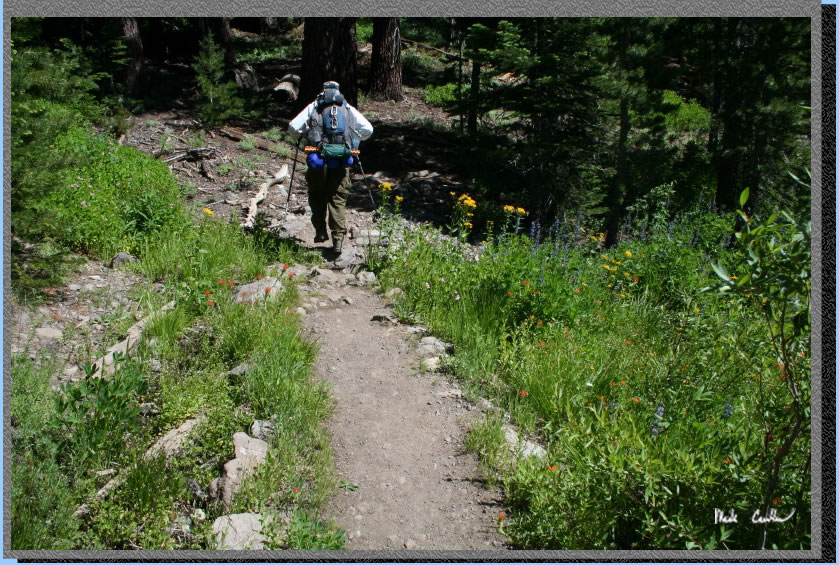 I am just going to say now that I took a lot of pictures of flowers but not any really captured what it was like out there. This was one of those trips you just had to be on to see for yourself. Don't worry though I did get a few decent shots along the way.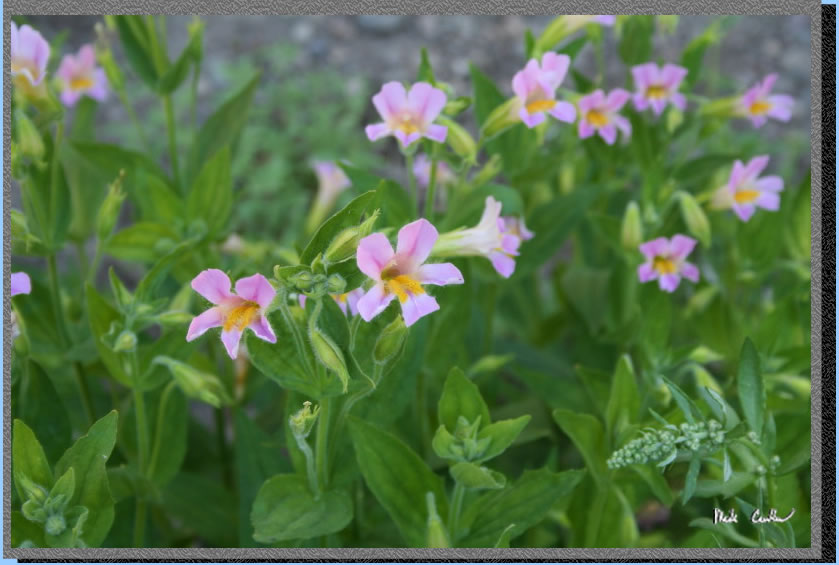 So we left Round Lake behind us (well below us technically). It was a little weird to see it from this angle as I have explored many areas around this Lake but never this section of trail.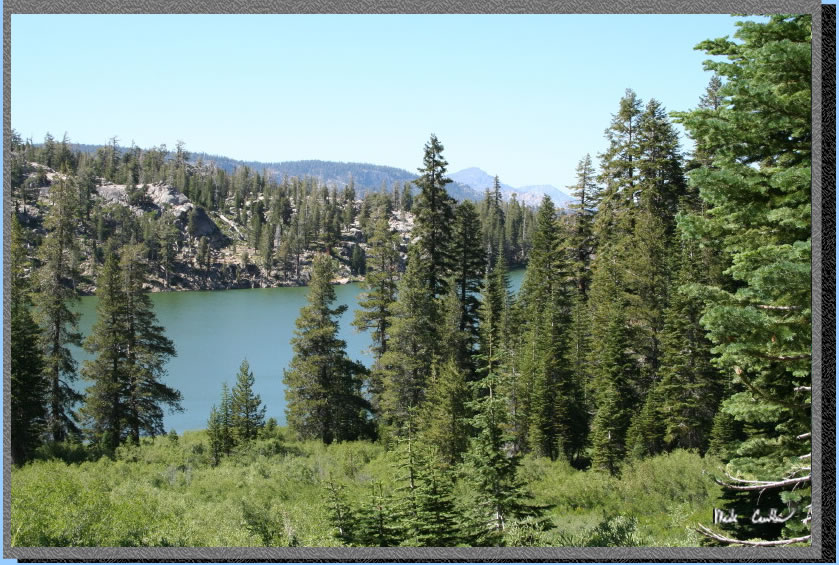 There was plenty of water still coming out of the hills. None of the crossings amounted to much as for difficulty but this one was very creative. The water goes right through a downed tree on the left and around a live tree in the middle before rejoining at the trail. As you can imagine the sound of it cascading through the terrain was amazing and not captured here.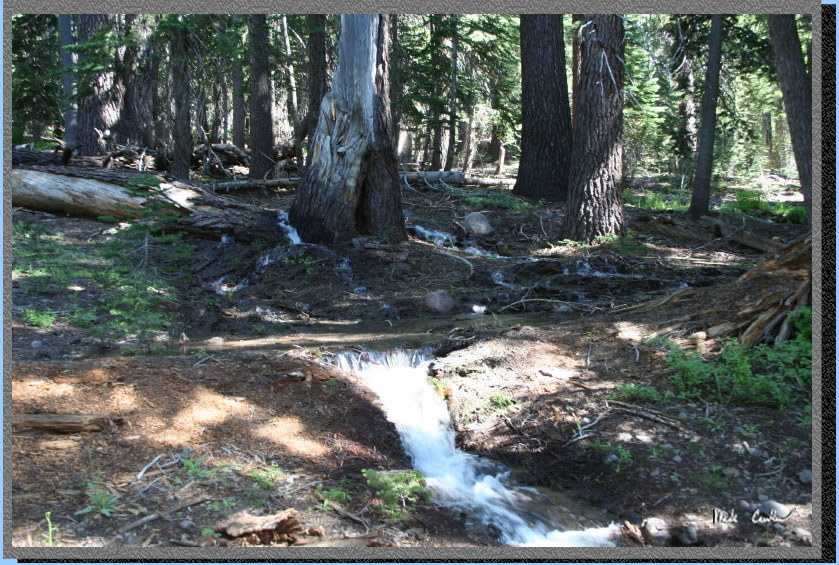 The trail was mostly level after the section to get above Round Lake. It was mostly covered but this section opened up to a decent meadow. We decided around here to find a good water source and call it a day (we had almost done our 5 miles at this point).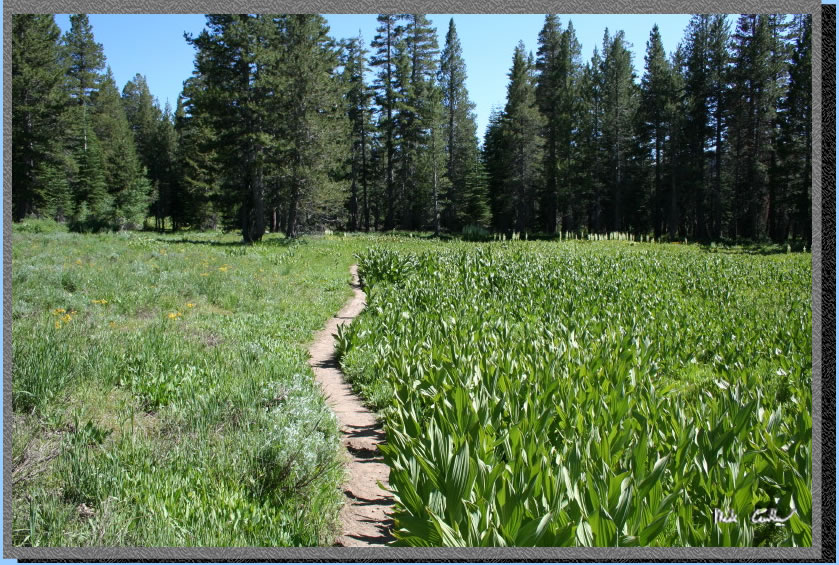 Another shot of the meadow above.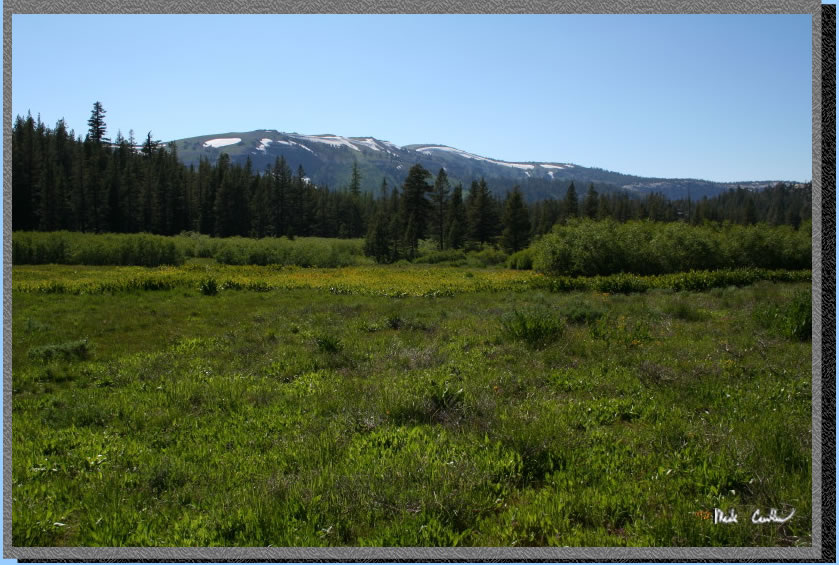 I don't have many pictures of our first night's camp. We moved camp once in an effort to find a more mosquito free zone but after we moved camp to what I thought was mosquito free they quickly came back. I still think it was better than our first camp selection since it was more open. We had a fire and reapplied Deet so as to ward off the pesky blood suckers. There was plenty of dry downed wood so we had a fire in no time. Water was probably 1/ 8 mile away but that was OK because when we filtered water those mosquitoes were bad down there. Did I mention the mosquitoes were plentiful! We slept in that morning and I don't think we hit the trail until almost 11. But we had all day to hike so it wasn't that big of a deal.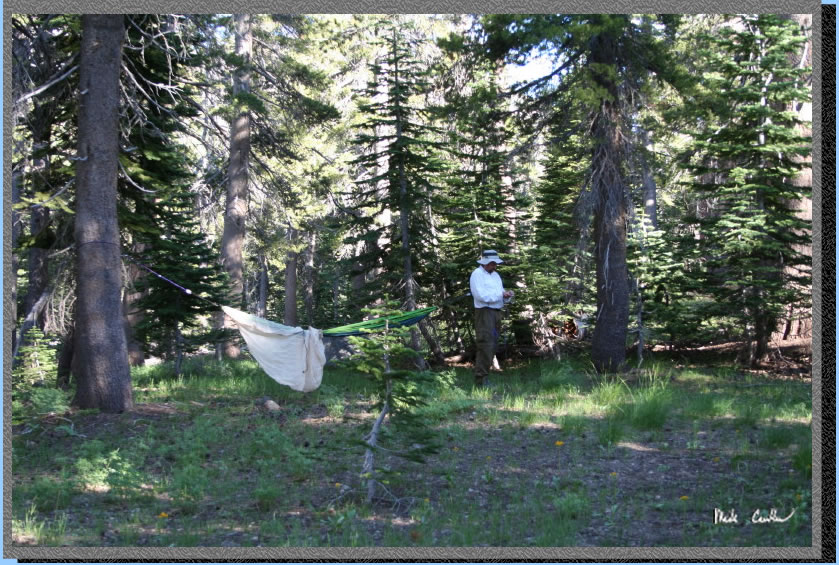 Here is my shot of camp that morning as we were packing up. Leo is the lucky guy in the hammock, Eric slept out (well mummified in his bag to keep the bugs away) and I used my 1 man Sierra Design Lightyear. We were way off the trail and well away from water. I think I heard people on the trail once before we left.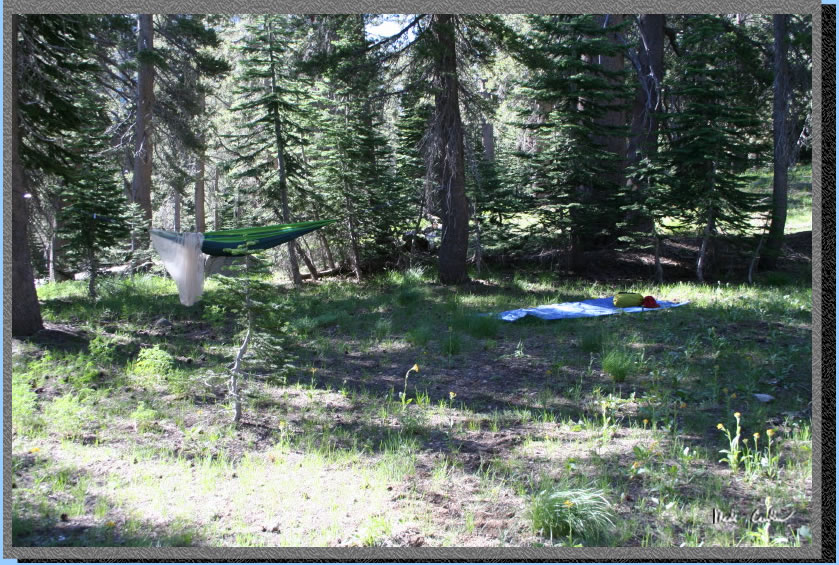 So here is what I really think is Meiss Meadow, or at least close to it. I had Leo take a shot of me, well actually he suggested it since my kids always ask if I went on the trip when I show them pictures. Telling them I was the one shooting the pictures is just starting to sink in with the oldest. Patches of snow can be seen on almost every ridge. We ran into just a couple tiny patches on the way in the day before. Nothing impressive enough to post a picture of, yet.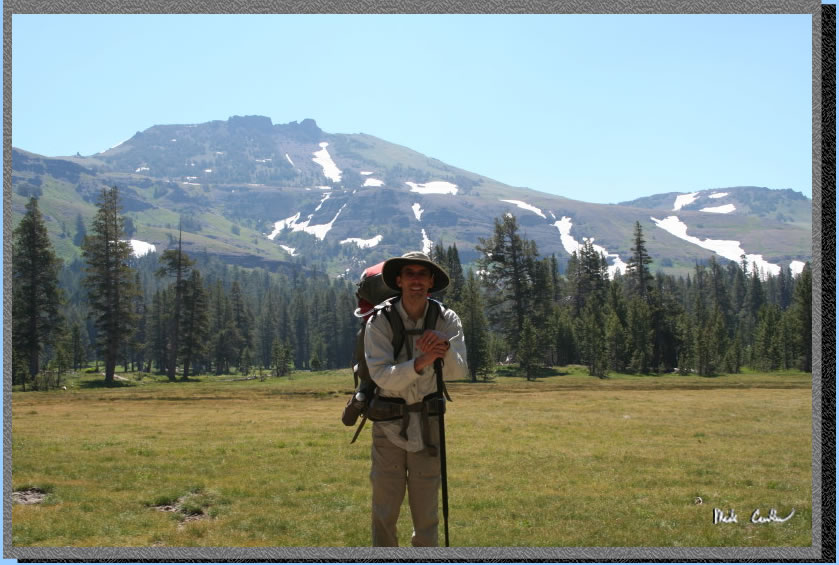 The section of trail from our camp to the PCT junction was level to slightly downhill. It was really nice with it being covered until the meadow section. Slight breeze again today but a little more sustained which was nice. Cabin and barn in the distance can be rented out per some cowboys we spoke with about 9 years ago, or so. How time flies. In any event take a right to head to Echo Summit or a left to get to Carson Pass. We actually had cell coverage the night before so we tried to get word to Todd that he could meet us here today. Unfortunately we could not reach him live so we couldn't coordinate it.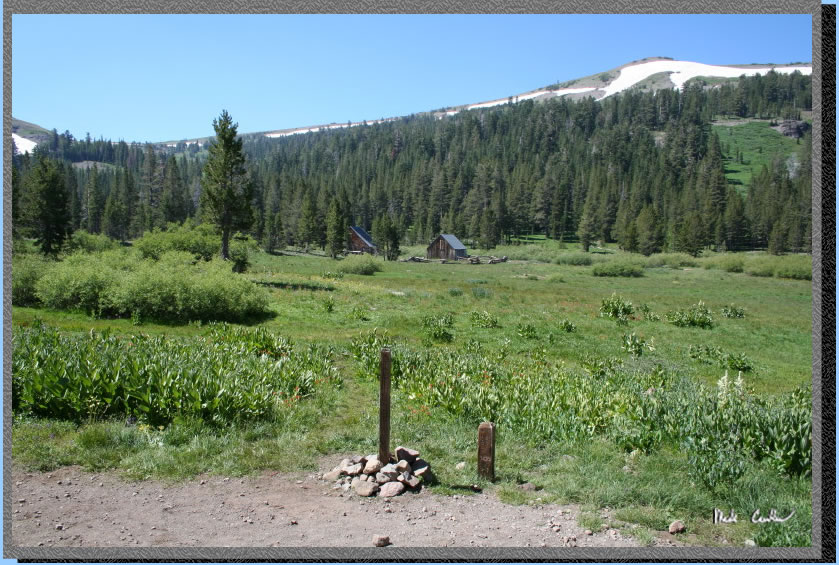 The trail is level through the meadow. I think this is still Meiss Meadow but I don't know for sure. All I know is pretty soon you can see Meiss Lake and it appears to be pretty meadow-e to me. The trail has two to three tracks through this section.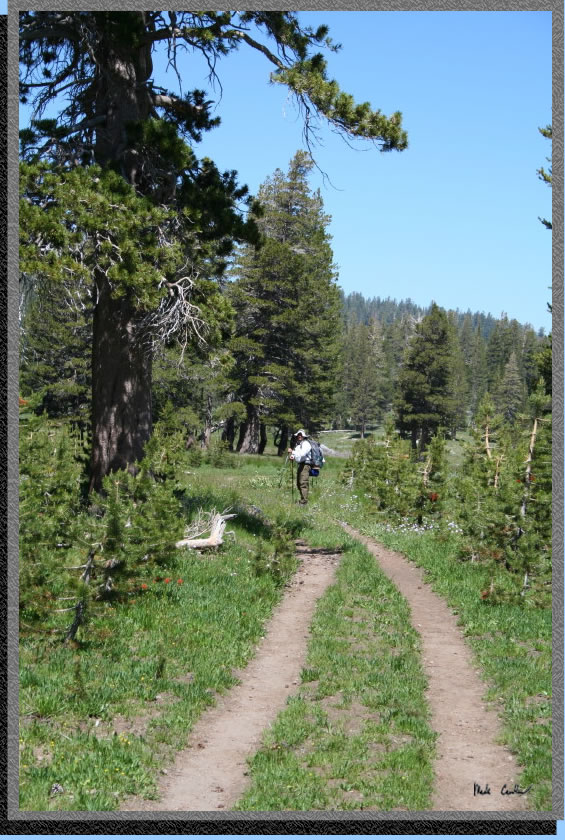 Wildflowers were everywhere which for mid August was just amazing.


Here is the Upper Truckee River crossing. It doesn't look to bad, because it wasn't. Remember we are up where the river starts close to the snow. The water was damn cold though.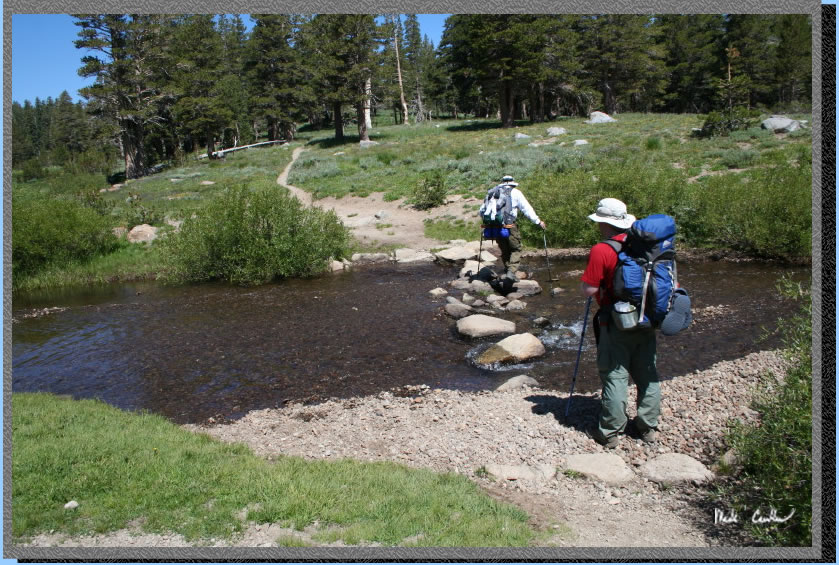 The wildflowers only seemed to be getting better the farther we hiked on this day. I took this shot just to try to capture the assortment of flowers on one little section along the trail.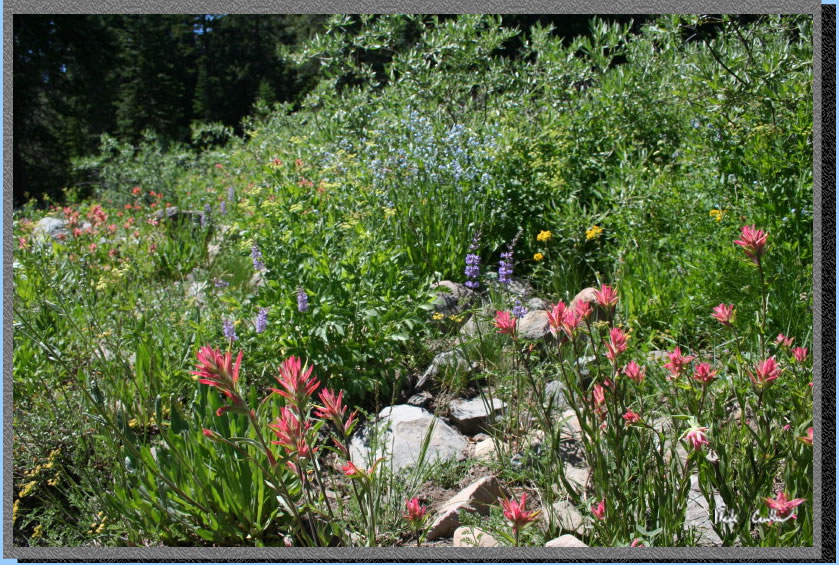 There were lupine, mule ear, larkspur, paintbrush and corn flower all over the place. You pretty much had to stay on the trail or be stepping on wildflowers in most open sections. The trail is mostly up but gentle grade.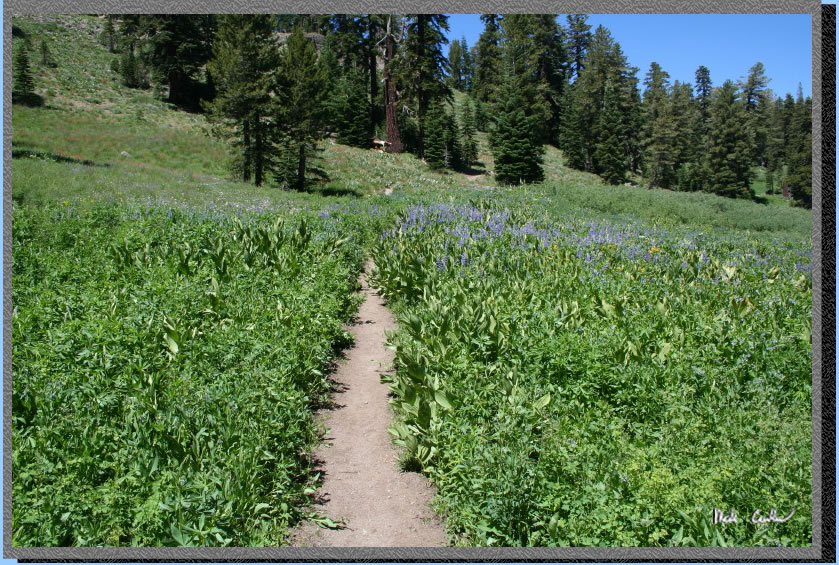 Another great wildflower shot.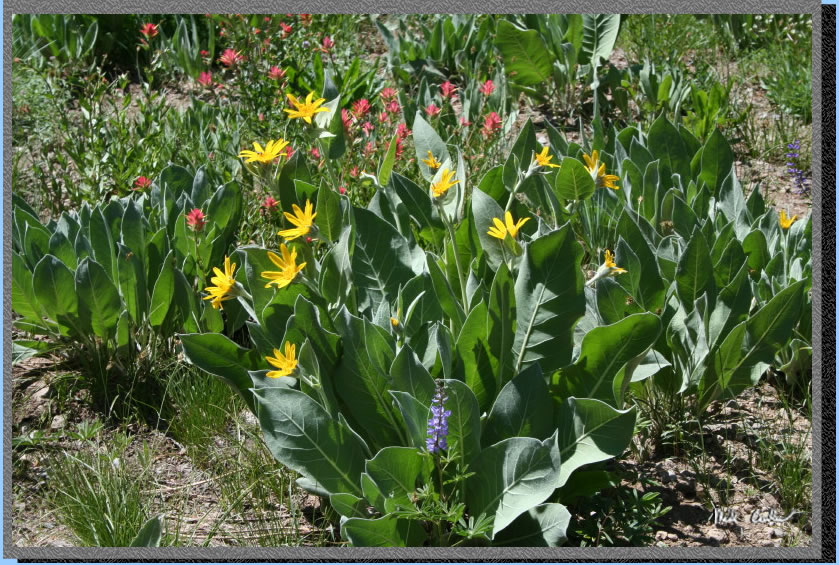 Here is Leo taking it all in. The trail starts to climb a little more now but it didn't seem bad at all. Maybe the views of the surrounding terrain and flora made us forget we were hiking at 8,000 feet uphill. Of course I was stopping all over the place to get pictures as well. My own version of rest breaks I suppose.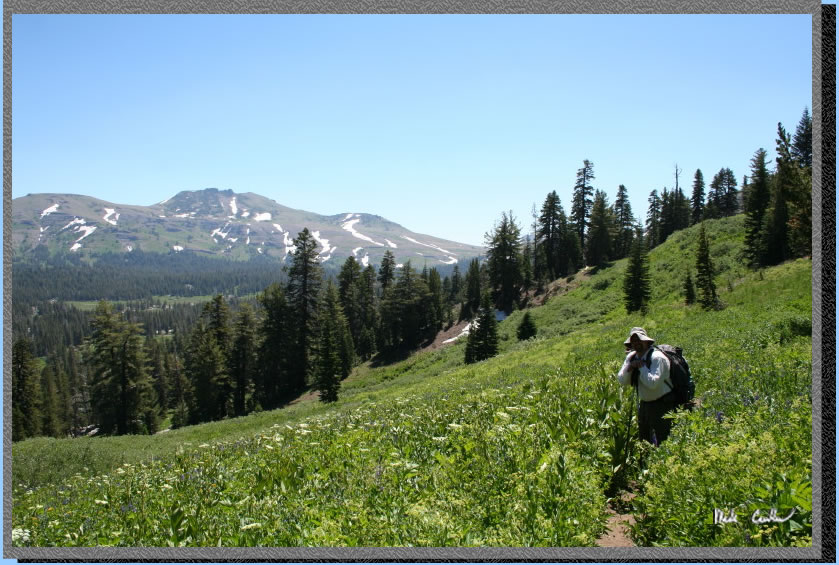 Beetle or some other hungry bug ate this tree up before the bark fell off.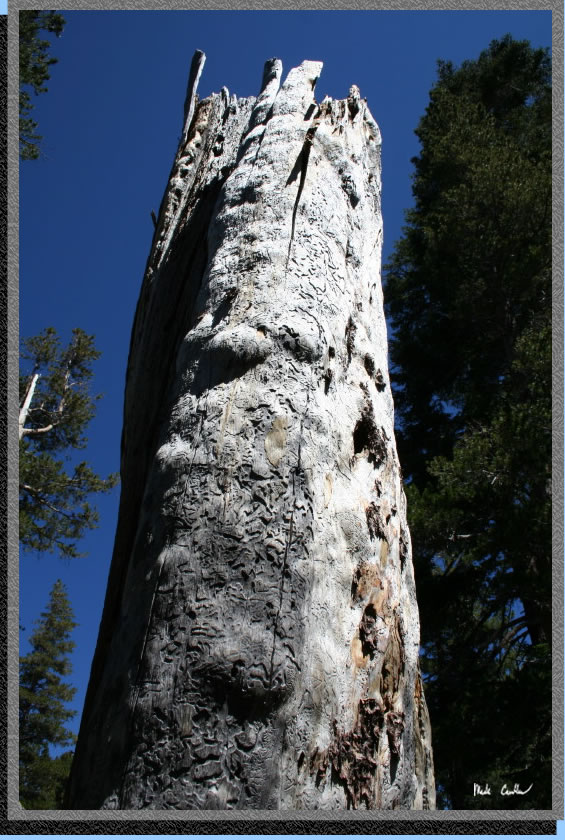 The snow was getting closer now as we approached Showers Lake. The final trek up to Showers Lake is a bit steep and the elevation certainly doesn't help you travel any faster. Here is a clearing before the steep section.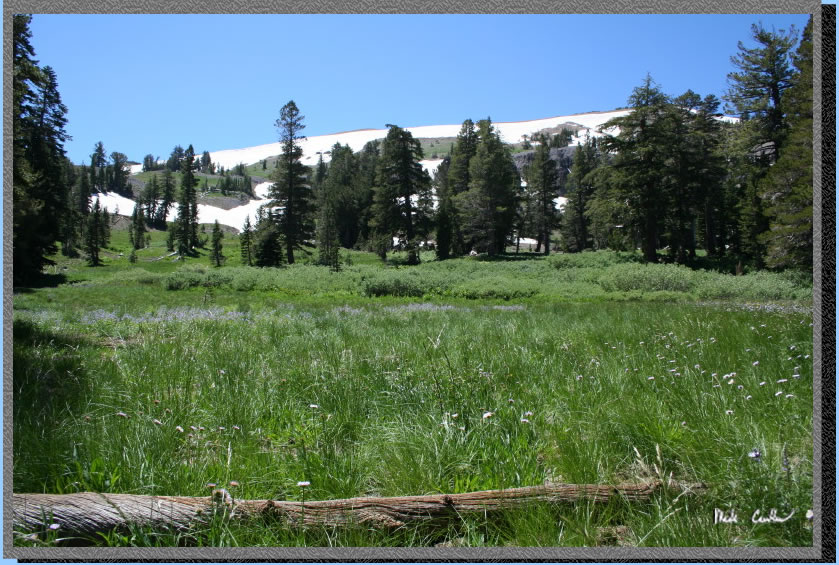 So my picture of Showers Lake captures the meadow around it and to the west well but Showers Lake is barely visible. We decided to stop here for a lunch break which was nice. A word on the route through here. The PCT and TRT, which are the same trail through this area, have been rerouted to the outlet side of the lake. Not sure when or why but old maps show it through the section in this picture along the ridge. You probably could do it but get ready for marsh conditions. Newer maps and descriptions have you go down to the outlet and back up that side. It is much rockier but you are doing much less damage to the landscape traveling over the rocks as opposed to the original route.The trail to the outlet is well marked.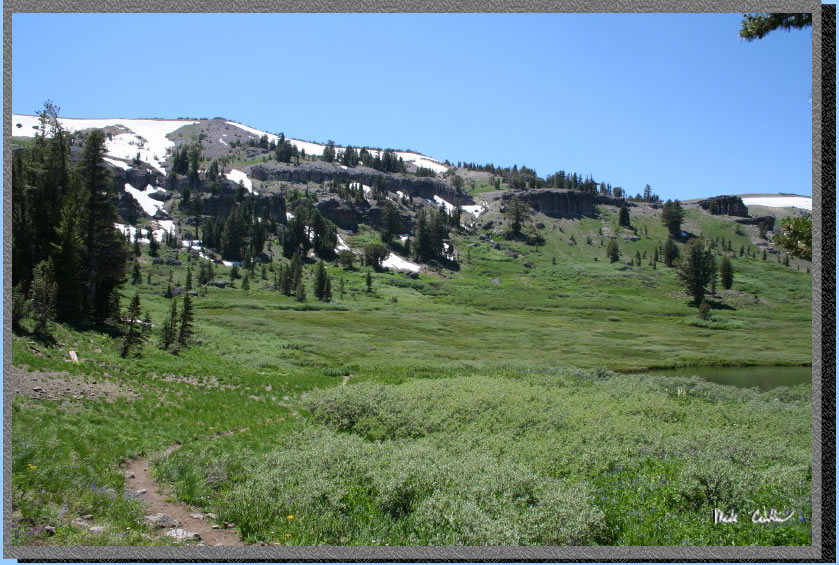 Here is the outlet at Showers Lake. It made a great place to filter some nice cold water. I have swam in the lake before and it is damn cold even after the snow melt stops.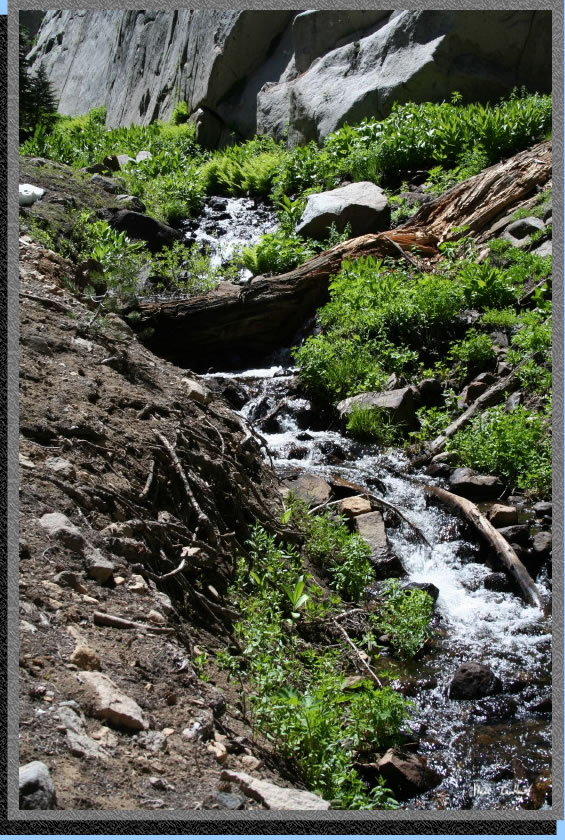 So you could say there is a little snow still in spots. This is the largest of the snow fields we had to cross. You could tell this was (I guess technically still is) an avalanche chute. The downed trees give it away. There is also a snow feed creek running under this snow field so we crossed it carefully and quickly. It was late in the day by now so it was mushy enough to have good traction and also be weaker snow. Here we are getting ready to make the trek across. Trekking poles can be real lifesavers on sections of trail like this when traction is a problem.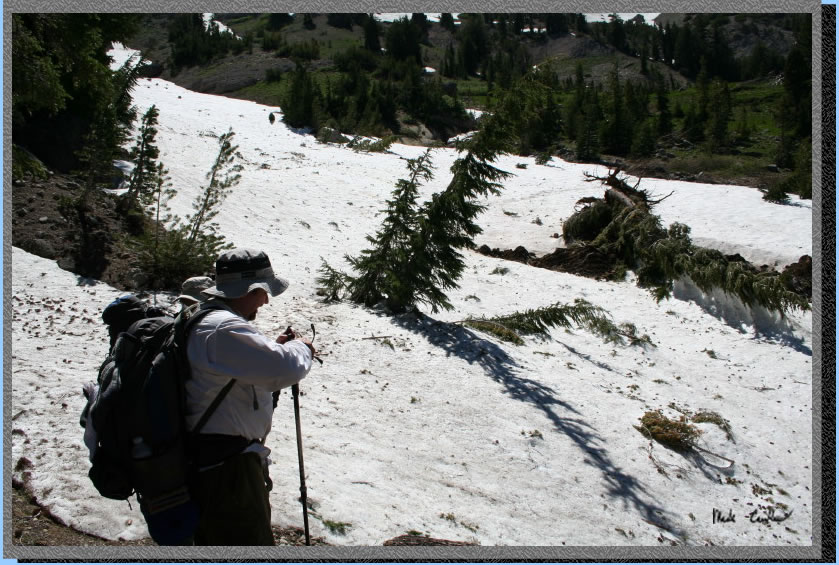 Continue to Page 2 by clicking here. Scroll down for map and elevation profile.


Red line shows the section of the Tahoe Rim Trail we hiked. Elevation profile below map. Click on map or profile for larger version.
.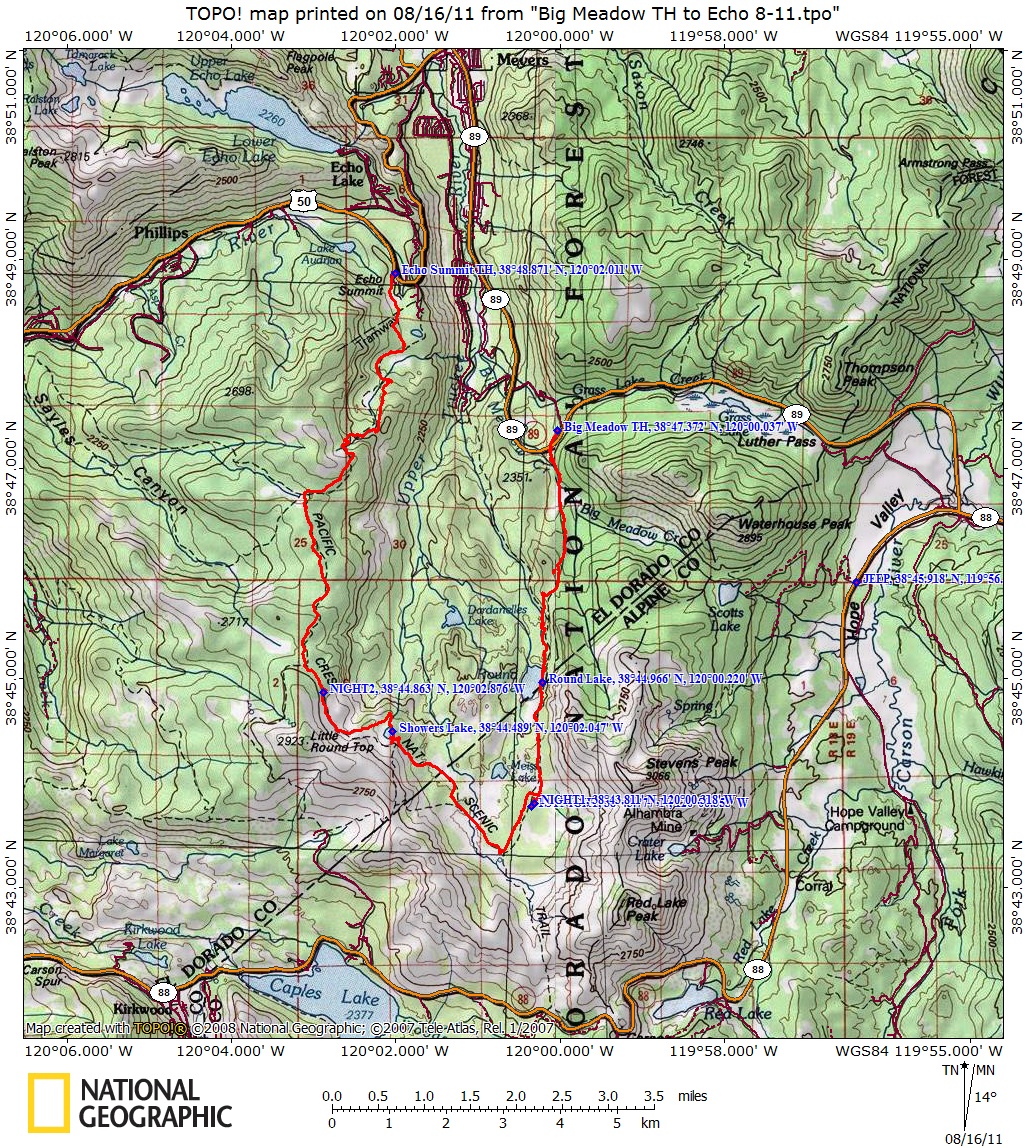 (back to top)
Page 1 of 2