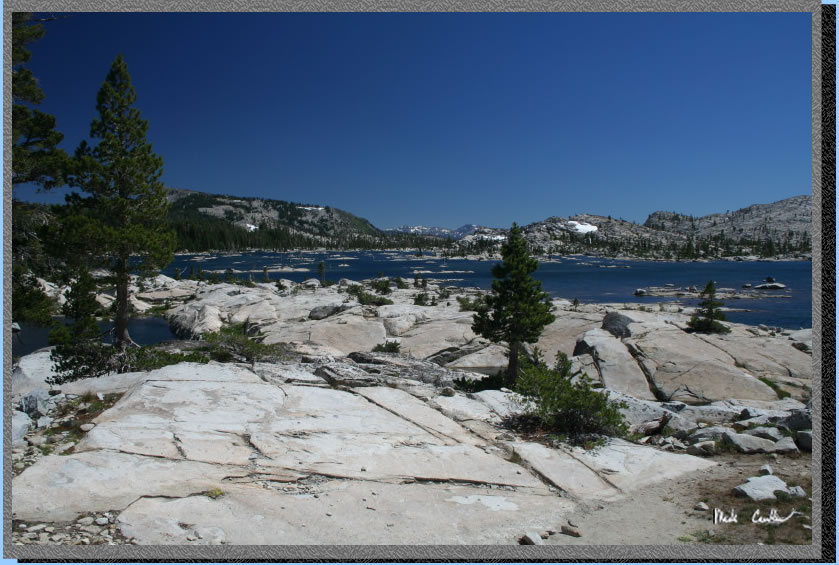 Desolation Wilderness is popular and Lake Aloha is the destination of choice in this Wilderness so make sure to get your permit ahead of time so you are not disappointed (or your overnight backpacking trip could turn into a day hike). They are still using the quota system by area for your first night out. That means you have to camp where your permit says the first night and then you are on your own. Permits can be obtained from either the Pacific Ranger District 4 miles east of Pollock Pines (530-644-6048) or the Lake Tahoe Visitor Center 3 miles north of Highway 50/89 junction on Highway 89 (530-543-2674). There were three of us on this trip but David and Eric were able to get a couple more days off then me so they headed out on a Wednesday with me meeting them on the trail on Friday. There are many ways to get to Lake Aloha (the easiest being via the Echo Lake Trailhead, see trip description to Tamarack). I chose to head in from the Glen Alpine Trailhead as it cruises by some waterfalls and lakes on the way, and I haven't hiked that section of trail before (about 7.5 miles each way, see map and profile below). David and Eric headed in from the Echo Lake trailhead which left me the option of a shorter hike on the way out (but a long shuttle car ride back to my vehicle). The Glen Alpine Trailhead can also be used to get to nearby Gilmore Lake and approaches to Mt Tallac. If you haven't done the hike up Tallac put it on your to do list as it is well worth the effort. To get to the trailhead from Echo Summit continue east on Highway 50 to the north 89 junction. Continue straight onto Highway 89 and head north past Camp Richardson and then look for Fallen Leaf Lake Road on the left hand side. The road in goes along the lake and is very narrow (one lane). Stay on this road until it dead ends into the trailhead parking lot. You go by quite a few private cabins (and have some nice views of the lake on the way in). You pass right by the Fallen Leaf Lodge and also the Fallen Leaf Lake Fire Department. This is a popular trailhead, so get there early or you will find yourself parked on the road on the way in.
So here is the view from where I parked, along the road, on a Friday late morning. Yes, I didn't follow my own rule of getting there early and suffered the consequences.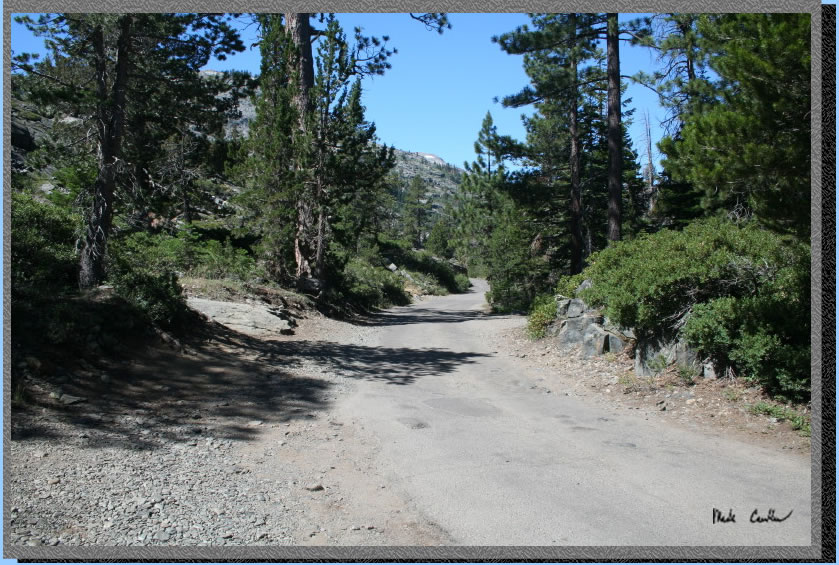 Just around the corner from my car is the bridge that carries you into the trailhead parking lot. No water is available but there are trash cans and pit toilets (you could filter water in the creek if you forget). Walk through the parking lot to access the trail on the far side. Day permits can be filled out at the trailhead. This is bear country so don't leave anything bears will want in your car. I haven't heard of any bear encounters at the trailhead or on the trail in this area but it is always best to bear proof your car.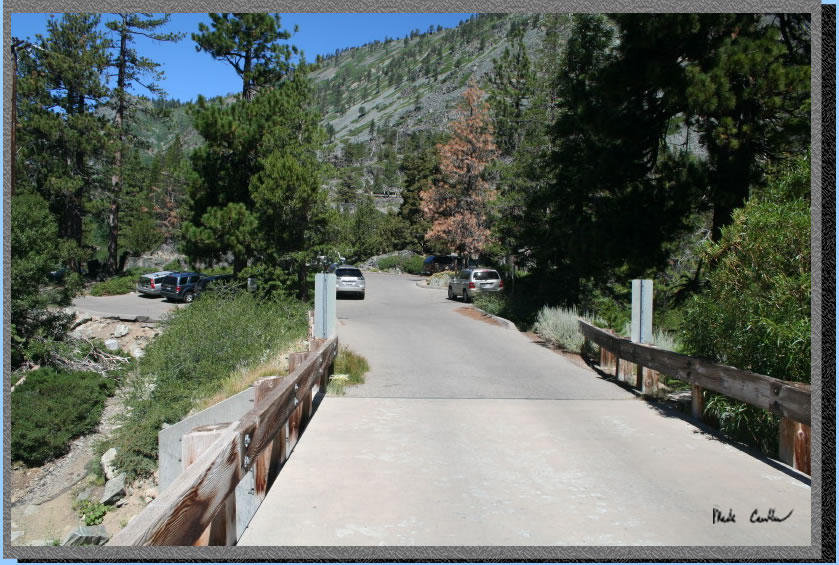 The "trail" on the way in is actually a road used by a few lucky enough to live right outside the Wilderness Boundary. I have used this trail a few times and have seen a car each time so use your ears and you won't be surprised. There was fresh rock on the trail/road this year which made it less dusty but a little harder to walk on. This first section of trail is a great warm up as it has a very gentle grade and follows Glen Alpine Creek.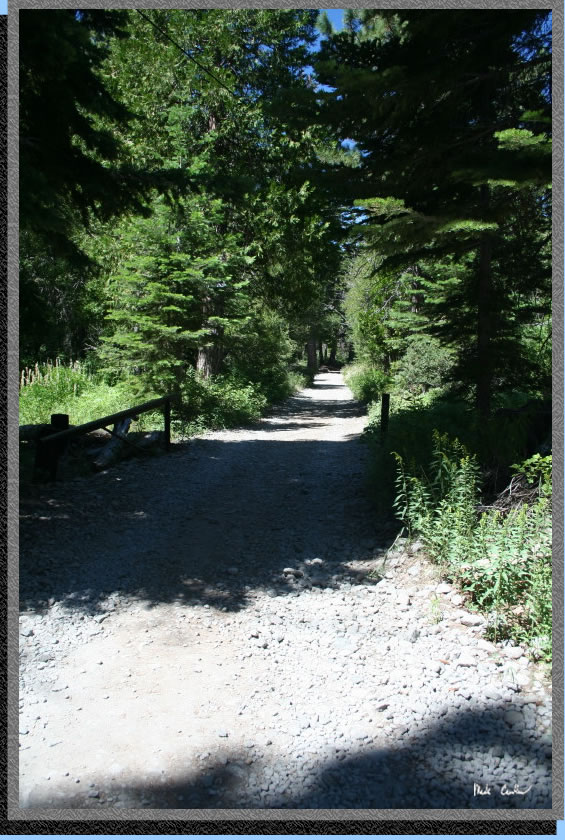 Here is Glen Alpine Falls on the way in. There is a cabin that is quite literally at the falls (to the right of this shot). Lucky! As you can see the falls were still flowing good even though it was late in the season.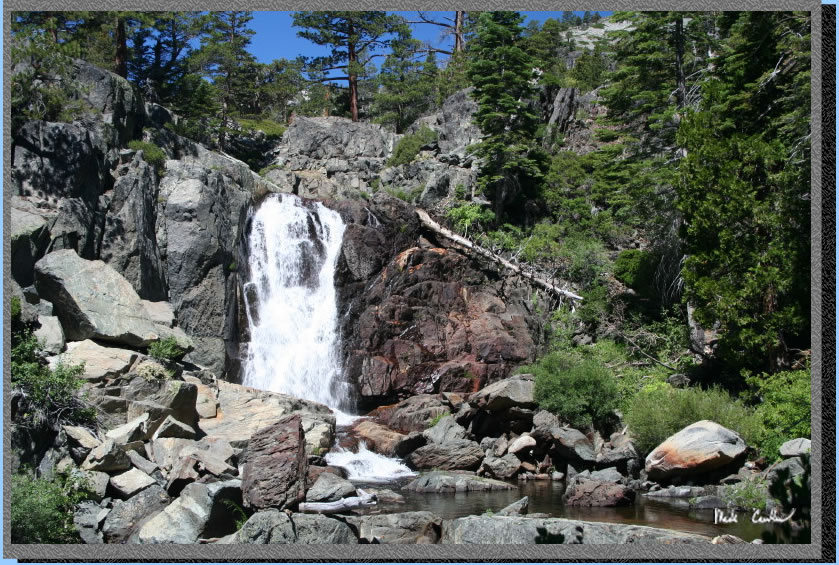 Here is the actual Glen Alpine Spring. Someone must have forgot to shut it off as it was flooded. No seriously it appears we have plenty of water from the above average winter snow. The interpretive center was not open either on my way in or out so I am not sure if it was closed due to budget or the high water.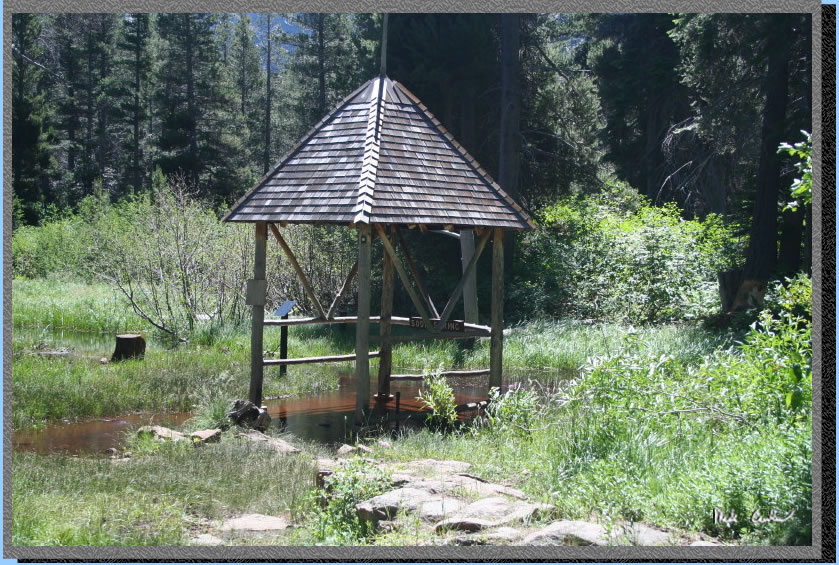 Now you get to start on the "up" part. The trail/road turns into an actual trail just before the junction to Grass Lake; you start up shortly after that through some switchbacks. Make sure you stop to look at the scenery behind you on the way in. There are some great views and it will give you a chance to catch your breath.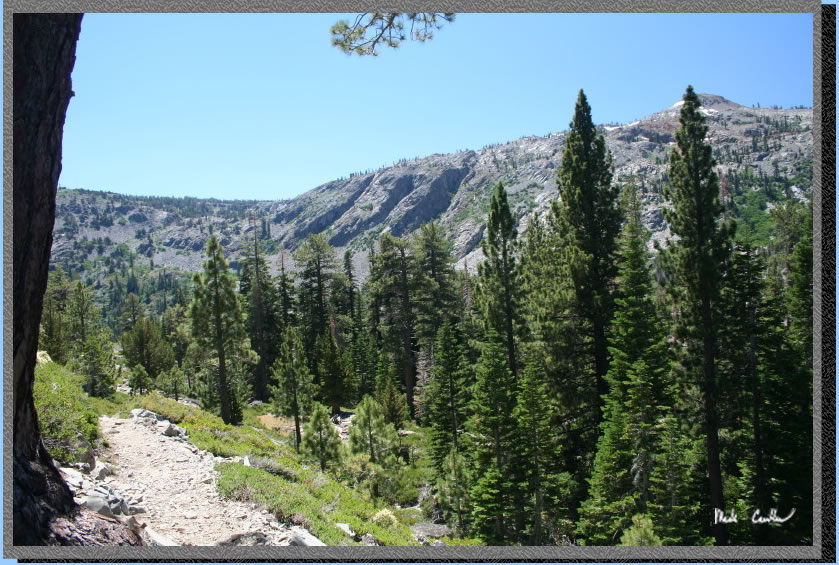 Granite is of course everywhere and tree cover is very sparse the higher you get. You are in a wilderness called desolation remember.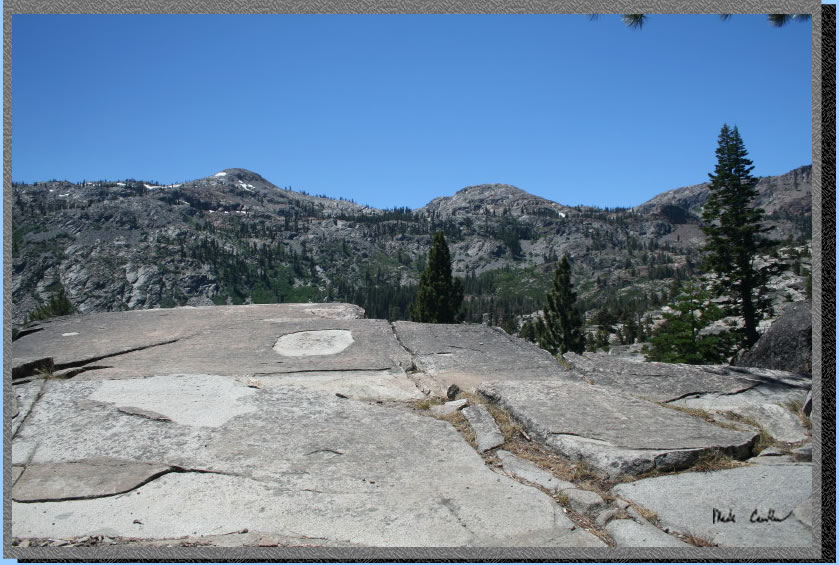 Usually you have to be there early in the summer to catch meadows like this. But with the mild summer and the above average moisture lingering things were mostly green.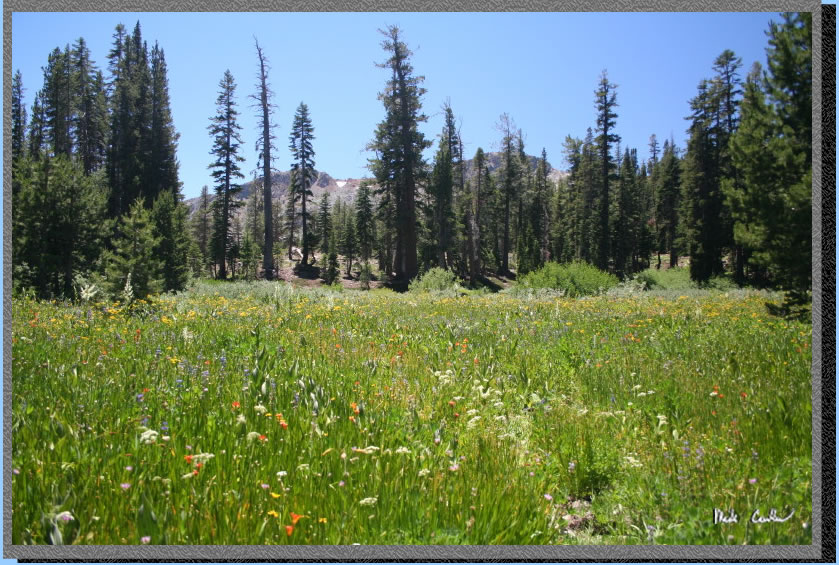 Here you can see the Crystal Range above Lake Aloha (my destination and rendezvous point) still with snow on it (yes snow).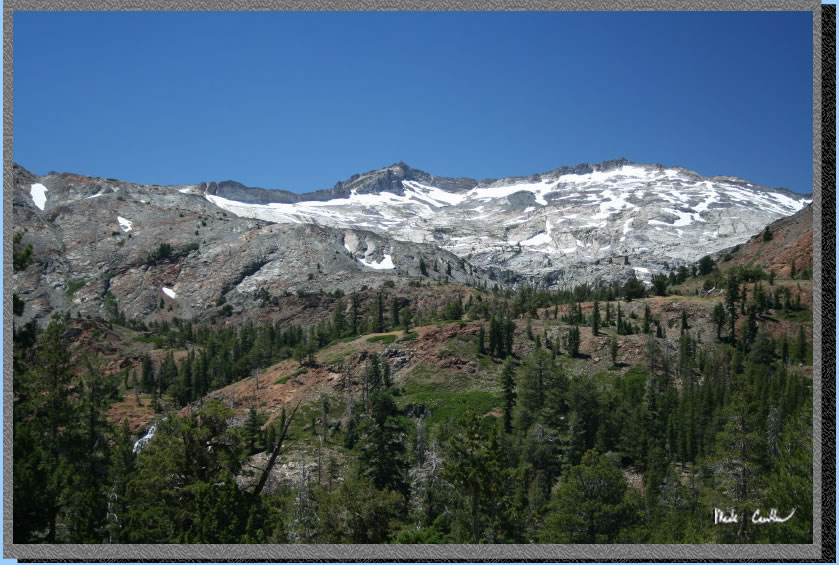 The first lake you come across (assuming you stayed on the trail) is Susie Lake. This is a beautiful lake and with the breeze gusting to 25 mph or so it was accentuated by perfectly blue sky.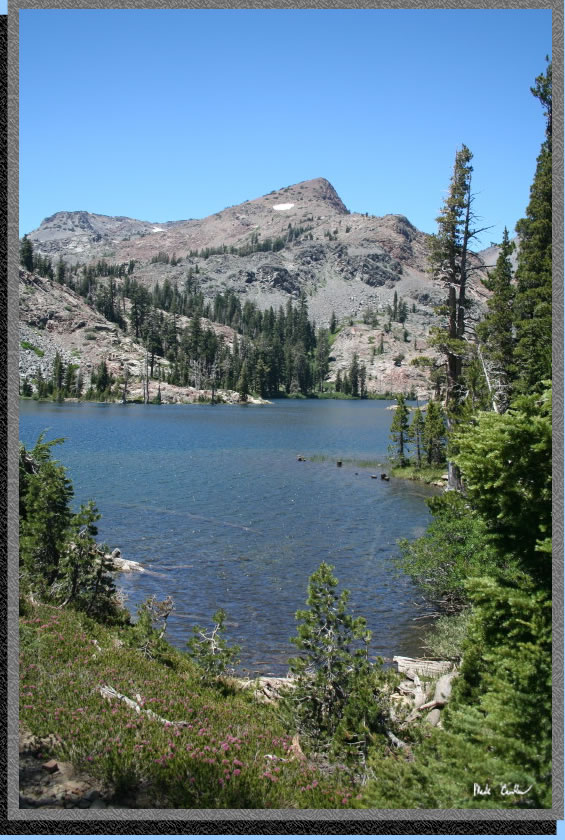 Another shot of Susie Lake as the trail circles the south side. I saw quite a few hikers stopped at this lake looking both back the way we came and just enjoying the beauty of this lake.


It was hard to take a bad picture of this lake. I believe the highest peak in this shot is Mt Price.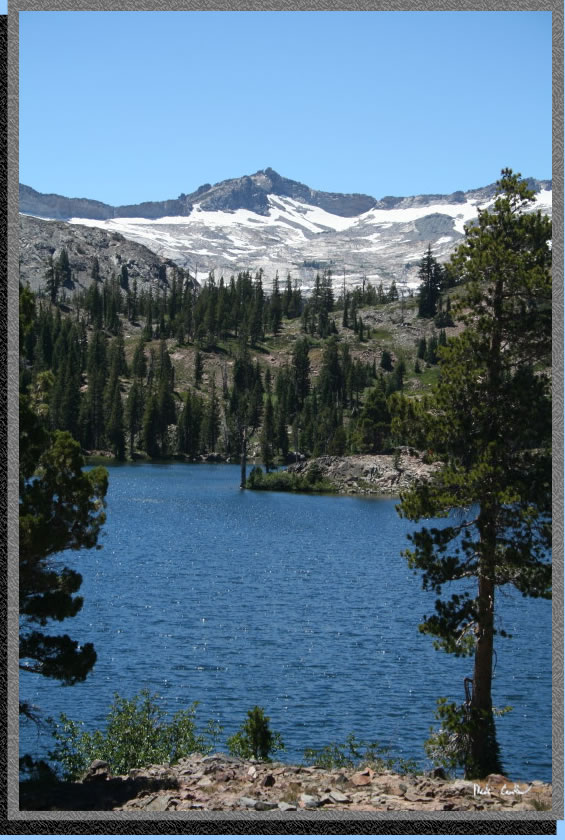 Not sure how much longer this snowdrift has but it was cool to see a few patches so close to the trail.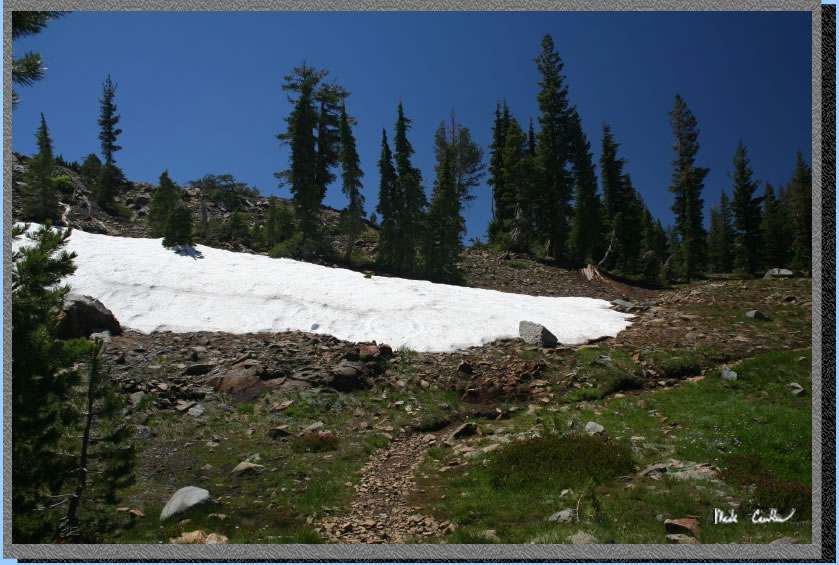 This is a picture of Susie Lake looking back on the way up to Heather Lake.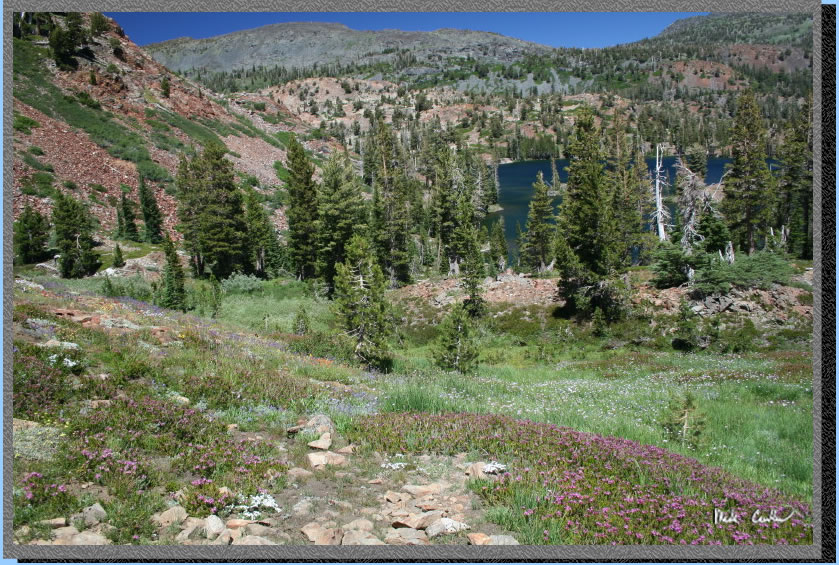 The trail conditions were pretty good. This is a well maintained trail. There are some rocky stretches as to be expected with this area of the Sierras. This is the last up part to Heather Lake.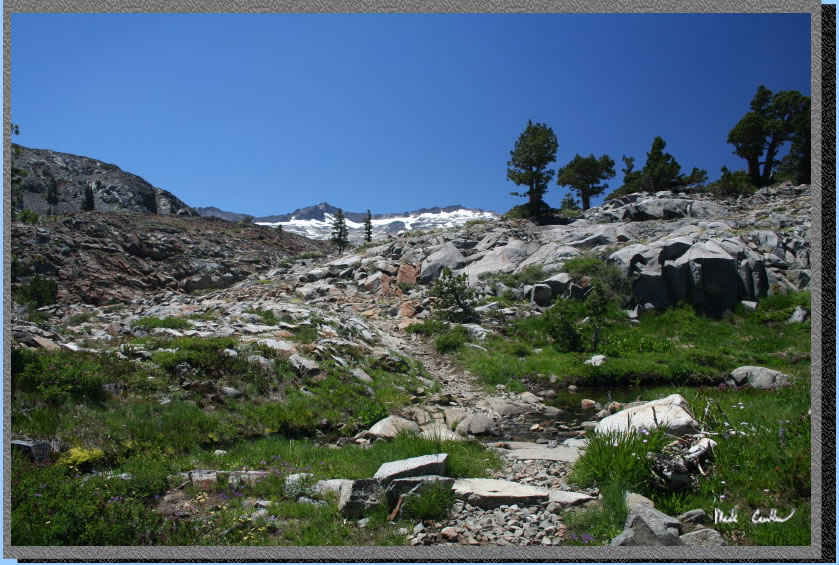 You are now at Heather Lake (and the worst of the up is over). The trail passes on the north side of Heather Lake and from the looks of the depth of the lake you don't want to fall in. The trail crosses a steep sloped boulder field so try not to stop as you cross it. I imagine being hit with a falling rock is sure to mean you will be sent into the water.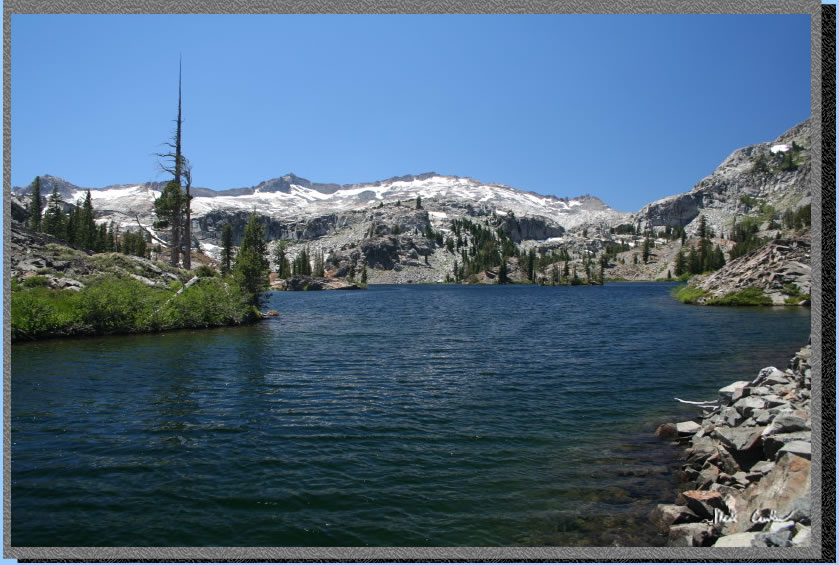 Here is a shot looking back at the boulder field after I safely traversed it. Boulder is a little bit of an exaggeration but due to the height of this slope even the small rocks present would be a significant hazard should one tumble down.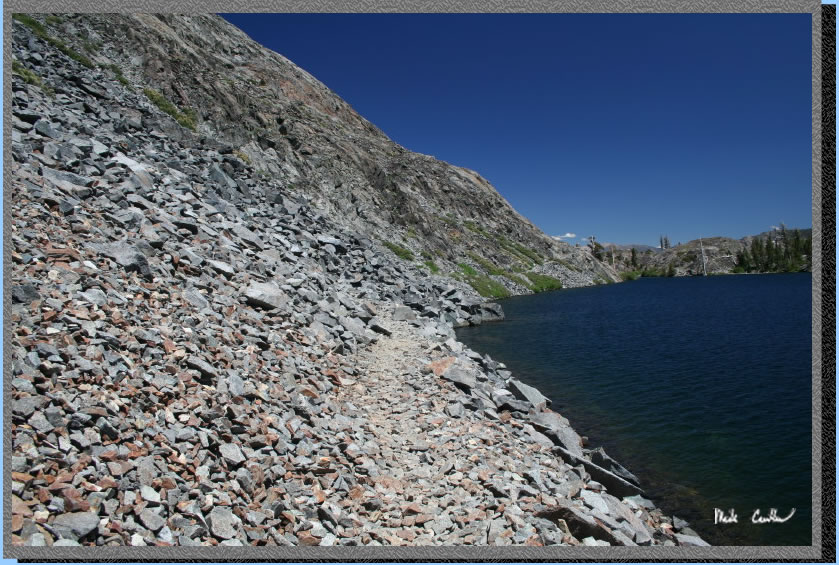 One great thing about this trail is how varied it can be at times. Here it narrows to a single track and dips into some cover.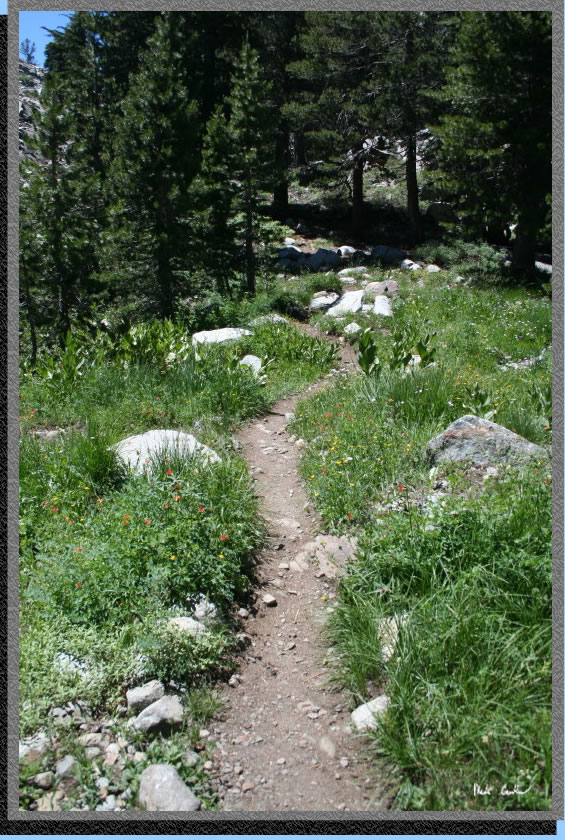 Another shot of the trail between Heather Lake and Lake Aloha. Getting close now.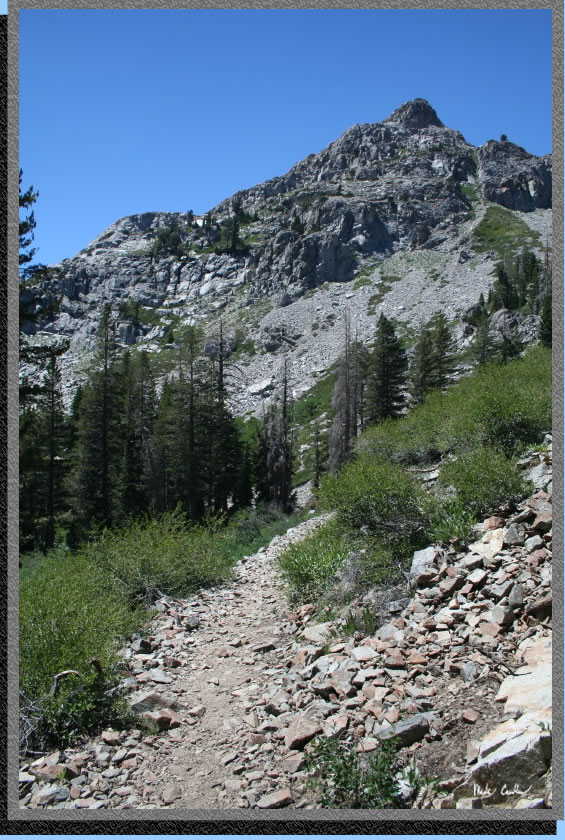 So walk the plank.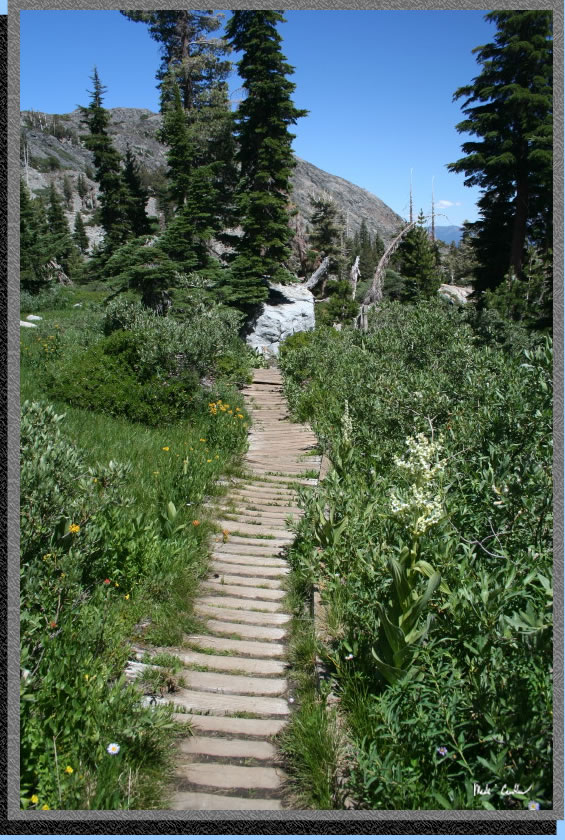 Take a look back where you have been.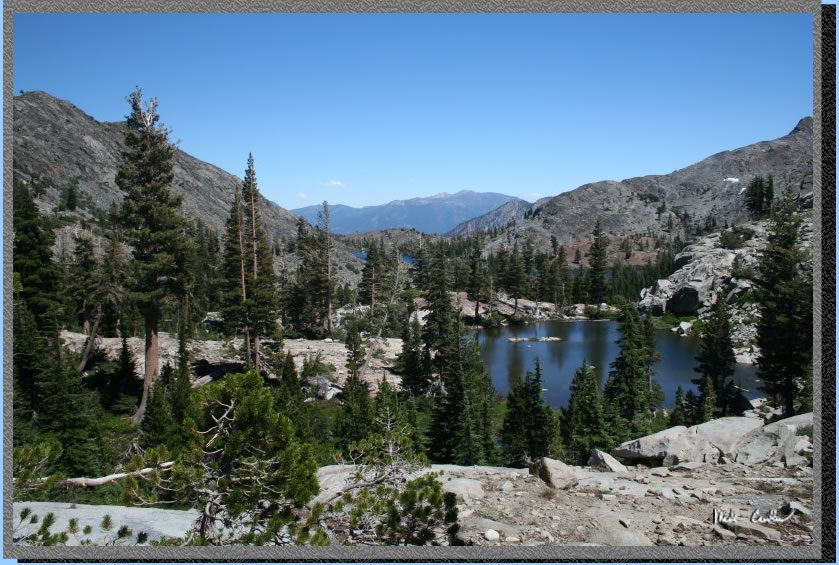 Then hike a few more feet up to reach the eastern end of Lake Aloha. Unfortunately most of the more sheltered camping spots are on the western end of the lake, so keep walking.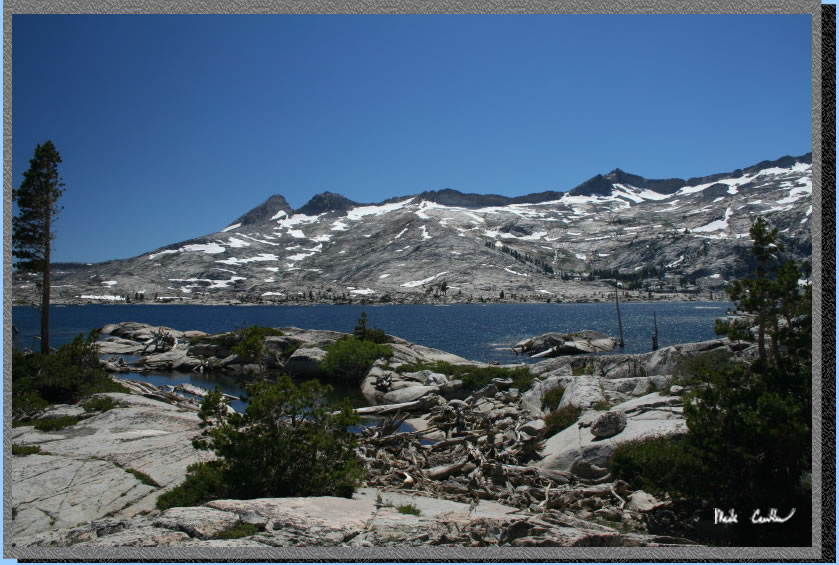 Another shot of the east side of Lake Aloha. You can see it is mainly granite along the lake so camping spots aren't great (well the views are great but soft ground and cover are harder to find). If you continue to the southern end of the lake there are more trees and better sites. One word of caution is to make sure you are 100' from the lake. The rangers are in full effect out here and WILL check that you are following the rules. They WILL make you move camp and will be checking permits. I met a nice ranger who informs me they have had some people breaking the rules out here so they plan on strictly enforcing throughout the summer. So follow the rules and you will be fine and not get fined. Eric and Dave told me they had there permit checked 3 times while they were out there and I had mine checked once.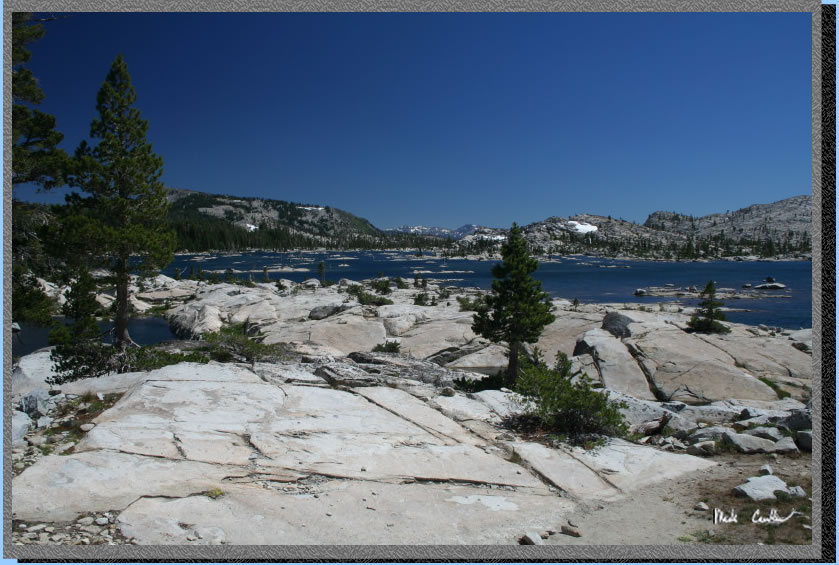 Here I am after I caught up with my friends Dave and Eric. They had spent a couple nights at Lake of the Woods and claim it is much better camping there (more cover and less people). Lake Aloha is beautiful but I agree that camping somewhere else would be better and you can still do a day hike to Lake Aloha.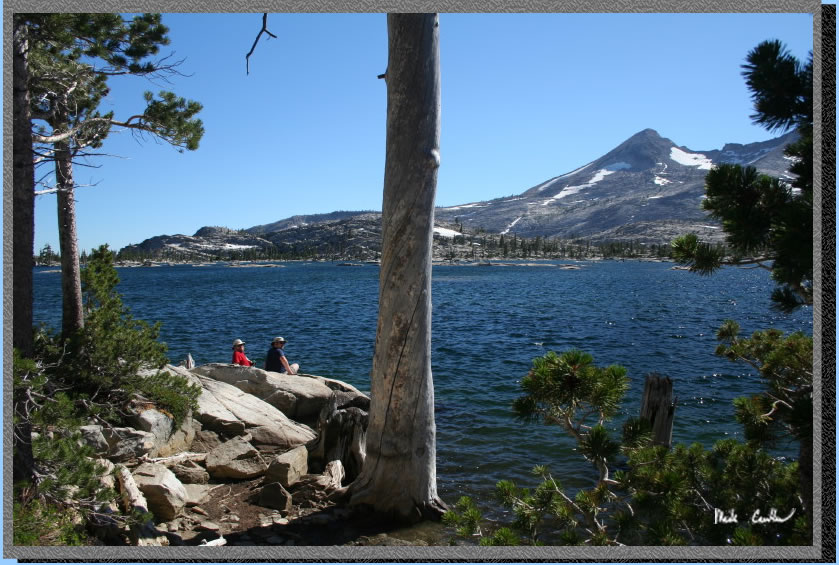 Some shots I took on the way out the next day. Here is one of the northern end of Lake Aloha.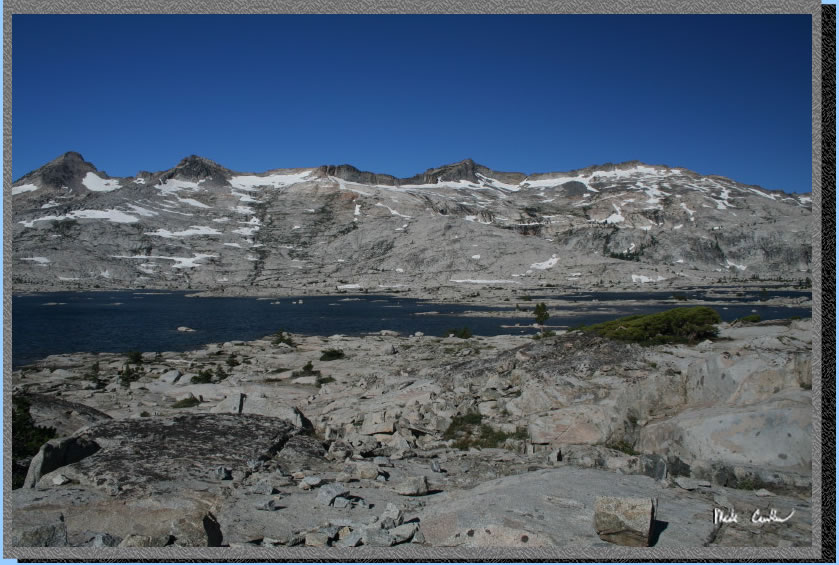 The trail as you are leaving Lake Aloha.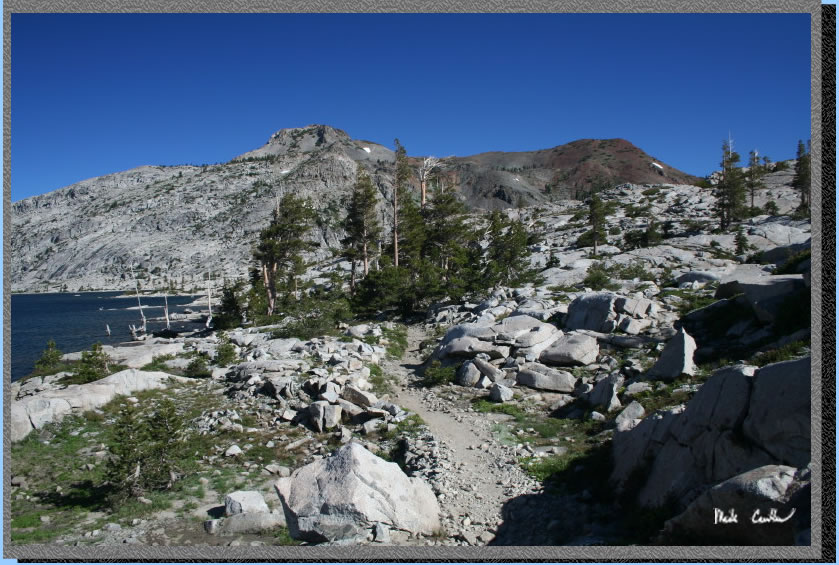 The "big island" on Heather Lake.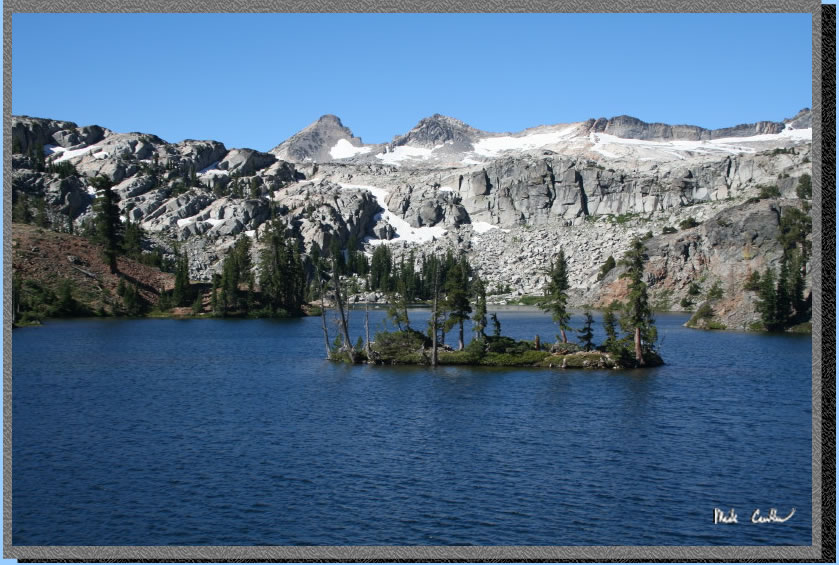 Susie Lake.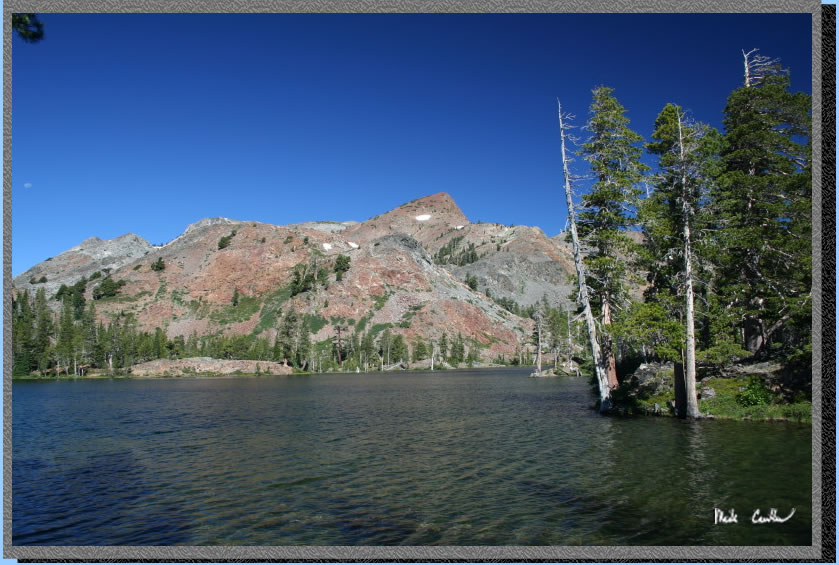 The trail along Susie Lake on the way out.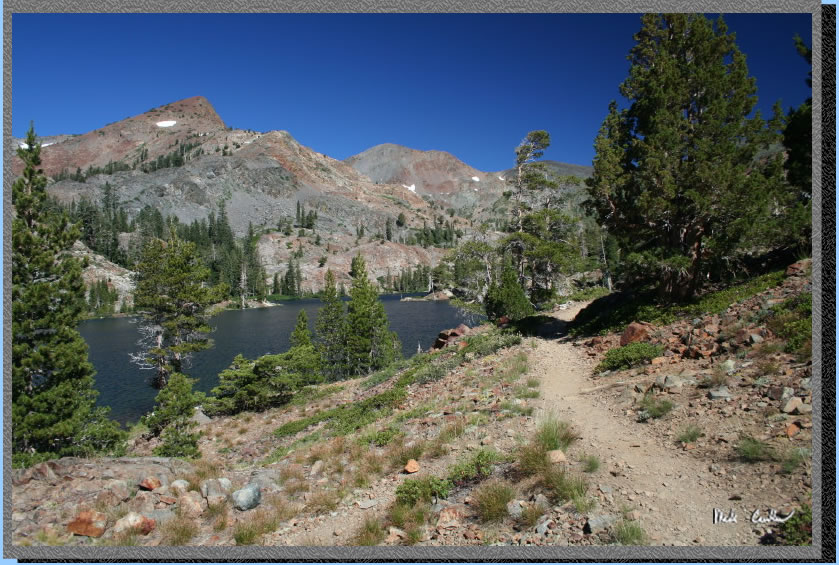 Leaving Susie Lake and heading down the steep part next. This was a great trip with some decent mileage and elevation gain. I would make sure you are ready for the elevation gain on this one before you attempt it so your trip is more enjoyable. I saw a few groups that were really pushing themselves to get up some of the switchback sections who didn't look very happy. I would still rate this as a moderate difficulty hike with excellent scenery so well worth the effort. I opted for the out and back mainly because of the time it would have required to shuttle back with Hot August nights in Lake Tahoe. Even without a major event in Tahoe this is a long shuttle ride back.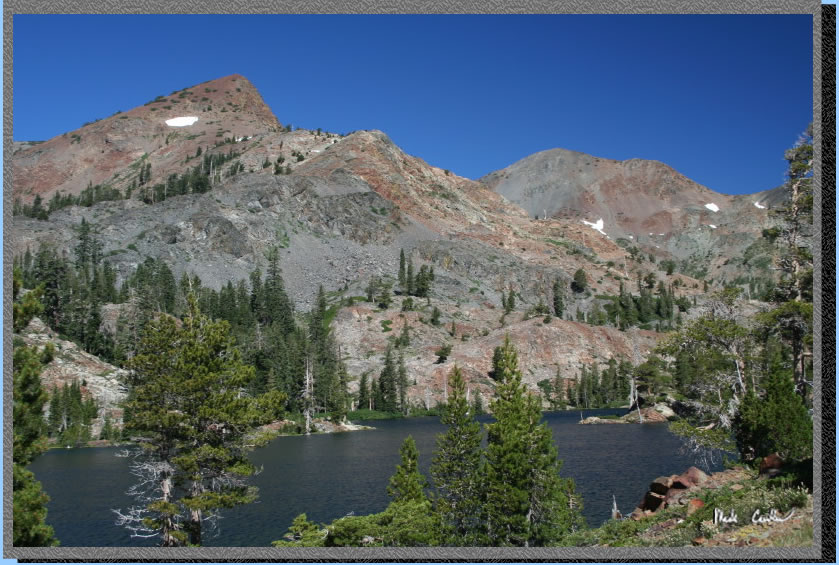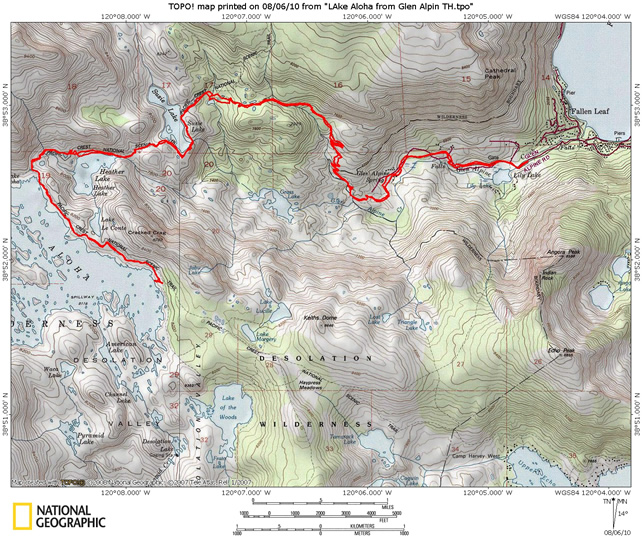 (back to top)


(back to top)