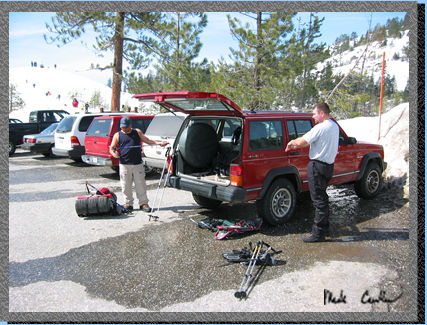 Ray, Leo and I wanted to do a snow trip together and try to create a snow cave that we could all sleep in. So we decided to head to the Loch Leven Lakes area. Ok, I know I have been here three times now this year and it is only March but hey, it has been great each time so far. As I said last time, and the time before, this is one of those quick trips because the trailhead is right off highway 80 before Truckee. There are quite a few people that use this trailhead for day snow shoe trips and just playing in the snow so get there early to insure a parking spot. Once you get a 1/4 mile away from the trailhead you should have the area to yourself. You can see the people using one of the Hills on the North side of the road for some sledding. We talked with some Boy Scouts that were staying on the north side of the road for a little overnight trip. map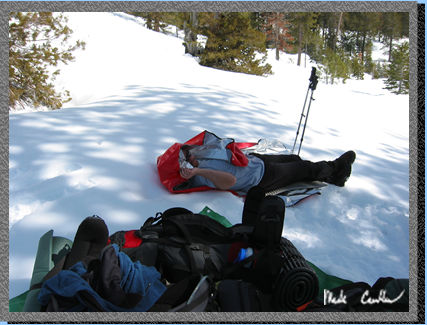 So we made it to our camping spot. Here Leo is being a little camera shy. It was actually quite warm for the Sierras in the snow. We all hiked in, in just our base layers.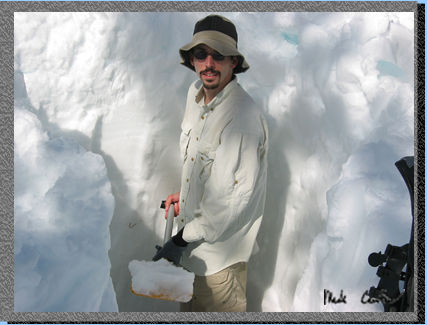 So we decided to start working on the kitchen and the snow shelter at the same time. We had two good shovels and three people it was nice to rotate the shovels into fresh hands but we decided that next time it is a shovel a person. Here I am removing some snow from the base of the tunnel.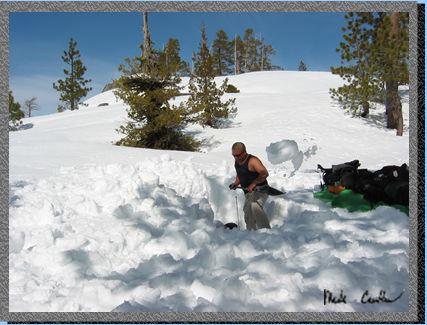 Here is Ray chucking some snow out of the area where Leo is digging the tunnel. I don't know how much snow we moved but it was enough to make us all sleep very well that night.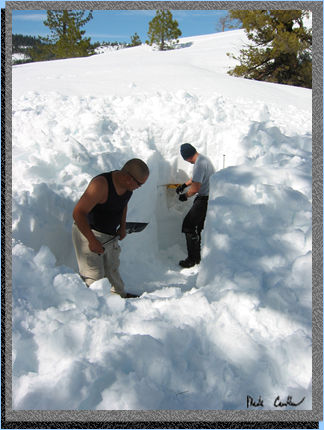 Here is Leo and Ray discussing where to start the actual tunnel. We dug down a bit to start (after probing for quite a while to select the perfect spot).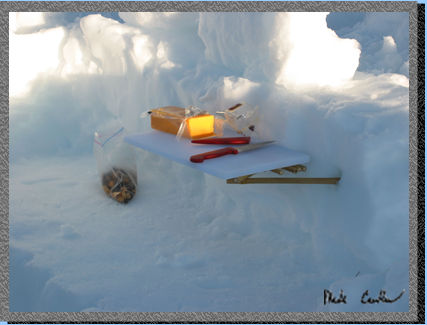 Well we brought my 4 season tent just in case our shelter plans failed so after it looked like our plan was going to work we decided to use my bamboo sticks (that were deadmen for staking down the tent) as a kitchen shelf. It worked out quite well.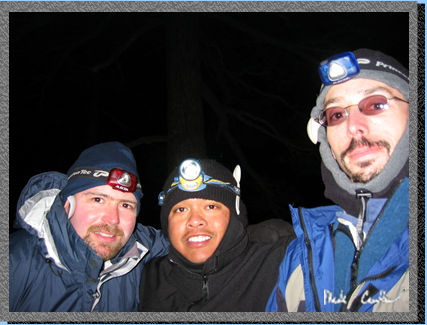 Our shelter looked great so we set up our bags in there and ate dinner. Here is a shot of all three of us that night. It cooled off rather well from the "warm" day it was. The tree behind us doesn't look real does it.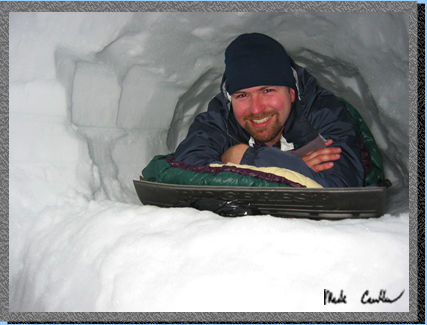 So the cave had a tunnel to it and then a small area that had three fingers off of it for each of us to sleep in. It was the easiest way for us to build a three man snow structure. The area below the three fingers served as a great place to take your boots on or off and get ready for bed. This is Leo getting tucked in.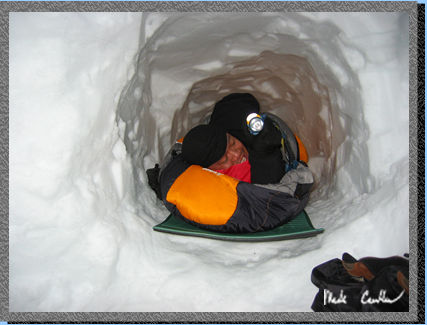 Here is Ray getting ready for bed. I think this structure worked pretty good. It is a bit of work to get it ready but sleeping in the snow is always warmer than a tent and lets face it, much cooler.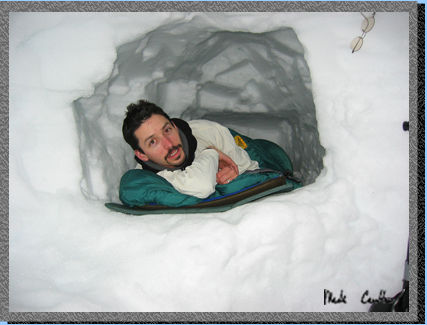 Here I am getting ready for bed. Notice my sleeping area has a custom holder for my glasses. I tapered my sleeping area so it was roomier around my head and enough space around my feet to allow me to move around some while sleeping.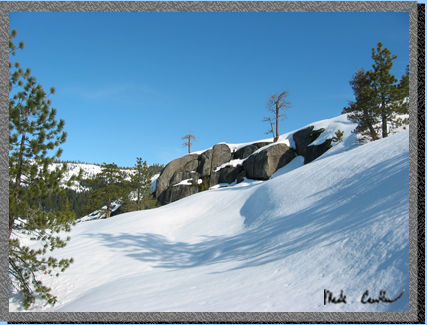 The next morning we packed up and headed out. There are so many great views in the snow.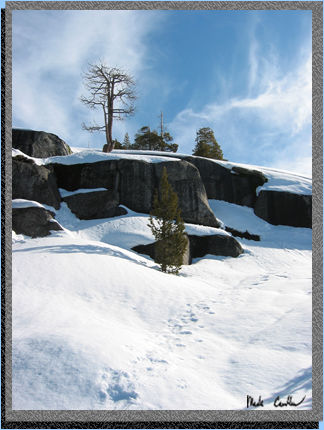 Here is another great view on the way out.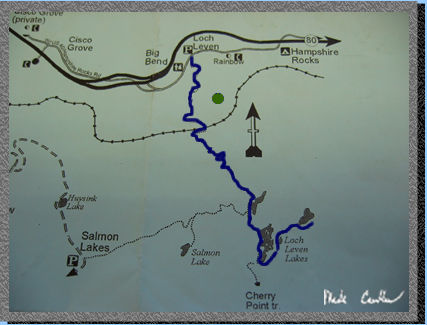 The blue line is the route to Loch Leven Lakes in the summer. The green dot represents the approximate place we camped in the snow. To me it is more about building your snow structures than doing a super lengthy snowshoe trek. (especially when there is fresh powder and there are only a couple of people in your group)The blue line is about 4 miles.