Permit - Permits can be obtained through www.reserveamerica.com. Permits must be picked up from the Bear Valley Visitor Center (located at 1 Bear Valley Road Point Reyes Station, CA 94956, 415-464-5100) on your way in. If you are arriving outside of the visitor center's hours they will post permit outside for you. Sites run $20 per site per night (up to 6 per site)
Mileage - Coast Camp is a short 3.1 miles each way via the Coast Trail or a really short 2.1 miles via the Laguna Trail/Fire Lane Trail. Or you can make this a 5.3 mile loop trip.
Camps/Water - Coast Camp has 14 sites (some of them are group sites). Sites 1-7 are closest to beach access. Nice pit toilets are near sites 9 and 10. Each site has a metal locker, picnic bench and barbeque. Potable water faucets are provided near sites 8 and 12.
Hazards - Poison Oak, and ravenous raccoons (use the locker).
Sarah wanted to go on her fourth backpacking trip back to Coast Camp (this is her second trip here). Tyler had his first backpacking trip here and he had a blast (see "the shipwreck" trip). Point Reyes National Seashore offers a number of camping options.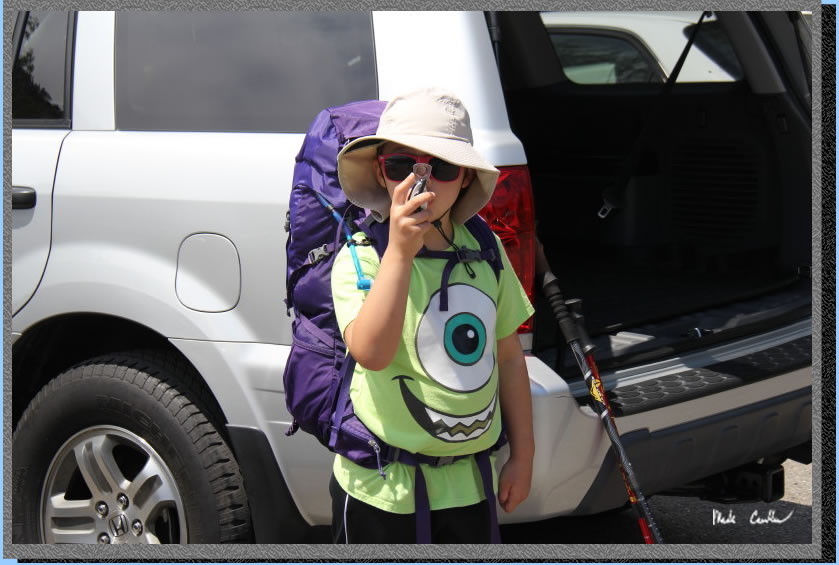 This time we would just take the Laguna Trail to Fire Lane Trail to Camp (technically we were also on the Coast Trail, albeit briefly). We parked at the Laguna Trailhead after stopping at Point Reyes Station for lunch (the deli at the market is great for snacks and sandwiches).
The beauty of this camp is you are right on the water (well a really short hike down to it) and you can explore the beach once you have setup camp. Wildcat Camp is also the same distance from the ocean but a much longer hike in. We stayed at site #14, while no view, it is adequate for a couple tents. See my previous trip here for a description of larger site #7. All 14 sites are pretty exposed as you can imagine being this close to the beach, Sites 1 through 4 are probably the best if you still want to see a corner of the ocean (no breaking waves just blue ocean). Even if you can't see the ocean you will hear it in the evening/early morning. Things to note are poison oak is plentiful and the raccoons here are no joke. Lock up anything that smells or looks like food. Sites do book up for the weekends, so reserve your site early. We went on a Thursday and all sites were reserved (not all sites were occupied that night though).
Getting to the trailhead is easy. After you leave the Bear Valley Visitor Center take a left onto Limantour Road. Look for a sign for the Hostel/Laguna Trailhead on the left. Take the left onto this one lane road and you will see the Coast Trailhead on the right (just before the Hostel on the left). Continue down the road past the Hostel and you will see the Laguna Trailhead on the right across a bridge. Here is the trailhead once we parked that day, still some spots left. I have had to park along the road on the way in, without incident, in the past.

The trail starts off at a nice level/gentle upward grade at first. The grade does get steeper, but if you look at the profile this is still an easy trip.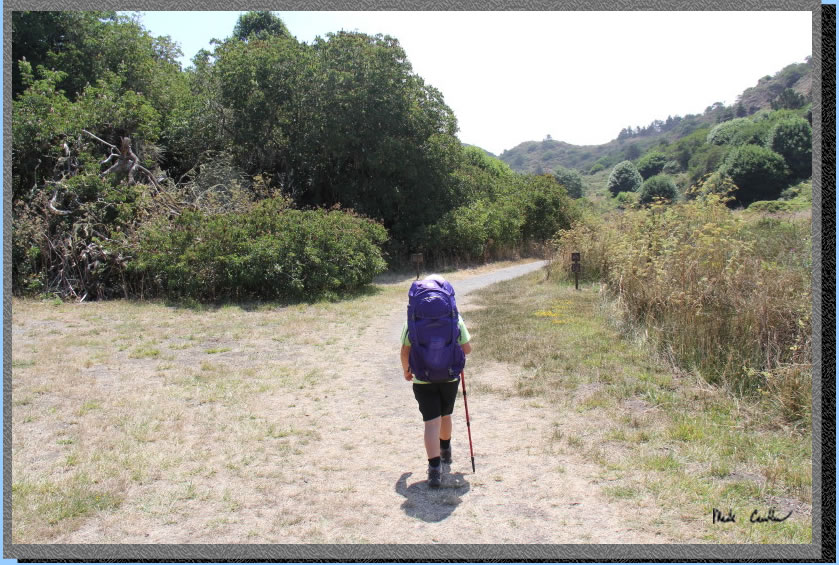 The first junction is just past the parking lot and the ranger housing. I still have never made it to the Environmental Education Center listed. You will want to continue straight along the Laguna Trail to Coast Camp (now only 1.9 miles away, per sign).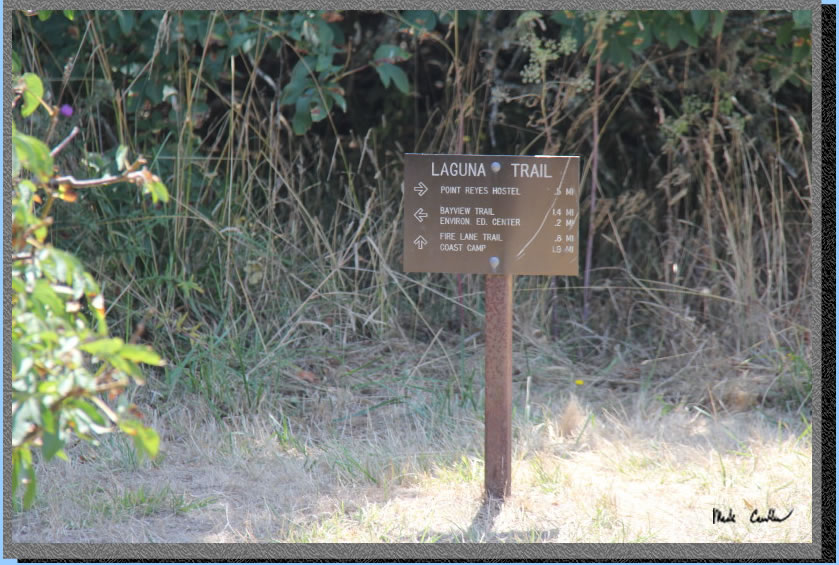 You come across a good amount of Common Horsetail plants (the tall ones that look like bottle scrubbers).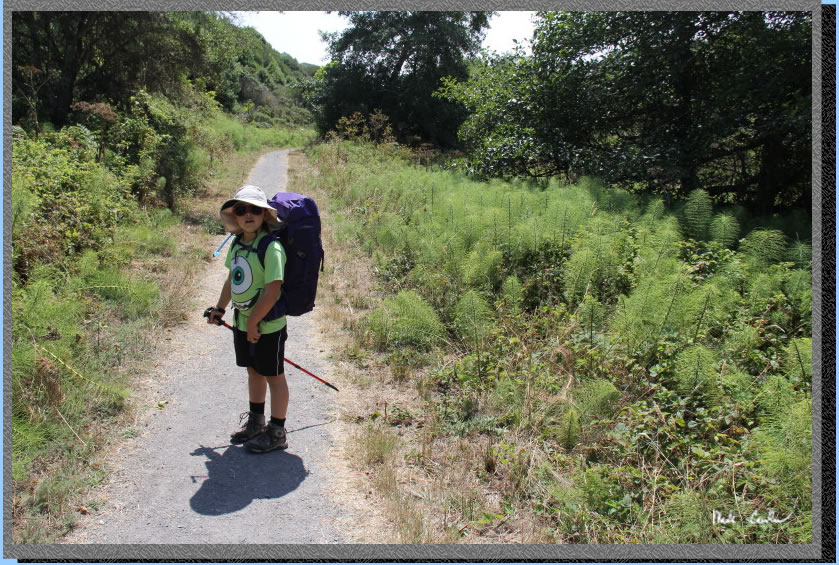 The trail is pretty much single track through this section and open. This shot shows the trail looking back towards the car. The trail direction is generally up, but at a nice kid friendly pace.

I was honestly surprised at how green and how there were still some neat colored flowers to see on the way in. Here is a hot of one of the more colorful vines.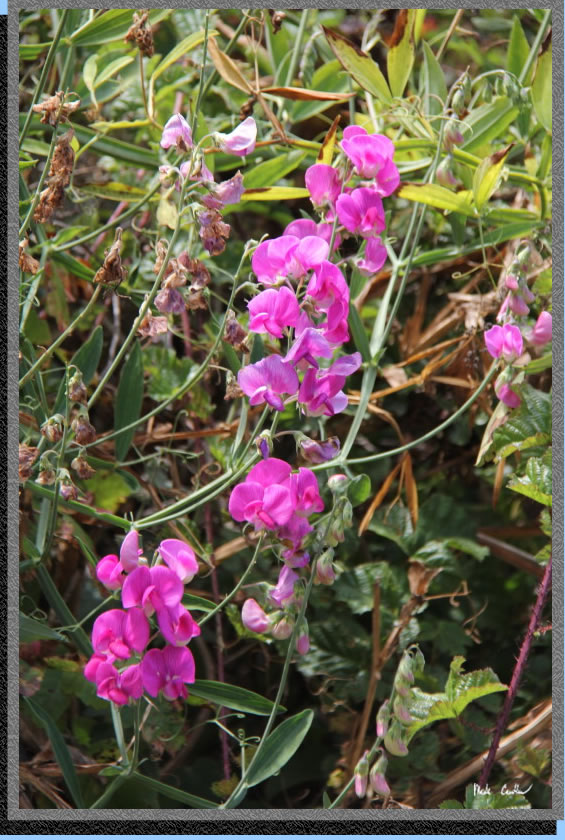 There are also ferns along the trail as well (not many though). The frequent fog in the area keeps plants like these possible.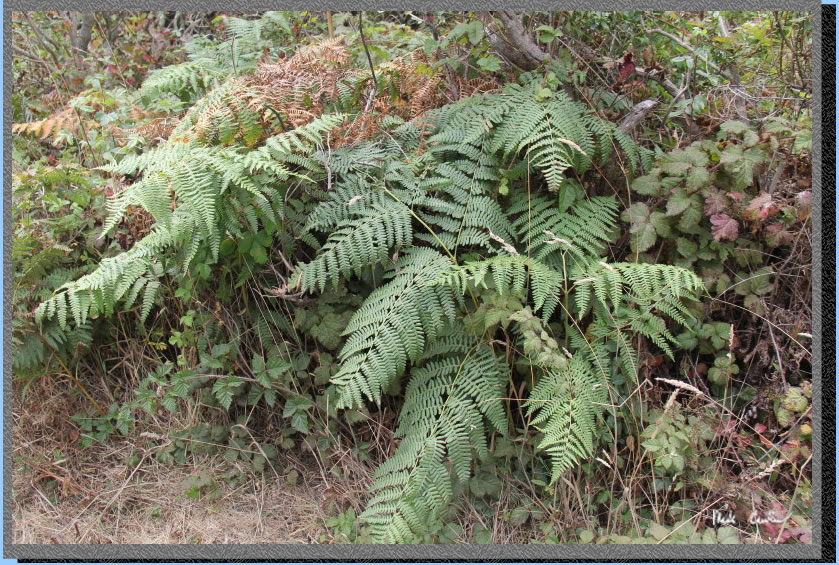 Before you know it you have done a mile to get to this junction with Fire Lane Trail (the trail to Sky Camp). Continue straight/right along the trail (Fire Lane Trail now) to Coast Camp.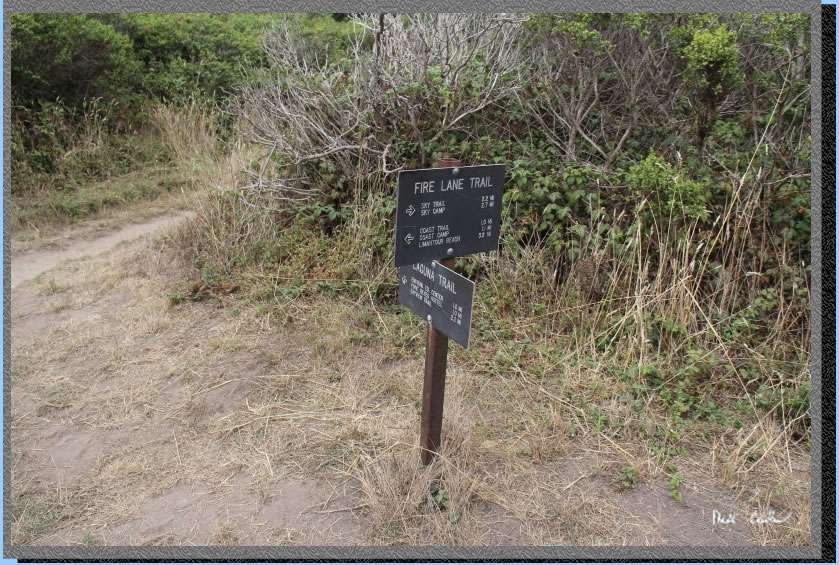 You can see that the trail widens a bit through this section. They do a good job out here maintaining the trail. I could see the plants simply gobbling up this trail in spots if it wasn't for the hard work of park staff.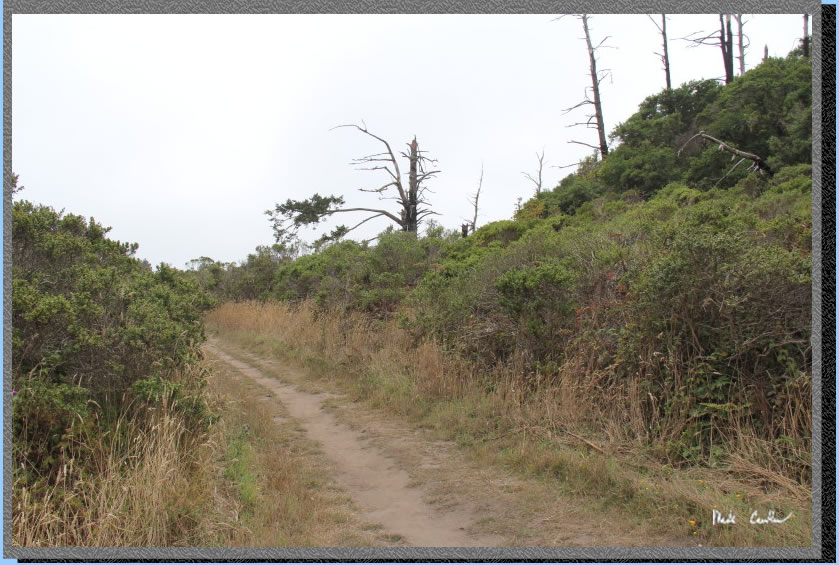 I was able to grab this shot of this Blue Bottle Fly (they have an iridescent blue abdomen that makes them stand out).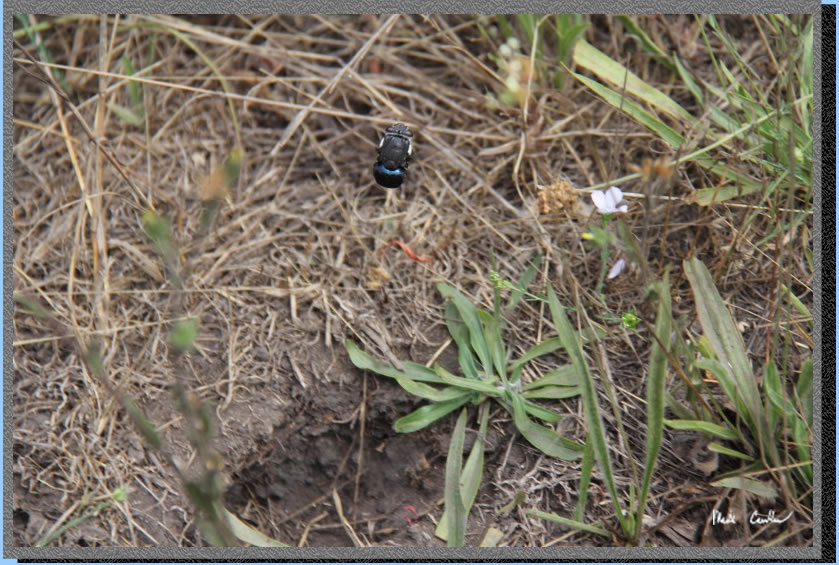 There was this awesome fire orange vine type plant growing in spots. Not sure what it is called but it was neat to see.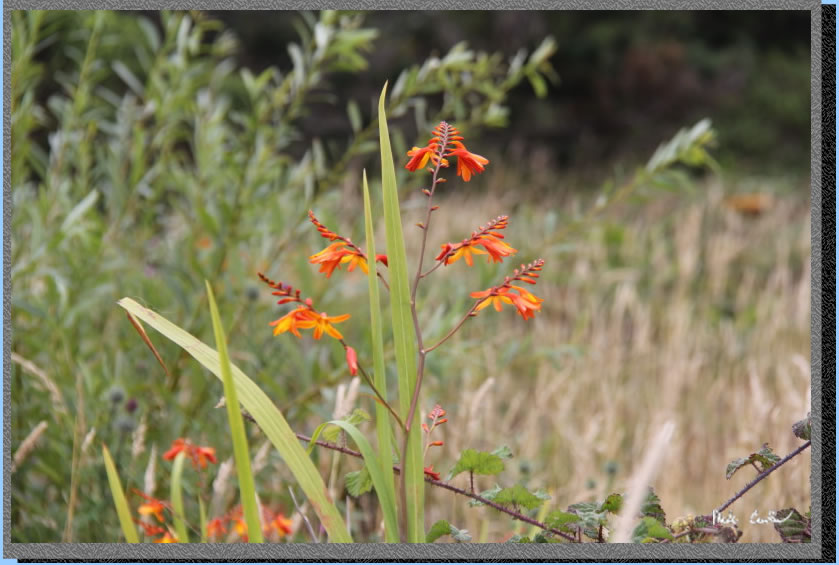 As you are coming down now you will see the giant eucalyptus tree in the distance. This tree is along the use trail to the beach from Coast Camp.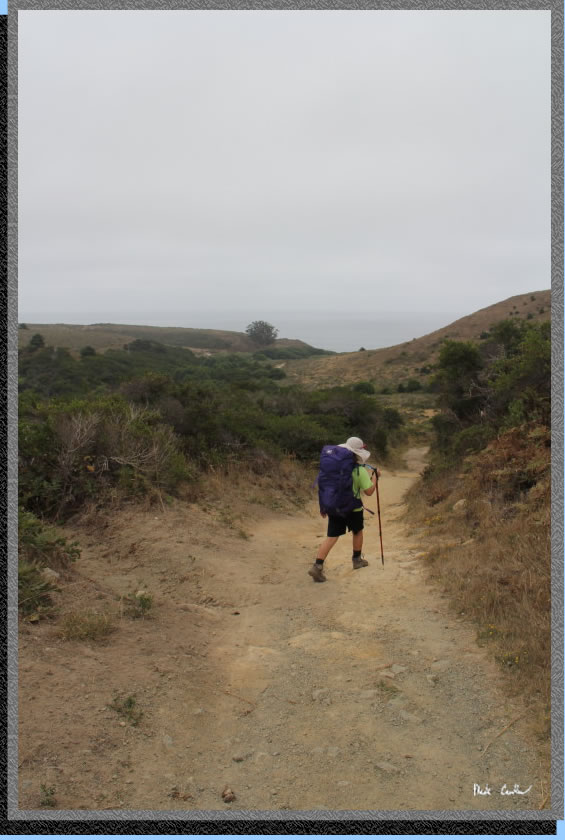 Some nice horses came by us and seemed used to hikers. We hadn't seen too many people on the way in. I have been told that horses can be frightened of backpackers (because we look funny I suppose). I was told once that simply saying hello to the horseback riders will let them know that you mean no harm. I have always followed that practice and have not had any issues with horses passing me. The other thing is they don't want you higher than them (so, if there is a way to let them pass on the high side do that). Doesn't really come into play on this trail though.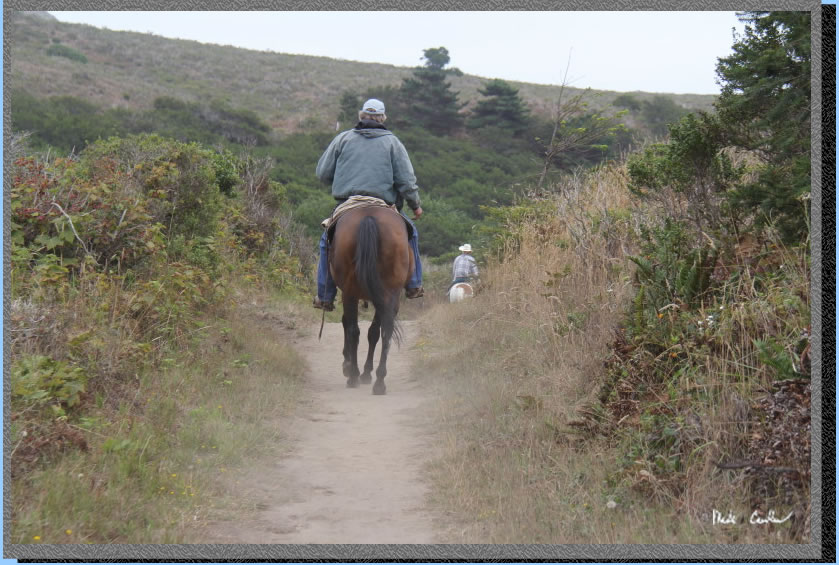 After heading down the trail (and catching glimpses of the Pacific) you come to the last junction. You are almost there now, take a left onto the Coast Trail for the last tenth of a mile to camp. We were at site number 14, the furthest one.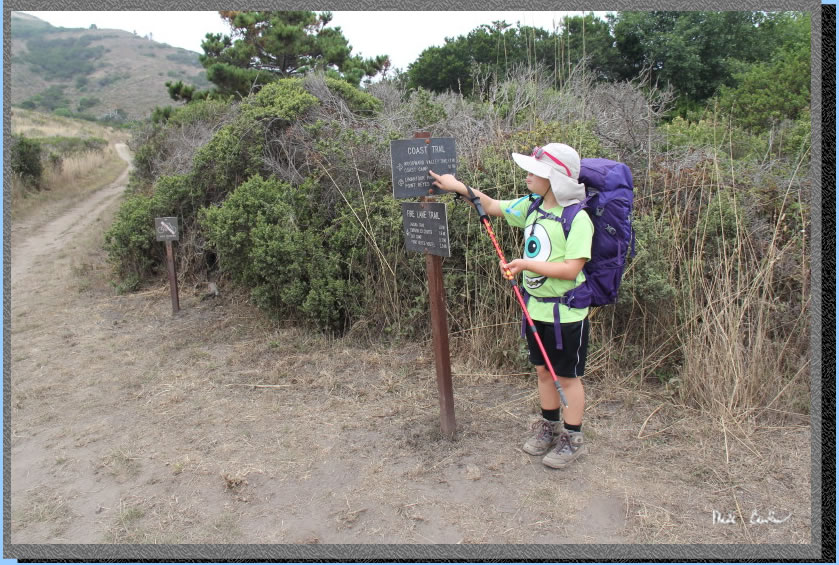 While I was setting up the tent Sarah pointed out this coyote that was on the ridge behind us. It wasn't too concerned about us, seemed to be stalking a rabbit.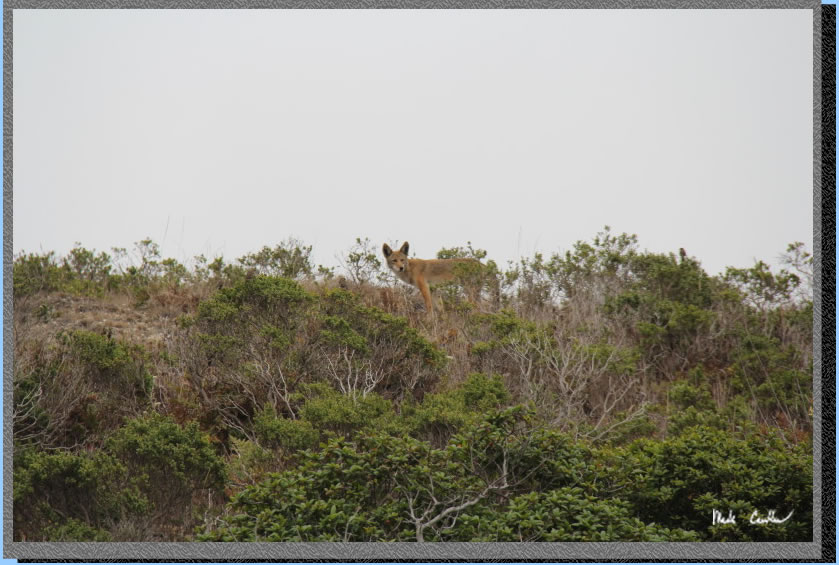 The weather was nice out here, it can get bitterly cold and damp at times. We had the forecast of possible thunderstorms, but not even a trace. Here is Sarah with her penguin wrapped up in her jacket.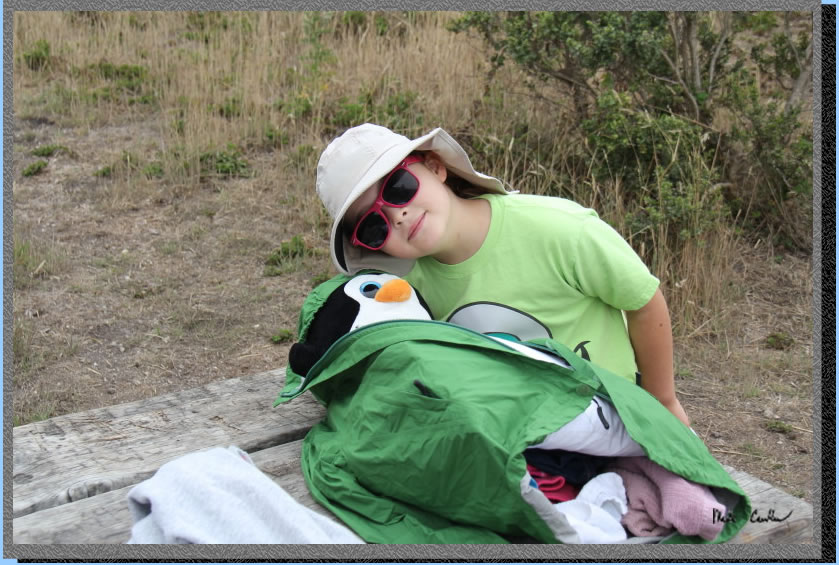 Sarah wanted to check out the beach. That sounded like a good plan so we headed back the way we cam and over to the beach. The use trail is pretty easy to spot, and follows the creek.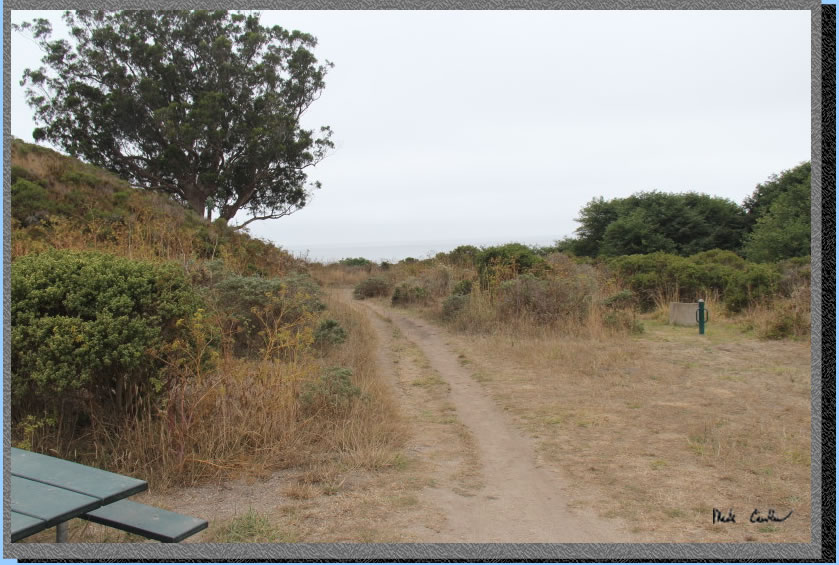 The giant eucalyptus tree had a rope swing that some brave sole setup high on a branch. This is a truly massive tree and Sarah (and many other kids) had a great time swinging from it. I have seen a bench swing on this tree once, but it was short lived (not sure how/why it was removed).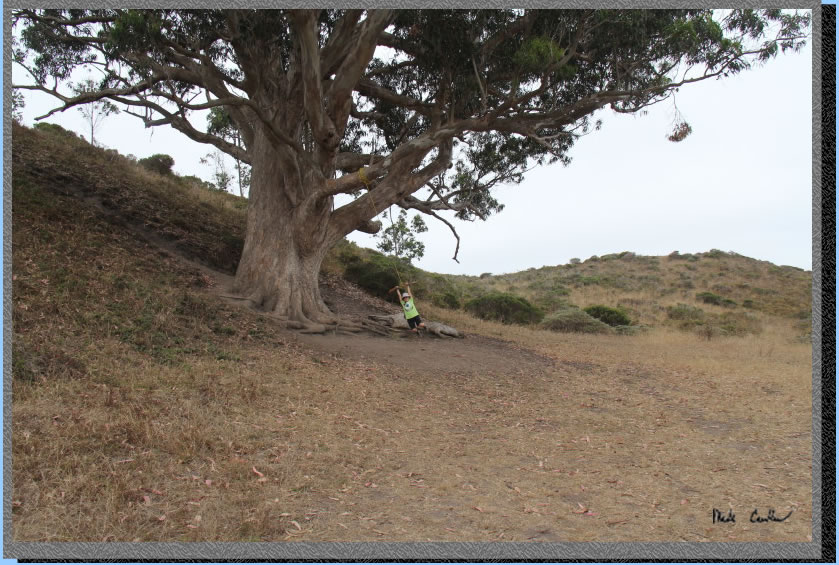 The branch and rope looked sturdy enough. Sarah put it through its paces, it was plenty strong enough to get her tired and dizzy.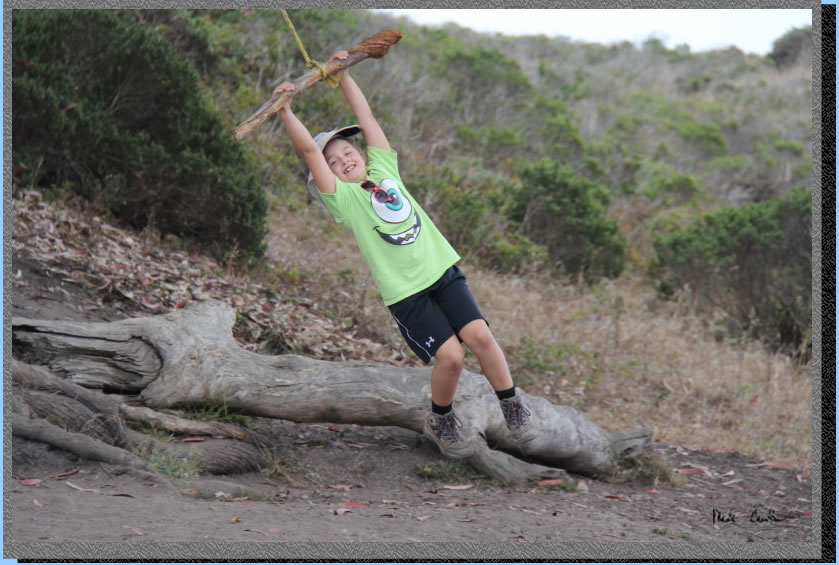 After the rope swing we decided to continue down the narrower trail to the beach. Some deer were planning on using the trail to head back to camp, and had to detour up the hill around us.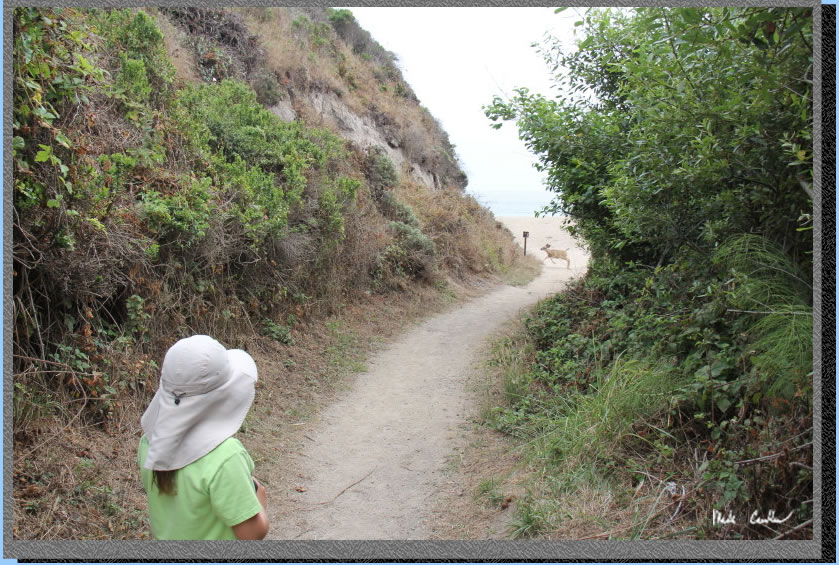 The weather was a little hazy/foggy but not cold (if you are a kid anyway). The waves were coming in well enough to keep Sarah out of them (which is good since she had only the one pair of shoes).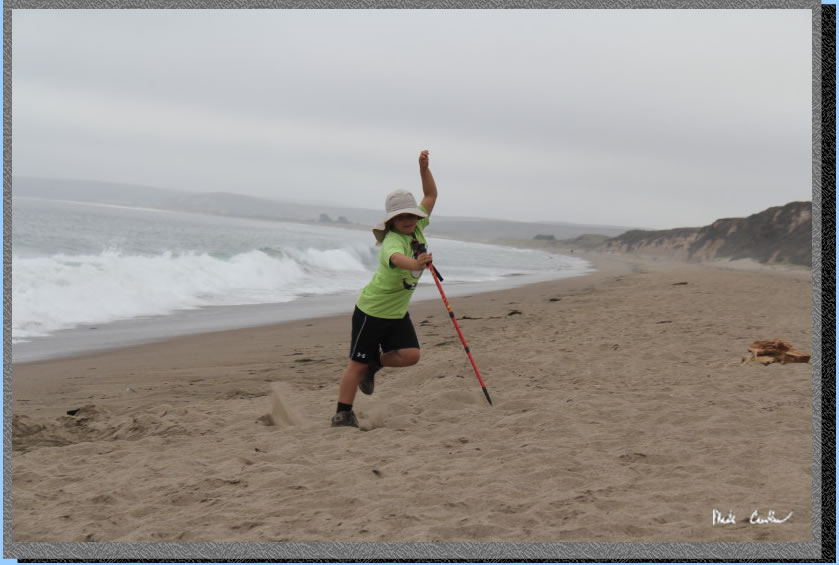 There was plenty of wildlife in the water to see as well that afternoon. Here is a group of seals that were checking things out. I wish the lighting would have been better to catch these guys.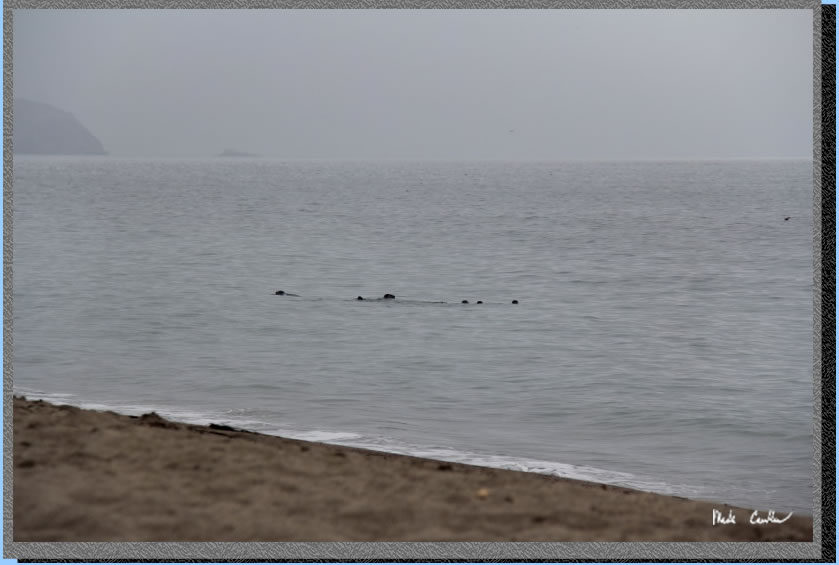 We also got to see some white-sided dolphins cruise by. I was more worried about making sure Sarah was watching them as they would swim by and surface only briefly. There were some juveniles that were coming straight up out of the water and twisting and splashing. I didn't get any good shots of that, sadly. I did get this one of Sarah watching an especially close dolphin cruise by between the shore and the breaking waves. She was excited.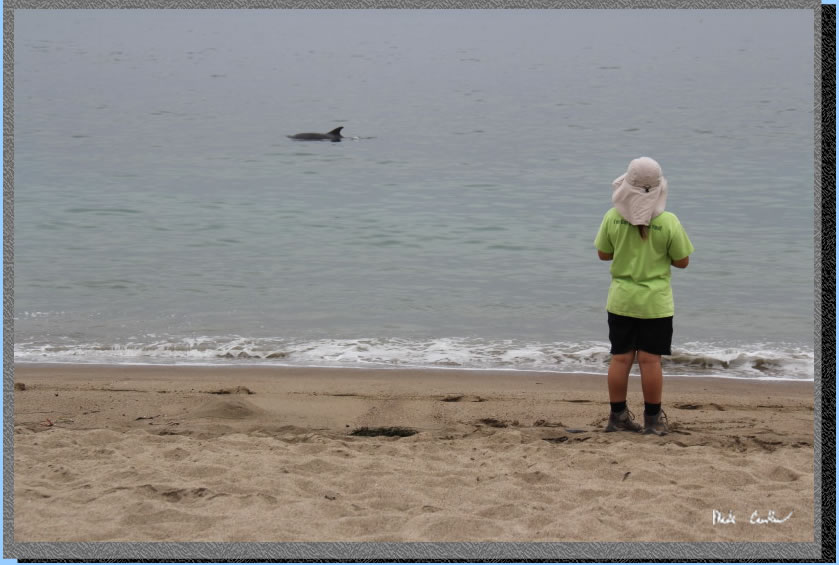 After we saw no more dolphins for a while we headed back to camp for dinner. We saw this brush rabbit munching away on some grass (his dinner I suppose).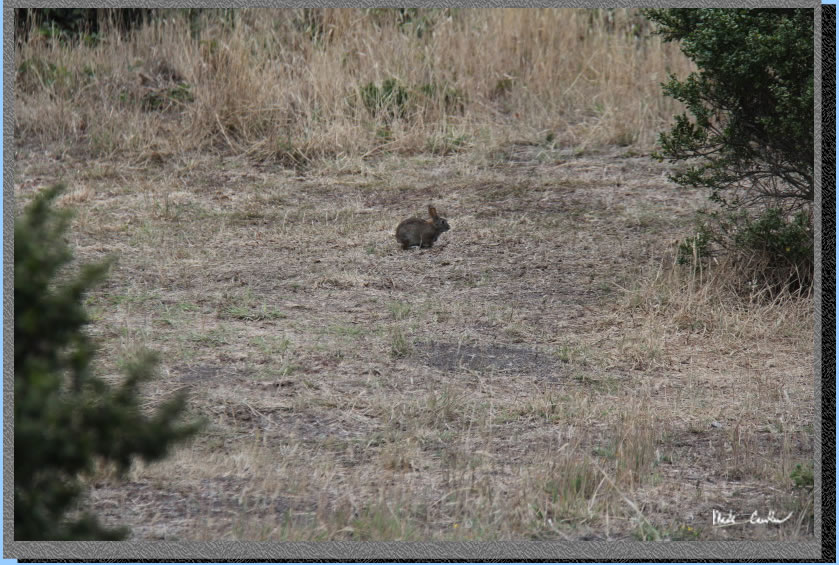 Here is site 14. The shot is looking northwest toward the ocean. Charcoal is allowed in the BBQ. You can see my preferred method of cooking in the foreground.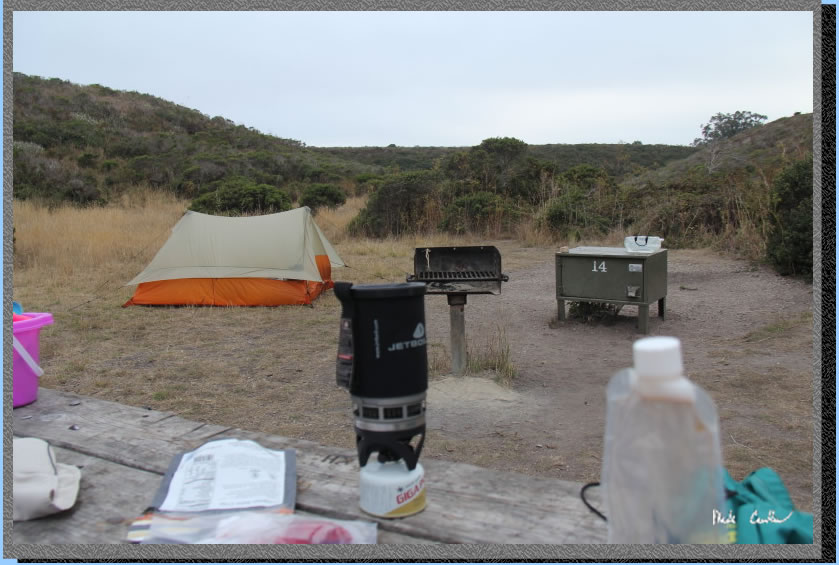 We had met a dad and his two sons earlier in the day and they had told us they would be having a bonfire that night on the beach. You are required to get a permit to have a fire on the beach. We decided to come join them. While we were getting the fire going we saw our coyote friend again cruise by to get a drink from the creek (the creek just peters out about 100' from the ocean).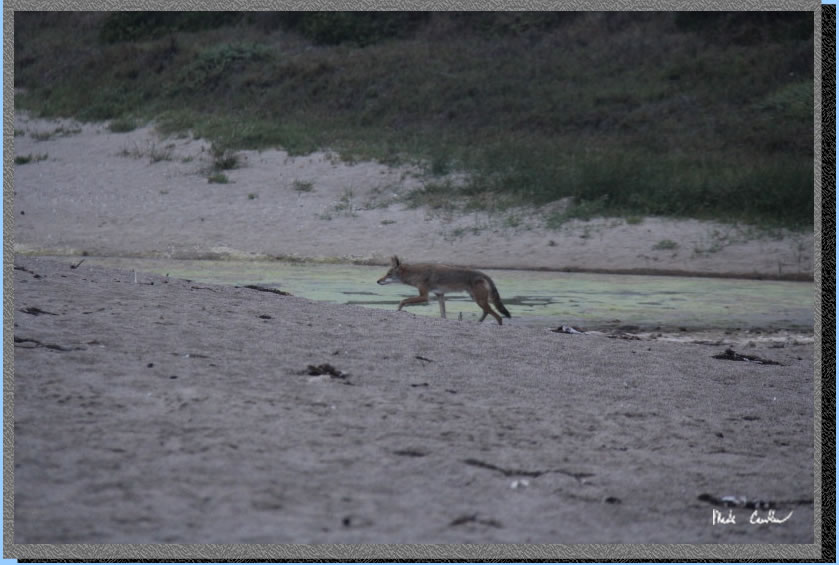 Here is a shot of Sarah and I enjoying the fire that evening. You can see the bucket for water in the foreground. No leaving hot coals when you are done (very dangerous for beach goers with bare feet). Someone had carried a bunch of wood in and left it at our new fiend's site. It was more wood than we could burn. The damp air out here can make starting a fire going difficult. Having dry wood is a must and fire starter of some kind is helpful.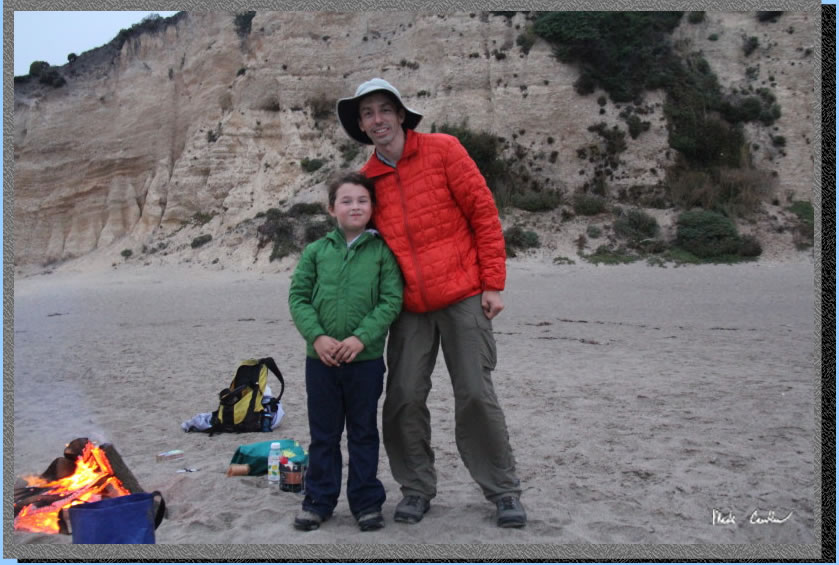 Here is another shot of our site the next morning.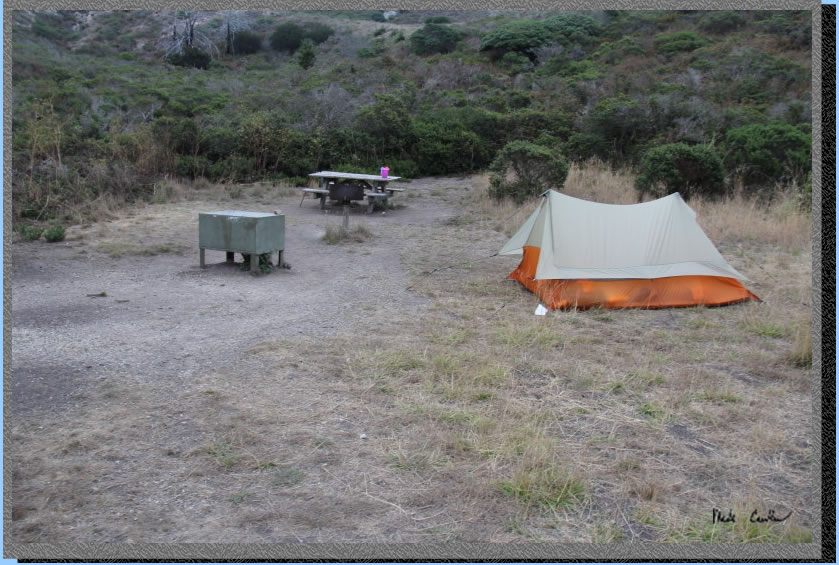 We went out to the beach before we headed out. The weather was a little cooler today. The previous day had some southern tropical flavor to it (that brought thunderstorms to other parts of the bay area).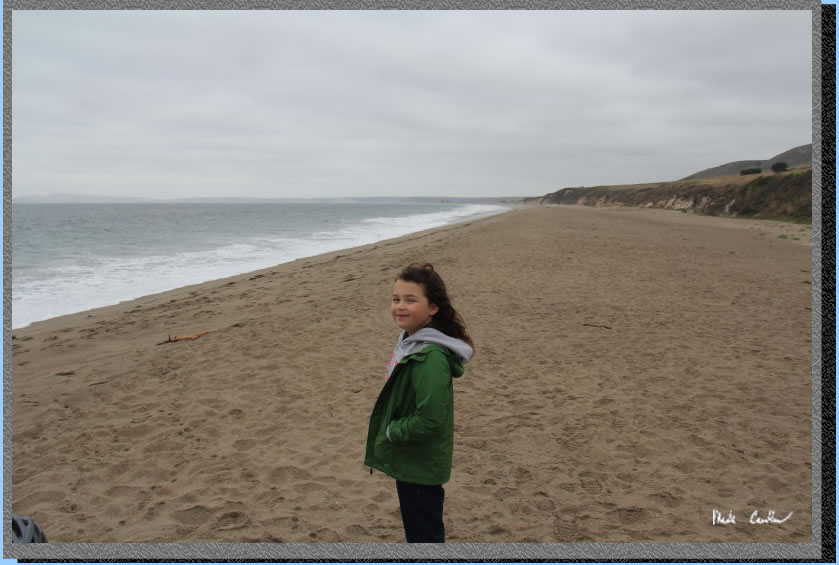 Here is another young deer using the trail as we headed back to our packs before hitting the trail to the car.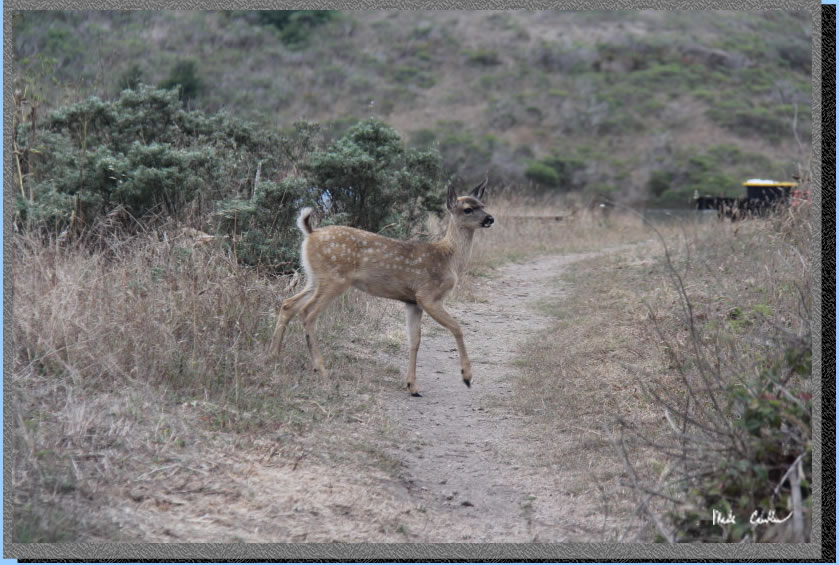 Sarah and Ducky on the trail (this was Ducky's first trip). The trail back out was nice but many more people this time. Lots of people use this trail from the hostel and it is also popular with day hikers (it is a quick hike to see a cool beach). Another great trip with some awesome wildlife viewing. .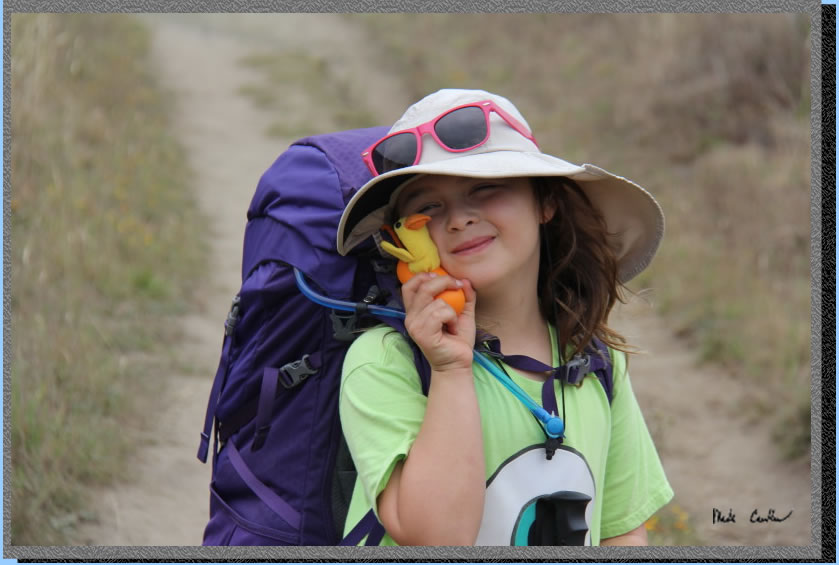 Red line shows the path we hiked from parked car at Laguna Trailhead to Coast site #14. Elevation profile below map. Click either for a larger version.
.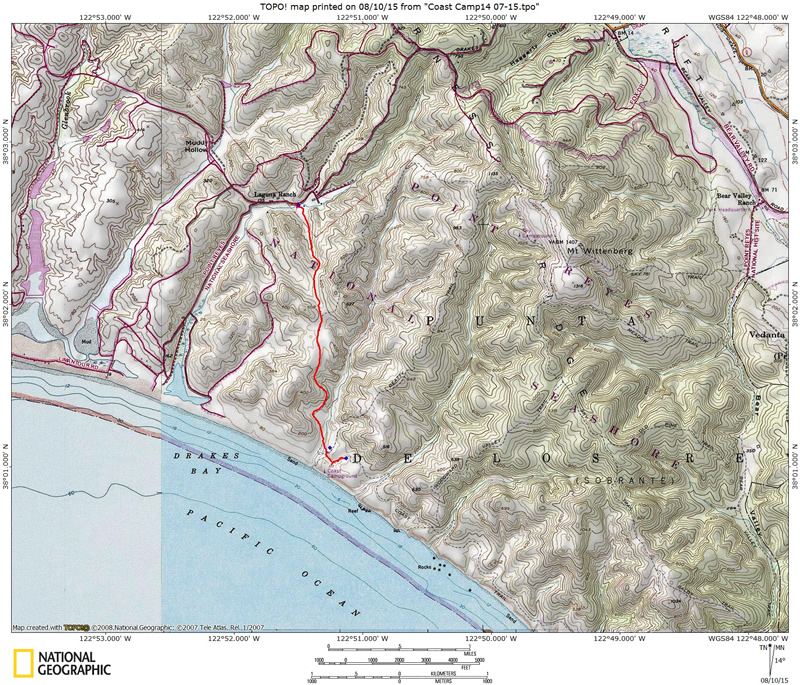 (back to top)