page 1 (go to page 2)
My long time friend, Lee, and I decided on a backpacking trip to Gem Lake via the Crabtree trailhead in Emigrant Wilderness (at least that was the original plan, we ended up at an un-named lake near Piute Lake and spent the second night up at Camp Lake). I always do some family camping at Pinecrest Lake of 108 and there is a great deal of Wilderness/Forest to explore in this area. I called up the ranger station at Pinecrest and they let me know that no reservations or quotas currently exist in that Wilderness (209) 965-3434 as of 7/21/08. (There were also no wild fires in the area which was a relief.) You must obtain a permit to camp in the Wilderness. There is no fee for the permit. If you do not have a good map of the area you can buy one at the ranger station for $11.00. A little steep but it is a nice weatherproof map (kind of large for trail use though).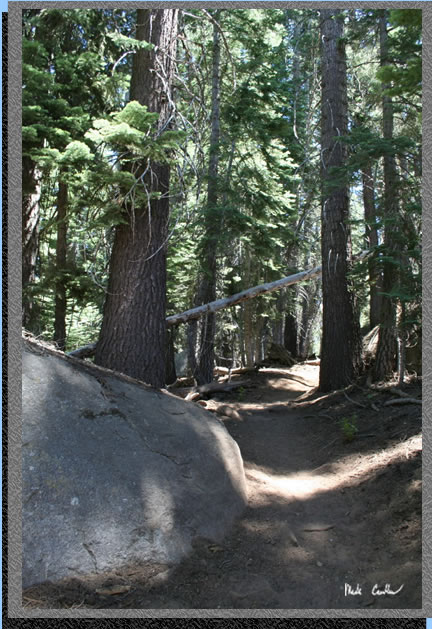 To get to the ranger station from the bay area take highway 120 east until the junction of 120 and 108. Stay straight to go onto 108. When you see a right hand turn for Pinecrest slow down but do not turn right quite yet. The Ranger station is at the "Y" where Pinecrest Lake Road are and highway 108. Turn right into the ranger station just past the right for Pinecrest Lake. The trailhead we left from is called Crabtree Trailhead. It is a little ways from 108 but not a bad road. Parts are unpaved but it was dry. I have seen a Mazda Miata in the parking lot of the trailhead in the past but I would bring something with some more ground clearance (I am sure they scraped in a few spots). To get to the trailhead (from the ranger station) head towards Dodge Ridge by driving toward Pinecrest and taking your first right (there is a sign for Dodge Ridge Ski Area). Just before you get to the parking lot of Dodge Ridge take a right onto a road labeled Crabtree/Gianelli trailhead. This is the overflow parking area during the winter for Dodge Ridge. Stay on this road until the first junction where you take a left. Stay on this road heading west until a junction for the pack station. Take a left and go past the pack station over the big speed bumps and then watch for a sign for Crabtree trailhead on the right. The trailhead has ample parking. One thing to note is you are only allowed one night stays at some of the lakes (Camp Lake, Bear Lake, and some others) in this region so discuss your plans ahead of time with a ranger if you want to stay more than one night without breaking camp and moving to another lake. You can camp right at the trailhead as well. See map below of our route and elevation profile. There are so many picture perfect spots along this trail. The only thing that kept me moving was the mosquitoes in the shady spots that seemed to be just waiting for you to stop and take a picture.
The trailhead is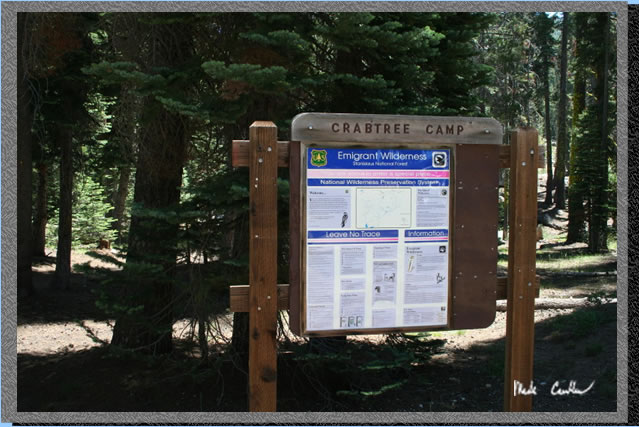 at the northwest side of the parking lot. There are a few signs about bears so I would make sure to be prepared for bear bagging and with a plan should you encounter one on the trail. (My plan is to try not to soil myself.) If you are prepared you will probably never see one.
This trail has a great mix of covered areas, meadow, and granite sections. There can be some dust issues as horses frequent this trail and can create a fair share of dust. We also saw some llamas in training on our way out on Sunday. Trail junctions are all well marked and there are only a few granite sections where you should be mindful of ducks to keep you on the correct path.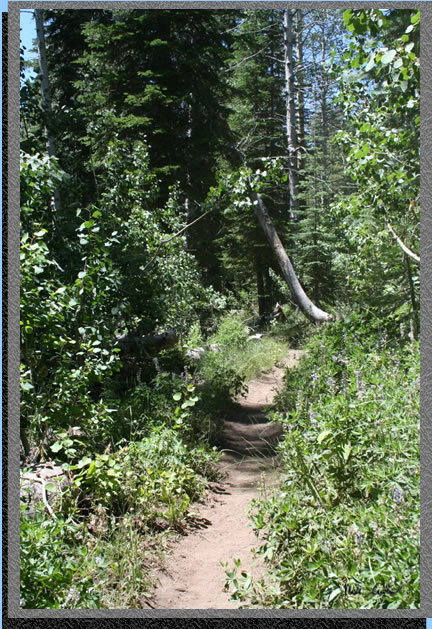 This is my third trip from this trailhead so I didn't take as many pictures of the areas I have already visited. So for a better description of the trail junctions check out either Bear Lake or Grouse Lake. There are some areas that have the surrounding plants growing right up to the trail. Nothing too annoying as most of them were soft plants and the trail was still clearly visible.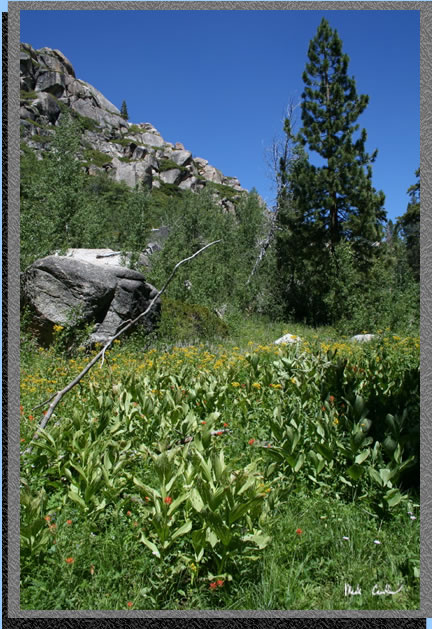 The wildflowers were still in high gear and the sky was a deep blue (no filter on the camera to capture this shot).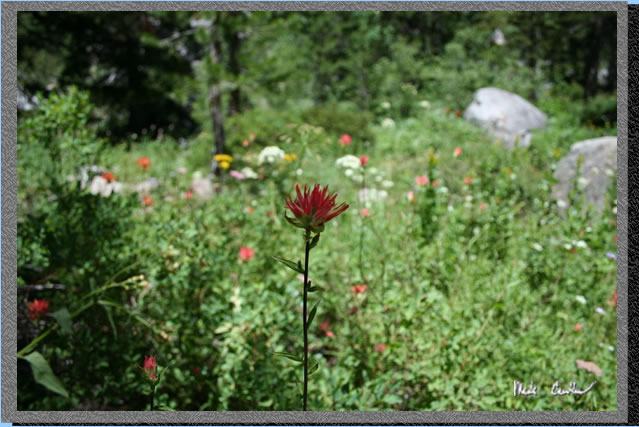 Here is a shot that shows all of the different color flowers in the background. I wish I could tell you the name of the red flower but I can't. I would like to think that knowing the common or scientific name of the flower does not change how much I like the flower. It would help me as I am writing these though.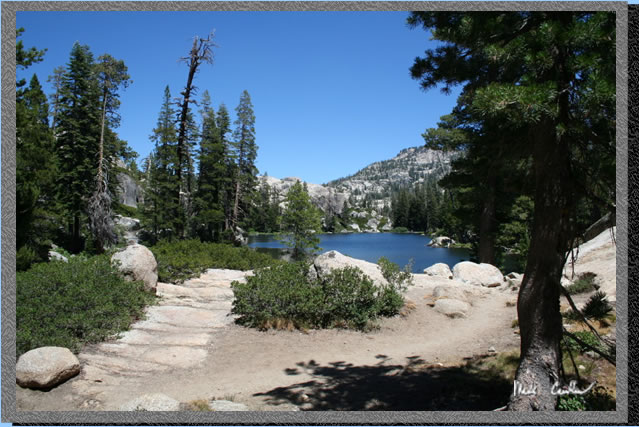 This is Camp Lake. I didn't know it yet but we would be spending our second night here.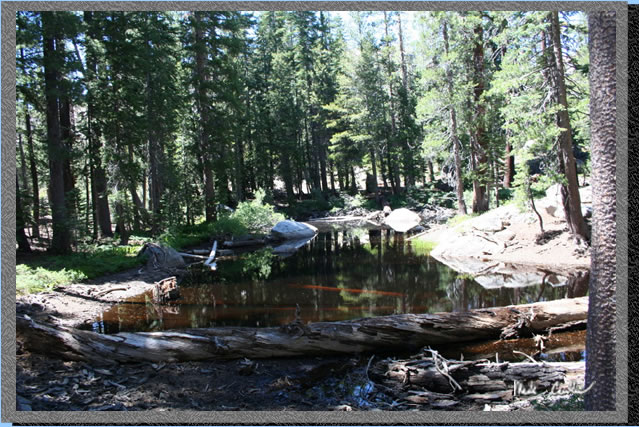 No this is not the un-named lake we spent the night at. This is one of those nameless lakes that you scurry pass at this time of the season because unless you want to be eaten by mosquitoes or are desperate for a water filter test you just keep moving.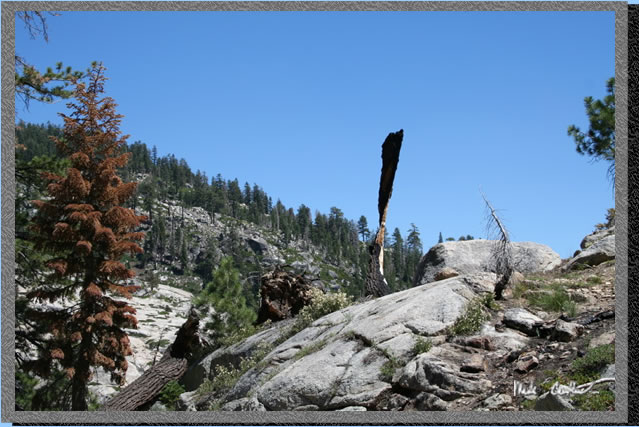 This picture shows a "tree" that really is not much more than a ribbon of bark that still has enough strength to keep standing through the elements.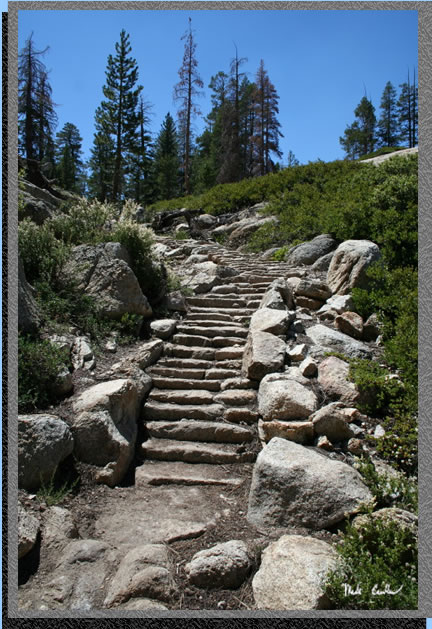 You have to hand it to the great people that worked on this trail. There are more than a few spots that have had significant time and sweat spent on them to have steep sections look like this. I worked on a few trail projects when I was in Scouts so I can appreciate the time it must have taken to do something like this with stones.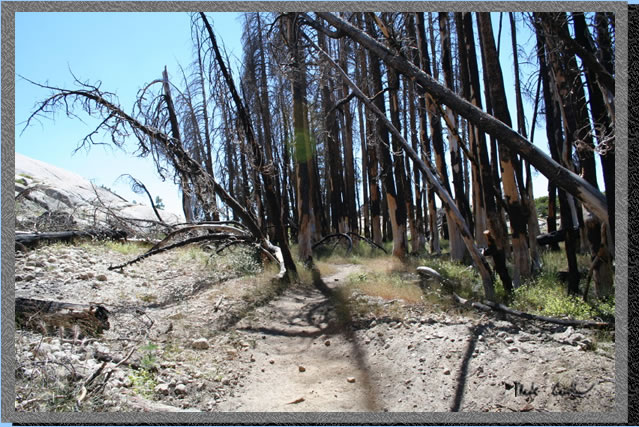 Here is a previously burned section that you pass through. This is a scene that I have shot before (without the sun spot)..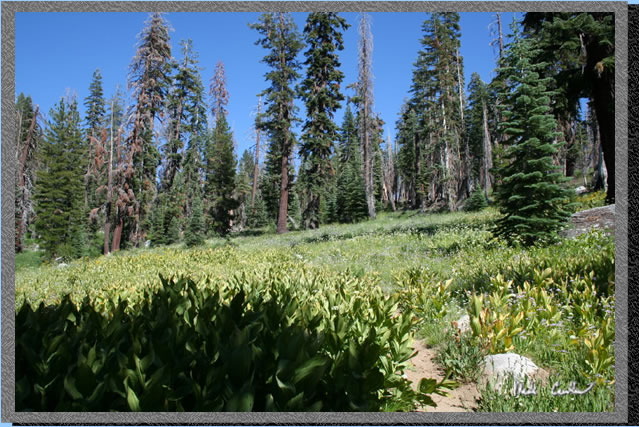 Here is an un-named meadow that you pass through. This time of year is simply beautiful in the Sierras. We hit a pretty good window as the mosquitoes were not too bad and the scenery was still pretty lush..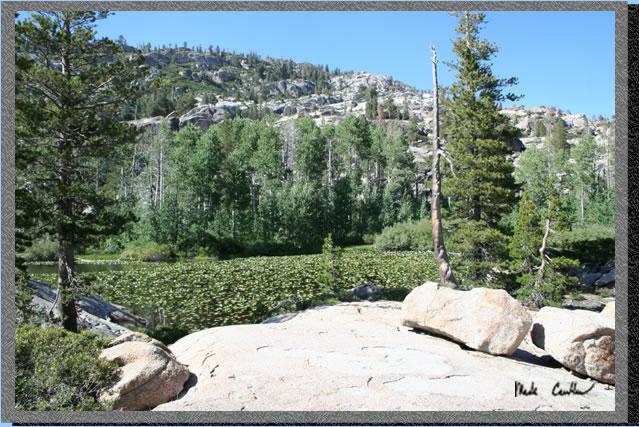 Another un-named lake that is being taking over by lily pads. I guess the frogs don't mind.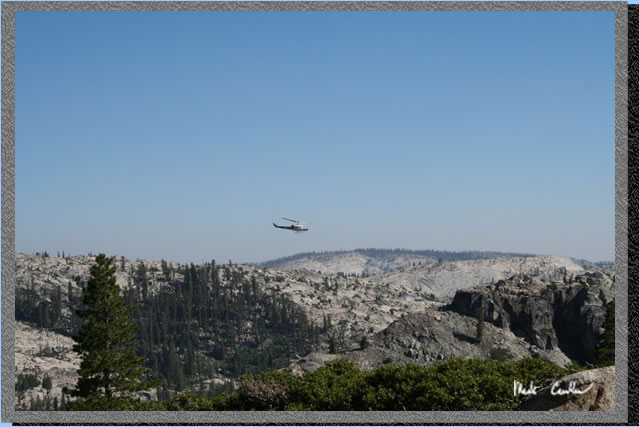 So as we were headed to Piute meadow we heard a helicopter but could not see it. So as we were descending we saw this helicopter as it landed and then took off. Here it is as it was leaving. At this point we were not sure if there was a rescue going on or what. We would shortly figure out what it was likely doing.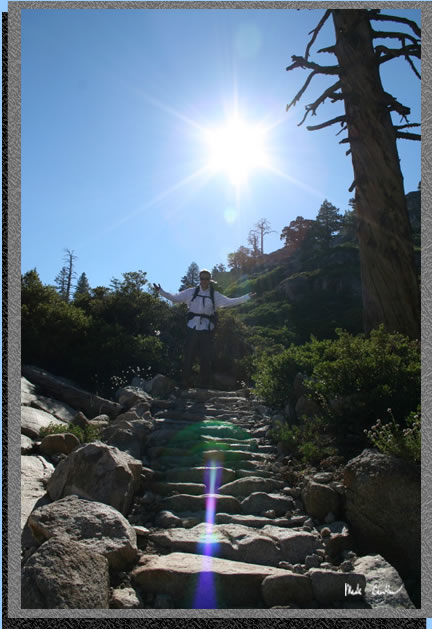 Here we are continuing our descent to Piute Meadow. Lee asked me to take this shot as on a recent trip of his, he encountered some significant steep sections that had no trail improvements. Here we are encountering the opposite.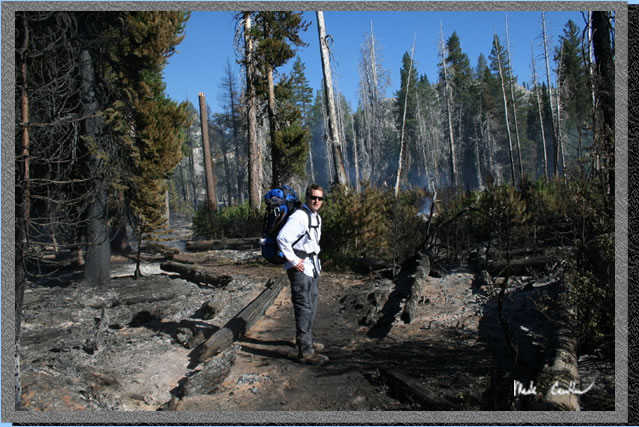 So I can't remember where we started to see the smoke but we smelled it and then hiked for a short bit and then saw the smoke. This was an actual forest fire that was going on. It was pretty sporadic as to what was actually burning and if you have hiked through this area you know there are significant granite sections that would provide some buffer between us and the fire if needed. The forest never gets that thick so the fire was not going to get to a level that would have been too dangerous. All of that said, it was still both eerie and fascinating to explore. We did so cautiously.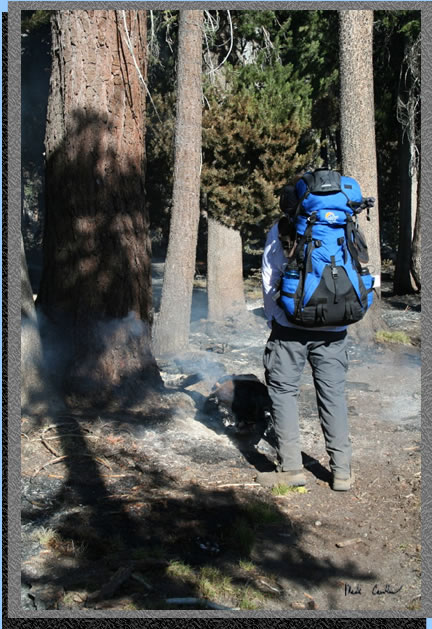 Lee did his part to "put out" the fire.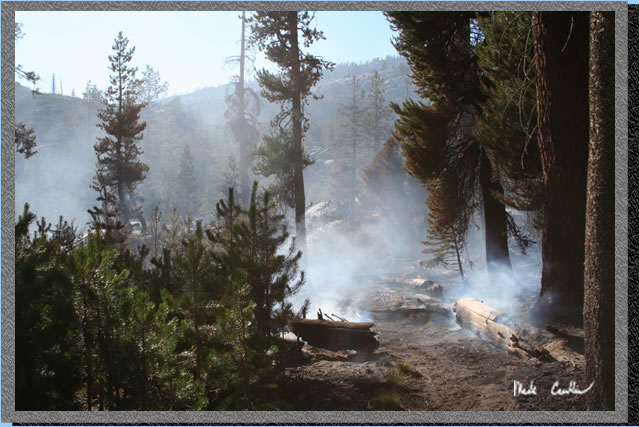 This fire was more smoke than flame and there were more things smoldering than actually on fire. It did provide for some good shots though. It also made sure that we both reeked of smoke.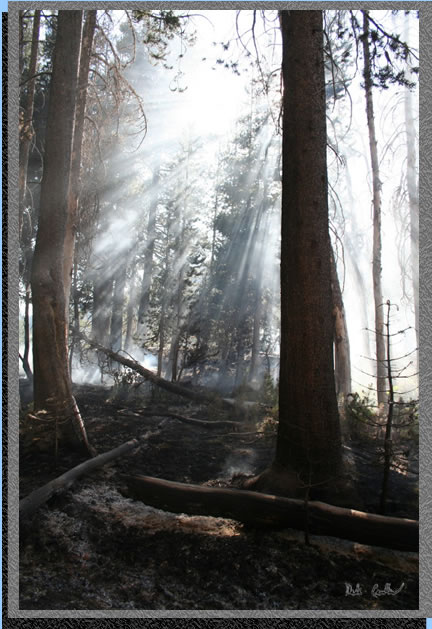 Here is why I didn't mind meandering through the smoke. This shot makes it look much worse than it was. Or you might think we are on the coast now in the fog.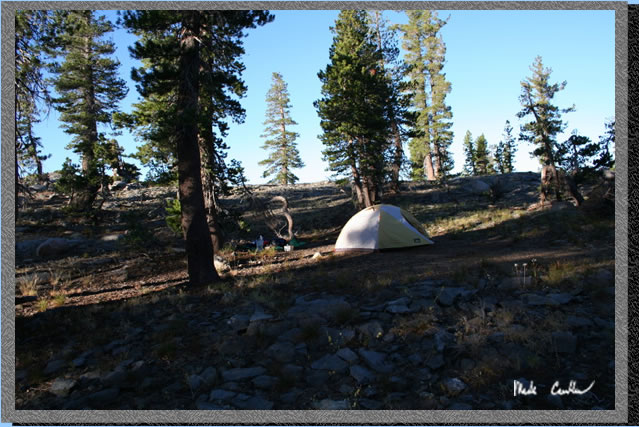 So we fooled around in the fire zone for way too long and ended up off trail. A few map checks later and much huffing and puffing we made it to an un-named lake and camped out. We were both pretty beat and agreed that we probably should have hiked back to the trail rather than our off trail straight up the granite route we took. But we were glad to make this nice little camp here. The next day we decided to head back to a nice ledge above Camp Lake so the following day we could make it back home earlier.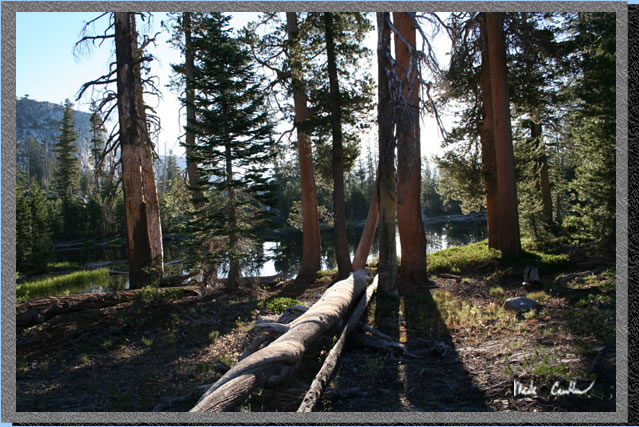 Here is the lake in the morning. Not much of one really but it was a good water source and that night we had some excellent star gazing.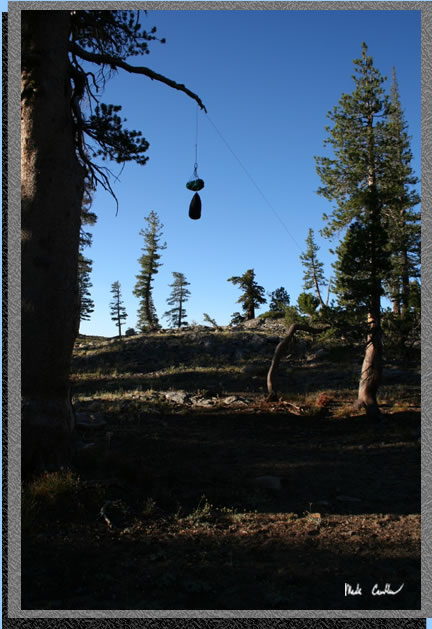 There was even a nice tree that we could hang our food in. I always think it is a good idea to bear bag even when the encountering a bear is not likely. Other critters can get into your food and ruin a trip just as much as a bear could. Of course in Emigrant Wilderness bears are a distinct possibility so bear bagging is a requirement.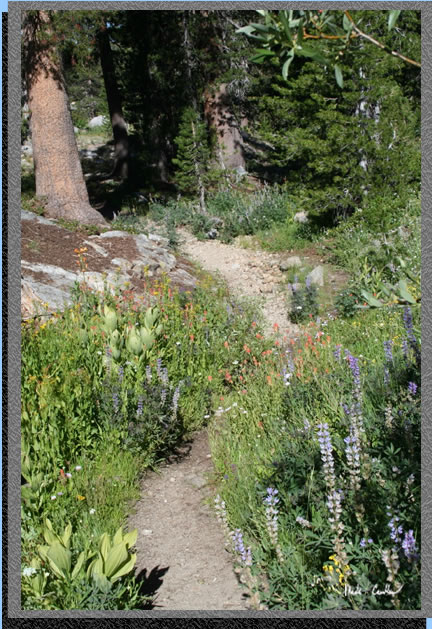 We took the trail on the way back this time as the off trail granite section we headed in on was not much fun to go up (and we assumed down would be even less fun). The trail was so much better.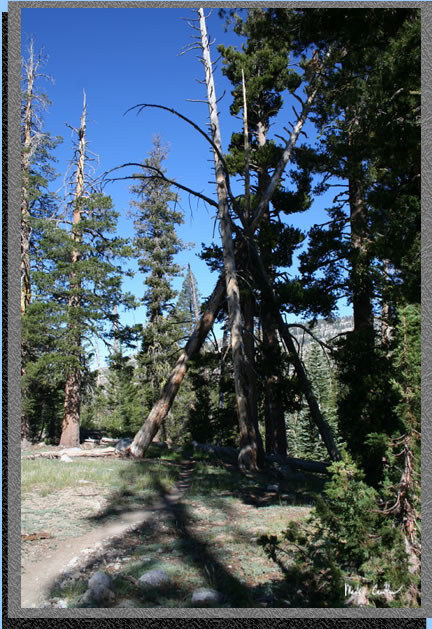 Here is a group of trees that look like someone arranged to make a gigantic teepee shelter. I want to make sure to come back here is a few years to see if these trees are still able to hold each other up.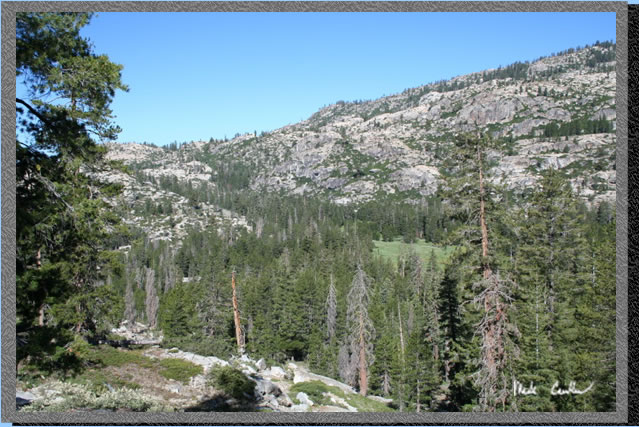 Here is some more of the scenery on the way back to Camp Lake. There are so many miles of trails through this wilderness that I am sure that I will be back again. Next time I want to make sure that we get an earlier start and maybe allocate another night or two to comfortable get deeper in the wilderness to see some of the larger lakes.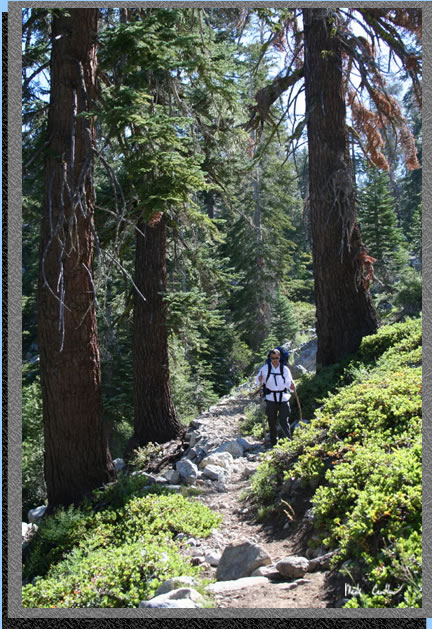 Here is Lee with his newly acquired hiking staffs.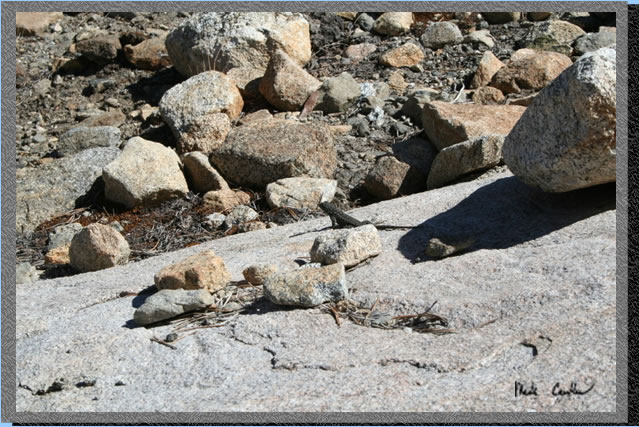 The lizards were plentiful through the granite sections. Here is one guy that let me capture a shot before he ran off.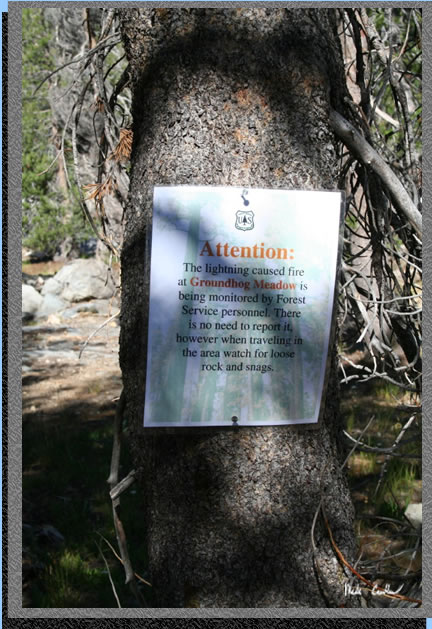 So this sign had been posted since we left the fire area yesterday. We were glad to see that this fire was safely being monitored. We saw some fire fighting equipment on the trail and some evidence of their work. The fire was mostly out when we hiked through.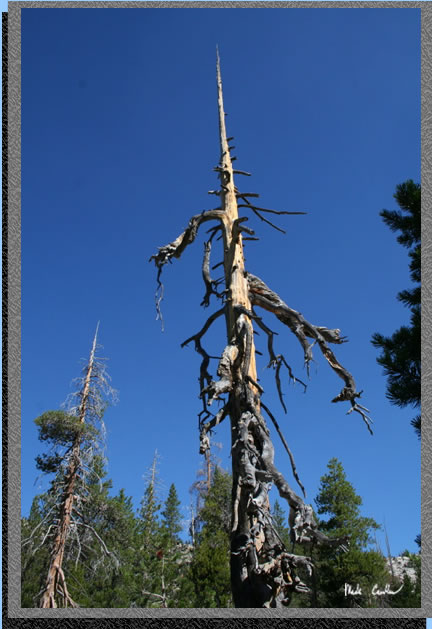 Ok so I take a lot of pictures of "dead trees" as my wife calls them. I am always amazed at these giants still standing after all signs of life are gone.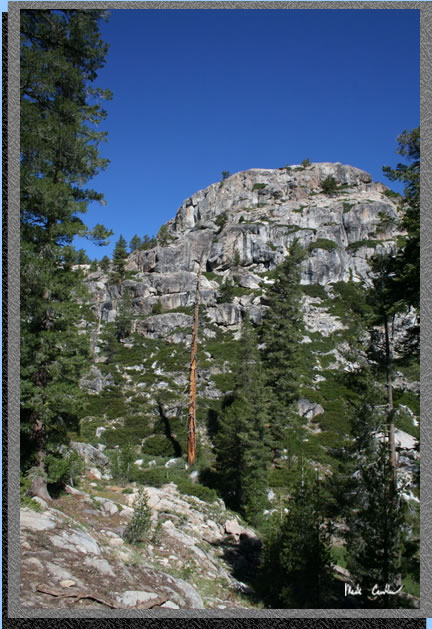 Here is a view I would like to have from my desk. Setting the wallpaper to a scene like this is nice but it doesn't really capture the beauty of what it is like to actually be there.
See the rest of the pictures on the next page (too many to have on one page).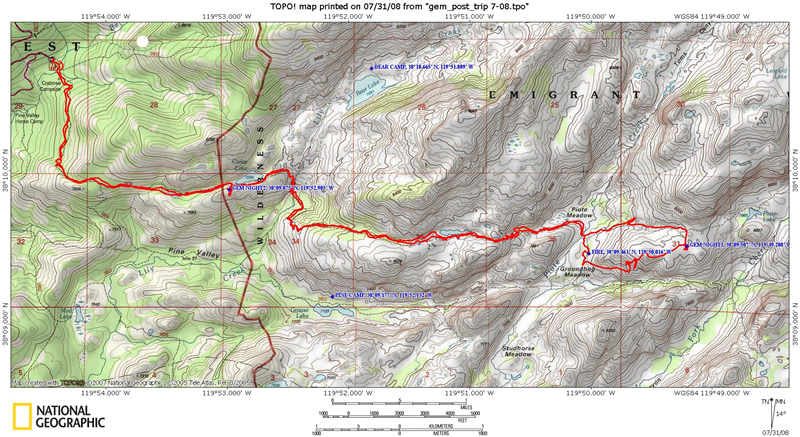 Here is the path we took. We were off trail after the fire marked east of Piute Meadow. We spent the night at the eastern most blue waypoint. We hiked north to the trail and followed it back to Camp Lake for our second night. The profile is below.